The main purpose of this ongoing blog will be to track planetary extreme, or record temperatures related to climate change. Any reports I see of recently reported ETs will be listed below the main topic of the day. I'll refer to extreme or record temperatures as ETs (not extraterrestrials).😉
Main Topic: Climate Changed Highly Amplified Jet Stream Leads to Autumn of Extremes
Dear Diary. As I described a few days ago, during mid-October we would see a highly amplified jet stream pattern leading to many record temperatures:
Indeed, earlier this week we saw many record high temperatures coming from the West and hundreds of reports of record low temperatures coming from the East earlier this week. In that post I wrote, "I would not be surprised to see record warmth occur in the same areas that will see record chill this week." On this Saturday the weather pattern has flipped, as predicted: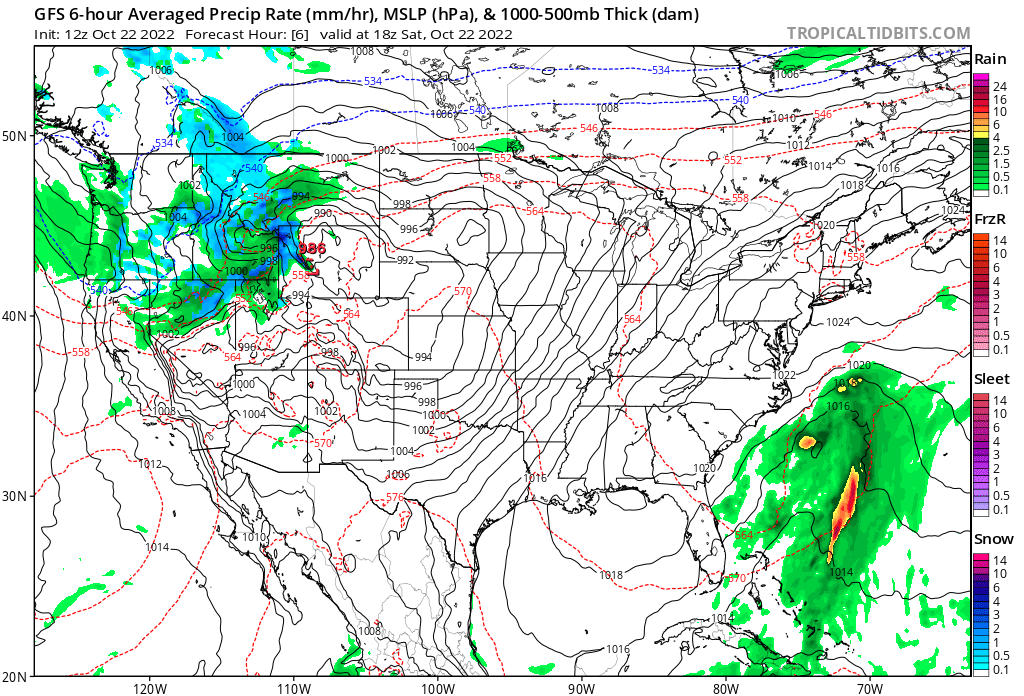 A typical cold and wet system is finally putting an end to the Pacific Northwest's fall "warm wave." That system, however, is ejecting record warmth into the Plains and mid-Mississippi Valley, where on Tuesday we had some record low temperatures. Here are some midafternoon temperatures from Saturday indicating that readings in portions of the central Plains above 80°F are getting to near record values: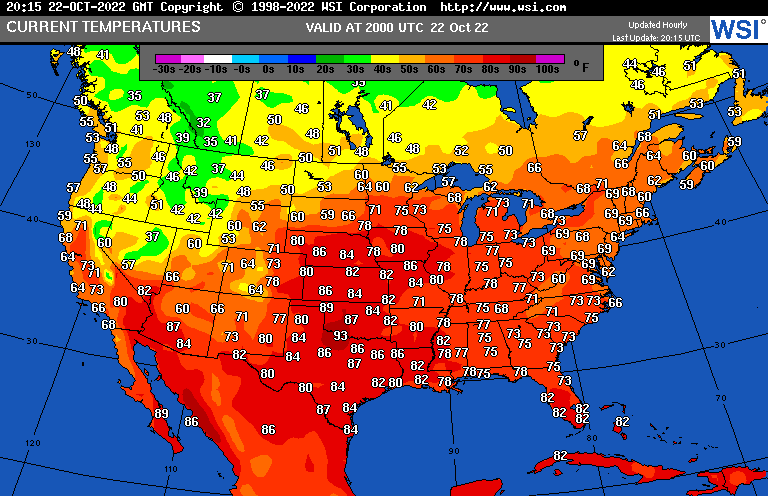 I'm not the only meteorologist noting this "whiplash weather." Pete Sinclair and some on air meteorologists have note this highly amplified jet pattern, which is becoming much more common as we get further into the 21st century. Here is Peter's report:
with Peter Sinclair
Wonky Jetstream Sets Up an Autumn of Extremes
October 21, 2022
Extreme gyrations of the jet stream are becoming more common, and that was only made more evident by the extreme setup that we have seen over the last week in North America, and indeed across the Atlantic.
More and more TV weather professionals are starting to explain the climate context of the day-to-day weather, especially extreme events. Above, two who have become friends, Jeff Berardelli, formerly of CBS News and now Chief Meteorologist at WFLA Tampa, and Chris Gloninger, Met Chief at KCCI Des Moines.
Immediately below, see the temperature anomalies (departure from normal) in the University of Maine's highly useful Climate Reanalyzer. Big temperature differential set up by a jet peak up over Alaska, diving down over the central US, driving cold air south in the East, and warmer air north to Alaska, Greenland and across the Arctic.
Under that, from the same source, the jet stream set up, which lines up pretty well with the warm and cold extremes that we've been seeing. More and more scientists believe these kind of loopy jets are exacerbated by the loss of sea ice in the arctic, and a warming climate.
Having conversations with key experts on this and will expand in next Yale Climate Connections video.
For now, see my jet stream explainer below.
Here are some "ET's" recorded from around the planet the last couple of days, their consequences, and some extreme temperature outlooks:
Here is more climate and weather news from Saturday:
(As usual, this will be a fluid post in which more information gets added during the day as it crosses my radar, crediting all who have put it on-line. Items will be archived on this site for posterity. In most instances click on the pictures of each tweet to see each article. The most noteworthy items will be listed first.)
If you like these posts and my work please contribute via the PayPal widget, which has recently been added to this site. Thanks in advance for any support.)
Guy Walton… "The Climate Guy"