The main purpose of this ongoing blog will be to track planetary extreme, or record temperatures related to climate change. Any reports I see of recently reported ETs will be listed below the main topic of the day. I'll refer to extreme or record temperatures as ETs (not extraterrestrials).😉
Main Topic: Biden Unveils Plans to Cut Methane
Dear Diary. Fresh off of some fairly good election results, a buoyed President Biden went to the COP27 climate meetings and announced a new effort to regulate and curb methane emotions via the EPA. This is something Republicans just won't do. Curbing methane will go hand in hand with limiting fossil fuel extraction in the first place, greatly aiding efforts for keeping global average temperatures below +2.0°C above preindustrial conditions.
These are all good plans, but will they be implemented for the long run, long after Biden's term in office is over? To answer that question and more, here is a Common Dreams article written today:
'Welcome' But 'Must Be Improved': Groups React as Biden Unveils Plan to Cut Methane (commondreams.org)

U.S. President Joe Biden delivers a speech during the 2022 United Nations Climate Change Conference in Sharm El-Sheikh, Egypt on November 11, 2022. (Photo: Mohamed Abdel Hamid/Anadolu Agency via Getty Images)
'Welcome' But 'Must Be Improved': Groups React as Biden Unveils Plan to Cut Methane
"Without resources to fund an army of regulators to keep this industry honest, these rules will fall short and companies will continue to hide the true cost of fossil fuel extraction," warned one expert.
KENNY STANCIL November 11, 2022
Environmental justice advocates welcomed the Biden administration's Friday announcement of stronger regulations to curb methane pollution from oil and gas producers while stressing the need to go further to slash emissions of the potent greenhouse gas that endangers public health and the global climate system.
"To meet global climate goals, we need to go well beyond this effort and actually sharply taper down fossil fuels."
President Joe Biden discussed updates to the U.S. Environmental Protection Agency's proposed methane standards and other White House initiatives to reduce planet-heating and health-hazardous air pollution in a speech at the United Nations COP27 summit in Egypt.
The EPA's newly unveiled proposal to crack down on methane leaks in the oil and gas sector is intended to address weaknesses that were identified in the initial draft rules issued last year. According to Earthworks, the 2021 rules "did not fully address the issues presented by oil and gas pollution, such as routine flaring, the hundreds of thousands of wells with leak-prone equipment left to forgo regular inspections, or the need for community monitoring for more effective enforcement of regulations."
Earthworks policy director Lauren Pagel said Friday that "neither President Biden nor the world can meet global climate commitments without aggressive cuts to oil and gas methane pollution."
"A strengthened supplemental draft methane rule from the EPA is welcome and necessary, and must be improved to be as strong as the law allows," Pagel continued. "Our climate and the communities harmed by this pollution demand nothing less."
According to the EPA, the supplemental draft rules would:
Provide more comprehensive requirements to reduce climate and health-harming air pollution, including from hundreds of thousands of existing oil and gas sources nationwide;
Promote the use of innovative methane detection technologies and other cutting-edge solutions; and
Require operators to respond to credible third-party reports of high-volume methane leaks through a "super-emitter response program."
As Reuters reported, the agency's new methane standards would require "drillers to find and plug leaks" at roughly 1 million well sites nationwide, "and not just the biggest ones, defying months of lobbying" by Big Oil. Under the previous proposal, oil and gas operators only had "to monitor 300,000 of [the country's] biggest well sites quarterly to find and fix leaks."
Green groups hailed the EPA's revised leak detection and repair requirements, including for the low-producing wells that contribute half of all U.S. methane emissions while accounting for just 6% of oil and gas production.
"As well-intentioned as last year's proposal was, it essentially exempted too many wells," said Darin Schroeder of the Clean Air Task Force (CATF). "Overall, these updated standards should lead to increased methane emissions reductions from the U.S. oil and gas sector."
The EPA estimates that if finalized, the stronger standards would reduce U.S. methane emissions from covered sources by 87% relative to 2005 levels by the end of the decade.
"All oil and gas operations have the potential to pollute and the EPA expansion of monitoring requirements for the majority of production sites, including some orphaned wells, will help protect public health and the climate," said Pagel. But "without resources to fund an army of regulators to keep this industry honest, these rules will fall short and companies will continue to hide the true cost of fossil fuel extraction."
"EPA's inclusion of third parties as partners is essential to enforce the rules," she added, "and must include a requirement that companies act on verifiable proof of pollution from communities."
As the EPA noted:
Oil and natural gas operations are the nation's largest industrial source of methane. Methane is a potent greenhouse gas that traps about 80 times as much heat as carbon dioxide, on average, over the first 20 years after it reaches the atmosphere and is responsible for approximately one-third of the warming from greenhouse gases occurring today. Sharp cuts in methane emissions are among the most critical actions the U.S. can take in the short term to slow the rate of climate change. Oil and natural gas operations are also significant sources of other health-harming air pollutants, including smog-forming volatile organic compounds (VOCs) and toxic air pollutants such as benzene.
Taking into account both the supplemental proposal and other measures in the November 2021 proposal, EPA projects that the proposed standards would reduce an estimated 36 million tons of methane emissions from 2023 to 2035, the equivalent of 810 million metric tons of carbon dioxide. That's nearly the same as all greenhouse gases emitted from coal-fired electricity generation in the U.S. in 2020. EPA's estimates also show the updated proposal would reduce VOC emissions by 9.7 million tons from 2023 to 2035, and air toxics emissions, including chemicals such as benzene and toluene, by 390,000 tons.
According to the latest data, atmospheric concentrations of carbon dioxide, methane, and nitrous oxide—the three main heat-trapping gases fueling global warming—hit an all-time high in 2021. A new study published Friday found "no sign" of the drastic emissions cuts required to stave off the worst consequences of the climate crisis.
Related Content: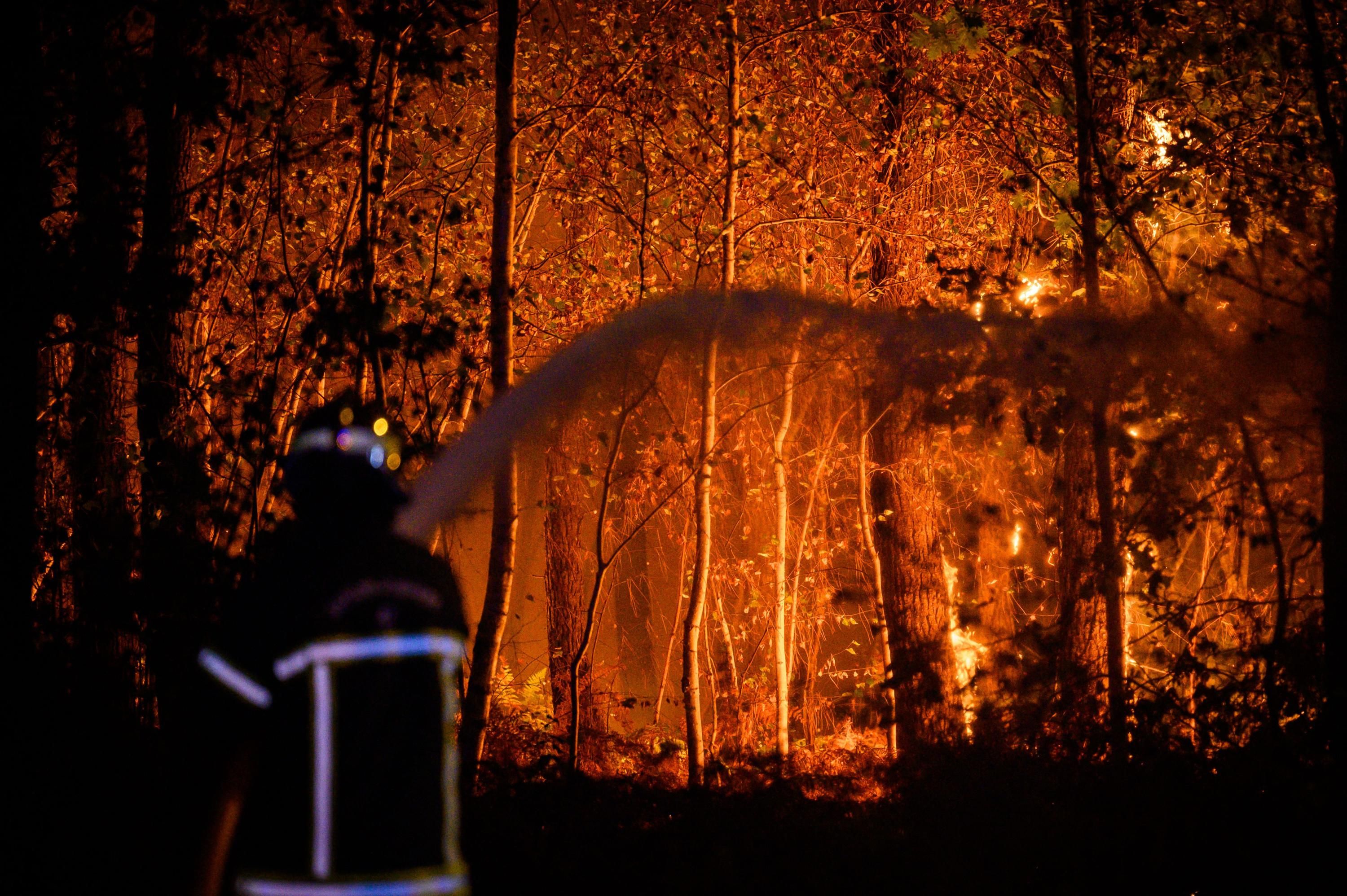 "The EPA has taken an important step forward by issuing a robust standard for methane emissions from oil and gas operations, including a 'super-emitter program' aimed at the most egregious polluters," said Rachel Cleetus, policy director and lead economist for the Climate and Energy Program at the Union of Concerned Scientists. "This standard includes important improvements from a previous proposal thanks to thousands of comments from scientists and environmental justice advocates."
Melissa Hornbein, senior attorney at the Western Environmental Law Center, thanked the Biden administration for "listen[ing] to the vast amount of public input it received on last year's draft proposal and translat[ing] the public's desire for meaningful climate action into concrete measures designed to tackle methane, the most pernicious contributor to short-term warming."
"While we are disappointed EPA did not propose an outright ban on oil and gas industry flaring, we are nonetheless encouraged by the draft rule's incisive measures to tackle leak detection and repair from all sources, including low-producing and abandoned wells," said Hornbein.
"We are also encouraged by the rule's proposal to harness the power of third-party monitoring for large leak detection through its proposed 'super emitter response program,'" Hornbein continued. "Likewise, the supplemental rule protects frontline communities by focusing on mitigating the disproportionate climate and health harms associated with methane and VOCs, respectively."
"Even the best methane reduction plan will be irrelevant if fossil fuels keep expanding."
A recent CATF report found that 14 million Americans are at heightened risk of cancer due to toxic air pollutants emitted alongside methane.
Schroeder, for his part, called the supplemental draft rules "a welcome sign that reducing methane emissions is a top priority for EPA."
"Due to its intensity and short-lived nature, immediate methane abatement is essential to addressing climate change," said Schroeder. "Fortunately, the practices and technologies at our disposal, including more frequent leak detection and repair inspections at leak-prone sites and utilizing advanced technologies to inspect, replacing outdated pneumatic equipment, and capturing gas instead of unnecessarily flaring, will have immense benefits for the environment and public health."
"But the job is not done, and we have no time to waste," he added. "It is critical the EPA continue working to improve their proposal and finalize strong and comprehensive methane regulations to curb climate change and do so expeditiously."
The EPA is accepting public input on its proposed methane standards until February 13, 2023 and plans to finalize new rules by the end of next year. But as Reuters noted, progress "could be undone if a Republican wins the 2024 presidential election and decides to reverse it."
Meanwhile, Cleetus also encouraged the Biden administration to "contribute to global efforts to make deep cuts in these dangerous emissions."
In addition to announcing the EPA's proposal for stronger domestic methane rules, Biden on Friday also unveiled an updated U.S. Methane Emissions Reduction Action Plan as part of the nation's commitment to the Global Methane Pledge. That initiative, launched at COP26 and now endorsed by more than 130 countries, aims to slash global methane emissions by at least 30% below 2020 levels by 2030.
"Ultimately, to meet global climate goals, we need to go well beyond this effort and actually sharply taper down fossil fuels," Cleetus emphasized.
That message was echoed by Pagel, who said that "EPA methane standards are just a first step toward the action we need to avoid climate catastrophe."
"Everywhere our certified thermographers go, they find oil and gas pollution—even in states with the strongest protections," Pagel noted. "President Biden must use his power to declare a climate emergency that will further protect health and prevent climate catastrophe by stopping fossil fuel expansion and speeding the transition to a clean, just energy future."
Jean Su, director of the Center for Biological Diversity's Energy Justice program, argued that "even the best methane reduction plan will be irrelevant if fossil fuels keep expanding," which is precisely what oil and gas companies around the world are planning to do despite overwhelming evidence that it will generate deadly climate chaos.
"The president needs to act now," Su declared.
---
Our work is licensed under Creative Commons (CC BY-NC-ND 3.0). Feel free to republish and share widely.
Related:
Here are some "ET's" recorded from around the planet the last couple of days, their consequences, and some extreme temperature outlooks:
Here is some more new October 2022 climatology:
Here is more climate and weather news from Friday:
(As usual, this will be a fluid post in which more information gets added during the day as it crosses my radar, crediting all who have put it on-line. Items will be archived on this site for posterity. In most instances click on the pictures of each tweet to see each article. The most noteworthy items will be listed first.)
More on Nicole and its effects:
CNN owes the entire country an apology for perpetuating a false narrative about Biden's approval rating, for fomenting nonfactual fears about a red wave, and for hosting election-deniers on its platform to spread disinformation in the months and weeks before the Midterm election.
Other Items:
If you like these posts and my work please contribute via the PayPal widget, which has recently been added to this site. Thanks in advance for any support.)
Guy Walton… "The Climate Guy"