The main purpose of this ongoing blog will be to track planetary extreme, or record temperatures related to climate change. Any reports I see of recently reported ETs will be listed below the main topic of the day. I'll refer to extreme or record temperatures as ETs (not extraterrestrials).😉
Main Topic: Hope Coming from Brazil's President Lula
Dear Diary. As I stated during the following linked post, the most important election of 2022 (and perhaps this decade and century) was not the U.S. Midterms but those from Brazil:
Extreme Temperature Diary- Sunday October 2nd, 2022/Main Topic: Brazil 2022…The Most Important Election of the 21st Century? – Guy On Climate
The U.S. elections went much better than expected, if you followed most pundits, and the Brazilian election was fantastic, ridding the planet of authoritarian Jair Bolsonaro's anti-environmental presidency. Now at COP27 Lula is making promises to protect and restore the Amazon. Here are more details from Common Dreams:
In COP27 Speech, Lula Vows to Make Amazon Destruction 'A Thing of the Past' (commondreams.org)
Luiz Inácio Lula da Silva, the president-elect of Brazil, speaks at the COP27 summit in Sharm El-Sheikh, Egypt on November 16, 2022. (Photo: Christophe Gateau/picture alliance via Getty Images)
In COP27 Speech, Lula Vows to Make Amazon Destruction 'A Thing of the Past'
"There's no climate security for the world without a protected Amazon," said Brazil's president-elect.
KENNY STANCIL November 16, 2022
Leftist Brazilian President-elect Luiz Inácio Lula da Silva vowed Wednesday to halt deforestation of the Amazon and to establish a special ministry to protect Indigenous forest dwellers from human rights abuses.
"The planet, at every moment, warns us that we need each other to survive."
During a speech at the United Nations COP27 climate conference in Egypt—his first on the international stage since he defeated Brazil's outgoing far-right president, Jair Bolsonaro, just over two weeks ago—Lula said that "there's no climate security for the world without a protected Amazon," roughly 60% of which is located in Brazil.
Parts of the Amazon, often referred to as the "lungs of the Earth" due to its unparalleled capacity to provide oxygen and absorb planet-heating carbon dioxide, recently passed a key tipping point after Bolsonaro intensified the destruction of the tropical rainforest during his four-year reign. According to one estimate, Bolsonaro's regressive policy changes are responsible for the eradication of as many as two billion trees in South America's largest nation.
"This devastation [of the Amazon] will be a thing of the past," said Lula, who previously served as Brazil's president from 2003 to 2010 and takes office again on January 1. "The crimes that happened during the current government will now be combated. We will rebuild our enforcement capabilities and monitoring systems that were dismantled during the past four years."
Most of the deforestation that occurred under Bolsonaro was illegal, propelled by logging, mining, and agribusiness companies that often used violence to run roughshod over Indigenous inhabitants of the Amazon.
"We will fight hard against illegal deforestation," the 77-year-old Lula, a member of the Workers' Party, continued. "We will take care of Indigenous people."
"I'm here to tell you that Brazil is back in the world. Brazil is emerging from the cocoon to which it has been subjected for the last four years," added Lula, who drastically reduced deforestation and channeled an economic boom into downwardly redistributive programs that curbed inequality when he governed Brazil earlier this century.
Lula's speech outlining his government's plan to achieve "zero deforestation" was welcomed by climate justice advocates, who implored him to follow through and pushed him to go further.
"The election of Lula was a victory for us," said Dario Kopenawa, representing the Yanomami Indigenous people and one of Rainforest Foundation Norway's partner organizations. "He has promised zero deforestation, to protect Indigenous people, and take illegal gold diggers out of our territory."
"He must keep his word," Kopenawa said. "The Yanomami people will hold Lula accountable for what he promised during his campaign."
Brazilian activist Ilan Zugman, the director of 350.org for Latin America, said that "the announced measures and guidelines are essential and put Brazil back in the direction of becoming a global leader in combating the climate crisis and the loss of biodiversity."
"However, the president-elect also needs to make more concrete announcements for the energy transition in the country," Zugman argued. "For example, if the current plans of the Brazilian oil major Petrobras move forward, Brazil will become, in the coming years, the fourth-largest oil producer in the world, which goes completely against what the world needs and what Brazil is proposing as climate leadership."
Toerris Jaeger, executive director of Rainforest Foundation Norway, called Wednesday "a historic moment of hope, in a critical time for the planet."
"For Brazil to succeed," Jaeger continued, "we urge heads of states to harness this momentum by supporting Lula to reestablish environmental agencies that were damaged during Bolsonaro's government, and investors and business leaders to make sure they cut their links to deforestation."
Notably, Brazil's president-elect is expected to face substantial opposition from corporate interests and right-wing Brazilian legislators. As The Washington Post reported last month, "Some analysts warn that a bloc of lawmakers with ties to agriculture could try to block Lula's environmental policies and pass legislation to facilitate land-grabbing and illegal mining."
Vox also observed recently that "deforestation is unlikely to stop altogether once Lula takes office."
"Bolsonaro's party still dominates Congress and will likely continue supporting the cattle industry, which is behind nearly all forest loss in the Brazilian Amazon," the outlet pointed out. "The country also faces an economic crisis and fallout from mismanaging the coronavirus pandemic, and it's not clear exactly how Lula will prioritize these competing crises."
Regardless, Lula's victory has been hailed as a critical step toward rescuing the Amazon from more severe and potentially irreversible damage.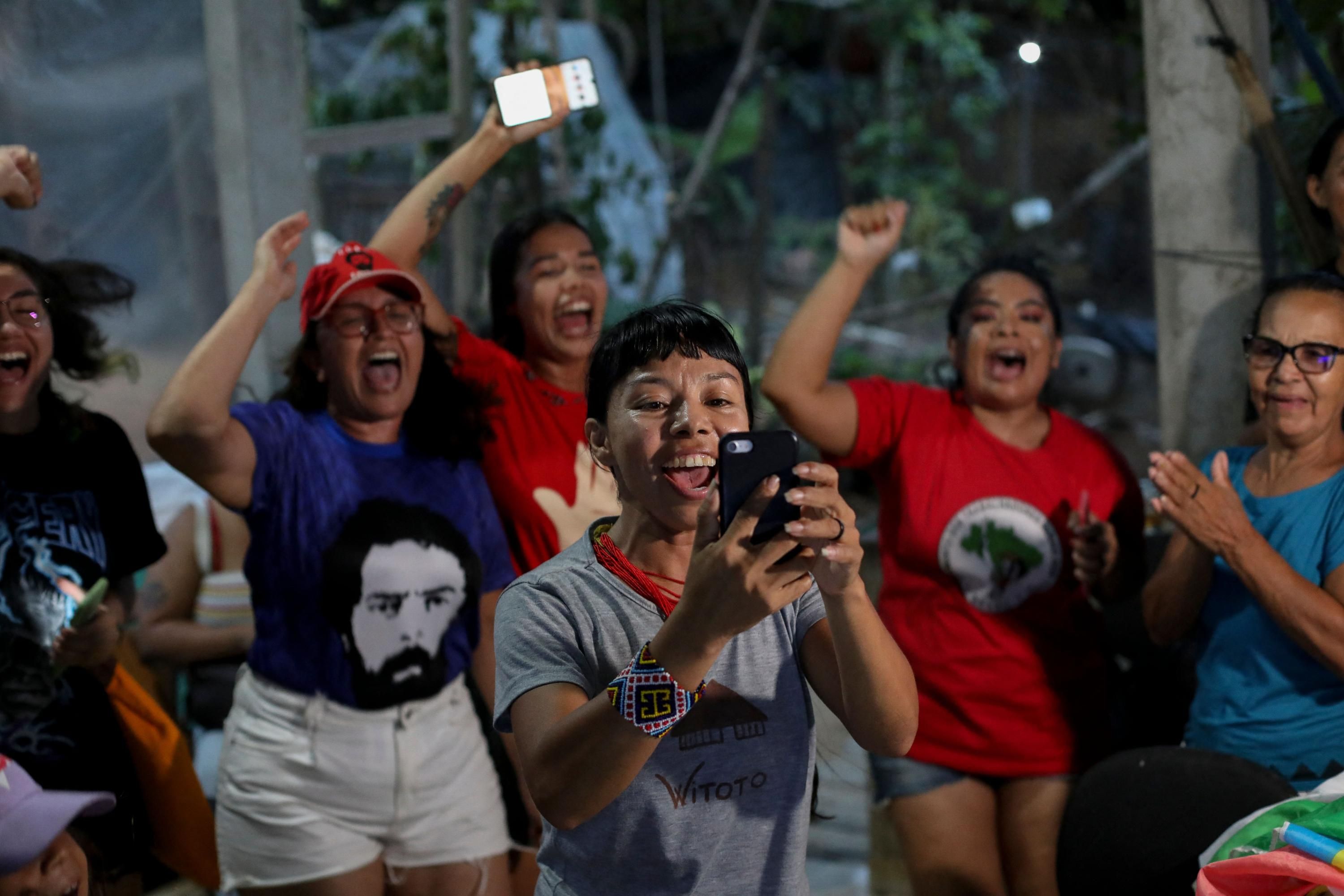 'Lungs of the Earth Will Breathe Easier Tonight': Amazon Defenders Cheer Lula Victory
Related:
Here are some "ET's" recorded from around the planet the last couple of days, their consequences, and some extreme temperature outlooks:
Here is more climate and weather news from Friday:
(As usual, this will be a fluid post in which more information gets added during the day as it crosses my radar, crediting all who have put it on-line. Items will be archived on this site for posterity. In most instances click on the pictures of each tweet to see each article. The most noteworthy items will be listed first.)
If you like these posts and my work please contribute via the PayPal widget, which has recently been added to this site. Thanks in advance for any support.)
Guy Walton… "The Climate Guy"