The main purpose of this ongoing blog will be to track global extreme or record temperatures related to climate change. Any reports I see of ETs will be listed below the main topic of the day. I'll refer to extreme or record temperatures as ETs (not extraterrestrials).😉
Main Topic: Some Eye-Opening December Northern Hemispheric Warmth
Dear Diary. This December we are starting to see some startling warm events in the Arctic and points further south across North America, with ramifications across the central Atlantic. These tweets I rattled off yesterday created quite a stir:
We will soon see how many warm record reports come out of the U.S. South and East from this weather pattern. When temperatures get near record warm across the South in the winter many across the region call, this "tornado weather" and for good reason. Any cold system interacting with the warmth can produce severe weather. I do have a bad feeling about this:
In the meantime, all of this Arctic warmth has produced one very eye-opening record:
Not to be outdone, a very rare for December tropical system is brewing in the central Atlantic. If a warm heat dome was not building across the U.S. Gulf Coast and extending eastward into the Atlantic, this thing would not be developing:
Here is that Washington Post article:
Atlantic system could become subtropical storm Owen – The Washington Post
A December subtropical storm could form for first time in 9 years
If the Atlantic storm earns a name, it will be called Owen.
December 5, 2022
A sprawling area of low pressure to the northeast of Puerto Rico and Hispaniola. (Colorado State/RAMMB) (RAMMB)
Hurricane season officially ended last week but the Atlantic Ocean doesn't own a calendar. The possibility has emerged of a named December subtropical storm over its open waters — the first in nine years.
Hurricane season was tamer than expected and horrific all at once
A large low-pressure area about 1,600 miles east of Miami and 750 miles to the north of the Leeward Islands of the Caribbean is currently meandering over open waters. The National Hurricane Center indicates it has a 40 percent chance to become a subtropical depression or storm in the next five days.
Subtropical systems contain a mix of mid-latitude and tropical characteristics, but can earn a name if they have a defined center of circulation and winds of at least 39 mph. If this system is named, it will be drawn from the list of storms from the 2022 Atlantic hurricane season. The next name on the list is Owen, following Nicole, which slammed into the east coast of Florida on Nov. 9.
The system being monitored is moving eastward at 6 mph. The Ocean Prediction Center has issued a storm warning for waters within several hundred miles of the system. It said winds of 23 to 35 mph (20 to 30 knots) and seas of eight to 13 feet were ongoing in a large area around its center of low pressure.
The Prediction Center calls for the storm to intensify over the next 48 hours. On Wednesday morning, it anticipates its pressure to fall from 1005 millibars to 984 millibars while hosting winds of 46 to 57 mph (40 to 50 knots) and seas of 20 to 27 feet.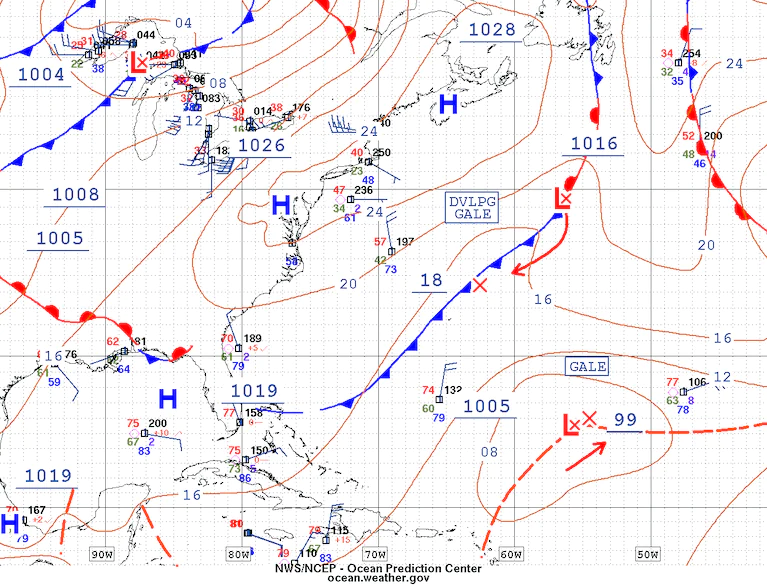 A gale center may become a subtropical storm in the days ahead. The system is in the lower right of this image. (Ocean Prediction Center)
Compared to tropical storms, subtropical storms tend to have a larger wind field and are typically less symmetrical. Subtropical storms may transition to fully tropical systems if they sit over warm water and aren't disrupted by hostile high-altitude winds; Nicole pulled this off before striking Florida.
This particular system has little time to get better organized and will not benefit from warmer waters. Instead, it will stay over water just marginally warm enough to support a tropical system for the next few days.
By Friday, it is "expected to move over cooler waters, ending its chances of becoming a subtropical cyclone," the Hurricane Center wrote.
Forecast for the low pressure that may become a subtropical storm, via the European weather model. (Tropical Tidbits)
While it is unusual to deal with tropical storminess this late in the calendar, this is not a first.
According to NOAA's historical hurricane data, the last storm to become subtropical in December was an unnamed system around this time in December 2013. That storm was not named due to uncertainty about how long it would last, although it briefly attempted to take on tropical characteristics.
Before 2013, the most recent December tropical cyclone was Olga in 2007, which was initially subtropical. During the hyperactive season of 2005, a storm named Epsilon became a hurricane while spinning over the central Atlantic in early December.
It's also not impossible to see a tropical cyclone in the heart of winter or into early spring. In 2016, Alex became a hurricane in mid-January over the open ocean.
By Ian Livingston Ian Livingston is a forecaster/photographer and information lead for the Capital Weather Gang. By day, Ian is a defense and national security researcher at a D.C. think tank.  Twitter
Here are some "ET's" recorded from around the planet the last couple of days, their consequences, and some extreme temperature outlooks:
Here is some more new November 2022 climatology:
Here is more climate and weather news from Tuesday:
(As usual, this will be a fluid post in which more information gets added during the day as it crosses my radar, crediting all who have put it on-line. Items will be archived on this site for posterity. In most instances click on the pictures of each tweet to see each article. The most noteworthy items will be listed first.)
If you like these posts and my work please contribute via the PayPal widget, which has recently been added to this site. Thanks in advance for any support.)
Guy Walton… "The Climate Guy"