The main purpose of this ongoing blog will be to track global extreme or record temperatures related to climate change. Any reports I see of ETs will be listed below the main topic of the day. I'll refer to extreme or record temperatures as ETs (not extraterrestrials).😉
Main Topic: Global Insured Losses from Natural Disasters Exceeded $130 Billion In 2022
Dear Diary. The news I'm presenting today for our main subject should come is no surprise. During 2022 we witnessed horrendous heat waves and droughts across highly populated developed areas of the planet where there was a lot of precious insured things that could be affected or destroyed.
This report via Desdemona Despair has a lot of colorful illustrations showing where the worst effects of the climate crisis were in 2022. It hurts my heart knowing that similar effects will happen during 2023 given that we sit at a global temperature average at about 1.2°C above preindustrial conditions, and to borrow a Game of Thrones theme…A hotter El Niño is coming:
Aon: Global insured losses from natural disasters exceeded $130 billion In 2022, driven by second-costliest event on record – More than 19,000 heat-related deaths in Europe – Desdemona Despair
Aon: Global insured losses from natural disasters exceeded $130 billion In 2022, driven by second-costliest event on record – More than 19,000 heat-related deaths in Europe
Map showing significant economic loss events in 2022. Direct economic losses resulting from natural disasters in 2022 are estimated at $313 billion. This is close to the 21st century average, after adjusting actual incurred damage to today's dollars using the U.S. Consumer Price Index. Though 2022 was far from record-breaking in terms of overall losses, it saw many impactful and costly events across the globe. Visualizing the geographic distribution of 2022 events allows for distinguishing certain patterns, including higher frequency of medium-sized Severe Convective Storm (SCS) events in the U.S. and Europe, and the prevalence of flooding events in Africa, Southeast Asia and Oceania. The map primarily shows the economic impact, which to some extent correlates with concentration of wealth – this is not a result of a reporting bias. What this map does not highlight is the humanitarian crises and displaced communities, as many events with significant human impacts do not necessarily translate into a high financial toll in terms of direct damage. Note that significant price inflation throughout the year already resulted in notable increases of per-event losses. Graphic: Aon
CHICAGO, 25 January 2023 (PRNewswire) – Aon plc (NYSE: AON), a leading global professional services firm, today published its 2023 Weather, Climate and Catastrophe Insight report, which identifies global natural disaster and climate trends to help make better decisions to manage volatility and enhance global resilience. The report reveals that natural disasters caused a $313 billion global economic loss during the 12-month period under review – 4 percent above the 21st-century average – $132 billion of which was covered by insurance.
U.S. drought conditions and crop insurance payouts, 2000-2022. Prolonged, severe drought conditions across the U.S. since 2020 continued to affect agricultural sector in the country in 2022. While the percentage of the national territory under extreme or exceptional drought was generally lower than in 2021, total area under Moderate drought or worse was the largest since the disastrous year of 2012. Maximum reached in November 2022 (63 percent) was close to the maximum in September 2012 (65 percent). Part of the continental U.S. that exhibited "abnormally dry" conditions under the U.S. Drought Monitor in November 2022 reached the highest percentage since reliable record keeping began 2000. The drought conditions resulted in considerable payouts via the United States Department of Agriculture's (USDA's) Risk Management Agency (RMA) crop insurance program. More than $8 billion in indemnity payouts were made; second only to 2012, when payouts due to drought, heat, excess sun and hot wind reached $18 billion (in 2022 $). Graphic: Aon
Data show that 2022 was the fifth costliest year on record for insurers, with approximately $50-55 billion of the global insured loss total resulting from Hurricane Ian in the United States – the second-costliest natural catastrophe in history from an insurance perspective, surpassed only by Hurricane Katrina in 2005, which resulted in nearly $100 billion in insured losses on a price-inflated basis.
Cumulative global economic losses (top) and cumulative global insured losses (bottom) by peril, 2000-2022. Tropical cyclone remains the costliest peril on a cumulative basis since the start of the 21st century. Driven by extreme loss years, such as 2022, 2017, 2005, and 2004, it is nearing the $2 trillion aggregated loss. The historical record also shows that roughly half of these cumulative losses were caused by only 10 individual events, including Hurricane Ian. While the earthquake peril holds the title for the costliest natural disaster ever recorded, the Great Tohoku Earthquake and Tsunami in 2011, it failed to generate an event exceeding the $10 billion loss threshold since 2016. Graphic: Aon
The report also highlights that approximately 31,300 people lost their lives due to global natural catastrophe events in 2022. The total number of fatalities remains below average for now 12 years in a row; however, more than 19,000 of the fatalities were heat-related deaths in Europe alone, primarily as a result of heatwaves.
"While impacts of climate change become increasingly visible around the world, it is the socioeconomic aspects, demographics and wealth distribution that remain a major driver of financial loss.Michal Lörinc, head of Catastrophe Insight at Aon
While a majority of total losses in 2022 were left uninsured, the 58 percent "protection gap" was one of the lowest on record, highlighting a positive shift in how businesses are navigating volatility through risk mitigation, and how insurers are providing further protection to underserved communities through access to capital.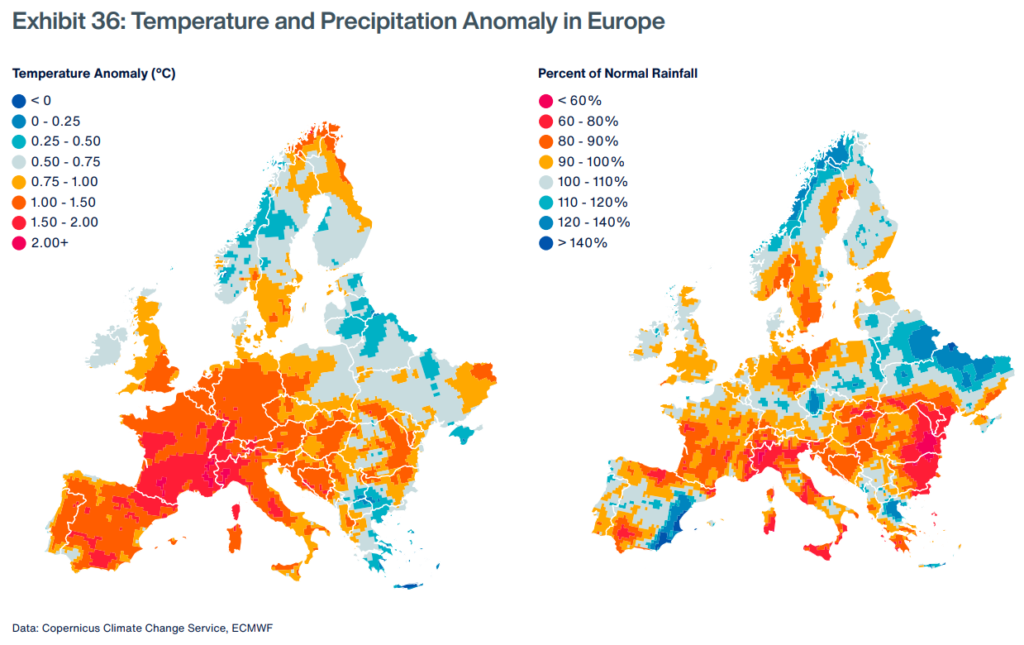 Map showing temperature and precipitation anomaly in Europe in 2022. Low water levels disrupted cooling systems of power plants and lowered hydropower generation in the energy sector. Additionally, shipping on several important European rivers (Danube, Rhine, Po) was disrupted due to low water levels. European drought in 2022 became the second costliest after the historic summer of 2002, which severely affected a large part of Europe, generating total economic losses of $27.6 billion (in 2022 $). Recorded temperature increases and climate projections suggest that Europe is generally warming faster than the global average and prolonged drought periods are expected to become more frequent. The drought also resulted in notable insurance payouts of roughly $3 billion — due to agricultural losses, but also damage to property due to land subsidence related to drought conditions. Graphic: Aon
"This report explores the events and costs of catastrophes and natural disasters in 2022 that created a staggering amount of economic loss," said Greg Case, CEO of Aon. "But this data also highlights a tremendous opportunity for us to continue to better serve clients. By working together on scalable solutions, we will not only mitigate risk, but bring together public, private and societal forces to accelerate innovation, protect underserved communities and strengthen the economy."
While technological innovation has allowed for better insight as catastrophes unfold and faster and more thorough assessments of damages after an event, the Aon study examines resilience and the ability to overcome climate-related consequences – not only for physical risks, but in areas like the health of the workforce, reiterating the need to build multi-faceted strategies that account for climate change risk mitigation on all fronts.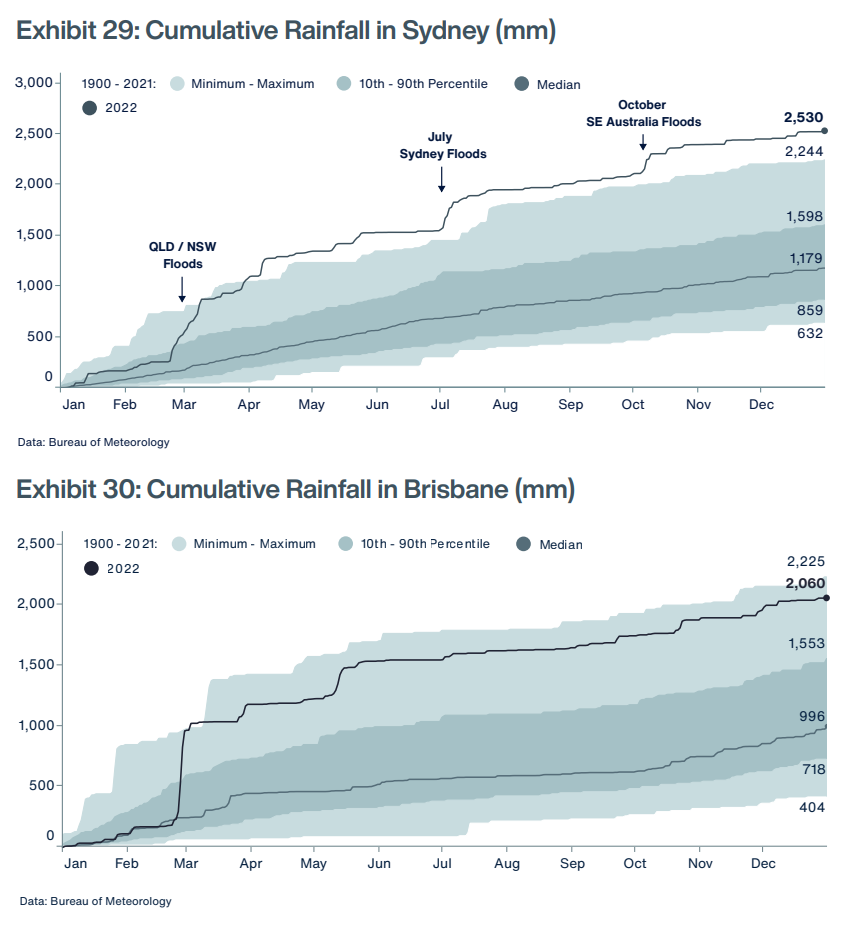 Cumulative Rainfall in Sydney (top) and Brisbane (bottom) in 2022, compared with the 1900-2021 average. A series of dynamic weather patterns involving a stalled trough and blocking high and later an East Coast Low successively trained moisture streams towards Southeast Queensland and New South Wales in the first quarter of 2022. The long-lasting event occurred over 17 days, from February 21 to March 9. Brisbane recorded its highest three-day rainfall totals at 677 mm (26.7 in) on February 28, breaking the 600 mm (26.3 in) record set in 1974. Dozens of other locations observed rainfall in excess of 1,000 mm (39.4 in), setting up catastrophic flooding especially in Lismore and Ballina. The eastern Australia floods eventually evolved to become the costliest natural disaster event ever recorded in Australia on an inflation-adjusted basis. Additionally, the Insurance Council of Australia declared a significant event in early July for the Central Coast covering the Hunter region and Greater Sydney, one catastrophic event in October for southeastern Australia, and another significant event in early November for the Central West. Persisting La Niña conditions, negative Indian Ocean Dipole, and positive Southern Annular Mode, which prevailed for the majority of the second half of the year, drove above-average annual rainfall (10th decile) in much of New South Wales. At 2,530 mm (99.6 in), Sydney broke its second-highest annual rainfall record set in 1950. Graphic: Aon
Further findings of the 2023 Weather, Climate and Catastrophe Insight report include:
421 notable natural disaster events were recorded in 2022, higher than the 21st century average of 396.
75 percent of global insured losses were recorded in the United States, which was higher than the average of 60 percent.
Windstorm Eunice was the costliest individual European windstorm since 2010, with $3.4 billion in insured losses. Widespread hailstorms in France contributed to the second-highest natural disaster payouts for the country on record of €6.9 billion ($7.4 billion).
Droughts and heatwaves severely impacted Europe, the United States, China and other regions and global insurance payouts for the drought peril were the second highest on record, at $12.6 billion globally.
Flood losses in Australia broke the historical record as La Niña conditions persisted for a third year and Sydney recorded the highest annual rainfall.
Monsoonal floods in Pakistan had a far-reaching humanitarian impact on the country. In a summary of the 2022 monsoon season, the Pakistan Meteorological Department noted that country-wide rainfall from July to September was 175 percent above average.
Both severe drought conditions and a prolonged rainy season in different regions of Latin America reduced agricultural crop yield across the region.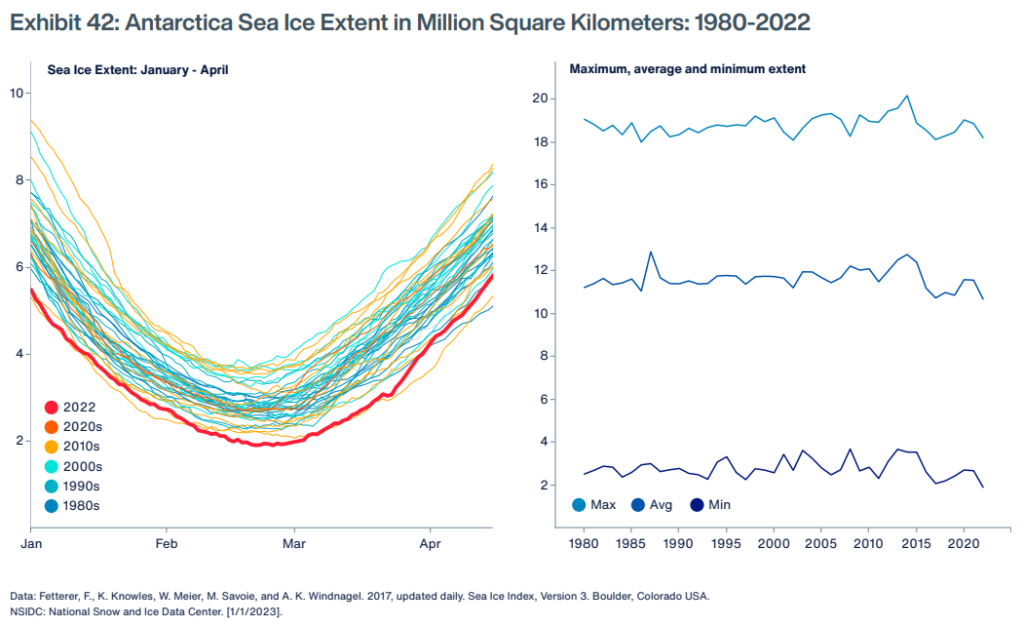 Antarctica sea ice extent in million square kilometers, 1980-2022. The Antarctic is responding less rapidly to climate change than the Arctic. Despite moderate warming, the amount of sea ice and its volume in the Antarctic have yet to show a substantial decreasing trend. However, the sea ice extent in this region set a new record minimum in 2022. For the first time since the satellite record began in 1979, the extent fell below 2 million km2 (772,000 mi2), reaching a minimum extent of 1.92 million km2 (741,000 mi2) on 25 February 2022. Surprisingly, this year record-breaking minimum followed the unusually early and above-average sea ice maximum extent from previous year (reached on 1 September 2022). However, two regions of high interest to researchers, Thwaites Glacier and the central Weddell Sea, remained locked in ice. With a continued moderation in temperatures, a recent study suggested that Thwaites Glacier Shelf could collapse within the next three to five years. This is a huge concern since it is one of the largest and highest glaciers in Antarctica and is roughly the size of the U.S. state of Florida. Should the glacier fully collapse into the ocean, scientists fear that it could raise levels by 65 centimeters (25.6 inches). It already accounts for four percent of global sea level rise. Graphic: Aon
"The devastation that disasters caused around the world demonstrate the need for wider adoption of risk mitigation strategies, including better disaster management and warning systems that improve resilience," said Michal Lörinc, head of Catastrophe Insight at Aon. "While impacts of climate change become increasingly visible around the world, it is the socioeconomic aspects, demographics and wealth distribution that remain a major driver of financial loss. Data in this report will help guide organizations to not only enhance their own risk mitigation but take action to close the protection gap globally to better protect the communities in which we live and work."
The top 10 global economic loss events in 2022 were:
Top Ten global economic loss climate events in 2022. Natural disasters caused a $313 billion global economic loss during the 12-month period under review – 4 percent above the 21st-century average – $132 billion of which was covered by insurance. Graphic: Aon
The full report and a short video are available on Aon's interactive microsite. Along with this report, readers can access current and historical natural catastrophe data and event analysis at catastropheinsight.aon.com.
Aon: Global Insured Losses From Natural Disasters Exceeded $130 Billion In 2022, Driven By Second-Costliest Event On Record
Related:
Here are some "ET's" recorded from around the planet the last couple of days, their consequences, and some extreme temperature outlooks, as well as any extreme precipitation reports:
Here is more 2022 climatology:
Here is more climate and weather news from Thursday:
(As usual, this will be a fluid post in which more information gets added during the day as it crosses my radar, crediting all who have put it on-line. Items will be archived on this site for posterity. In most instances click on the pictures of each tweet to see each article. The most noteworthy items will be listed first.)
If you like these posts and my work please contribute via the PayPal widget, which has recently been added to this site. Thanks in advance for any support.)
Guy Walton… "The Climate Guy"