The main purpose of this ongoing blog will be to track global extreme or record temperatures related to climate change. Any reports I see of ETs will be listed below the main topic of the day. I'll refer to extreme or record temperatures as ETs (not extraterrestrials).😉
Watching for Whiplash Winter to Return to the South and Eastern U.S.
Dear Diary. Birds are singing, flowers are out, and trees are out in my neighborhood, so spring has sprung for good, right? Wrong, unfortunately. Ever since 2007 I've known that portions of the nation are dealing with a "false spring" phenomenon, brought about by climate change. That year we saw record warm from February through March, similar to what is occurring now across the southern and eastern U.S. The jet stream shifted such that a near record cold pattern occurred across areas that already had full green leaves out broadleaf trees, with fruit trees being hurt the most. Locations where temperatures were well up in the 70's and 80's for most of March experienced readings in the 20's the first week of April. We are about to see this phenomenon again in 2023.
Here was my first reaction upon seeing a European model solution from Thursday:
Today the European model has delayed this pattern by about 24 hours, but there is a similar solution:
The GFS model is coming around to the same solution:
Unlike in 2007, at least if we see a widespread hard freeze, foliage won't be as advanced by mid-March as it would be in early April.
Model ensembles are also coming around to a very chilly solution for the South and East: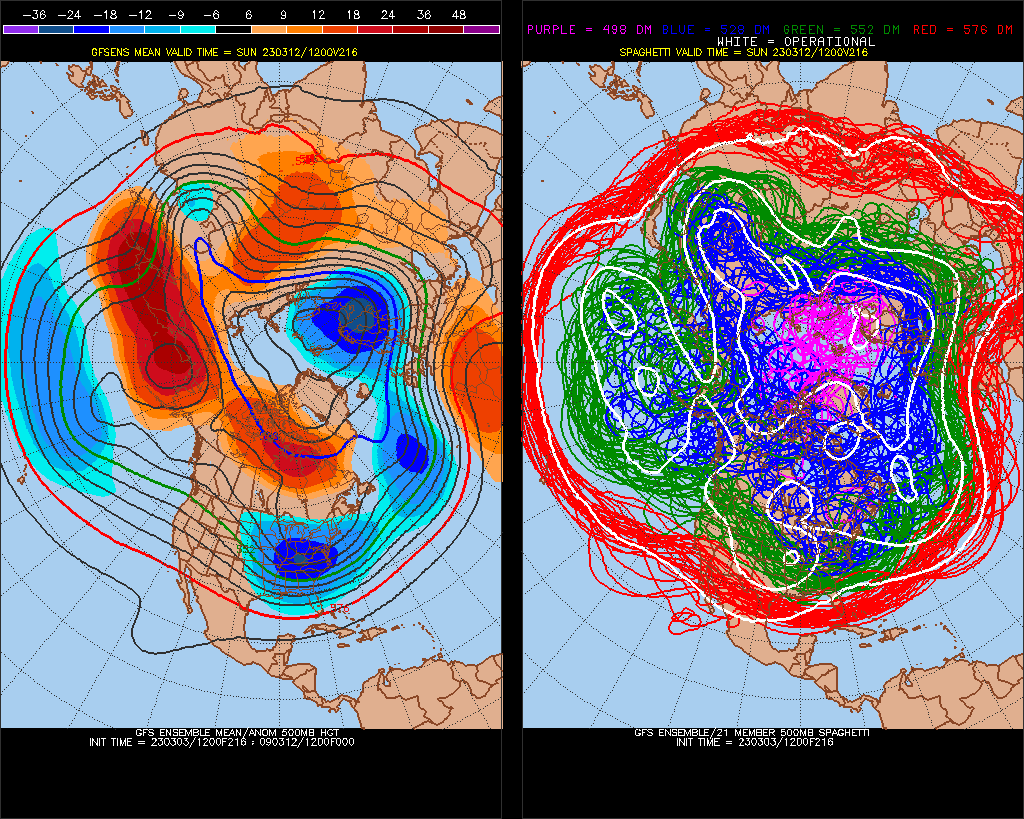 The second half of March looks anomalously cold for most of the United States. I did have to chuckle when I saw this model solution last night, reminding me of the "Storm of the Century" from mid-March 1993, in which there was a mild winter in Atlanta with a blizzard occurring here that month. Elsewhere there was widespread record chill and destruction for the eastern third half of the country. Today's model runs have backed off on this solution, of course:
I'll be reporting more on any abrupt weather pattern shift as we get closer to the second half of March.
Here are some "ET's" recorded from around the planet the last couple of days, their consequences, and some extreme temperature outlooks, as well as any extreme precipitation reports:
Here is some new February 2023 climatology:
Here is more climate and weather news from Friday:
(As usual, this will be a fluid post in which more information gets added during the day as it crosses my radar, crediting all who have put it on-line. Items will be archived on this site for posterity. In most instances click on the pictures of each tweet to see each article. The most noteworthy items will be listed first.)
If you like these posts and my work please contribute via the PayPal widget, which has recently been added to this site. Thanks in advance for any support.)
Guy Walton… "The Climate Guy"