The main purpose of this ongoing blog will be to track planetary extreme, or record temperatures related to climate change. Any reports I see of ETs will be listed below the main topic of the day. I'll refer to extreme or record temperatures as ETs (not extraterrestrials).😉
Main Topic: Update on First U.S. Heatwave of the Season (Amoco?)
Dear Diary. A well-advertised since before last weekend heatwave by meteorological models has arrived across portions of the western U.S. Here is the current area of heat advisories and watches posted by the National Weather Service there: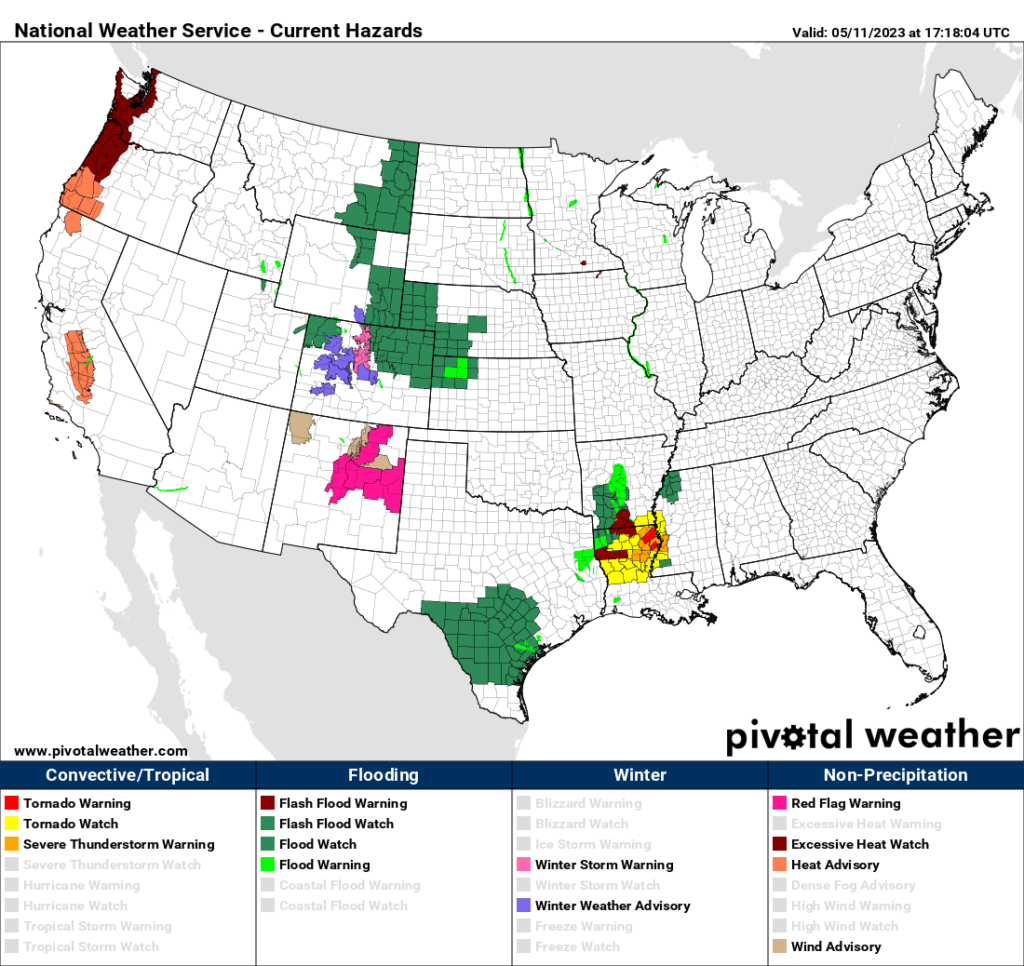 Soon the major cities of Seattle and Portland will be affected. Using my criteria, we now have a category one heatwave across portions of the Sacramento Valley, but will this system grow strong enough to be deemed a CAT 3 such that it garners an oil company name? As a reminder, here is that criteria written for 2023:
Extreme Temperature Diary- Thursday March 13th, 2023/Main Topic: List of Oil Companies for U.S. Heatwave Names During 2023 – Guy On Climate
This year, as promised, we are going to poke a little fun at oil companies by using their names to name heatwaves. Petroleum companies are a big reason why heatwaves have been getting worse year after year for the past forty years, at least, due to carbon pollution from the burning of their products. Here is the list that I have come up with for this year.
(from: List of oil exploration and production companies – Wikipedia):
Amoco
B.P. (British Petroleum)
Chevron
Citgo
Conoco (Phillips)
Dana
Exxon
Frontera
Gazprom
Hess
Koch
Laredo
Marathon
Occidental
Pemex
Shell
Todd
Woodside
Valero
XTO
So, will we see the first name on this list (Amoco) if the current heatwave becomes a major CAT3 system? Perhaps briefly this weekend depending upon how bad health issues get in western Washington and Oregon before this ridge starts to come down next week:
The worst heat anomalies will be over western Canada.
Climate Central has already written a brief report on this heatwave, linking the thing with climate change. Here is their report:
Climate Shift Index alert | Climate Central
May 11, 2023
Climate Shift Index alert
Climate Central analysis shows that human-caused climate change made the record-breaking spring heat forecast in parts of the western U.S. and Canada up to 5 times more likely.
Extended forecasts indicate record heat is likely over large areas of Washington, Oregon, California, Idaho and Montana in the U.S., and Alberta, British Columbia, and the Yukon Territory in Canada, from this Saturday, May 13, through Monday, May 15  2023. 
Daily temperatures over this period are expected to reach Climate Shift Index levels of 2 to 5, indicating that human-caused climate change made this excessive heat two to five times more likely.
By Sunday, May 14, temperatures could rise to levels not typically experienced until July and August. In parts of the Pacific Northwest, daytime temperatures are forecast to reach the upper 80s to mid 90s. Temperature records in the region for May 14 include  77°F (Vancouver, BC in 1997), 88°F (Seattle, WA in 2018), 89°F (Calgary, AB in 1924), and 95°F (Yakima, WA in 1973).
These temperatures could present heat safety risks, particularly given the rapid increase in temperatures  following a cooler-than-average start to the week. Populations most vulnerable to high temperatures include older adults, young children, pregnant women, individuals with chronic conditions, members of low income and historically marginalized communities, athletes, and outdoor workers.
For more information on heat and the related human health implications refer to our Climate Matters brief, More Risky Heat Days in 232 U.S. Locations, that found an increase in annual days above local risky heat thresholds throughout the Pacific Northwest. Seattle and Portland now experience 26 and 23 more risky heat days per year than in 1970, respectively.
This upcoming event is the latest in a string of unusual heat waves for this region, including a 2021 record-breaking heatwave that was made more than 1000 times more likely by human-caused climate change.
Reporting resources as this heat event unfolds:
About the Climate Shift Index™

Climate Central's Climate Shift Index™, grounded in the latest peer-reviewed science, maps the influence of climate change on temperatures across the globe, every day. 
Climate Shift Index™ levels indicate how much human-caused climate change has altered the frequency of daily temperatures at a particular location. Level 1 indicates that climate change is detectable in that day's temperature. Level 2 means that climate change made exceptionally warm temperatures in a given location at least twice as likely. Level 5 is the maximum and indicates temperatures at least 5 times more likely because of climate change.
For this analysis, temperatures come from NOAA's Global Forecast System model.
Here are more details from the Washington Post:
Parts of U.S. and Canada brace for potentially historic heat wave – The Washington Post
Parts of U.S. and Canada brace for potentially historic heat wave
The possibility of extreme temperatures come as punishing heat persists in Asia, parts of Europe and much of the tropics
May 10, 2023
The east side of the Paskwa fire burns near Fox Lake, Alberta, on Tuesday. (Alberta Wildfire/Reuters)
The potential for a historic heat wave is building in much of western Canada and parts of the United States, a region that has been dealing with early, major wildfires enhanced by an ongoing drought. It's set to reach its peak Friday through early next week.
The system is starting to gather around the Hudson Bay and will mostly affect a region from the Pacific Northwest to Alberta. The heat wave is set to reach its peak Friday and last through early next week. It was generated by extremely early-season high pressure.
Parts of Canada that will be affected were touched by an exceptional heat wave two years ago, which brought the hottest temperature ever recorded in the country and devastating wildfires.
Canada and the United States will not be the only places seeing extreme temperatures. Punishing heat persists in Asia, parts of Europe and much of the tropics.
As the northern hemisphere trudges toward summer, major heat waves and significant wildfires have already become common in parts of the world, with more of the same likely to be ahead.
Canada scorcher
A heat wave that looks like the historic June 2021 event is getting underway in parts of northern Canada. It will eventually spread to British Columbia and Alberta, as well as into the northern United States.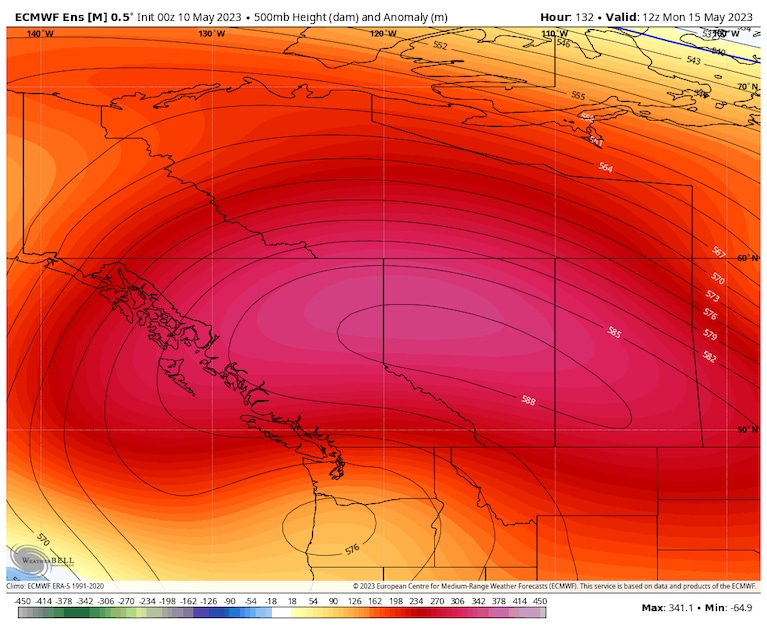 An extreme heat dome is set to develop over western Canada. (weatherbell.com)
While the 2021 event toppled many all-time records in the U.S. Pacific Northwest and Canada, the configuration and powerful nature of this week's event is similar. A zone of high pressure — also called a heat dome — is set to expand and become very intense into this weekend.
The heat dome's projected intensity would be near historic values in summer, let alone spring.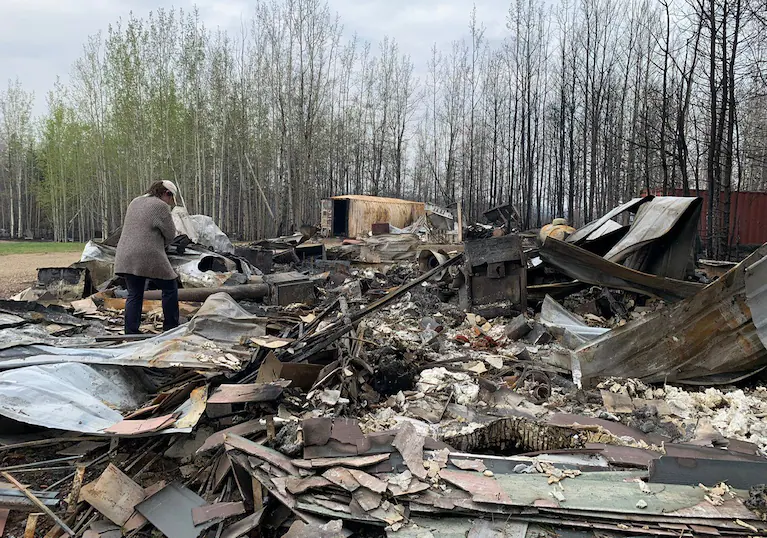 Cheryl Harris walks through the debris of her workplace, Pembina River Tubing, in Entwistle, Alberta, Canada, on May 9. (Anne-Sophie Thill/AFP/Getty Images)
Temperatures are likely to be shy of those extremes because the event is happening earlier in the year than in 2021. But temperatures reaching or breaking a range of 94 to 104 degrees Fahrenheit are still likely, putting peak temperatures between 18 to 36 degrees above normal.
Widespread temperatures of 10 to 20 degrees Celsius above average are on the way to Canada early next week. (weatherbell.com)
That this heat dome is coming just shy of two years after the last is exceptional. The 2021 event was deemed a one-in-a-thousand-year occurrence.
Now, "these type of events are forecast to occur in this region once every decade or even more often," wrote meteorologist and climate specialist Jeff Berardelli.
Asia, Europe and the tropics
Extreme out-of-season heat has also been impacting much of southeast Asia and parts of Europe.
In Asia, some spots have broken major records — and then broken them again. Thailand, Vietnam and Laos are among places that have smashed all-time marks. The relentless barrage of unseasonable heat has been going on for much of the year and continues.
Following the highest temperatures on record in Spain and the European continent in April, summertime heat is still simmering in the southern Iberian Peninsula and northern Africa, with temperatures around 104 degrees (40 Celsius).
Temperatures have been well above average across the Caribbean and central America over the past 10 days. (weatherbell.com)
A historic heat wave in April across that region has since been characterized as almost impossible without climate change by World Weather Attribution, a group seeking to quickly identify how much a given weather event is influenced by ongoing warming.
Much of the tropics have also been seeing scorching temperatures. Several locations in the Dominican Republic broke all-time May records close to 95 degrees (35 Celsius). Record and near-record temperatures around 104 degrees (40 Celsius) have also been observed in Central America.
Drought and fire
Major early-season fires are burning in Canada and Siberia, among other places. The Iberian Peninsula is also dealing with a historic drought and the fire threats.
Canada's season got off to an explosive start when numerous lightning strikes sparked dry lands late last week. Mixed with strong winds, firestorms led to the evacuation of around 30,000 in several towns across Alberta. While gentler weather has helped firefighting efforts into midweek, it won't last.
An image from the Moderate Resolution Imaging Spectroradiometer (MODIS) onboard NASA's Aqua satellite shows a true-color image of smoke billowing from fires (orange) Alberta and British Columbia on May 7. (MODIS Land Rapid Response Team/AFP/Getty Images)
Much of Alberta is under moderate to severe drought conditions, according to the Canadian Drought Monitor. This follows a winter where the primary storm track was displaced south with its constant flow of atmospheric rivers into California.
Meanwhile, thick smoke from Canada's wildfires has drifted into the Northeast United States, turning skies orange and making for stunning sunsets and sunrises.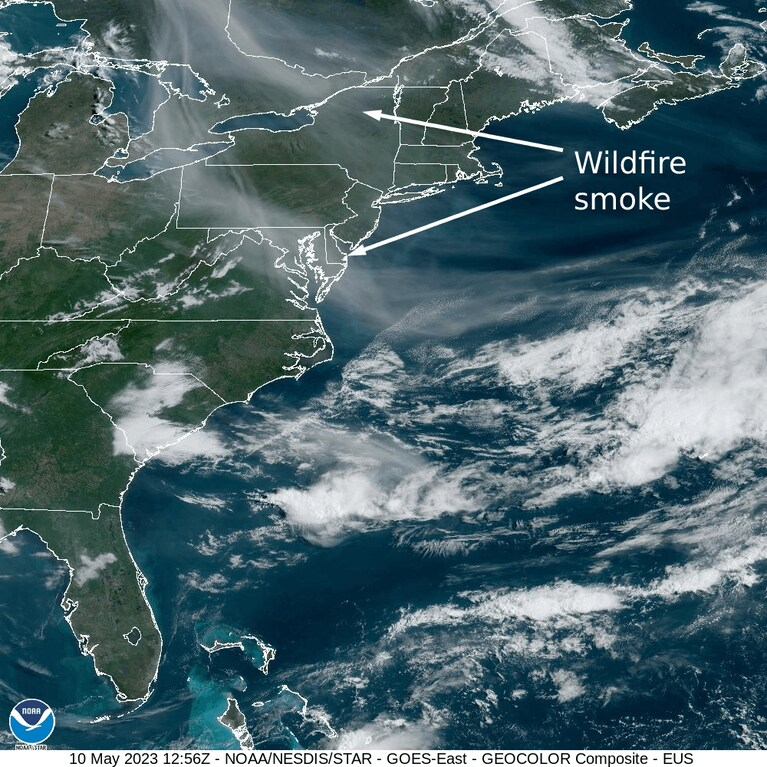 Wildfire smoke over the Northeast United States, carried on the jet stream from Canada. (NOAA)
Dry conditions are ongoing in several parts of the hemisphere and acting as feedback to the heat.
Drought that began in southern Spain in late 2022 has intensified recently, with some spots near the southern city of Córdoba — which recently hit 101.8 degrees (38.8 Celsius) in a historic April heat wave — are going on months with little to no rain.
Reservoirs in the Catalonia region are near 25 percent, which has been described as having no precedent, and water restrictions are growing. Agricultural behemoths of the region, including olive oil harvesters, are watching and wondering if their livelihoods are on the brink of collapse. It's not the first bad season, with past years also featuring unusual heat and scorched crops.
Just getting started
With the globe appearing on the precipice of a powerful El Niño, a warming of waters along the equatorial Pacific Ocean, it appears that warmth will continue going forward.
Forecast temperatures in August compared to average. (StormVistaWxModels.com)
El Niños are known for delivering some of the warmest months and years on record, even without the impacts of climate change.
As might be expected, the best long-range weather and climate modeling suggests much of the northern hemisphere running above average for temperatures through summer, and the rest of the year, with few if any cool spots to be found.
By Ian Livingston Ian Livingston is a forecaster/photographer and information lead for the Capital Weather Gang. By day, Ian is a defense and national security researcher at a D.C. think tank. Twitter
Related:
Here are some more "ET's" recorded from around the planet the last couple of days, their consequences, and some extreme temperature outlooks, as well as any extreme precipitation reports:
Here is some more brand-new April 2023 climatology:
Here is more climate and weather news from Thursday:
(As usual, this will be a fluid post in which more information gets added during the day as it crosses my radar, crediting all who have put it on-line. Items will be archived on this site for posterity. In most instances click on the pictures of each tweet to see each article. The most noteworthy items will be listed first.)
And from the Weather Department:
More notes on other science and the beauty of Earth and this universe:
If you like these posts and my work please contribute via the PayPal widget, which has recently been added to this site. Thanks in advance for any support.)
Guy Walton… "The Climate Guy"