The main purpose of this ongoing blog will be to track planetary extreme, or record temperatures related to climate change. Any reports I see of ETs will be listed below the main topic of the day. I'll refer to extreme or record temperatures as ETs (not extraterrestrials).😉
Main Topic: Historic CAT4 Heatwave Chevron Forecast to Spread North and East
Dear Diary. First, let's tale stock of our named heatwaves that have occurred across North America this year. Heatwave Amoco started in the Pacific Northwest and western Canada in early June and became a historic CAT4 because it set off massive, unprecedented Canadian forest fires, which led to smokey conditions across our northern tier of states. Amoco probably will be responsible for hundreds of deaths due to respiratory problems. Any heatwave will ultimately be blamed for killing 100-1000 people using my criteria for a CAT4. Heatwave British Petroleum also became a CAT4 in Mexico and spread into the south-central states later in June. We know that this heatwave killed more than a hundred people and also killed a few people in the United States.
Now a new a heatwave named Chevron is on the cusp of being a historic CAT4 and probably will before Sunday when some all-time records are threatened across the Southwest. It appears that after being confined to the Southwest and south-central states that Heatwave Chevron will expand north and east next week.
Here are current U.S. heat advisories:
Notice the broad areas of NWS heat advisories across several states. These have expanded greatly from those of Tuesday. This map is what you would typically see for a borderline CAT3/4 system. Should this level of heat persist for a few days…and it will…hundreds of fatalities can be expected, mainly from our older population unfortunately.
Let's look at why Heatwave Chevron will expand and intensify. Here is the current heat dome in association with the heatwave:
On the above Pivotal Weather chart, we see that the heat dome is centered over southern Bee Mexico at about 596 decameters. While strong, the thing is typical by summer standards. The position of the heat dome is cutting off the summer monsoon, which typically kicks in during mid-July, bringing some water and heat relief to the Southwest, which won't occur until after this coming Sunday when the ridge starts to move east.
Here are model ensembles valid for Wednesday of next week: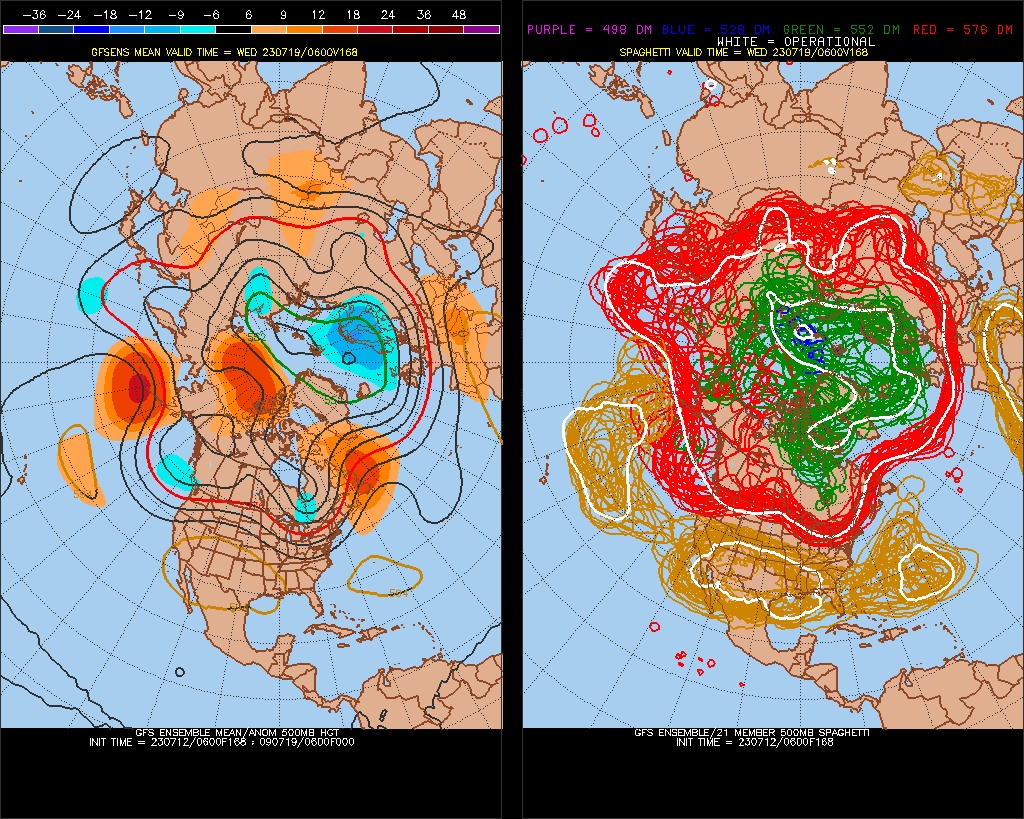 The orange circle on the left chart represents the mean of where 594+ decameter heights are forecast to be a week from today by many various runs of the GFS model. The heat dome will be enormous but not unprecedented. Also, its uncertain how long the heat dome will nose into the Southeast. A front may cut heat from building in both the Northeast and Southeast a few days after Wednesday the 19th. The southern Midwest is likely to see several days of deadly record heat, though.
Today's operational European model agrees with the above Penn State ensemble chart with 500 millibar heights getting close to 600 decameters:
Here are more forecast details on Heatwave Chevron from the Washington Post:
Heat wave forecasts for Southwest show possible record-setting temperatures – The Washington Post
Records set to topple in Southwest as cross-country heat wave expands
Nearly 110 million Americans are under heat alerts
Updated July 12, 2023 at 12:29 p.m. EDT|Published July 12, 2023 at 12:17 p.m. EDT
Salvation Army volunteer Soila Arias gives water to a man at the Valley Heat Relief Station in Phoenix on Tuesday. (Matt York/AP)
An unforgiving heat wave is gripping much of the Lower 48, bringing triple-digit temperatures to the nation's three most populous states — California, Texas and Florida — and is poised to set a litany of records.
In the Southwest, readings are expected to climb as high as 130 degrees, while the southern Plains and Southeast will face an oppressive overlap between extreme temperatures and tropical humidity.
How bad is the heat near you?
(The Washington Post)
We're tracking dangerous heat waves across the United States daily. Look up your city to see extreme heat risks near you.
According to Heat.gov, the government's heat portal, 108 million people are under heat alerts.
Heat indexes, a metric that gauges how much stress the heat and humidity will place on the human body, will be downright dangerous in many spots. Excessive-heat warnings blanket much of California, southern Nevada, western Arizona, Texas and Oklahoma, while heat advisories cover the surrounding areas, as well as part of Florida.
"Extreme heat and humidity will significantly increase the potential for heat related illnesses, particularly for those working or participating in outdoor activities," wrote the National Weather Service in Dallas.
Heat alerts issued by the National Weather Service. (Pivotal Weather)
Across the Southwest, meteorologists are warning that the heat risk is "extreme" and could have dire consequences, such as an "increase in heat-related illnesses, including heat cramps, heat exhaustion and heat stroke." Heat stroke can quickly prove fatal. Excessive heat kills far more Americans annually than do hurricanes and tornadoes combined and disproportionately affects the elderly, the poor and other systemically vulnerable populations.
In some places, forecasters were even running out of ways to describe the severity of the heat.
"The atmospheric oven will roast and fry northern and central New Mexico like bacon through at least the next 7 days," the National Weather Service in Albuquerque wrote.
Outside the South, parts of the southern Plains and Midwest are also sweltering. The peak heat index Wednesday is forecast to be 106 in Kansas City, Mo., and a blistering 112 in Topeka, Kan.
Why this heat wave is noteworthy
Heat is a staple of the summertime, but this heat wave is in a league of its own. In addition to the magnitude of the heat, enough to establish scores of new records, the temperatures are remarkable for their duration.
A heat dome expands over the southern United States. (WeatherBell)
Phoenix, for example, has logged 12 consecutive days at or above 110 degrees, and the remainder of this week into early next is sure to bring the same. Daily highs are forecast to climb into the 115- to 118-degree range by late in the week and should carry into early next week, potentially posting its hottest week on record. In fact, there's no immediate end in sight. That will surely establish a new city record for the longest streak of days to reach 110 degrees or higher; the current record is 18 days, set during June 1974.
El Paso is up to 26 days at or above 100 degrees, which is a new record, and in Miami, the heat index has hit 100 or higher for nearly a month.
The overarching weather pattern — featuring a sprawling heat dome, or stubborn ridge of high pressure — has been stuck for weeks. The heat dome deflects any inclement weather, and the jet stream, to the north. Beneath the dome, hot, dry, sinking air combines with ceaseless sunshine that bakes the ground.
That heat dome is expanding and now stretches from the eastern Pacific and the Baja Peninsula to Florida. By early next week it's expected to expand northward and take hold of most of the country.
Press Enter to skip to end of carousel
More on the extreme heat waves
Look up where extreme heat poses the biggest threat in the U.S. – Washington Post
How hot is too hot to exercise outside? Here's what experts say – The Washington Post
The Southwest
Forecast highs over the southwest on Sunday. (Pivotal Weather)
In the Southwest, the heat is dry but punishing. Phoenix isn't alone in expecting absurd highs approaching 120 degrees. Las Vegas is likely to tie its all-time record high of 117 degrees on Sunday and Monday. If the city makes it to one degree higher, it would breach uncharted territory.
California's Death Valley could approach or even nick 130 degrees this weekend, perhaps on Sunday. The National Weather Service is forecasting a high of 128 degrees at the Furnace Creek Visitor Center. A high of 130 degrees would match the mark it set on July 9, 2021, which is the highest reading ever reliably recorded worldwide, and would be hotter than anything experienced in the past 90 years. (There are some antiquated records that suggest Death Valley reached 134 degrees on July 10, 1913, but the measurement practices can't be vetted.) The famously hot desert location might not dip below 100 degrees on Saturday, Sunday or Monday nights.
National Weather Service forecast of peak high temperatures over the next week. (Ian Livingston)
Across the rest of California, the worst of the heat looks to arrive on the weekend. Excessive-heat warnings have expanded into the central and southern San Joaquin Valley, where readings of 112 to 117 degrees could set a number of new all-time high temperature records. Excessive-heat watches have been posted for the northern Central Valley.
The National Weather Service in Hanford, Calif., estimates an 86 percent chance that Fresno hits 109 degrees on Sunday, an 81 percent chance for Bakersfield to reach that temperature and a 76 percent likelihood in Visalia.
"This type of heat will result in a major to extreme risk for heat-related illnesses for much of the population, especially those who are heat sensitive and those without effective cooling and/or adequate hydration," the agency wrote.
It's also worth noting that when the air is bone-dry anyone outside won't notice the sweat gather on their skin, since it will immediately evaporate into the parched atmosphere. That means that people won't realize they're dehydrated until it may be too late.
Texas and the South
Widespread 102- to 107-degree readings will be the norm in Texas for each of the next several days. Combined with Gulf of Mexico humidity wafting northward, the heat index should push past 110 degrees for most residents of the Lone Star State.
It's not just Texas that's in the crosshairs of this brutal southern heat. Most of the mid-South, the southern Plains, the Gulf Coast and even the Southeast is in play. Dallas is looking at a heat index of 111 degrees on Monday, and Corpus Christi will feel like a mind-boggling 118 degrees. New Orleans, Memphis and Jacksonville, Fla., will also swelter with a heat index of 110 degrees.
The tropical humidity will prevent sweat from evaporating into the atmosphere, rendering the entire mechanism of evaporative cooling (the reason mammals sweat) moot and exacerbating our susceptibility to the extreme heat. As we sweat, we risk dangerous dehydration.
Dallas, Houston, San Antonio and Memphis are forecast to see actual air temperatures of 102, 100, 102 and 92 degrees, respectively. Many locations won't fall below 80 degrees each night, a significant risk for the unhoused population who don't have access to cooling shelters. There is a well-established link between premature deaths and warm overnight lows.
Florida
In Florida, the magnitude of the air temperatures alone is less impressive; highs are running just a few degrees above average. But a marine heat wave, with water temperatures off the southwest Florida coastline topping 95 degrees, is helping to pump robust moisture into the atmosphere.
That's been combining with highs in the 90s to foster hazardous heat indexes. Miami, for example, had a heat index of 110 degrees on Sunday and Monday and 108 on Tuesday. A heat advisory remained in effect there Wednesday.
At least in Florida, the end is in sight. For days, a layer of Saharan air aloft was reducing thunderstorm chances, allowing sunshine to pour down unimpeded. That air mass has largely left, meaning that a return to daily storms and their cooling influence is likely in the days ahead.
More on extreme heat
Our warming climate: Heat forecasts for the Southwest region show possible record-setting temperatures this week. It's not just you ⁠— summers in the U.S. are getting hotter. Look up your city to see your extreme heat risk with our tracker. Take a look at what extreme heat does to the human body.
How to stay safe: It's better to prepare for extreme heat before you're in it. Here's our guide to bracing for a heat wave, tips for staying cool even if you don't have air conditioning, and what to know about animal safety during extreme heat. Traveling during a heat wave isn't ideal, but here's what to do if you are.
Understanding the science: Sprawling zones of high pressure called heat domes fuel heat waves. Here's how they work. You can also read more about the link between weather disasters and climate change, and how leaders in the U.S. and Europe are responding to heat.
EXTREME WEATHER
HAND CURATED
By Matthew Cappucci Matthew Cappucci is a meteorologist for Capital Weather Gang. He earned a B.A. in atmospheric sciences from Harvard University in 2019, and has contributed to The Washington Post since he was 18. He is an avid storm chaser and adventurer, and covers all types of weather, climate science, and astronomy. Twitter
More:
Here are some "ET's" recorded from around the planet the last couple of days, their consequences, and some extreme temperature outlooks, as well as any extreme precipitation reports: temperature outlooks, as well as any extreme precipitation reports:
Here is some more new June 2023 climatology:
Here is more climate and news from Wednesday:
(As usual, this will be a fluid post in which more information gets added during the day as it crosses my radar, crediting all who have put it on-line. Items will be archived on this site for posterity. In most instances click on the pictures of each tweet to see each article. The most noteworthy items will be listed first.)
Today's News on Sustainable Energy:
More Environmental Stuff:
More from the Weather Department:
More on other science and the beauty of Earth and this universe:
If you like these posts and my work on record temperature ratios, please contribute via the PayPal widget, which has recently been added to this site. Thanks in advance for any support.
Guy Walton… "The Climate Guy"