The main purpose of this ongoing blog will be to track planetary extreme, or record temperatures related to climate change. Any reports I see of ETs will be listed below the main topic of the day. I'll refer to record temperatures as ETs (not extraterrestrials).😉
Main Topic: Biden's New Youth Climate Corp
Dear Diary. Political pressure via peaceful marches, signing petitions, and writing letters to those in charge works. After years of rallying cries culminating with massive climate marches in New York City and elsewhere on Sunday, President Biden announced Tuesday the formation of an American Climate Corp in which 20,000 eager young people would be hired to do groundwork to fight the climate crisis. This American Climate Corp has reminded people of a similar program that President Rosevelt instituted about ninety years ago, which was the Civilian Conservation Corps. I'm thinking that this new Climate Corp needs to be expanded to plant as many trees as was done by the CCC plus install solar panels and windmills that generate green electricity.
The Civilian Conservation Corps (CCC) was a work relief program that gave millions of young men employment on environmental projects during the Great Depression. Considered by many to be one of the most successful of Roosevelt's New Deal programs, the CCC planted more than three billion trees and constructed trails and shelters in more than 800 parks nationwide during its nine years of existence. The CCC helped to shape the modern national and state park systems we enjoy today.
Here are more details on the new American Climate Corp from the New York Times:
Wanted: 20,000 Young Americans to Fight Climate Change – The New York Times (nytimes.com)
Wanted: 20,000 Young Americans to Fight Climate Change
The White House plans to create an "American Climate Corps" that would train thousands of young people for green jobs.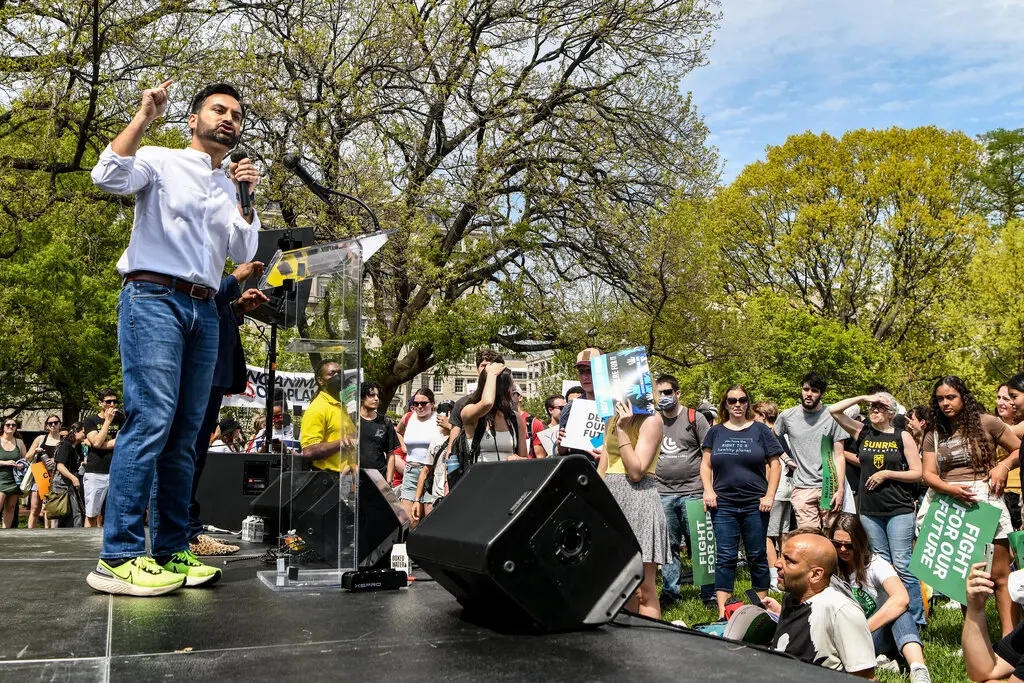 Ali Zaidi, the White House climate adviser, at a climate rally outside the White House in April.Credit…Kenny Holston for The New York Times
Sept. 20, 2023
President Biden intends to use executive authority to train and employ thousands of young people in jobs to fight global warming, Ali Zaidi, the White House national climate adviser, said on Tuesday.
The American Climate Corps, as the White House has named the organization, would provide young people with skills to work in wind and solar production, disaster preparedness and land conservation, Mr. Zaidi said. The White House expects about 20,000 recruits in the first year, he said.
While many programs that fall within the American Climate Corps may be geared toward young people, not all would have age limits, a White House spokeswoman said.
The administration would not say how much would be spent on the program, only that it would be a collaborative effort among the Labor, Interior, Agriculture and Energy Departments, AmeriCorps and the National Oceanic and Atmospheric Association and would draw on existing funding at each agency.
The corps will create for young people a "pathway into the middle class and into a more sustainable future," Mr. Zaidi said.
As an example, administration officials pointed to ForestCorp, a $15 million program announced this week by AmeriCorps and the U.S. Forest Service to teach 80 people, between the ages of 18 to 26, wildfire prevention, reforestation and other skills. The program will pay about $15 per hour and cover lodging and other benefits, according to a White House fact sheet.
Republicans have criticized the idea of a climate corps as government boondoggle that would fund pipeline protests with taxpayer dollars.
Inspired by the Civilian Conservation Corps, the New Deal program that put millions of young men to work during the Great Depression, young climate activists have been lobbying for the creation of a climate corps.
Varshini Prakash, the co-founder of the youth-led Sunrise Movement, which advocates for action against climate change, said the corps was a response to "a generational rallying cry" to employ young Americans "to do the essential work of averting a climate catastrophe."
One of Mr. Biden's first executive orders called for the creation of a modern civilian corps that would "mobilize the next generation of conservation and resilience workers and maximize the creation of accessible training opportunities and good jobs."
Some Democrats in Congress sought about $30 billion for a climate corps as part of a sweeping clean energy law, but negotiators ultimately dropped the idea when finalizing the Inflation Reduction Act, which Mr. Biden signed last year.
Nevertheless, Democrats continued to pressure Mr. Biden to create a climate corps. "With deadly heat, dangerous floods, rising seas, and devastating wildfires — including those that ravaged Maui last month — the climate crisis demands a whole-of-government response at an unprecedented scale," 50 members of Congress wrote in a letter to Mr. Biden this week.
The government will start a recruitment website for the American Climate Corps within months, Mr. Zaidi said.
Lisa Friedman reports on federal climate and environmental policy from Washington. She has broken multiple stories about the Trump administration's efforts to repeal climate change regulations and limit the use of science in policymaking. More about Lisa Friedman
Here are some other "ET's" recorded from around the planet the last couple of days, their consequences, and some extreme temperature outlooks, as well as any extreme precipitation reports:
Brasil is facing extreme temperatures of up to 39°C even though it is still winter. Nearly the whole country is experiencing heat dangerous to human health.https://t.co/CWzMrfvcpz

— Extinction Rebellion Global (@ExtinctionR) September 21, 2023
"Brazil is bracing for a heat wave that could see temperatures rise to 113°F (45°C) during the Southern Hemisphere's final days of winter. That temperature would reportedly break a record in the country — not just for winter, but for any time of year."https://t.co/kTigAFqBFQ

— Prof. Eliot Jacobson (@EliotJacobson) September 21, 2023
Another abnormally warm night in Central/Northern Europe with Tmins up to 16.5C in Finland,17.6 in Sweden,18.0C in Denmark,…
many are unprecedented for the 2nd half of September.

Tmin 18.1C at Lippstadt, Germany highest in September if it holds

Warm day in Poland up to 29C. pic.twitter.com/tblU7FU0gc

— Extreme Temperatures Around The World (@extremetemps) September 21, 2023
A record hot September also in many parts of Middle East.
Today temperature reached 47C at Swiehan in United Arab Emirates with similar conditions expected tomorrow and even spreading North.
Remember :Latest 48C ever recorded in Northern Hemisphere was on a 24 September. pic.twitter.com/sISM0cfEMD

— Extreme Temperatures Around The World (@extremetemps) September 21, 2023
Monster heat wave in Australia,today 39.2C at Evans Head,New South Wales.
In Queensland record at Coolangatta with 33.9C.
Next days the record heat will spread to Queensland,Northern Territory and Western Australia.
Let's expect dozens,if not hundreds of records and more 40Cs. pic.twitter.com/xCffudICJz

— Extreme Temperatures Around The World (@extremetemps) September 21, 2023
Update:
Exceptional 29.6C at Wairou, New Zealand,
highest in September in North Island smashed and hottest in New Zealand that early in the year.
Gisborne with 27.1C also broke its monthly record.
In total 6 records of highest Tmaxes plus several more highest Tmins. https://t.co/iKAPIRnvio

— Extreme Temperatures Around The World (@extremetemps) September 21, 2023
Historic warmth in New Zealand:
After yesterday 28.9C at Timaru in South Island (record for the station), today even more historic 28.8C at Wairoa, which is the highest temperature ever recorded in North Island in September
This follows a record warm night with some Tmins 15C/17C https://t.co/nqLHny7llv

— Extreme Temperatures Around The World (@extremetemps) September 21, 2023
Never ending record heat in #Japan.
Last night was suffocating in Central/Southern Eastern Japan with more September records of highest Minimum temperatures fell:
27.6C Nijima
27.3C Tateyama

While the North will cool, Southern Japan will remain hot and humid. pic.twitter.com/PjqyZNt9y0

— Extreme Temperatures Around The World (@extremetemps) September 20, 2023
Update:
111F/44C yesterday at Rio Grande Village,Texas.
Similar or even higher temperatures are expected in Texas the next few days,near or at record levels for late September.
October might start breaking October records specially at El Paso and near the Mexican border. https://t.co/bhndQ7QS4r

— Extreme Temperatures Around The World (@extremetemps) September 21, 2023
Here is some more August 2023 climatology:
August 2023 in #Guadeloupe was the hottest on records.
Average temperatures were record in EVERY station,example:28.8C Raizet AP,30.2C in St Barth (!),29.9C in St Martin and La Desirade,…
Several records of highest Tmax and highest Tmins fell during the month.
Exceptional. pic.twitter.com/8ab4xkPx4D

— Extreme Temperatures Around The World (@extremetemps) September 21, 2023
August 2023 in #Cyprus was one of the hottest months in climatic history.
Temperature anomaly was +2C above average,temperature exceeded 45C (2nd highest in history) and records were broken in the mountains like Prodromos with 38.4C .
27th-28th witnessed rare local heavy tstoms. pic.twitter.com/Y8XKY5ybWG

— Extreme Temperatures Around The World (@extremetemps) September 21, 2023
Here is more climate and weather news from Thursday:
(As usual, this will be a fluid post in which more information gets added during the day as it crosses my radar, crediting all who have put it on-line. Items will be archived on this site for posterity. In most instances click on the pictures of each tweet to see each article. The most noteworthy items will be listed first.)
Thx @JohnKerry & @AymanM for great climate segment. Just wanted to clarify one matter raised. Methane emissions are responsible for about 25% of warming in recent decades, not 50%. CO2 is still the dominant culprit (and has a much longer lifetime)https://t.co/Ffy3fedGEU

— Prof Michael E. Mann (@MichaelEMann) September 22, 2023
Every day, I'm asked "What can I do to make a difference?" and my answer is this: alongside the grim realities we face, we need to know what we as individuals and as a society can do, and are doing, to make a difference. Read more: https://t.co/3knNXGgCS1

— The Real Prof. Katharine Hayhoe (@KHayhoe) September 21, 2023
Last month was particularly striking when looking at only the Northern Hemisphere. It wasn't anywhere close to the previous record.

[Data/methods: https://t.co/Y7TeMNSvIJ] pic.twitter.com/uJidzwS8Wf

— Zack Labe (@ZLabe) September 21, 2023
"'As scientists, we have to be careful not to be alarmist,' Ceballos says. '[But] we would be unethical not to explain the magnitude of the problem, since we and other scientists are alarmed.'"

https://t.co/bYsbdblDPJ

— David Wallace-Wells (@dwallacewells) September 20, 2023
"We thought these lakes were going to be sinks of carbon, at least during the summer," says an Arctic researcher. "But what we saw this year was just unprecedented."

Arctic lakes that once locked up carbon could be turning into sources of emissions.https://t.co/mtVp9GyuWA

— Yale Environment 360 (@YaleE360) September 21, 2023
Can journalists please stop asking @RishiSunak about net-zero in 2050 and ask instead about how he is going to meet the government-agreed legally-binding 6th carbon budget for 2033-37 with these proposed weaker policies? https://t.co/8ZfoVcE6L8

— Ed Hawkins (@ed_hawkins) September 21, 2023
Al Gore leads international chorus of disapproval for Sunak's climate U-turn https://t.co/9hpe8Kieih

— The Guardian (@guardian) September 21, 2023
Mother Earth cannot sustain the obscene wealth of the rich class
But almost everyone in rich countries should feel some guilt as they are participating in a system that is destroying every eco system on Earth
To feel no guilt gives a free license to pretend we are all blameless https://t.co/J4QhV3PY48

— GO GREEN (@ECOWARRIORSS) September 21, 2023
Almost 2,000 environmental defenders have been killed between 2012 and 2022.

We need governments to protect defenders — and the role of defenders in tackling the climate emergency to be recognised.#DefendTheDefenders pic.twitter.com/KG3VL8uylF

— Vanessa Nakate (@vanessa_vash) September 21, 2023
Today's News on Sustainable and Traditional Polluting Energy from Fossil Fuel:
BREAKING: Don't Attend COP 28 Unless You're There to Help, Figueres Tells Oil and Gas via @theenergymix https://t.co/ubWclm3Pel

Oil and gas companies shouldn't bother showing up at global climate negotiations later this year unless they're ready to help deliver on real emission…

— Svein Tveitdal (@tveitdal) September 21, 2023
'Giant wind farm off North Wales will provide enough electricity to power 500,000 homes.' https://t.co/rwflSX49t6

— Dr Paul Dorfman (@dorfman_p) September 21, 2023
Today @POTUS and @USClimate Governors including @GovInslee and @GovJanetMills announced a goal of 20 million heat pumps in homes this decade. That's more than 4x current levels.

Heat pumps for all! LFG!!! ⚡https://t.co/eaaUXhKZld

— Dr. Leah C. Stokes (@leahstokes) September 21, 2023
More from the Weather Department:
#PTC16 will likely be a fast-forming tropical storm by late Friday, churning north along the Atlantic coast with heavy rains up to New England, storm surge from SC to MD, and 40-60 mph winds, esp. in eastern North Carolina. @CC_Yale https://t.co/c7VMG34LoN

— Bob Henson (@bhensonweather) September 21, 2023
Potential Tropical Cyclone 16 has formed off the Florida coast. Forecast to become a tropical storm by Sept. 23. Next name on 2023 Atlantic #hurricane season list is #Ophelia. Only other seasons w/ 16+ named storms by 9/23 are: 2005, 2011, 2020, 2021. Subtrop storm formed in Jan. pic.twitter.com/4wtSoImxqV

— Philip Klotzbach (@philklotzbach) September 21, 2023
We now have PTC #16 off the SE coast. Expected to be 60mph nearing the coast. Tropical Storm Warnings for parts of the east coast. Storm Surge Watch is also up for parts. This happened quick. https://t.co/Hk3pbO7x8H pic.twitter.com/wIRz8pc96c

— Mike's Weather Page (@tropicalupdate) September 21, 2023
It remains a tale of two continents, one beginning the transition to fall & winter, the other stuck in reverse, i.e., summer. I begin discussing the prospects of this upcoming winter & divide the signals into two teams, red & blue. The blog is now public: https://t.co/Gg8N2KHLUk pic.twitter.com/TeuYNBficv

— Judah Cohen (@judah47) September 21, 2023
Consensus among models now that we'll have soaking, wind swept rain in DC area late Friday night into Sunday AM. 1-3"+ rain poss, & wind gusts over 40 mph poss Saturday. Would def starting thinking about Plan B for any outdoor plans.

Updated forecast:https://t.co/tOi7YTygks pic.twitter.com/kyPgvCMO6R

— Capital Weather Gang (@capitalweather) September 21, 2023
New winter outlook dropped today. pic.twitter.com/IFK0g3q0KT

— Brian Brettschneider (@Climatologist49) September 21, 2023
More on the Environment:
To stay below 1.5 °C for our climate, an ambitious #PlasticsTreaty is essential to cut plastic production by at least 75%!

Sign the petition>> https://t.co/uOMNqGPXjc
https://t.co/4yYc2ovpuK

— Greenpeace International (@Greenpeace) September 21, 2023
Iraq, is running out of water, with water levels in the Euphrates and Tigris rivers down by half

Savage oil industry water use is exacerbating the problem, with plants used by Big Oil gulping 25%+ of the daily water consumption of 5 million peoplehttps://t.co/Hj3vHoL4tA

— Assaad Razzouk (@AssaadRazzouk) September 20, 2023
It's starting… 👀

A winter weather advisory has been issued for portions of the Rockies! Are you ready for the seasons to change? pic.twitter.com/ynTuwi0Azh

— The Weather Channel (@weatherchannel) September 21, 2023
More on other science and the beauty of Earth and this universe:
Worth the watch! What an incredible view of this tornado near Martin, South Dakota!

LSC Viewer: Amie Kuxhaus | June 29. 2019 pic.twitter.com/CDnIObKeot

— Live Storm Chasers (@LiveStormChaser) September 21, 2023
Though she is an accountant by trade, Sarah Hasan Al-Sayegh calls herself the first Kuwaiti-Arab female storm chaser.

Check out some of her incredible captures:https://t.co/RTDHYbJ8aW pic.twitter.com/Xh1lsV2xu4

— AccuWeather (@accuweather) September 21, 2023
If you like these posts and my work on record temperature ratios, please contribute via my PayPal widget on this site. Thanks in advance for any support.
Guy Walton… "The Climate Guy"