The main purpose of this ongoing blog will be to track planetary extreme, or record temperatures related to climate change. Any reports I see of ETs will be listed below the main topic of the day. I'll refer to record temperatures as ETs (not extraterrestrials).😉
Main Topic: Faultline Cracks During Climate Week
Dear Diary. Unfortunately, not everyone is singing Kumbaya during this climate week of protests and plans moving forward to COP28. There are deep faults or disagreements pertaining to how much of a seat fossil fuel companies should have at Dubai where COP28 will be held later this year. We need to wean ourselves off oil and gasoline as soon as possible to prevent further climate degradation. Many nations want oil money via permits to drill, but how much of this practice moving forward should be permitted?
The upcoming #COP28 is shaping up to be every bit as compromised as folks suspected it would be. Great reporting from @ben_stockton @ClimateReport_ for @guardiannews https://t.co/6OS2jTopzM

— Amy Westervelt (@amywestervelt) September 22, 2023
All of this is encapsulated in a new New York Times piece reposted here for today's main topic:
The Fault Lines at Climate Week – The New York Times (nytimes.com)
The Fault Lines at Climate Week
There are big differences of opinion on how to get the job done.
Published Sept. 21, 2023
Today was the day for The New York Times's annual Climate Forward live event in Manhattan. David Gelles, Somini Sengupta and other Times reporters talked with some of the climate sector's most vital newsmakers to share ideas, work through problems and answer tough questions about the threats presented by a rapidly warming planet.
As the day progressed and we heard from people like Michael Bloomberg, Al Gore, Mia Mottley and Ajay Banga, some common themes emerged.
Resolving the climate crisis is the hardest joint project humanity has ever taken on. On that much, the policymakers, activists and business leaders seemed to agree. But there are still big differences of opinion on how to get the job done. And in the meantime, the cognitive dissonance between hope and despair is enough to make everyone's head spin.
"The future is very bright and every day is a freaking crisis," Jason Grumet, C.E.O. of the American Clean Power Association, told my colleague Astead Herndon.
Who gets a seat at the table
Divisions were most clear over the questions countries are set to consider in the global climate negotiations in Dubai this November: Is it time to start phasing out fossil fuels now? And how much should oil companies be involved in that process?
Al Gore warned that fossil fuel interests are trying to co-opt climate action, especially with a top oil executive, Sultan al-Jaber of the United Arab Emirates, leading this year's global climate talks in Dubai.
"That's just, like, taking the disguise off," Gore, the former vice president, told David. "They have captured control of the political and policymaking process in too many countries and too many regional governments, and they've reached out to try to capture the U.N. process."
Fossil fuel industries, Gore added, "have portrayed themselves as the source of trusted advice that we need to solve this crisis. But they are responding to powerful incentives to keep digging and drilling and pumping up the fossilized remains of dead animals and plants and burning them in ways that use the atmosphere as an open sewer, threatening the future of humanity. It's enough already."
But some corporate and government leaders onstage today, including the billionaire philanthropist Michael Bloomberg, were adamant that the world is not yet ready to give up fossil fuels. Bloomberg also said al-Jaber was a smart choice to lead the COP28 talks.
"We are not going to get away from using oil for the next 10 or 15 years and we are not going to say everybody that has a gas-guzzling car can't drive it anymore and they will have to start walking today," he told David. "Big oil is part of the problem. They are also part of the solution."
A lack of capacity to change
Projections by the International Energy Agency says nations must stop approving new oil, gas and coal projects for the world to keep warming below dangerous levels. Still, oil producing nations and corporations haven't yet shown any signs that they are ready to slow down.
Britain's government, a climate leader for years, just announced a change of course that will weaken key environmental pledges, including delays to a ban on the sale of gas and diesel cars.
The prime minister of Norway, Jonas Gahr Store, told Somini that this is the century when the world will phase out fossil fuel. But he also said he is against setting a deadline for the transition, and defended his country's continued investment in oil and gas expansion.
"I believe that the change here will have to come from the demand side and cannot be by having political decisions to cut the supply side," he said. "By the end of this decade, you will have very good business arguments for not investing in oil and gas and rather investing in solar, wind, hydrogen, these new sources."
Mia Mottley, the prime minister of Barbados who has become a leader of the climate movement, said that for her country and others it is impossible to get rid of fossil fuels without alternatives in place.
"Natural gas continues to be a bridge in fuel because there is a genuine lack of capacity globally," she said. "I would love somebody to pay me to keep our natural gas in the ground in our oceans. But in they don't, how am I going to finance my net zero and how am I going to ensure that my country has access to credible supply of energy?"
Almost four months into his presidency at the World Bank, Ajay Banga said he was looking for intelligent ways to get developing countries enough resources to build up that capacity.
"We've created processes to work on this," he said. "I would tell you don't think the door will open and the trillions will flood in it. But don't give up hope."
No room for despair
But what are countries willing to sacrifice for the green transition? Activists are concerned that impacted communities and ecosystems could suffer.
"We often get caught up in the cycle of trying to move things fast; however, if you want to go further, you have to go together and that often takes time," Ebony Twilley Martin, executive director of Greenpeace USA, told Astead. "When we don't do a proper assessment, we see biodiversity loss, economic burdens."
Still, there was plenty of optimism about the ability of nations and people to change. Some talked about the local solutions, such as cities that are reshaping themselves to cope with increasing heat.
Losing hope is not an option, Gore said. People should, instead, look for ways to organize politically.
"Climate despair is just another form of denial and we have to resist it," he said. "We don't have time to wallow in despair. We have work to do and we can do this."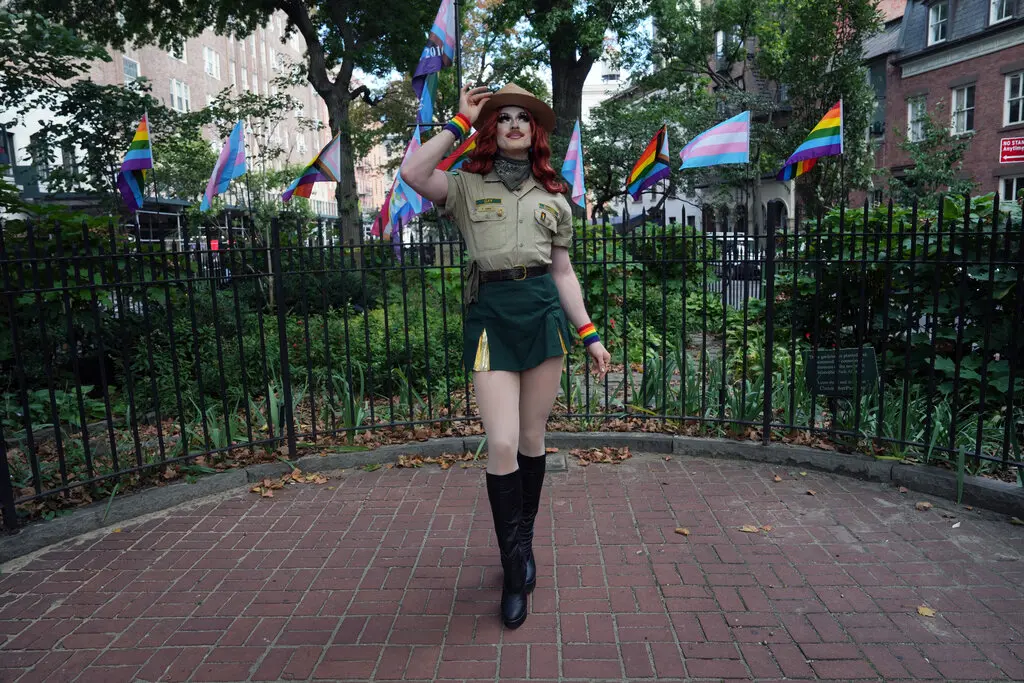 Pattie Gonia, the "eco-drag queen," whose shows this week in Brooklyn quickly sold out. Credit…Michelle V. Agins/The New York Times
'Burning Man for the climate geeks'
The United States and China, the world's two biggest polluters, were not invited to speak on Wednesday at a special climate summit convened by the United Nations' secretary general, António Guterres.
His goal was to highlight only the work of countries that are most ambitious about their climate actions — and, as my colleague Max Bearak wrote, to implicitly shame those who are dragging their feet.
Of the world's four biggest carbon emitters, only the European Union was invited to speak at the summit. The only official from the United States invited to speak was Gov. Gavin Newsom of California, who has recently announced that his state would sue Big Oil.
The summit was one of 585 official events happening as part of Climate Week NYC. That included not only several conferences about the most challenging aspects of the climate crisis, but also Earth-focused drag shows and an ice cream giveaway to highlight "climate risks to the flavors we love."
The week has become a magnet for start-ups, sustainability officers, scientists and policymakers looking to network and forge partnerships.
"This is like Burning Man for the climate geeks," Oscar Soria, campaign director for Avaaz, an international advocacy organization, told my colleague Cara Buckley.
Katharine Hayhoe, chief scientist at the Nature Conservancy, argued that the breadth of events is evidence that "the climate tent has been growing exponentially the last few years."
"What do you need to solve the climate crisis?" she said. "The answer is, everyone."
Other climate news
Manuela Andreoni is a writer for the Climate Forward newsletter, currently based in Brazil. She was previously a fellow at the Rainforest Investigations Network, where she examined the forces that drive deforestation in the Amazon. More about Manuela Andreoni
Here are some other "ET's" recorded from around the planet the last couple of days, their consequences, and some extreme temperature outlooks, as well as any extreme precipitation reports:
While Western Europe has cooled down,it's very warm in the East and some Northern and Southern areas.
Today up to 27.8C in LIthuania
39.4C at Torregrotta,Italy
Exceptional 38.0C at Kucova ,Albania and 35.2C at Peshkopi (657m)

NORTH AFRICA
Fierce heat in Algeria:45.1C at In Salah pic.twitter.com/4o0K3tcBtz

— Extreme Temperatures Around The World (@extremetemps) September 22, 2023
(1) Warm in Europe

Another exceptionally warm night in Northern Europe.
Minimum temperatures up to 17.0C in Finland,18.3C in Denmark,18.5C in Poland,also >17C in Sweden, unprecedented for the 2nd half of September

In Italy,29.0C Tmin at Castellamare,Sicily (it might drop later) https://t.co/wn465Xhle2

— Extreme Temperatures Around The World (@extremetemps) September 22, 2023
A severe marine heatwave near Japan has been ongoing for the last several months, with sea surface temperatures currently up to 8°C (14.4°F) above normal.

This is not just a local issue. Both global ocean heat content and sea surface temperatures have reached their highest… pic.twitter.com/539sorrxuU

— Colin McCarthy (@US_Stormwatch) September 23, 2023
More stifling hot nights in #Japan with Min. temperatures locally 25C/28C in Central and Southern areas.
Two more records of highest Tmin for September fell yesterday:
27.6 Niijima
27.3 Tateyama

Japan has been breaking records nearly every day for months. pic.twitter.com/NbF1pEo5gh

— Extreme Temperatures Around The World (@extremetemps) September 22, 2023
First records in Indonesia this month too:
The city of Serang, in Java today rose to 36.4C,breaking the monthly record of 36.0C set in 1976 and 1C from its all time high
Hottest months in Java are October and November
Note:Indonesia has ever recorded a reliable 40C in its history pic.twitter.com/vBiJqaEkpD

— Extreme Temperatures Around The World (@extremetemps) September 22, 2023
Rainy season heat wave in Laos with some records of high temperatures for September:
36.4C Luang Namtha
35.8C Pohong

Also 36C in the two main cities of Vientiane and Luang Prabang.

Yesterday 36.8C at Udon Thani, Thailand, highest in September since 1947. pic.twitter.com/W1Eid8c1Lm

— Extreme Temperatures Around The World (@extremetemps) September 22, 2023
Another record day in #Australia.
6 stations rose >40C with the max. at Barroloola with 40.7C (monthly record for September).

Other records broken

Highest Tmins
17.9 Dalwallinu
19.0 Merredin

Highest Tmaxes
35.9 Cunderdin
32.7 Lake Grace
31.6 Wandering

More records on the way https://t.co/ABs5BGHJ1E

— Extreme Temperatures Around The World (@extremetemps) September 22, 2023
South America Heat Wave day #1
Today temperatures are reaching up to 43C in Paraguay,41C in Brazil,Bolivia and Argentina.

Next 4/5 days will be historic:
We can expect up to 45C in Paraguay,Bolivia and Argentina,43C/44C in Brazil, 40C in Peru and many records broken.
Stay tuned. pic.twitter.com/tSzBhwsEzW

— Extreme Temperatures Around The World (@extremetemps) September 21, 2023
Agalega Island again:
With 33.7C yesterday the remote island broke the Mauritius national record of highest September temperature again.
It already broke the records of every single month since April multiple times each month. pic.twitter.com/J2nxqRncUE

— Extreme Temperatures Around The World (@extremetemps) September 22, 2023
Here is more climate and weather news from Friday:
(As usual, this will be a fluid post in which more information gets added during the day as it crosses my radar, crediting all who have put it on-line. Items will be archived on this site for posterity. In most instances click on the pictures of each tweet to see each article. The most noteworthy items will be listed first.)
>50% chance of 1.5°C in 2023.
We could hit 1.6/1.7°C in 2024.
If 2°C as a trend is possible by 2032- 2037, could 2029 be the first 2°C year? Any journalists awake? https://t.co/qjYf6WSKY9

— Ben See (@ClimateBen) September 22, 2023
Update: The global upper 2000m ocean heat content in August 2023 is a record high and 224.8 ZJ higher than the 1991-2020 level. pic.twitter.com/jEUIRFx0m6

— Lijing Cheng (@Lijing_Cheng) September 22, 2023
It's late spring in #Antarctica and the sea ice situation is unrelentingly horrible. By peak summer in Jan/Feb this could lead to enormous glacial calving. This is very disturbing. pic.twitter.com/AYn9y6Wt3A

— Laurie Garrett (@Laurie_Garrett) September 22, 2023
Arson turns Amazon reforestation project to ashes:

"People have no idea how much work went into restoring that forest. It was a really important, large-scale project."

"The likely motive was to obstruct the process of ecological restoration in the area,"https://t.co/U1AvI17BGX

— Doomer Girl News🐀 (@SaraHor76174949) September 22, 2023
Fossil fuels are turbo-charging extreme weather events and climate frontline countries like Greece are facing the devastating impact of the #ClimateCrisis.

But the impacts do not affect everyone equally. https://t.co/ZdViDfkEd8

— Greenpeace International (@Greenpeace) September 22, 2023
Give this Canadian a promotion 💯

Canadian fire chiefs deliver #ClimateCrisis message to United Nations following devastating #bcwildfire season

'We're spending money on the wrong end of the problem' #Kelowna chief 👀#bcgov #UBCM2023 #bcpolihttps://t.co/wFdmPJRv9t

— Climate Watcher 🔥 (@pmagn) September 22, 2023
Wildfires turn Canada's vast forests from carbon sink into super-emitter https://t.co/op9aGdrnjU

— Guardian Environment (@guardianeco) September 22, 2023
I may be biased, but here's the trailer for my forthcoming book: https://t.co/R4tGHgagcN

— Prof Michael E. Mann (@MichaelEMann) September 22, 2023
Scientific American: The Father of Environmental Justice Exposes the Geography of Inequity https://t.co/sQTzcOZbEF

— Robert D. Bullard (@DrBobBullard) September 22, 2023
Beer could be facing an existential crisis as climate change looks set to hammer Europe's vital barley supplies, a major brewing chief has said.

"There is a risk that we may not be able to produce enough beer."https://t.co/CYNchtab6S

— Jim Baird (@JimBair62221006) September 22, 2023
Very very proud of @ThirdActOrg and its tens of thousands of volunteers who are figuring out creative ways to help register large numbers of young people to vote. Join in!https://t.co/NkaAQBpYU8

— Bill McKibben (@billmckibben) September 22, 2023
Today's News on Sustainable and Traditional Polluting Energy from Fossil Fuel:
The LNG buildout comes with astounding numbers: just one export terminal proposed in Louisiana comes with 20 times the greenhouse gas emissions of the Willow oil complex (which is huge in and of itself)
But it can be stoppedhttps://t.co/9At5aAaXiQ

— Bill McKibben (@billmckibben) September 23, 2023
Sir David King, UK former chief scientific adviser and long-standing nuclear supporter:

New nuclear at #SizewellC would be "very difficult to protect from flooding" due to rising sea levels on the Suffolk coast.#nuclear #climate https://t.co/Y5ZIaZIuJM

— Dr Paul Dorfman (@dorfman_p) September 22, 2023
In Australia, #RupertMurdoch 's legacy is more than just right-wing political banter on TV — he has led a years-long campaign of disinformation on #ClimateChange and fossil fuels, to the benefit of elite holdings in the Oz coal industry and their exports to China. https://t.co/CUuwhA7jQr

— Laurie Garrett (@Laurie_Garrett) September 22, 2023
Diversified Energy's liabilities exceed its assets, according to a new report, sparking concerns about whether taxpayers will wind up paying to plug its 70,000 wells.https://t.co/l0i9EqPwEi

— Daily Climate (@TheDailyClimate) September 22, 2023
.@ENERGY is a making $325M investment in batteries that are different from the ones you may be familiar with — lithium ion. The goal is to make batteries that can store clean electricity and feed it back out for a whole night or up to 100 days at a time. https://t.co/L7zytjXxoZ

— AP Climate (@AP_Climate) September 22, 2023
'Scottish Government has agreed a deal which positions Scotland as a European hub for the recycling and repurposing of wind turbine blades.'https://t.co/WSJjb4ysJn

— Dr Paul Dorfman (@dorfman_p) September 22, 2023
More from the Weather Department:
Many folks could be startled by the punch that newborn Tropical Storm #Ophelia will pack. Multiple hazards this weekend from North Carolina to New Jersey. @CC_Yale https://t.co/07Fa8GNTQZ

— Bob Henson (@bhensonweather) September 22, 2023
Tropical Storm #Ophelia has formed off of the North Carolina coast – the 11th Atlantic named storm to form since August 20. The only season with more Atlantic named storm formations between August 20 – September 22 is 2020 (12 formations). #hurricane pic.twitter.com/O7h4y8hHcm

— Philip Klotzbach (@philklotzbach) September 22, 2023
Not looking good at all for outdoor plans this weekend, especially Saturday, with a prolonged period of wind-swept rain. See our detailed DC area storm timeline and briefing: https://t.co/G3WpU3qBIn

— Capital Weather Gang (@capitalweather) September 22, 2023
12:26pm CDT #SPC Day2 Outlook Enhanced Risk: across far southeast KS, northeast OK, and far southwest MO https://t.co/Y1WiOd8TQQ pic.twitter.com/lToYW8YA4U

— NWS Storm Prediction Center (@NWSSPC) September 22, 2023
More on the Environment:
For those who need a refresher course on doom, this article hits all the key points:

"…the Earth's ecosystem as we know it today is lost. The only question is: How long do we have until we see the collapse of modern economies and civilization?"https://t.co/b58p63IwOs

— Prof. Eliot Jacobson (@EliotJacobson) September 22, 2023
"The idea that some people may freely poison others is one of the most astonishing but least contested aspects of modern life." https://t.co/yVWNRUx1wm

— David Wallace-Wells (@dwallacewells) September 22, 2023
Bee-killing pesticides have been found at dangerous levels in English rivers, as the government considers allowing the use of one that is banned in the EU. https://t.co/JCVfpaayEs https://t.co/JCVfpaayEs

— Svein Tveitdal (@tveitdal) September 22, 2023
They will not stop until they kill every Orangutan in Indonesia
Deforestation for palm oil continues in Indonesia's 'orangutan capital' with 26 kilometers (16 miles) of new canals dug so far in 2023, up from 9 km (5.6 mi) in 2022,https://t.co/xKwFQajZJn

— GO GREEN (@ECOWARRIORSS) September 22, 2023
How can we solve the climate crisis if so few of us are connected to nature? pic.twitter.com/kxBwTrANBr

— Edgar McGregor (@edgarrmcgregor) September 22, 2023
More on other science and the beauty of Earth and this universe:
Some amazing photos!https://t.co/VjbbH6wI5K

— Jake Reyna (@iJakeReyna) September 22, 2023
Check out the beautiful halo over the Cross at Belin UMC in Murrells Inlet this morning. What an amazing photo Becky Porter! A halo indicates the presence of a thin veil of cirrus clouds high in the sky. Sunlight contains all the colors of the rainbow. When that light passes… pic.twitter.com/lvPTOrLd8U

— Ed Piotrowski (@EdPiotrowski) September 22, 2023
When the sun disappears behind the horizon, when nature slowly covers itself with darkness like a black cloth, the time has come to take care of the important things, like family, loved ones and oneself. A wonderful good evening and a blessed night. May God bless you.❤️💙💚🌳🌲🍀 pic.twitter.com/WYhyCoPQpp

— Green is a mission (@Greenisamissio1) September 22, 2023
If you like these posts and my work on record temperature ratios, please contribute via my PayPal widget on this site. Thanks in advance for any support. 
Guy Walton… "The Climate Guy"