The main purpose of this ongoing blog will be to track planetary extreme, or record temperatures related to climate change. Any reports I see of ETs will be listed below the main topic of the day. I'll refer to record temperatures as ETs (not extraterrestrials).😉
Main Topic: Broken Promises from Rich to Poor Countries for Billions on Climate Change
Dear Diary. Nothing irks me more than broken promises. Depending upon the item, these can ruin and end relationships. In the climate realm, broken promises from one set of nations to others can sink the Paris Accords, destroying any hope for international cooperation to solve the climate crisis. When I see news that rich countries are reneging on their financial commitments to poor nations that are now taking the brunt of climate crisis ramped up damaging weather, my heart just sinks.
For today's main subject, here is a report from the Washington Post detailing how many billions of dollars some rich countries are withholding that have already been committed to help poor countries cope with our changing climate and the ramification of many broken promises for COP28:
Rich countries promised poor nations billions for climate change. They aren't paying. – The Washington Post
Rich countries promised poor nations billions for climate change. They aren't paying.
Years of failed promises of help from rich countries could undermine success at the upcoming global climate talks, COP28
By Timothy Puko
October 9, 2023 at 6:30 a.m. EDT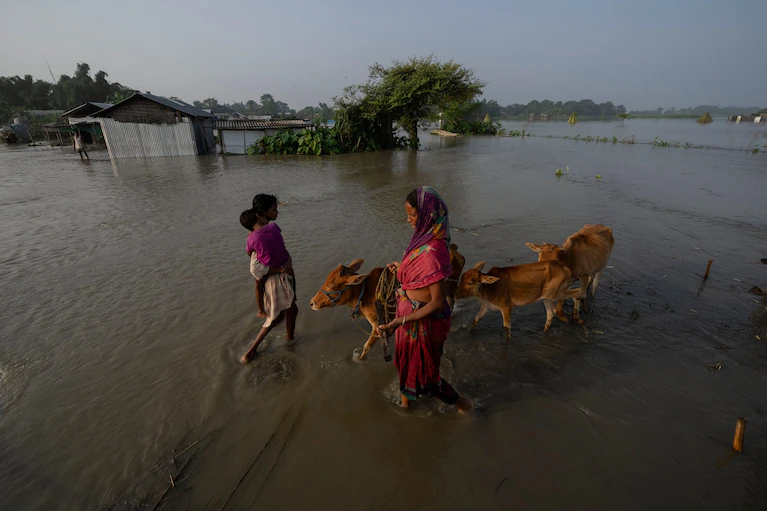 Villagers prepare to leave their submerged house in Sandahkhaiti, a floating island village in the Brahmaputra River in Morigaon district, Assam, India, on Aug. 30. (Anupam Nath/AP)
After years of promises of new climate funding, the developing world is coming to grips with a disappointing reality: Money still isn't coming through fast enough to address the mounting challenges of climate change.
Promises from some of the world's biggest economies, including the United States and China, haven't been panning out. Many are years behind schedule or still years away from sending money, delayed by political fights, bureaucratic snags and debates over new rules to expedite aid from development banks and private donors.
Floods this year in Libya and India have killed thousands, while typhoons have lashed Asia. Climate-fueled disasters are mounting, with many diplomats noting a series of disasters in last year in Pakistan alone responsible for more than $30 billion in physical and economic losses. A recent analysis by The Washington Post and Carbon Plan, a nonprofit climate research group, showed that by 2030, 500 million people around the world, particularly in places such as South Asia and the Middle East, would be exposed to dangerous heat, raising the prospects for heat-related deaths and illnesses.
Last month, the United Nations estimated the global shortfall in funding to cope with this onslaught amounts to several trillion dollars. While Western countries have started to mobilize vast sums for their own clean energy transitions, government officials and other diplomats say poor and vulnerable nations — where the need is often greatest — are being left out.
Khadeeja Naseem, Maldives's minister of state for environment, climate change and technology, called 2023 "a let down." This year's upcoming U.N. Climate Change Conference, known as COP28, is supposed to help spur progress by assessing how far the world has come at addressing climate change. Instead, Naseem said, this has been a year of falling further behind.
"What's available is far less than what's needed," Naseem said in statement. "We are not able to keep up with addressing impacts, disaster after disaster."
People search for flood victims in Derna, Libya, on Sept. 15. Far more people are in harm's way as they move into high flood zones across the globe, adding to an increase in watery disasters from climate change, a new study shows. (Ricardo Garcia Vilanova/AP)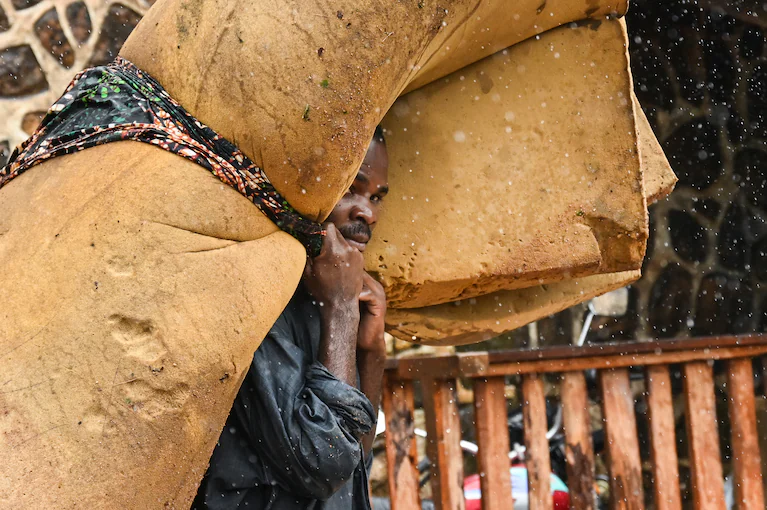 A man carries his belongings at a displacement center in Blantyre, Malawi, on March 14. Cyclone Freddy battered southern Africa killing more than 200 people. (Thoko Chikondi/AP)
Friction is building at international summits leading up to the global climate talks starting on Nov. 30 in Dubai. On Thursday, environmentalists and some diplomats criticized wealthy nations for offering just $9.3 billion to replenish the Green Climate Fund, which supports climate-friendly projects in developing countries, at a pledging summit in Germany. The United States was among a handful of countries to offer no new money at all.
On Monday, the International Monetary Fund and the World Bank will hold their annual meetings in Morocco, where African nations and others will press the institutions for reforms to boost their climate-related funding. The advocacy group Glasgow Actions Team has announced it will post billboards calling for climate justice inMarrakesh, while vendors in the city's famed market will arrange their produce in a way to reinforce the message.
World Bank leaders plan to discuss on Thursday how the institution can work to alleviate poverty while putting more emphasis on funding to sustain a "livable planet," according to a World Bank official who spoke on the condition of anonymity because she was not authorized to speak on the record.
Finding ways to raise more money, especially from the private sector, is a top priority for leaders of COP28, said the summit's chief executive Adnan Amin. But unfulfilled funding promises from the past are a big complication — among several — for negotiators.
The United States has provided only $2 billion of the $3 billion it promised for the Green Climate Fund nine years ago. Congress has approved only$1 billion of the $11.4 billion President Biden had personally pledged to developing countries. While the United States and other rich countries vowed to provide $100 billion per year in aid from both public and private sources by 2020, the shortfall now stands at as much as $17 billion a year.
While China ranks as the world's largest emitter of carbon dioxide, it has declined to join many of these commitments on the grounds that it remains a developing nation. And even with a $3.1 billion pledge it did make to poorer countries, it has delivered just 10 percent of that money over seven years, according to estimates from the climate think tank E3G.
And development banks have not been able to unlock trillions of private-sector financing as officials from several rich and developing countries think they should. For every dollar they provided in climate finance in 2021, they mobilized just 25 cents of private finance, according to an analysis Natural Resources Defense Council and the World Resources Institute did of publicly-available development bank data.
"There is definitely a sense of disappointment — or perhaps more than disappointment," said Amin, who is Kenyan and previously led the International Renewable Energy Agency. "All of the financing pledges really haven't materialized in any significant way for climate action in the Global South."
Amoke and steam rise from a coal processing plant that produces carbon black, an ingredient in steel manufacturing, in Hejin in central China's Shanxi Province. (Sam Mcneil/AP)
Many of the biggest funding pledges stem from the 2009 climate talks in Copenhagen. Developing countries pushed rich countries to pay because the greenhouse gas emissions they emitted decades ago still linger in the atmosphere, fueling the extreme weather and rising seas that often hurt poor countries the most. These agreements to pay helped pave the way for the Paris climate accord years later.
But the programs have often been mired in delays and uncertainty. Former president Barack Obama helped launch the Green Climate Fund by pledging $3 billion in 2014; but two years later Republicans took the White House and Congress, and stopped U.S. payments.
Thursday's event in Bonn, Germany, was supposed to replenish the fund for projects — which have included restoring wetlands or underwriting ­energy-efficiency bonds — from 2024 through 2027. The United Kingdom, Germany and France among others offered billions more. But a divided Congress stuck in the middle of a budget debate for the next fiscal year has put any further U.S. commitment on pause, the State Department said in a statement.
"The United States remains committed to the President's pledge to increase U.S. climate finance," the statement said. "We know that several countries — for a range of reasons — are not in a position to pledge today, but we are hopeful that announcements from other countries will be made shortly, in the lead-up to the Dubai climate conference."
Canada and Germany, which since 2021 have been leading international efforts on a climate finance delivery plan, said in a statement last month they are also "confident" the rich countries are on pace to meet their pledge of $100 billion a year in annual climate aid in 2023. But they also said data to prove that won't be available until 2025.
It is still far short of the trillions required for new clean-energy development, according to the last month's draft version of the global "stocktake," a formal assessment of the world's progress the U.N. is overseeing for COP28. Several of its key findings were that funding of all types need to be scaled up dramatically.
German Economic Cooperation and Development Minister Svenja Schulze, Cook Islands Prime Minister Marc Brown and Mafalda Duarte, the executive director of the Green Climate Fund (GCF), attend a news conference at the GCF meeting ensuring developing countries raise their climate ambitions in Bonn, Germany, Oct. 5. (Wolfgang Rattay/Reuters)
The recommendations call on countries to redirect investments still going into high-carbon projects and programs — including subsidies for fossil-fuel consumption. Those subsidies hit record highs last year, according to several watchdog groups. The world's 20 biggest economies, one group estimated, gave more than $1 trillion in subsidies for the first time.
Spending like that has infuriated developing countries that have not been able to get Group of 20nations to pay into a new fund for losses and damages climate disasters inflict on poor nations. Countries agreed at last year's talks to create one, but not who should pay into it or how much, which will be a major potential sticking point in Dubai.
The fact that Western countries have ramped up subsidies for their own clean energy projects without offering international help has also infuriated the leaders of many developing nations. Last year's nearly $370 billion Inflation Reduction Act is the largest climate bill Washington ever approved — and it included no money for foreign climate aid.
Michai Robertson, senior adviser on finance at the Alliance of Small Island States, a group of 44 islands and low-lying coastal states around the world that work in concert at international climate talks, recalled his discussion with colleagues when the bill, also called the IRA, was being debated.
"Oh, what part of the IRA talks about international climate finance? Oh, nothing," he said. "It's really not fair. And they can print money in their basements."
U.S. officials have long pointed for the need of the private sector to step in, saying only investors can marshal the trillions of dollars required. And many diplomats from rich and poor nations say gridlock at international development banks is making private-sector firms more reluctant to invest.
Steven Guilbeault, Canada's minister of environment and climate change, said governments can help with more loan guarantees and other types of financing to provide smaller amounts of government money that take the risk out of projects to entice larger sums from private investors. But the private sector remains one of the biggest laggards for now, he said.
"There is this disconnect," Guilbeault said. "You hear [bank leaders] talk about, you know, those gazillions of dollars that are out there ready to be invested — and it's not happening to the pace and scale we need."
By Timothy Puk Timothy Puko is a reporter covering climate policy and politics for The Washington Post. He has been covering energy and climate policy, and geopolitics from Washington since 2017 and joined The Post in October 2022. He previously covered energy commodity markets from New York and the environment and energy industry in Pennsylvania. Twitter
Project Drawdown has identified a list of 20 high-impact climate actions that individuals and households in high-income countries can take that together could reduce up to 25% of future greenhouse gases. Learn more: https://t.co/qmtCbSotBi pic.twitter.com/qUSEFrBywX

— Project Drawdown (@ProjectDrawdown) October 9, 2023
Here are some other "ET's" recorded from around the planet the last couple of days, their consequences, and some extreme temperature outlooks, as well as any extreme precipitation reports:
[1]
Another insane day in #France with 146 records of Txx and many more of highest Tmins (list) including
30.6 Lyon and Montelimar
30.4 Nantes
29.7 Grenoble
28.7 Le Puy
21.3 Mont Aigoual

In Austria 28.0 Haiming new October record in Tyrol (5th state to beat it)

Next tweet 🇮🇹🇨🇭 pic.twitter.com/T12Gzd14a1

— Extreme Temperatures Around The World (@extremetemps) October 9, 2023
European Heat Wave
List of monthly records yesterday in Slovenia,besides the 31.3C of Crnomelj the new national record 👎

In #Austria after the national record also
28.1C Bad Radkersburg is a new October record for Styria

In #Ireland 24C and record at Dublin AP with 21.3C https://t.co/g63SMOqTqx

— Extreme Temperatures Around The World (@extremetemps) October 9, 2023
Records are falling allover Asia

SINGAPORE
36.3 Admirality new official national monthly record

38.7 Indonesia 0.8C from national all time high

INDIA
33.6 Bhuntar
31.0 Dharamshala

EMIRATES
43.6 Ras al Khaimah

SAUDI
Tmin 33.0 Makkah HIGHEST OCTOBER TMIN IN SAUDI HISTORY pic.twitter.com/kNtSBqTtZL

— Extreme Temperatures Around The World (@extremetemps) October 9, 2023
Harsh heat wave in Southern Africa with temperatures up to 43.8C at Tete in Mozambique and 42.5C at Mababe in Botswana (1000m asl).

Record heat again in the Mauritius:
34.0C at Agalega Island is the new October heat record for Mauritius. pic.twitter.com/jpyE1iRhtI

— Extreme Temperatures Around The World (@extremetemps) October 9, 2023
Tropical Americas with endless record heat

PERU
41.2 Inapari National October record beaten again !

BOLIVIA monthly records
40.2 Santa Ana
26.6 Oruro 3072m asl

BELIZE
34.3C Belize AP

HONDURAS
TMIN 29.0C Roatan island ties the Highest Tmin in October in Central America pic.twitter.com/GPXGShhzzU

— Extreme Temperatures Around The World (@extremetemps) October 8, 2023
HISTORIC in #Peru
On 7 October the AWS of Iñapari rose to 41.6C breaking the ALL TIME NATIONAL HEAT RECORD again
It has been months of unstoppable record heat in South America

Tomorrow new heat wave with 43/44C in Paraguay and Bolivia

More bad news:Around mid month THE HELL https://t.co/iemRLAKCrZ

— Extreme Temperatures Around The World (@extremetemps) October 9, 2023
While cool weather finally arrived in Northern and Central Japan , the South and the islands are still very hot and humid.
Night temperatures are between 25C and 28C.
Two more records of highest minimum temperatures for October were broken yesterday:
27.4C Isen
27.8C Yoronijima pic.twitter.com/oVpsYGWb2C

— Extreme Temperatures Around The World (@extremetemps) October 9, 2023
Here is some more new September 2023 climatology:
September 2023 in #Kenya had an average temperature of 22.8c which is +0.6C above normal.
Rainfalls were abundant and above average in the highlands but very scarce at low elevations and on coastal areas.
See rainfall totals maps courtesy of Meteo Kenya. pic.twitter.com/USjORdRbv3

— Extreme Temperatures Around The World (@extremetemps) October 9, 2023
September 2023 in #Pakistan had an average temperature of 29.10C which is +1.12C above the 1991-2020 normal and was the 4th hottest on records.
Rainfalls were close to average.
Temperatures broke records in some locations:
See list courtesy of PMD: pic.twitter.com/dUj933O4FB

— Extreme Temperatures Around The World (@extremetemps) October 9, 2023
September 2023 in the #Philippines was very warm allover the country (left map).
Rainfalls were close to normal in most of the country,and wetter in the Southeast. (right map).
Maps by Pagasa. pic.twitter.com/r2APa8JLqb

— Extreme Temperatures Around The World (@extremetemps) October 9, 2023
September 2023 in Reunion Island had an average temperature of 20.2C, +1.4C above normal and was the hottest September on records which followed the hottest August.
Details below: https://t.co/r7EUyY4JBb

— Extreme Temperatures Around The World (@extremetemps) October 9, 2023
September 2023 in #Fiji was warm and wet.
Temperature anomaly was +1.06C above average while most of the country was wetter than normal, specially the northern coasts and northern islands up to 2 to 3 times the average.
See rainfall anomalies map by Fiji Meteorological Service. pic.twitter.com/J6w7j8Hsxl

— Extreme Temperatures Around The World (@extremetemps) October 9, 2023
Here is More Climate and Weather News from Monday:
(As usual, this will be a fluid post in which more information gets added during the day as it crosses my radar, crediting all who have put it on-line. Items will be archived on this site for posterity. In most instances click on the pictures of each tweet to see each article. The most noteworthy items will be listed first.)
#Climatecrisis costing $16m an hour in extreme weather damage, first global study estimates

– Analysis shows at least $2.8tn in damage from 2000 to 2019 through worsened storms, floods and heatwaves

Story by me https://t.co/sTOwhrk74A

— Damian Carrington (@dpcarrington) October 9, 2023
To limit global warming to '1.5°C with no or limited overshoot', the decline in global CO2 emissions relative to 2019 are:
* 48% by 2030
* 80% by 2040
* 99% by 2050

It is 2023 & global CO2 emissions are still rising!https://t.co/nPsnmjLcjJ pic.twitter.com/g7ctNIbij4

— Glen Peters (@Peters_Glen) October 9, 2023
In August and September, large regions of South America were impacted by unusually extreme with temperatures exceeding 40°C.

Our latest study investigating the influence of climate change on the heat will be published tomorrow at 5pm CEST. https://t.co/XjBTE69yx7

— World Weather Attribution (@WWAttribution) October 9, 2023
On the Podcast – Climate Scientist @MichaelEMann on how hot your kids and grandkids will be if we don't fucking do anything!!! Here, he explains how fucking hot it will get! Listen to the full episode: https://t.co/kW8tRphCOU pic.twitter.com/Au6UiPJRF6

— Al Franken (@alfranken) October 8, 2023
Well above average temperatures were observed across much of the #Arctic Circle in September 2023…

Data available from https://t.co/e7aUafgc7S pic.twitter.com/V6jZX1Bpmx

— Zack Labe (@ZLabe) October 9, 2023
October is shaping up to be the warmest on record, though perhaps not as crazy as September. Here are the daily global temperature anomalies in October so far compared to all prior years in the JRA-55 reanalysis dataset: pic.twitter.com/KDb8KUxjnr

— Zeke Hausfather (@hausfath) October 9, 2023
It is clear that the anomalously high global temperatures of the past four months (above the global warming trend) can't be explained by El Niño, if we take past El Niño events as examples. https://t.co/rGQuhFpMho

— Prof. Stefan Rahmstorf 🌏 🦣 (@rahmstorf) October 9, 2023
The assessment, from the International Energy Agency, says the window for adhering to the Paris Agreement's 1.5-degree temperature target is narrow, but still possible. @afreedma reports.

Go deeper: https://t.co/r7xrLYoa8V pic.twitter.com/DHqAf3hl0V

— Axios (@axios) September 28, 2023
Even as 5σ events have lost the media glamour they saw last July, Antarctic sea ice extent continues on its 5σ path.

What is the new standard for climate f&%kery gaining global media attention? I'm guessing some famous celebrity or billionaire needs to be mildly inconvenienced. pic.twitter.com/WcwYN3nOHP

— Prof. Eliot Jacobson (@EliotJacobson) October 9, 2023
To be clear: scientists are NOT "refusing to believe" reductions in shipping sulphur emissions matter.

Scientists are carefully calculating how much this factor matters in a noisy system (which entails more than throwing up 2 correlated time series)https://t.co/9GsRgRMPGK https://t.co/9DmsjynI5u

— Cristi Proistosescu (@cristiproist) October 9, 2023
2 photos of the arctic both taken in the summer more than 70 years apart show the dramatic change in the continent ice cover.

There is no time to waste. No planet B. #ActOnClimate #ClimateEmergency #climate #energy #renewables #GreenNewDeal pic via @ChristianAslund pic.twitter.com/G15BsgjaiV

— Mike Hudema (@MikeHudema) October 9, 2023
Climate crisis is 'not gender neutral': UN calls for more policy focus on women https://t.co/3cqs4y5r8L

— Guardian Environment (@guardianeco) October 10, 2023
8 ways to stay sane in the climate crisishttps://t.co/Epegh1R7Gn@ppwone @blairpalese @ECOWARRIORSS @TomRaftery @mike_earthshine @treasadovander @climateguyw @supplychnqueen @Alex_Verbeek @sumuelahi @Drkensilvestri @BobOne4All @OlumideIDOWU @Debbie_banks30 @LetsLocalise

— Asitha Jayawardena (@sustainableuni1) October 10, 2023
In honour of US #IndigenousPeoplesDay today, I want to highlight the work of @NC_CASC's James Rattling Leaf who has dedicated his life to helping Indigenous peoples rebuild their nations through traditional ecological knowledge + Western science. Read: https://t.co/ZmSX8W2R8K pic.twitter.com/a6DxverH2W

— The Real Prof. Katharine Hayhoe (@KHayhoe) October 9, 2023
I said we needed new words. Here are some. I hope to avoid the pants-crapping https://t.co/mY3E92w7N3

— Jeff Berardelli (@WeatherProf) October 9, 2023
Today's News on Sustainable, Traditional Polluting Energy from Fossil Fuel, and the Green Revolution:
Your 'moment of doom' for Oct. 9, 2023 ~ A doom prediction like no other …

"In its 2023 annual report, OPEC forecasts demand for crude to reach 116 million barrels per day by 2045 under its main scenario, a 16.5 percent increase from the 99.4 in 2022."https://t.co/pZn8Ay4kau

— Prof. Eliot Jacobson (@EliotJacobson) October 9, 2023
UK's ruling Conservative party are determined not only to reverse policy on net zero and enviro but ensure it's much harder for next govt to get back on track #CPC23 #LPC23 Labour must act now on green policy, to minimise damage. Piece by me here: https://t.co/K5ZeiMTcWP

— Fiona Harvey (@fionaharvey) October 9, 2023
In today's @latimes: My column calling for California to stop fighting over rooftop solar incentives and start figuring out a way to get lots of it built: https://t.co/MKiIN3jjVd pic.twitter.com/3SgECOz8Fw

— Sammy Roth (@Sammy_Roth) October 9, 2023
California to require big firms to reveal carbon emissions in first law of its kind https://t.co/bnzBmIf54n

— Guardian Environment (@guardianeco) October 9, 2023
Superb work

Switching the world to 100% #RenewableEnergy will cost $62 trillion, but the payback would take just 6 years, writes Professor Mark Jacobson @mzjacobson#ClimateCrisis #ClimateEmergency
https://t.co/ypYvO7dDEb

— Prof. Peter Strachan (@ProfStrachan) October 8, 2023
Your 'moment of doom' for Oct. 9, 2023 ~ A doom prediction like no other …

"In its 2023 annual report, OPEC forecasts demand for crude to reach 116 million barrels per day by 2045 under its main scenario, a 16.5 percent increase from the 99.4 in 2022."https://t.co/pZn8Ay4kau

— Prof. Eliot Jacobson (@EliotJacobson) October 9, 2023
The parking lot at Disneyland #Paris went #solar. 67,000 #solarpanels will make it one of the largest solar canopys in Europe. Time to give every parking lot a #solarpower upgrade.

We have the solutions. Implement them. #ActOnClimate#climateAction #climate #energy pic.twitter.com/CSYuBzbgD3

— Mike Hudema (@MikeHudema) October 9, 2023
A settlement has permanently retired the last of the oil & gas leases in the sacred Badger-Two Medicine area of Montana. In the 80s, the gov't issued leases w/out tribal consent. Ever since, we've worked w/ the Blackfeet Nation to protect the area in court. #IndigenousPeoplesDay pic.twitter.com/TaARgoIzmx

— Earthjustice (@Earthjustice) October 9, 2023
More from the Weather Department:
It's a busy day in the tropics, with two named storms expected to hit Pacific Mexico in the next two days, a typhoon expected to pass through the U.S. Northern Mariana Islands, and Invest 92L of the coast of Africa being given an 80% chance of development: https://t.co/YaMTwlcQYl

— Jeff Masters (@DrJeffMasters) October 9, 2023
Sea surface temperatures remain above average for the Gulf, Caribbean and Tropical Atlantic. Stronger front for next weekend should chip somewhat off Gulf temps. History has taught us to not sleep on the Caribbean in October for tropical activity, still plenty warm down there.… pic.twitter.com/YaeS8nIR0K

— Matt Devitt (@MattDevittWINK) October 9, 2023
This year's positive IOD just keeps getting stronger. 💪 The latest weekly IOD index value of +1.85ºC is only 0.3ºC below the peak of the record-challenging 2019 positive IOD event.

More details on what this means for Australia here: https://t.co/HrDRLDmSoR pic.twitter.com/juseehYYOm

— Ben Domensino (@Ben_Domensino) October 10, 2023
This animation shows how the atmosphere is predicted to respond to the strong El Niño and Indian Ocean Dipole ~ there's more to it than meets the eye! 💡

[Nerd alert 🤓]

Velocity potential anomalies help us understand how the atmosphere is expected to respond to changes in… pic.twitter.com/wlKd122pw6

— Ben Noll (@BenNollWeather) October 9, 2023
Water levels along parts of the Mississippi River in our region continue to fall to historic lows. The 10 AM CDT reading from New Madrid shows the Mississippi River at -6.32 ft, which is provisionally the lowest on record (since 1879). pic.twitter.com/Z9OHLBXDyX

— NWS Paducah, KY (@NWSPaducah) October 9, 2023
Monday 12:35 pm: Just Because Department: A massive weather system centered just south of James Bay in Canada. pic.twitter.com/pJXFoUuiUQ

— Richard Heatwave Berler (@HeatwaveKGNS) October 9, 2023
Another weekend cold front coming down this week. This time it might make it all the way through Florida. https://t.co/Hk3pbO7x8H pic.twitter.com/Fuig5UgBQm

— Mike's Weather Page (@tropicalupdate) October 9, 2023
The way we define summer warmth can vary. Here I looked into 2 variables for Tampa. The first Spring day we reach 90 and the first fall day we drop below 70. Both have shifted significantly, such that summer warmth, by this definition, is now almost 2 months longer than in ~1900! pic.twitter.com/FMm7Y3wsWU

— Jeff Berardelli (@WeatherProf) October 10, 2023
More on the Environment:
A growing body of research shows that old-growth redwoods store more aboveground carbon than any other forest on Earth.

But the redwoods have been decimated by logging.

We must restore old-growth redwood forests, argues a new op-ed.https://t.co/fTdRAeMGoX

— Yale Environment 360 (@YaleE360) October 9, 2023
Bees have been around for 125 million years
An estimated 80% of food in grocery stores is available on the shelves, thanks to bee-pollinated crops
But thanks to pesticide industry and Industrial Arg – Bees are disappearing
89% of Bumblebees gone in USAhttps://t.co/Y6rJGvQ1hO

— GO GREEN (@ECOWARRIORSS) October 9, 2023
Sound up. 🔉 When you walk through a forest you are connected to something greater.

Nature is amazing. Protect it.#ActOnClimate #biodiversity #rewilding pic.twitter.com/jiJJgPJ4es

— Mike Hudema (@MikeHudema) October 9, 2023
'The plastic was so concentrated in the samples researchers collected that it is thought to be causing clouds to form while giving off greenhouse gasses.

Tires are thought to be among the main sources, as are plastic beads used in personal care products.' https://t.co/PzAFX6NutH

— Ben See (@ClimateBen) October 10, 2023
More on Other Science and the Beauty of Earth and this Universe:
From our archives: A growing body of research points to the health benefits of being in nature.

Increasingly, employers, health care providers, and policymakers are accounting for the human need for nature.https://t.co/TnCbQaWQzS

— Yale Environment 360 (@YaleE360) October 10, 2023
Crows Are Self-Aware Just Like Humans, And They May Be as Smart as Gorillas

Studies show that crows have a high number of tightly packed neurons that process information, allowing them to work out complex tasks.

They can use tools to get what they wanthttps://t.co/yIi2Oko2sE

— GO GREEN (@ECOWARRIORSS) October 9, 2023
Rare gathering of spotted eagle rays and a manatee seen together this past weekend along North Captiva Island, Florida! Credit: Sailing New Wave @WINKNewe pic.twitter.com/cPlqGJPXok

— Matt Devitt (@MattDevittWINK) October 9, 2023
Enjoy 60 seconds of serene fall foliage 🍁🍂 pic.twitter.com/Dn8jh9bR46

— AccuWeather (@accuweather) October 9, 2023
If you like these posts and my work on record temperature ratios, please contribute via my PayPal widget on this site. Thanks in advance for any support.
Guy Walton… "The Climate Guy"