The main purpose of this ongoing blog will be to track planetary extreme, or record temperatures related to climate change. Any reports I see of ETs will be listed below the main topic of the day. I'll refer to extreme or record temperatures as ETs (not extraterrestrials).😉
Main Topic: New Study Indicating That Hurricanes Are Getting Stronger, Faster
Dear Diary. Currently there are two late season hurricanes in the Western Hemisphere that are threatening residents and visitors of tropical locations. The stronger, Hurricane Norma, will make life miserable for residents and any vacationing at Cabo San Lucas on the southern tip of Mexico's Baja Peninsula over the weekend. The latter, Hurricane Tammy, was just upgraded today and is overachieving due to warmer than average Atlantic waters. Hurricane Tammy will be threatening islands across the northwestern Carribean over the weekend. Both systems are slow movers.
Our Friday update on intensifying Hurricane Tammy approaching the Leeward Islands, and on weakening Hurricane Norma approaching Mexico's Baja Peninsula: https://t.co/1v8UdKT7rj

— Jeff Masters (@DrJeffMasters) October 20, 2023
Norma ramped up fairly quickly while the only thing keeping Tammy from strengthening fast is wind shear probably related to a strong El Niño. We have long suspected that warming oceans due to climate change are making tropical systems strengthen more rapidly, especially after witnessing what happened with Ian in 2022 and Michael in 2018. A new study out today cements that suspicion. Here are more details from the New York Times:
More Atlantic Hurricanes Rapidly Increasing to Cat. 3, Study Finds – The New York Times (nytimes.com)
Atlantic Hurricanes Are Getting Stronger, Faster, Study Finds
The chance that a storm will get much more dangerous in less than a day has more than doubled over the past few decades.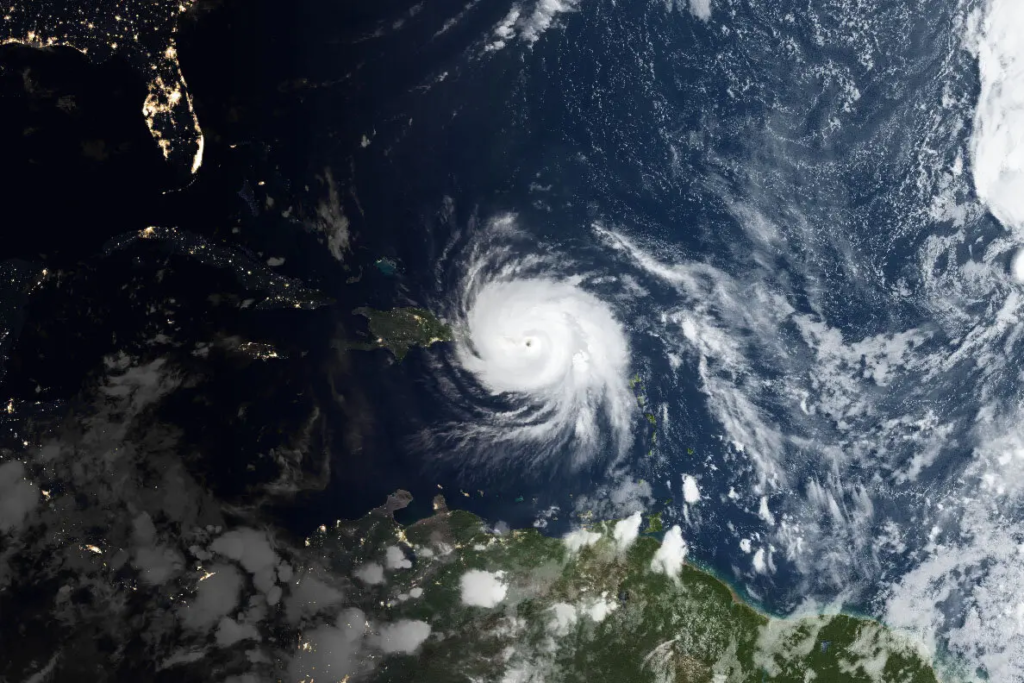 Satellite image of Hurricane Maria on Sept. 20, 2017. The composite image shows Maria as it was making landfall near Yabucoa, Puerto Rico.Credit…NASA Earth Observatory
By Delger Erdenesanaa
Oct. 19, 2023
Hurricanes in the Atlantic Ocean are now twice as likely to grow from a weak storm into a major Category 3 or higher hurricane within just 24 hours, according to a study published Thursday.
"These findings should serve as an urgent warning," said Andra Garner, an assistant professor of environmental science at Rowan University and the author of the new paper.
Many of the costliest climate-related disasters to strike the United States in recent years have been hurricanes that intensified unusually quickly. Hurricane Maria, which killed more than 3,000 people in Puerto Rico and neighboring islands in 2017, strengthened from a Category 1 to Category 5 hurricane in less than 24 hours before making landfall.
Hurricane Norma Packs Powerful Winds as It Churns Toward Mexico
When hurricanes intensify so quickly, it becomes more difficult to forecast how severely places will be affected. In the worst cases, officials may be left without time to order evacuations.
This new study, which appeared in the journal Scientific Reports, adds to a growing body of evidence that rapid-onset major hurricanes are becoming more likely.
(How Ian became so powerful):
https://www.nytimes.com/interactive/2022/09/29/climate/hurricane-ian-florida-intensity.html?action=click&module=RelatedLinks&pgtype=Article
From 2001 to 2020, Dr. Garner found that tropical cyclones in the Atlantic Ocean had an 8 percent chance of strengthening from a Category 1 or lower storm into a Category 3 or higher hurricane within 24 hours. By comparison, from 1970 to 1990, similar storms had only a 3 percent chance of strengthening so much, so rapidly.
Hurricane categories, which range from 1 to 5, are determined by the storms' wind speed. All are dangerous, but storms rated Category 3 and above — with wind speeds over 110 miles per hour — are considered "major" hurricanes.
Tropical storms form when warm ocean water evaporates into the atmosphere. The storms gather their wind power in large part from the difference in temperature between the surface of the ocean and the cooler upper atmosphere. That's why the North Atlantic hurricane season runs from June through November: It's the time of year when the water is warmest.
And ocean temperatures are rising.
Damage in Morovis, Puerto Rico, after Hurricane Maria made landfall. Credit…Kirsten Luce for The New York Times
Globally, oceans have absorbed more than 90 percent of the extra heat trapped on the planet's surface by greenhouse gas emissions. Since 1850, the global average sea surface temperature has risen by about 0.9 degrees Celsius.
"Without limiting future warming, this is a trend that we could expect to continue to get more extreme," Dr. Garner said.
Dr. Garner examined historical data from the National Hurricane Center using a variety of statistical analyses on recorded wind speeds of all tropical cyclones in the Atlantic Ocean between 1970 and 2020. She found consistent increases over time in the likelihood of storms to grow quickly.
She also found smaller regional differences within the Atlantic Ocean. There was more rapid intensification of storms along the east coast of the United States, in the southern Caribbean, and in the eastern Atlantic from 2001 to 2020 compared with 1970 to 1990. In the Gulf of Mexico, however, there is less rapid intensification now compared with previous years.
This paper confirms previous studies on hurricane intensity in the Atlantic Ocean. The research is "converging," said Kerry Emanuel, a professor emeritus of atmospheric science at MIT who conducted early research on this topic, and wasn't involved in Dr. Garner's study.
Dr. Emanuel cautioned, however, that climate change from greenhouse gas emissions may not be the only factor contributing to a warmer northern Atlantic and changing hurricane behavior.
Decreased sulfate aerosol pollution following clean-air regulations in the United States and Europe may also affect storms. This type of pollution, a byproduct of burning fossil fuels but distinct from greenhouse gases, reflects sunlight back into the atmosphere and cools the Earth slightly. Dr. Emanuel suggested that more global studies are needed to separate the influence of global climate change from aerosol levels and other local factors specific to the Atlantic.
Even so, "the physics is super clear that as you warm the globe, you raise the thermodynamic potential for hurricanes," he said.
Dr. Emanuel also emphasized the real-world importance of this research. The rapid intensification of hurricanes is "the forecaster's nightmare," he said. "You go to bed, figuratively speaking, at 10 at night, and there's a tropical storm in the Gulf of Mexico. And you wake up the next morning and it's a Cat 4, eight hours from landfall. And now you don't have time to evacuate anybody, to warn them."
Although this study isn't global, it's one of the most robust so far, said Karthik Balaguru, a climate and data scientist at the Pacific Northwest National Laboratory who also studies hurricanes and wasn't involved in Dr. Garner's research. The fact that this finding of more quickly growing storms stayed consistent through multiple kinds of statistical analyses shows there's a real trend in the data, Dr. Balaguru said.
Learn More About Climate Change
---
Here are some other "ET's" recorded from around the planet the last couple of days, their consequences, and some extreme temperature outlooks, as well as any extreme precipitation reports:
Extraordinary warm spell in Europe

30.3 in HUNGARY Latest 30C in climatic history, 2 weeks later than the previous latest.

Up to 32/33C in Bulgaria,Albania and Serbia.
Exceptional warmth in Austria and several monthly records broken.
See list of records below:
More are coming.. pic.twitter.com/fa0uy9oW1Y

— Extreme Temperatures Around The World (@extremetemps) October 20, 2023
Mediterranean Warm Spell:
Today temperatures rose up to 39.1C at Kairouan in Tunisia and 37.0C at Torregrotta in Sicily.

Next 2 days will witness dozens of records in
Hungary,Serbia, and most of Balkan countries specially of warmest nights. (up to 24C Tmins !) https://t.co/QU8rTJ4E1Z

— Extreme Temperatures Around The World (@extremetemps) October 19, 2023
BRAZIL HAD ITS HIGHEST RELIABLE TEMPERATURE IN CLIMATIC HISTORY :
44.2C Cuiaba yesterday.
See a list of the historic highest temperatures in Brazilian climatic history including the dubious/wrong/reliable ones.
Previous was 44.1C at Coxim. pic.twitter.com/cZW5ElpxTh

— Extreme Temperatures Around The World (@extremetemps) October 20, 2023
Historic heat in #Bolivia,records were smashed with huge margins

ALL TIME
43.7 San Jose
41.7 San Joaquin
41.5 Ascension de Guarayos
41.1 San Borja
40.6 Magdalena

MONTHLY
43.2 San Matias
39.6 Ribertalta

In Brazil also extreme heat:43.2 Cuiabà
Nothing like this has ever happened pic.twitter.com/kkSgGML3g3

— Extreme Temperatures Around The World (@extremetemps) October 19, 2023
More extreme heat in #Australia: Today the temperature reached 44.1C at Mardie, the first 44C of the season.
Monthly record broken at Meriddin with 39.5C.
Tomorrow even hotter with exceptional heat and widespread records and possible 45C. pic.twitter.com/dau40xmcgc

— Extreme Temperatures Around The World (@extremetemps) October 20, 2023
Very warm in Canada with temperatures of 25C/27C at above 1000m asl !
Today it will cool down in Canada but chinook will drive temperatures up to 90F/32C in Colorado at 1000/1400m asl https://t.co/x69g0Zz7Mg

— Extreme Temperatures Around The World (@extremetemps) October 20, 2023
The heat in Mexico is at record level for late October for the whole Hemisphere, so it's historic

Today again >44C in Hermosillo,42/44C in 5 States, monthly record at Ciudad Obregon ,also
42.7 Choix and 42.0C at Altar in Sonora.
42C C. Constitucion Baja California Sur. https://t.co/qqEyjlsZ1B

— Extreme Temperatures Around The World (@extremetemps) October 20, 2023
Historic rainstorm! Typhoon Sanba has stalled in southern Guangxi since yesterday. The rainfall at Yaping in Beihai has reached 780.4mm/24 h, breaking the record for Guangxi Province and the record for October in mainland China (excluding Hainan)! @extremetemps @ThierryGooseBC pic.twitter.com/Snl4AEb9cB

— Jim yang (@yangyubin1998) October 20, 2023
Here is some more brand-new September 2023 climatology:
September 2023 in the Bahamas was hotter and drier than normal.
Average temperature was 29.3C , +1.1C above normal and was the HOTTEST SEPTEMBER on records.
The total rainfall in Nassau Int. AP was 135.6mm, 59.9mm below average. pic.twitter.com/57Yy3wSuiV

— Extreme Temperatures Around The World (@extremetemps) October 20, 2023
September 2023 in #Guadeloupe was exceptional:
It was the hottest month in Guadeloupe climatic history ahead of August 2023 and beat several historic records:
34.3C Le Moule Lauréal
35.5C Saint-Barthélemy Gustavia

Highest Tmin
29.3C Saint-Martin Marigot

Kudos Meteo France GP pic.twitter.com/W4kijFUbfM

— Extreme Temperatures Around The World (@extremetemps) October 20, 2023
Here is More Climate and Weather News from Friday:
(As usual, this will be a fluid post in which more information gets added during the day as it crosses my radar, crediting all who have put it on-line. Items will be archived on this site for posterity. In most instances click on the pictures of each tweet to see each article. The most noteworthy items will be listed first.)
So many of these global climate disasters… this type of thing is happening everyday somewhere… will go unnoticed by the general public, unaware of the extent of climate breakdown. https://t.co/iNhPSuAGAS

— Jeff Berardelli (@WeatherProf) October 20, 2023
Since yesterday, rainfall in western Guangxi and southeastern Guangxi has reached 300-700mm, breaking October rainstorm records in many places! pic.twitter.com/KrjmDjlBcw

— Jim yang (@yangyubin1998) October 20, 2023
A marine heatwave in the Bering Sea collapsed Alaska's $227-million snow crab industry by making the crustaceans work so hard they essentially starved. Ten BILLION crab were killed, one of the largest ocean-heat-related mass die-offs ever recorded.https://t.co/WGnrxV5MOR

— Craig Welch (@CraigAWelch) October 20, 2023
October has observed some of the largest warming trends in the #Arctic. This is greatest over areas with a lack of sea ice cover (nearly all of the Siberian Arctic). Arctic amplification is largest in the boreal fall.

Data: @CopernicusECMWF ERA5. Info: https://t.co/n6POIdyXpB pic.twitter.com/ij6ijFKYN5

— Zack Labe (@ZLabe) October 20, 2023
Did you know, that without the cooling effect of SO2 emissions, global temperatures would be 0.5°C warmer 😱

This is not to say that reducing SO2 emissions leads to 0.5°C of additional warming, as SO2 is coupled to other emissions (warming and cooling) via technology. pic.twitter.com/5CtMhvV1YJ

— Glen Peters (@Peters_Glen) October 20, 2023
Your 'moment of doom' for Oct. 20, 2023 ~ The future of life is hunger.

"Scientists often use historical data to predict and prepare for future developments. However, the future increasingly features catastrophes that have never been recorded before…"https://t.co/urqu85AWVV

— Prof. Eliot Jacobson (@EliotJacobson) October 20, 2023
Residents of a low-lying neighborhood in Philadelphia are faced with tough questions in the face of worsening floods.

Will levees and flood walls protect them, or should residents abandon their homes and move to higher ground?https://t.co/lhmKkTpGfV

— Yale Environment 360 (@YaleE360) October 21, 2023
The climate crisis will make EU beer "cost more and taste worse." Lead author Martin Možný says this study attracted more attention than all the other climate science work he's done – because it connected directly with people's hearts! https://t.co/RwEO46dKVc

— The Real Prof. Katharine Hayhoe (@KHayhoe) October 21, 2023
Death Threats for Scientists, Farmers, Now Congress. Opposing Fossil Fuel agenda is common thread. Do we get it now? @MichaelEMann @GreatLakesPeck https://t.co/l7UxTsl96N pic.twitter.com/IFJZ3WbLeH

— Peter Sinclair (@PeterWSinclair) October 20, 2023
We need to stop regarding the climate emergency as a stand-alone environmental problem. Global heating, although ruinous, is not the sole symptom of our present struggling on Earth. See our climate emergency paper. Think overshoot. https://t.co/E8p3tFbzed… cartoon- P. A.Jansen pic.twitter.com/jhITIcfR9m

— Dr. William J. Ripple (@WilliamJRipple) October 21, 2023
Today's News on Sustainable, Traditional Polluting Energy from Fossil Fuel, and the Green Revolution:
New: More than 50,000 companies must report their pollution and environmental impacts in the EU, after sustained Big Oil-fueled lobbying in opposition fails

"A game-changer for corporate accountability, in the EU and globally"

About time toohttps://t.co/8OvzocwOAb #climate pic.twitter.com/1FkK9c6nnj

— Assaad Razzouk (@AssaadRazzouk) October 20, 2023
Shutting down the Indian Point nuclear plant than vetoing the offshore wind that was planned to help replace its clean generation seems like a pretty bad decarbonization strategy on the part of New York. https://t.co/W3HQqccTEQ

— Zeke Hausfather (@hausfath) October 20, 2023
Solar & wind are growing fast, almost in line with 1.5°C, but fossil fuels are not going down.

We expect fossil fuels to go up again in 2023, leading to growth in fossil CO2 emissions of ~1%.

The latest estimates will be published 5 December 2023!https://t.co/knR3Kbc2HG pic.twitter.com/t3acq3qpia

— Glen Peters (@Peters_Glen) October 20, 2023
#Solar reached an "irreversible tipping point" that will see it become the world's main source of #energy by 2050.

"Recent progress of #renewables means that #fossilfuel dominated projections are no longer realistic."https://t.co/PBXGM5vlzx

— Dr Paul Dorfman (@dorfman_p) October 20, 2023
California is a cutting-edge place–but investing in the same oil companies you're suing seems too avant-garde to me. Maybe just sell the oil stocks and protect the pension fund and the planet! https://t.co/fNLh2E5EgG

— Bill McKibben (@billmckibben) October 20, 2023
"It's twisted for the industry to try to use Latinos to resist the state's transition to renewable energy and electric vehicles so it can keep selling its polluting, health-damaging and planet-endangering products," @latimes editorial board writes: https://t.co/MpTjTxEnGD

— Sammy Roth (@Sammy_Roth) October 20, 2023
Is there a limit?

Wind turbine builder designing 22-MW offshore turbine with rotor diam >310 m, taller than #EiffelTower (300 m)

4 turbines gives peak power of 1 fossil gas peaker plant, but wind capacity factor=40-55%; Peakers=15% https://t.co/zgXUb1W2NJ @IntEngineering

— Mark Z. Jacobson (@mzjacobson) October 20, 2023
This "shipping container" helps people who live in remote areas gain access to #electricity, clean #water, and #WiFi

We have so many solutions. Implement them. #ActOnClimate #climate #energy #renewables #GreenNewDeal pic.twitter.com/bUFxdO1osw

— Mike Hudema (@MikeHudema) October 20, 2023
More from the Weather Department:
As a major storm hits the UK, a reminder that such storms will drop more rain now than if they had occurred a century ago.
When it rains, it rains more.https://t.co/IzybwS4CHD

— Ed Hawkins (@ed_hawkins) October 19, 2023
As heavy rainfall continues across the country, bringing a 'red' warning (danger to life) to parts of Scotland – it's glaringly obvious that restoring nature is no longer just a nice thing to do – but an essential defence for dealing with future extreme events. Here's how 👇 1/7 pic.twitter.com/Z5GRikcddT

— James Shooter (@James__Shooter) October 20, 2023
The situation in the Vésubie Valley is deteriorating by the minute as a significant rainfall event continues to unfold. Extremely dangerous conditions in southeast France right now with numerous reports of flooding. pic.twitter.com/wpCx8JUwYs

— Nahel Belgherze (@WxNB_) October 20, 2023
Since yesterday, rainfall in western Guangxi and southeastern Guangxi has reached 300-700mm, breaking October rainstorm records in many places! pic.twitter.com/KrjmDjlBcw

— Jim yang (@yangyubin1998) October 20, 2023
This looks like a regular river discharge rate right… The levels of precipitation falling over Northern England and Scotland are off the charts. The more energy you put into the system, the more water it can transport from place to place. Leading to mega droughts & mega floods. pic.twitter.com/qBja9qjwvT

— Peter Dynes (@PGDynes) October 20, 2023
Remarkable collapse of the negative PDO phase as warm SST anomalies are wiped out to the east of Japan.

The models expect a negative PDO to persist through winter, however. pic.twitter.com/wkQgS5wIMj

— World Climate Service (@WorldClimateSvc) October 20, 2023
The Climate Prediction Center (CPC) issued its latest winter (Dec-Jan-Feb) forecast today. For context, here's how they did last year. The West Coast forecast was 180° out of phase. pic.twitter.com/yecVx9qXAa

— Jan Null (@ggweather) October 20, 2023
In case you missed it, @NWSCPC released the U.S. Winter Outlook yesterday! The seasonal outlooks call for wetter-than-average conditions in the South and warmer-than-average temperatures in the North and Far West.

Read more about the outlooks here: https://t.co/xclL8PzAD0 pic.twitter.com/NHXrJkwYGS

— NWS Weather Prediction Center (@NWSWPC) October 20, 2023
More on the Environment:
"An estimated 815 million children – one in three worldwide – have lead poisoning, a condition linked to heart and kidney disorders, impaired intelligence, violent behaviour and premature death." https://t.co/6BlzIsXOfQ

— David Wallace-Wells (@dwallacewells) October 20, 2023
Wild mammals are only about 4% of biomass compared to livestock (62%) and humans (34%), and global poultry weighs more than twice that of wild birds. Welcome to the Anthropocene. pic.twitter.com/k7TxrUk37l

— Dr. William J. Ripple (@WilliamJRipple) October 19, 2023
More on Other Science and the Beauty of Earth and this Universe:
Pandemic probably killed more than 18 million people worldwide. We never paused to memorialize or mourn those deaths. We never paused to improve pandemic policy, so that the next one wouldn't be so deadly. We just … moved on. https://t.co/8HRk2NQSky

— David Roberts (@drvolts) October 20, 2023
Here it is! My yearly picture of the same tree during the 3rd week of October 🍃🍁🍂 Color is dull this year.

📸 Taken in Metuchen, New Jersey

Besides this year, these were taken on the 20th. It was taken on the 19th this year because clouds and rain were in the forecast. pic.twitter.com/7mJFkMR8iC

— Collin Gross (@CollinGrossWx) October 20, 2023
OMG this is really freaky!! 😬

"The woods were moving like the sea this morning"

Filmed by David Nugent-Malone when he was walking his dog in Mugdock, Stirlingshire this morning…. #StormBabet #Babetpic.twitter.com/cqcTmuRVX7

— Volcaholic 🌋 (@volcaholic1) October 20, 2023
Pictures of the local botanical garden this evening.

Yes, I did find trash and do a second cleaning up today. Lol. pic.twitter.com/xIBvSXyE2B

— Edgar McGregor (@edgarrmcgregor) October 20, 2023
If you like these posts and my work on record temperature ratios, please contribute via my PayPal widget on this site. Thanks in advance for any support.
Guy Walton… "The Climate Guy"