Wednesday Evening Update…
Dear Diary. Here are today's highs:
Our "low grade" heat wave continued for much of the central and southern Plains, Mississippi Valley, and South. Wednesday was the last day of high heat for St. Louis. Will Atlanta ever get above 94F this summer? Stay tuned.
The Climate Guy
Wednesday July 26th…
Dear diary. Climate Central came out with a new report today concerning western wildfires. Quoting the report, "Wildfires have burned more than 4.5 million acres in the U.S. so far in 2017. That's 38% more than the average acreage burned for the year-to-date over the past decade. And it is the third largest area burned by wildfires in the last decade through late July."
There is more bad news, internationally. The United States, given the state of  climate change related global average temperatures, is fortunate that heat and associated drought is not on par to what has been occurring across Europe this year:
https://robertscribbler.com/2017/07/24/european-heat-drought-fires-bite-deep-as-1-million-impacted-by-water-rationing-in-rome/?utm_campaign=crowdfire&utm_content=crowdfire&utm_medium=social&utm_source=twitter#350509998-tw150
So, how is our latest heat wave fairing across the U.S. today? Advisories have expanded to a good chunk of real estate in the nation's heartland. Notice that advisories are in place for south Florida for heat indexes from 105F-115F, which is rare. Usually the sea breeze keeps Florida below those values. The green in Iowa, Illinois, and northern Missouri  denotes flash flood watches, which have been posted near our front. That front will eventually make its way southward to the Gulf Coast putting an end to the heat wave this coming weekend: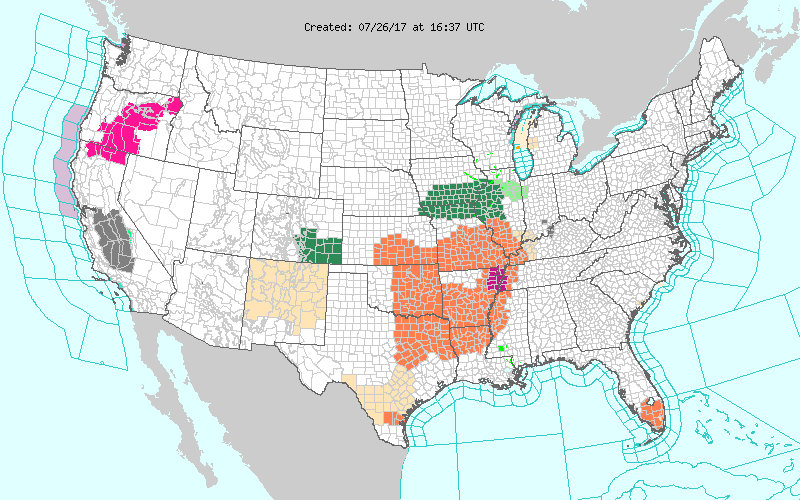 By tomorrow dangerous heat will be sliced out of the mid-Mississippi Valley. The heat south of the front will not be of the record breaking variety, but will remain dangerous. Please head any advisories and do not leave children or pets in cars, especially anywhere maxes get to 90F or above: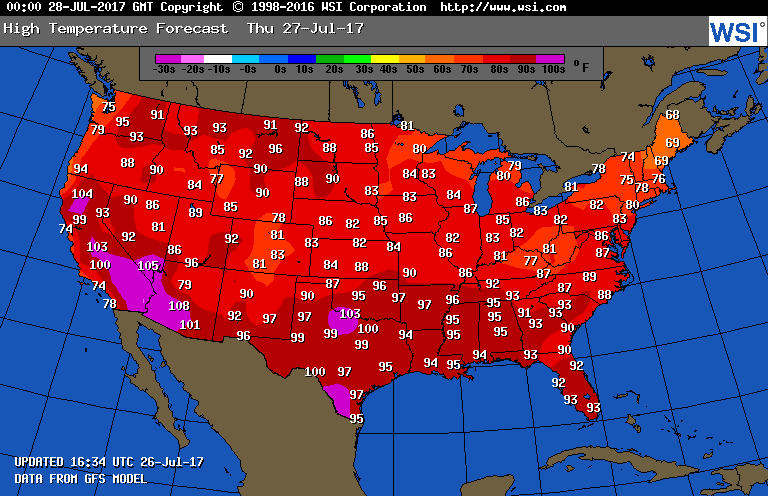 I'll be adding to this post later today as more heat related news comes to my attention.
The Climate Guy
Tuesday Evening Update:
Dear diary. Here are today's maxes from coast to coast:
There has been an increase of dangerous heat from South Dakota to Texas, as expected, with many readings above 100F. Las Vegas was a cool 85F due to a very moist monsoon. BTW Death Valley at one point today was under a flash flood warning, a meteorological rarity indeed.
Tuesday July 25th…
Dear diary. Hang on folks. Most people in the Plains and South will see 2-4 more days of dangerous heat, then relief from our 4th heat wave of the season in the United States is coming. I promise.☺
As stated in my last post heat will be making a comeback through Wednesday and Thursday due to our heat dome strengthening south of the Canadian system that will eventually bring relief to just about every location east of the Rockies this weekend. Heat advisories have made there reappearance in the Plains with areal coverage expanding: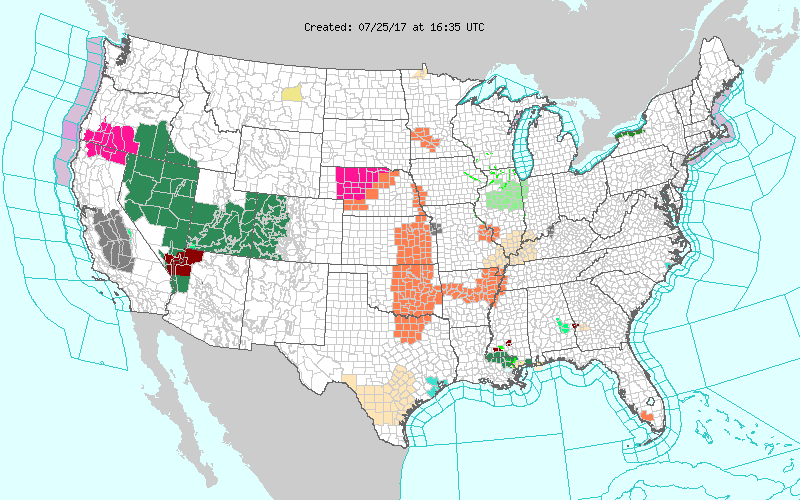 As far as tomorrow goes, indeed models are forecasting the heat to intensify across the Plains and portions of the South: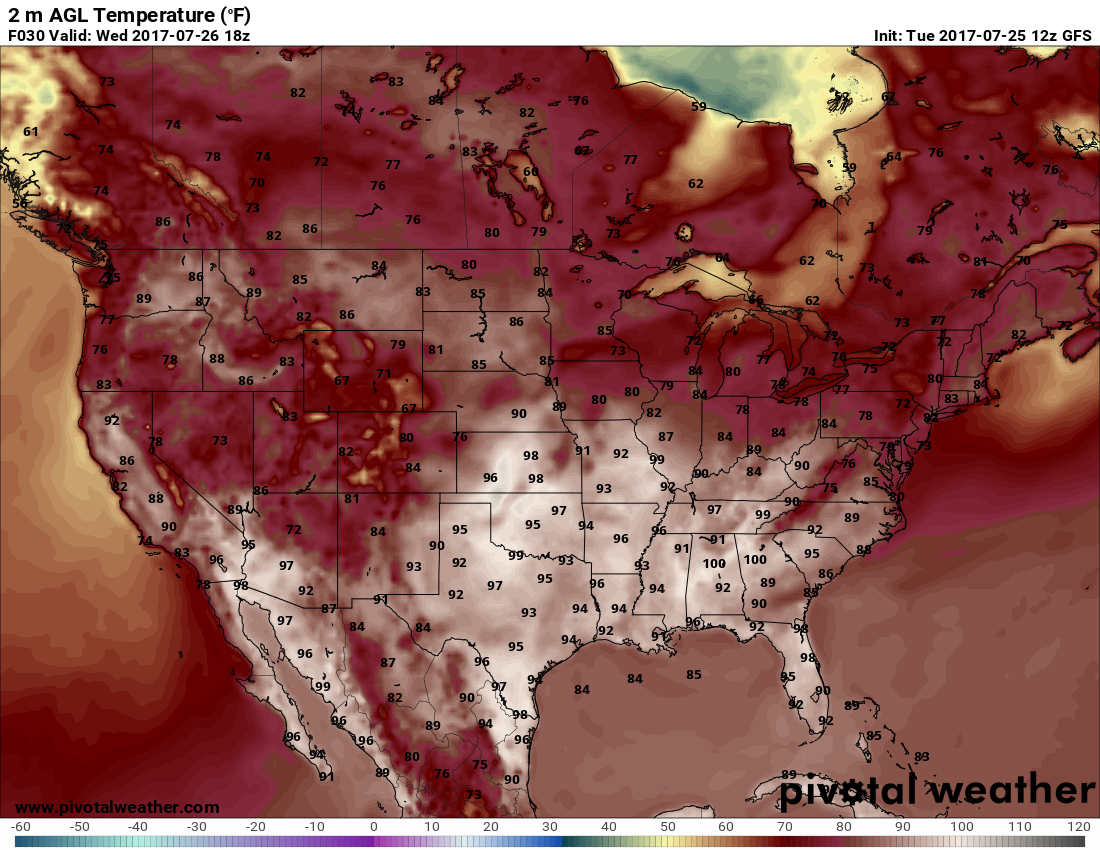 I would expect that some of the values above will be warmer in the Plains, since that area has been drying out, and cooler in the Southeast, since that area has moist ground. Here are the GFS values:
Already we can see that behind the front leading to relief much cooler conditions will stretch from Wyoming and Colorado into the northern Plains. I would arbitrarily call the last days of this heat wave "low grade", and would not anticipate many records to be set through Friday. Nevertheless, people should take precautions. Heat Index values should exceed 100 during the heat of the day in NWS advised areas.
So what is guidance looking like this weekend when that promised relief is coming? The next Canadian system moving into the Great Lakes will carve out a strong eastern trough leading to northwest flow, which will push a cold front southward to the Gulf Coast. The air mass in the wake of the front will be cooler and drier than most we see in late July, leading to that promised relief:
I'll be adding to this post with updates later today.
To see all 2017 Heat Diary entries click:
https://guyonclimate.com/category/heatdiary2017/
The Climate Guy