Friday Evening Update…
Here are Friday's maxes:
The only truly toasty states were California and Texas. The Gulf Coastal area was typically hot and humid south of a front. Most of the nation east of the Rockies was enjoying delightful temperatures.
The Climate Guy
Friday July 28th…
Dear diary. The temperature regime across the U.S. has reverted to one in which there are no large scale heat waves, and this benign pattern should remain for many days to come. Here are the forecast highs for Saturday: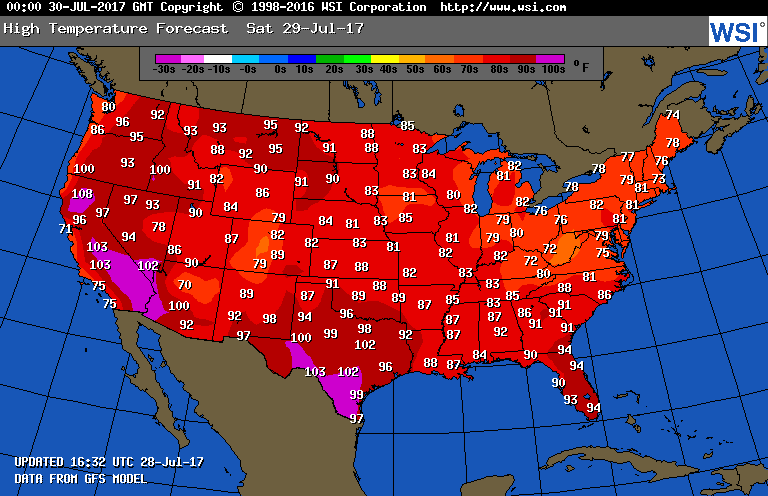 Ah, but there are smaller scale areas in which the heat will remain intense. California is one state. Montana has had a particularly hot summer. And then there is Miami in south Florida. Eric Blake has been noting, statistically, how hot it has been for Miami:
https://www.washingtonpost.com/news/capital-weather-gang/wp/2017/07/27/with-countless-records-smashed-this-year-is-bringing-new-meaning-to-miami-heat/?utm_term=.6ca573d7000f
Miami should have it's hottest July in record when all is said and done this month:
Miami is a key city…a canary in the coal mine… for climate change. The city is very susceptible to sea level rise. Thermodynamically, Miami is nearly surrounded by water, so should only see a gradual increase in temperature due to carbon pollution. However, as we have been seeing over the last couple of years, that surrounding water has warmed to near record levels and, Walla, so has Miami.
In other news, Dr. Michael Mann has given a good thumbs up critique to Al Gore's new film here:
http://www.nature.com/nature/journal/v547/n7664/full/547400a.html?foxtrotcallback=true
The New York Times also has another big article worth reading on summer heat. Yep, it's not your imagination that summers are getting warmer:
https://www.nytimes.com/interactive/2017/07/28/climate/more-frequent-extreme-summer-heat.html?rref=collection/sectioncollection/climate
I'll be adding to this post with more national heat related news as it gets on my radar later today.
The Climate Guy
Thursday Evening Update…
Here are today's maxes:
Notice that any dangerous heat was confined to the southern tier of states and the West. The Midwest and East is now experiencing a simply nice weather regime.
The Climate Guy
Thursday July 27th…
Dear diary. Today will be the last day of "low grade" heat wave #4 in the U.S. Yeah! A front will move as far south as Arkansas Saturday putting an end to a prolonged period of high heat and humidity in the nation's mid section. Here are the remaining advisories valid through today: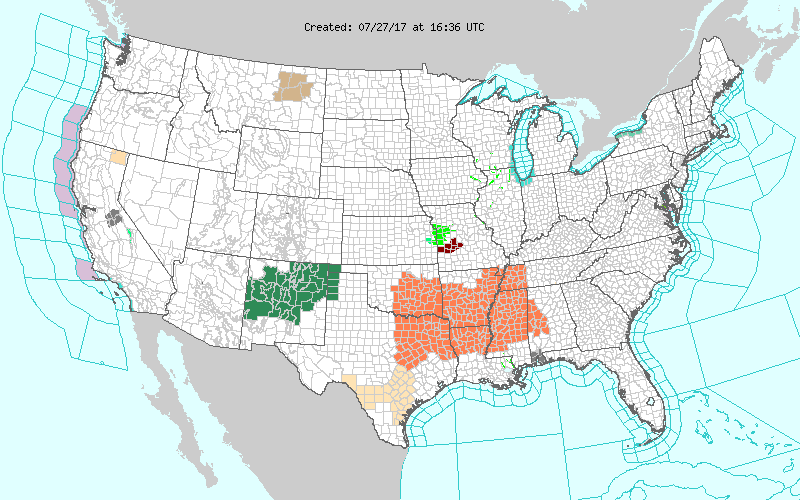 By Saturday this is what the temperature max regime will look like: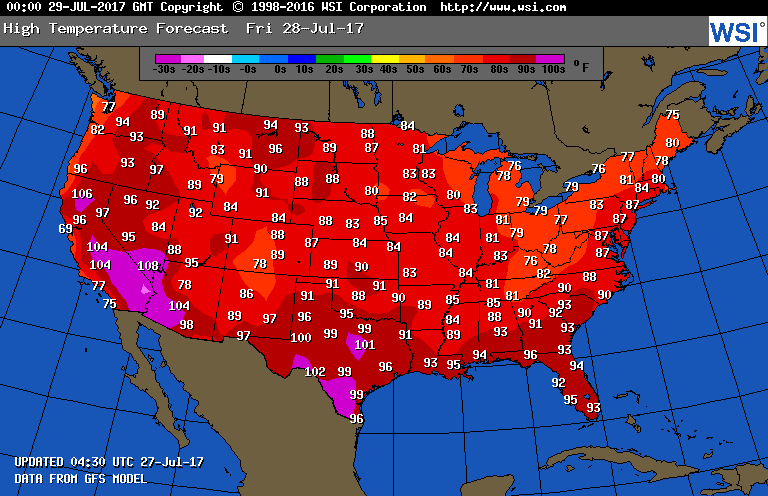 While typical  heat and humidity will remain across the Gulf Coastal area, Texas, and the Southwest, the nation may be devoid of any heat advisories this weekend… some good news indeed.
So where might the next heat wave pop up in the U.S. in August? Remember that I will never point to models valid more than 240 hours out in time. Most are garbage. I'll emphasize here that IF our western heat dome, which is now heavily embedded with cooling monsoon moisture, can get above 597 decameters, we may see another heat wave in the West. It would take a rather strong heat dome to suppress monsoon storms and build dangerous heat at lower elevations. This would be several days from now as suggested by this morning's GFS:
Notice that there is no heat dome east of the Rockies, so there is no chance of a large area of dangerous heat there well into August. Folks should enjoy what is increasingly becoming a rare respite due to carbon pollution from extreme summer heat in the eastern U.S. with pleasant weather in many locations. Also, I don't see in the tea leaves a threat from tropical activity into early August.
I'll be adding to this post with updates later today.
To see all 2017 Heat Diary entries click:
https://guyonclimate.com/category/heatdiary2017/
The Climate Guy