Ah the saga of the October heat dome continues. Yesterday and today, 10/3 and 10/4/17, are the days I alluded to in "Weird, Warm and Spooky" in which I wrote that I hadn't seen a heat dome of this magnitude forecast in October in my 35 year career as a meteorologist:
https://guyonclimate.com/2017/09/25/warm-weird-and-spooky/
The piece was referenced to by this Washington Post article:
https://www.washingtonpost.com/news/capital-weather-gang/wp/2017/09/28/summers-revenge-part-2-mega-heat-dome-to-build-over-central-and-eastern-u-s-next-week/?sdfsdfdsfds&utm_term=.55f128121fd4
Well, today is verification day. Here is the 500 millibar chart valid for Tuesday evening. We see that models from over a week ago did a great job with the forecast. We have a 594+ decameter ridge stretching from New York south to Texas:
I wrote this subsequent piece as a primer for all to learn how to read the above chart and what such a finding means in relation to climate change:
https://guyonclimate.com/2017/10/02/dissecting-the-heat-dome/
Peter Mullinax has verified that 500 mb heights at many locations have set records in October. Some examples he cited were Dulles, VA; Pittsburgh, PA; and Nashville, TN. Here are some of his findings: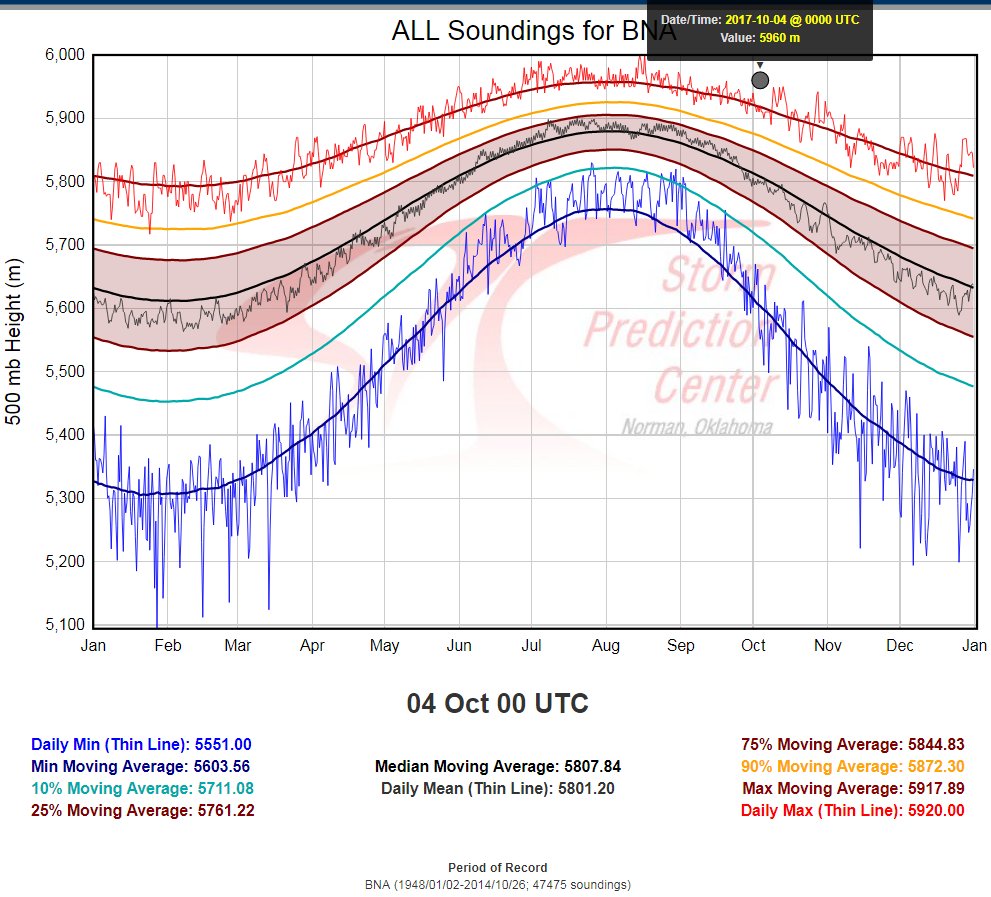 So, why is this significant? Beyond setting records for high 500 mb heights this warm heat dome has some tropical ramifications for the U.S. The author of the Washington Post article, Jason Samenow, and I noticed how susceptible the Gulf coastal area is given the synoptic pattern. I quote Jason here from 9/28/17:
"The presence of this heat dome may help spur the development of tropical activity in the Gulf of Mexico or the western Caribbean. The clockwise flow around the sprawling high pressure center will direct light easterly winds along its southern flank in this vicinity — which is conducive to the development of any tropical disturbances."
Since it is relatively very warm aloft over the eastern U.S. there is very little wind shear moving south into the Gulf of Mexico and Caribbean because the jet stream is very far north over Canada. Climatologically this is the time of the year in which hurricanes form in the western Caribbean then move northward affecting the U.S. As the mega ridge brakes down what is now T.D. 16 will be pulled northward into the Gulf and probably strengthen getting a name, Nate:
It's too early to tell exactly where this potential Nate will make landfall in the U.S. or how strong the system will be at landfall, but given the overall warmer than average atmosphere the storm will have to work with northward into the Gulf and warmer than average Gulf waters, our nation will be fortunate not to see another climate change related disaster. Nate will probably not get as strong as Harvey given the overall meteorological dynamics, though. I'll update this post as we get closer to a Sunday landfall.
Since its occurring in October and not in summer this heat dome has not translated to dangerous heat in the U.S. The heat dome will probably produce sine record highs before the week is out. Here are the maxed from Wednesday. Note the warm conditions that were underneath the heat dome:
The Climate Guy