Six months ago I began to dig more into National Center for Environmental Information data in relation to the record long "streak" of consecutive months of more daily high records than lows across the U.S. I posted information here:
https://guyonclimate.com/2017/04/09/streaking-past-a-tipping-point/ and here:
https://guyonclimate.com/2017/04/12/streak-dissection/
As of September 2017 the streak has reached 34 months starting in November 2014:
I wasn't shocked to learn that the contiguous United States as of March 2017 had experienced its warmest 1-5 years:
I'm getting this information from this NCEI site:
https://www.ncdc.noaa.gov/temp-and-precip/climatological-rankings/index.php?parameter=tavg&state=110&div=0&month=9&year=2017
In the last six months we fortunately haven't seen one individual month of a ten to one ratio or better of record daily highs to lows, but man has it been hot in some locations across the country. One state that comes to mind is California where vegetation over the summer due to a prolonged period of record heat became tinder dry. Now in October Diablo winds have fanned conflagrations burning towns such as Santa Rosa…a national tragedy. In any case, how does the above chart look now that we've tacked on six more months to the streak, which also had above average temperatures? Question answered: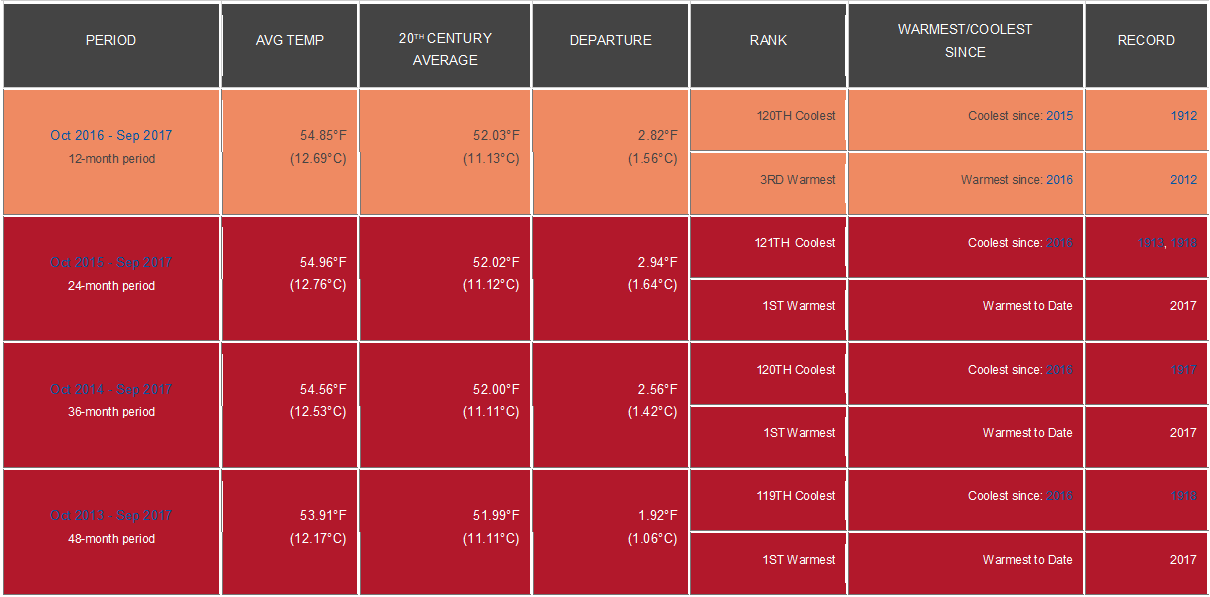 and:
The last year has ranked 3rd warmest while the last five years have  ranked 2nd warmest. The prior 2-4 years retain the top nod. Our "little cooling trend" can be chalked up to that cool weather east of the Rockies in August 2017 and a relatively cool May 2017.
We can see this very slight cooling trend in the ranking data for just the last six months:
The past six month 11th warmest ranking (APR-SEP) coincides with a tally of 11,757 daily record highs either being tied or set while 4,684 daily record lows were either tied or set (as of 10/10/17). That's a ratio of 2.51 to 1. Yes, even in a warming world there will be synoptic weather patterns producing record low temperatures.
Can the U.S. hope to see these temperature rankings fall more in the next year such that extreme weather events such as the Santa Rosa, CA fire might not occur? As long as CO2 levels continue above 400 parts per million I seriously doubt it, but stay tuned. Perhaps due to coming volcanic activity there might be a brief cool down…a very slight possibility. I'll definitely be keeping tabs on trends.
The Climate Guy