Monday April 30th… Dear Diary. The main purpose of this ongoing post will be to track United States extreme or record temperatures related to climate change. Any reports I see of ETs will be listed below the main topic of the day. I'll refer to extreme or record temperatures as ETs (not extraterrestrials)😊. Here is today's main climate change related topic: 
Loosening Café Standards
Before eventually and hopefully switching to all electric transportation the worst thing any U.S. administration could do would be to loosen automobile and truck CAFE (Corporate Average Fuel Economy) standards, or the required minimum miles per gallon per vehicle. As far as carbon pollution goes in the U.S. transportation in the last couple of years has exceeded that of power generation. If humanity is to ever get ahead of the climate issue the Trump Administration needs to rethink the direction it wants to go with CAFE standards. Today I will be quoting from this new Washington Post article:
https://www.washingtonpost.com/news/energy-environment/wp/2018/04/27/trump-administration-drafts-plan-to-unravel-obama-era-fuel-efficiency-rules-challenge-california/?utm_term=.15f5cd4419c7
"The Trump administration has drafted a proposal that would freeze fuel-efficiency standards for automobiles starting in 2021 and challenge California's ability to set its own fuel-efficiency rules, changes that would hobble one of the Obama administration's most significant initiatives to curb climate change."
"The draft document, while not final, suggests the Trump administration is poised to make significant changes to planned auto standards over the next decade. A federal official who has reviewed the document described it in detail to The Washington Post."
"Drafted in large part by the Transportation Department's National Highway Traffic and Safety Administration (NHTSA), the plan outlines a preferred alternative in which the federal government would freeze fuel-efficiency standards for cars and light trucks at levels now set for model year 2021, keeping them there through 2026."
It's no wonder why climate scientists like Dr. Michael Mann find Trump so politically appalling. Special fossil fuel and automotive interests have won power instead of scientists and environmentalists after the 2016 election. It stands to reason to maximize profits oil companies want gas guzzlers on the highway. Likewise, it's easier to engineer and produce a car getting low miles per gallon since light weight materials are more expensive.
On a positive note California is the one state trying to set the bar for the rest of the nation on transportation energy efficiency. Of course, special interests have taken notice, so there is a war brewing with Scott Pruett's EPA and the West Coast. Quoting this Los Angeles Times article: 
http://www.latimes.com/politics/la-na-pol-mileage-20180427-story.html
"The Trump administration is speeding toward all-out war with California over fuel economy rules for cars and SUVs, proposing to revoke the state's long-standing authority to enforce its own, tough rules on tailpipe emissions."
"The move forms a key part of a proposal by Trump's environmental and transportation agencies to roll back the nation's fuel economy standards. The agencies plan to submit the proposal to the White House for review within days."
We will see how all this plays out in the courts with time. In my experience dealing with the climate issue since 1988 greed always prevails. Short term greed instead of logical long term planning may doom us all.
………………………………………………………………………………………………………
No doubt about it. April 2018 has been cold in the Midwest. I saw this report of "ET's" from April 29th:
Radiant Solutions | Weather Desk‏

 
@Radiant_Weather
Much like Chicago, Indianapolis also set a daily record low yesterday (30°), along with a new record number of April freezes with fourteen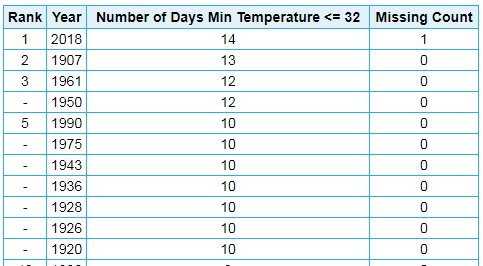 (If you like these posts and my work please contribute via the PayPal widget, which has recently been added to this site. Thanks in advance for any support.)
The Climate Guy