Saturday May 6th… Dear Diary. The main purpose of this ongoing post will be to track United States extreme or record temperatures related to climate change. Any reports I see of ETs will be listed below the main topic of the day. I'll refer to extreme or record temperatures as ETs (not extraterrestrials)😊. Here is today's main climate change related topic:
Animal Cruelty from Climate Change
This weekend we witnessed another great  Kentucky Derby Saturday celebrating thoroughbred horses. While a minority of people might think that some aspects of horse racing are cruel most admire the special relationships that trainers, owners and breeders have with their animals. Being raised around farms I know that most horses are treated well, are loved,  and get a lot of respect. Unfortunately this Derby weekend I learned because of excess heat and drought some horses met a cruel end. Climate change related phenomena is becoming cruel to both humans and animals alike. Here is a CBS News article with the entire story: https://www.cbsnews.com/news/horses-found-dead-southwest-drought-arizona-najavo-nation/  Quoting from the article: 
CAMERON, Ariz. — Off a northern Arizona highway surrounded by pastel-colored desert is one of the starkest examples of drought's grip on the American Southwest: Nearly 200 dead horses surrounded by cracked earth, swirling dust and a ribbon of water that couldn't quench their thirst. Flesh exposed and in various stages of decomposition, the carcasses form a circle around a dry watering hole sunken in the landscape, CBS affiliate KPHO reports.
So far this warm season drought has become anchored across the Southwest where climate models suggest desertification will intensity and expand eastward through portions of the Plains as the 21st century rolls along. I wrote about this here back in April: https://guyonclimate.com/2018/04/13/extreme-temperature-diary-april-13-2018-topic-signs-of-desertification/ 
Now I'm not going to write that climate change directly killed nearly 200 horses in what is typically an arid area anyway, but drier and hotter than average weather this winter and spring did tip the balance towards these horses dying rather than surviving. On a far worse scale the 1930s Dust Bowl killed nearly countless livestock in the western Plains just where models are forecasting more drying in the long run due to global warming. I'm hoping that farmers will gradually pull away from the western High Plains this century to avoid more carnage as did happen to wild horses on Navajo land during this early May. We should have learned many lessons from the Dust Bowl.
I don't know any people who want to be cruel to animals nor do I want to meet any. However, by filling up at the gas station, using electricity in a "brown" generated power area, or just heating our homes we are collectively guilty for putting some animals, such as the polar bear, in the cross hair of harm for starvation. As has happened in the past during droughts farmers sometimes have to either kill livestock or let them starve. We all need to work to keep the planet's temperature low if not for the sake of us but for our furry friends.
…………………………………………………………………………………………
It's getting hot again in the Southwest:
For those keeping score at home,  a new record high temperature has been set for Phoenix. Of course this can still go higher today. #azwx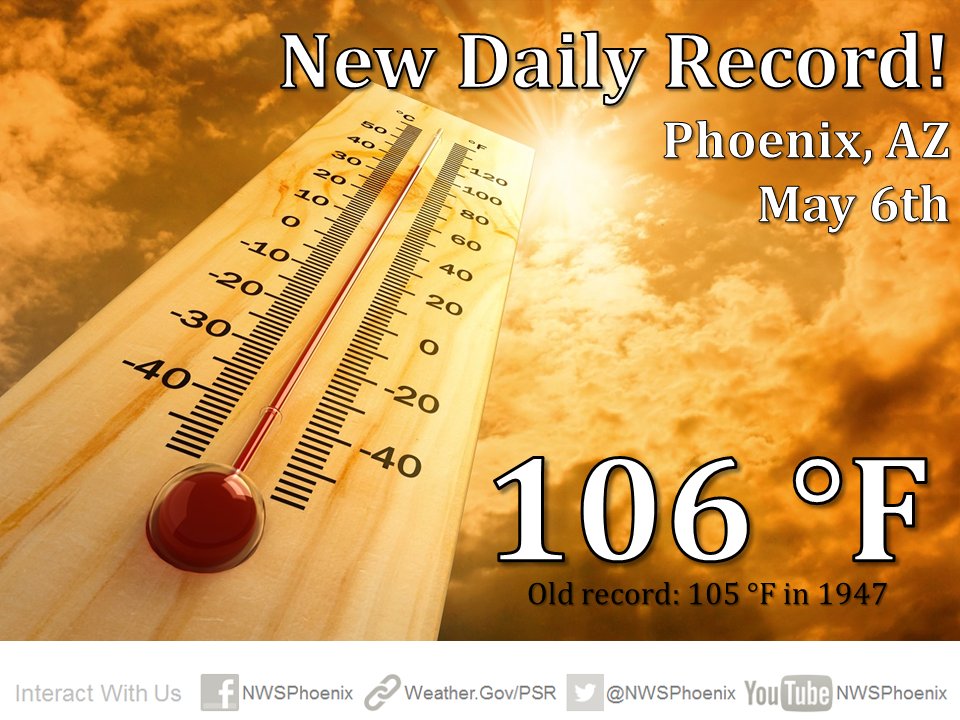 (If you like these posts and my work please contribute via the PayPal widget, which has recently been added to this site. Thanks in advance for any support.)
The Climate Guy