Thursday June 14th… Dear Diary. The main purpose of this ongoing post will be to track United States extreme or record temperatures related to climate change. Any reports I see of ETs will be listed below the main topic of the day. I'll refer to extreme or record temperatures as ETs (not extraterrestrials)😊. Here is today's main climate change related hot topic: 
Mid June U.S. Heat Check
On June 11th I noticed that model ensembles increasingly were hinting at a substantial heat wave for the nation's heartland starting this weekend: 
https://guyonclimate.com/2018/06/12/extreme-temperature-diary-june-11-2018-hot-topic-early-june-u-s-temperature-trends/
That day is already at hand. Ahead of a cold front in the northern Plains that will be very slow to creep south with maxes in the 90s wand high heat index values  common from the Upper Midwest southward to the central and southern Plains. Heat will be tempered in Texas due to deep tropical moisture moving northward from the Gulf. Here is the surface pattern for midday Sunday:
Last year I gave a mini tutorial on heat dome, 500 millibar charts.
https://guyonclimate.com/2017/10/02/dissecting-the-heat-dome/
This year let's concentrate on surface charts such as this overlaid by "thickness" lines. These are usually depicted as red hashed lines. Notice that on the above chart most of the active weather and front in the northern Plains lies close to the 576 hatched thickness line. During the summer this setup is quite typical since highly modified polar air can't penetrate much into a 500-1000 millibar thickness of around 5,760 meters. You guessed it, the warmer the column of air between 500 and 1000 millibars the higher the thickness.
Truly historic heat waves when many record temperatures fall in the Plains and much of the Southeast are accompanied by 5,820 meter thickness and higher. Once the atmosphere warms to that level what is called a thunderstorm cap will develop, so any cooling rain relief is unlikely. Fronts can break these heat masses down, but if the associated upper heat dome is too strong the cavalry won't be coming. In the case of the air mass forecast to be in place from now through the weekend we just don't see charts with widespread areas of 582+ thickness. Also, the associated ridge gets close to 594 decameters by Monday then starts to break down allowing that northern Plains front to move south, breaking the heatwave:
Outside of the West and Texas I see plenty of red on the chart, so the heat wave won't be finished by Tuesday, though. One place this time of the year through the summer that is notorious for heat is St. Louis. So far east of the Rockies this is the only area currently with a heat advisory from the National Weather Service:
The heat index will be around 100-105 degrees this weekend. If you have to be outside over the next few days, be safe! #mowx #ilwx #stlwx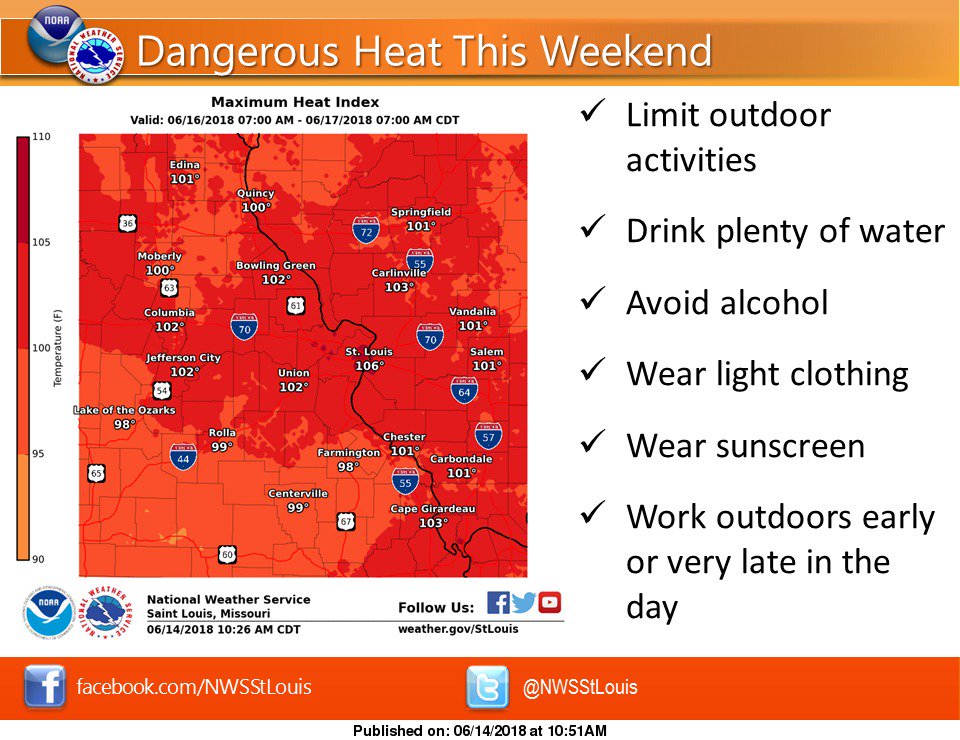 What I'm expecting is a "moderate grade" heatwave with some stations where climatology has been catalogued for shorter periods of time setting heat records. Most readings should stay below 100F. Dewpoints will be above 70 at many locations, so NWS advisories may expand, particularly in the middle Mississippi Valley. Tomorrow 90F+ heat will be spreading into the Mississippi Valley and Southeast: 
For tons of information on the growing horrific western wildfire situation please look at this Twitter feed:
We will keep an eye on the situation as the heatwave unfolds this weekend.
(If you like these posts and my work please contribute via the PayPal widget, which has recently been added to this site. Thanks in advance for any support.) 
The Climate Guy