Monday September 3rd… Dear Diary. The main purpose of this ongoing post will be to track United States extreme or record temperatures related to climate change. Any reports I see of ETs will be listed below the main topic of the day. I'll refer to extreme or record temperatures as ETs (not extraterrestrials)😊. Here is today's main climate change related topic:
Warning Signs For Dangerous Tropical Season For U.S.
On this Labor Day morning I'm not liking what I'm seeing in association with the tropics from both a weather and climatological standpoint. Yesterday I wrote a post indicating how warm it will be over the eastern U.S. and Atlantic basin. This warmth will play a big role in the future of any organized tropical cyclones that potentially will make landfall in the U.S.
As expected Gordon has formed off the southwest coast of Florida and maybe undergoing rapid intensification due to low wind shear and above average sea surface temperatures. Let's take a look at current messages in association with Gordon:
At 10:35 AM the center of Tropical Storm Gordon was over Cape Sable FL (on the southwest edge of the Everglades) about to enter the Gulf of Mexico. We'll see what lat/lon NHC places #Gordon at 11 AM. pic.twitter.com/alSV092JCJ

— John Morales (@JohnMoralesNBC6) September 3, 2018
5 pm Tropical Storm Gordon update.  Gordon is currently forecast to become a category 1 hurricane prior to making landfall Tuesday evening along the central Gulf of Mexico coast. A Hurricane Warning has been issued from the mouth of the Pearl River to the Alabama-Florida border.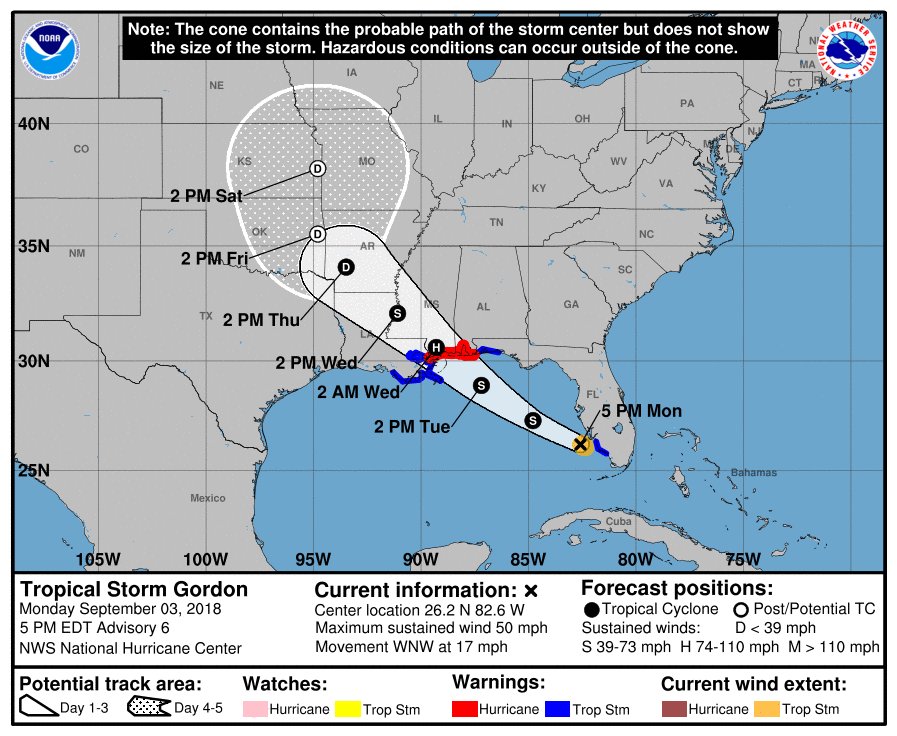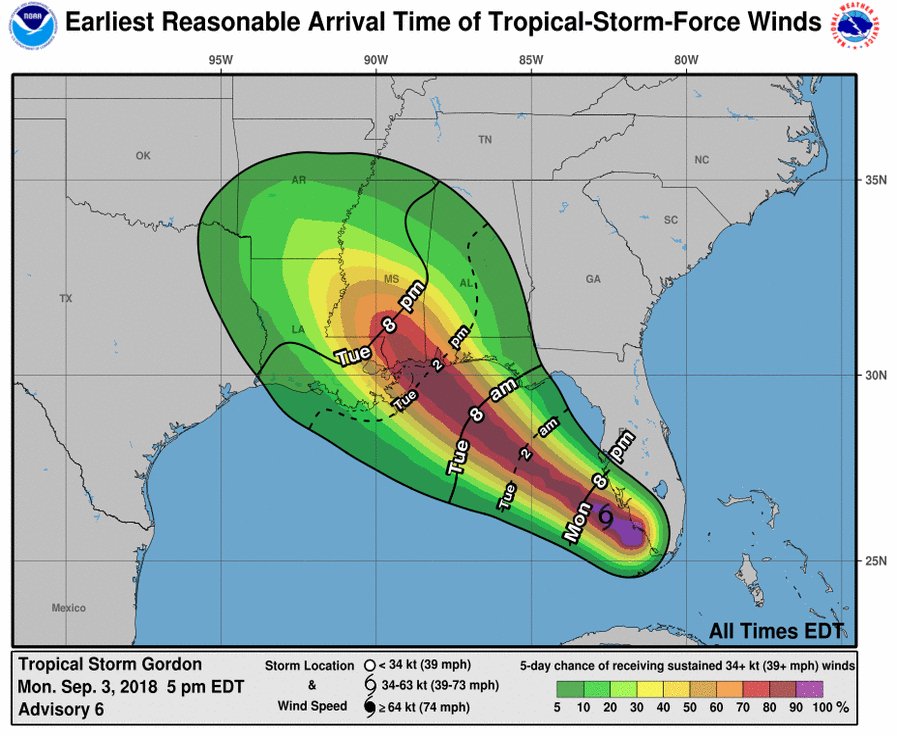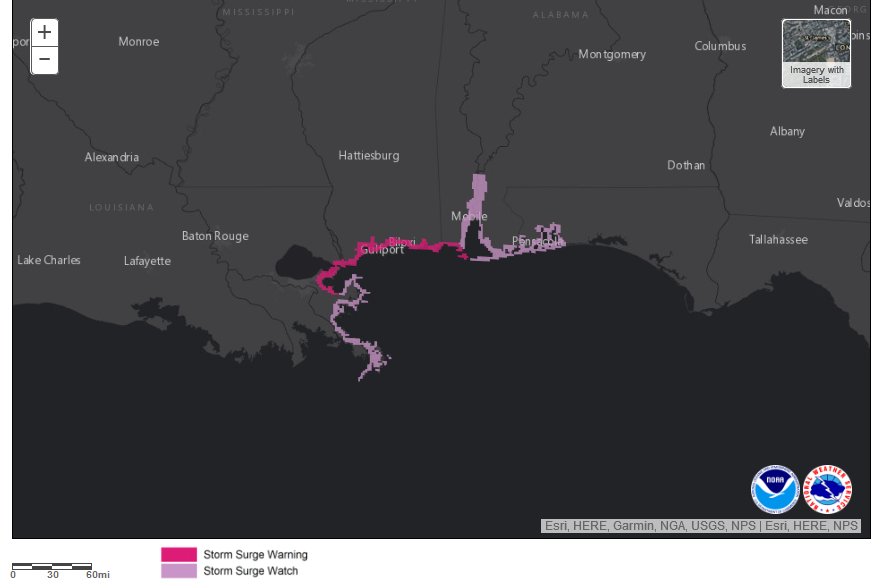 The official National Hurricane Center Track/Intensity forecast for Tropical Storm #Gordon. Southwest Alabama, Mississippi, and Louisiana residents: heed caution.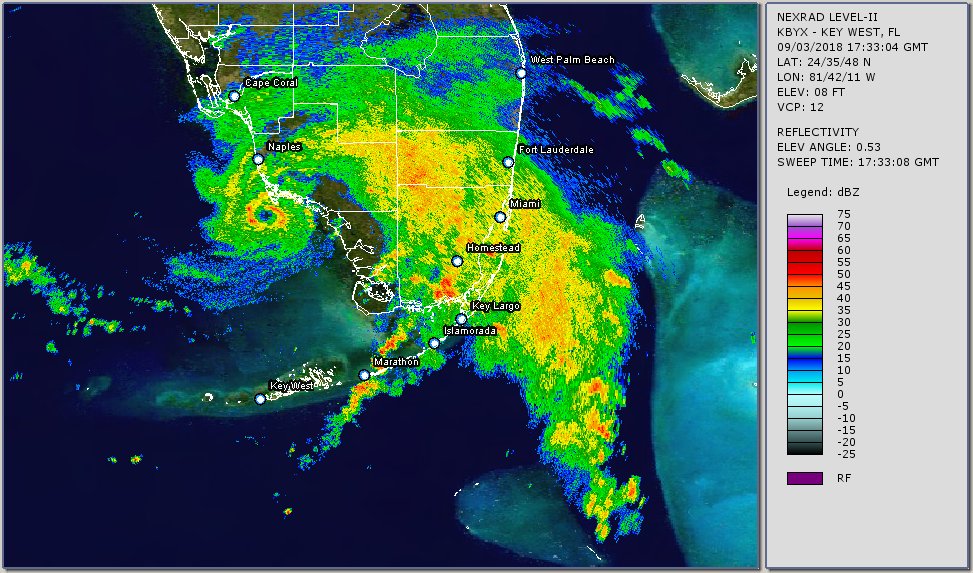 Convection (or thunderstorms) are rapidly blowing up around Gordon's center leading me to believe that the thing may be a hurricane before making landfall in the central Gulf area. This system probably would not strengthen as fast if Gulf temperatures weren't so warm. Let's look at sea surface temperatures across the Atlantic and Gulf of Mexico basins again:
It looks like the entire Atlantic basin is on fire, so to speak, on the SST chart. Nature has a way of trying to come into balance. One Earth balancing system is tropical cyclones, which take in heat (potential energy) and then burns the stuff using "kinetic" energy. The warmer the ocean the stronger its hurricanes and typhoons can become. Also, in my opinion, tropical cyclones will develop faster in an overall warmer atmospheric and ocean environment provided that there is low shear aloft. This "envelope" that surrounds Gordon leaves me worried about rapid intensification. Here is the latest 500 mb anomaly forecast indicating how warm the atmosphere surrounding Gordon is:
Tomorrow there will be a huge ridge near 597 decameters centered over the Mid-Atlantic area that will steer Gordon towards the northwest. This warm air aloft will also extend over Gordon helping to fuel the system. Unfortunately this 12Z Monday model run did not initialize Gordon well at all, not indicating low pressure or a closed center low at about 1009 millibars.
Now to Florence. Last nights European model indicated that this Cape Verde storm will intensify and threaten the East Coast next week: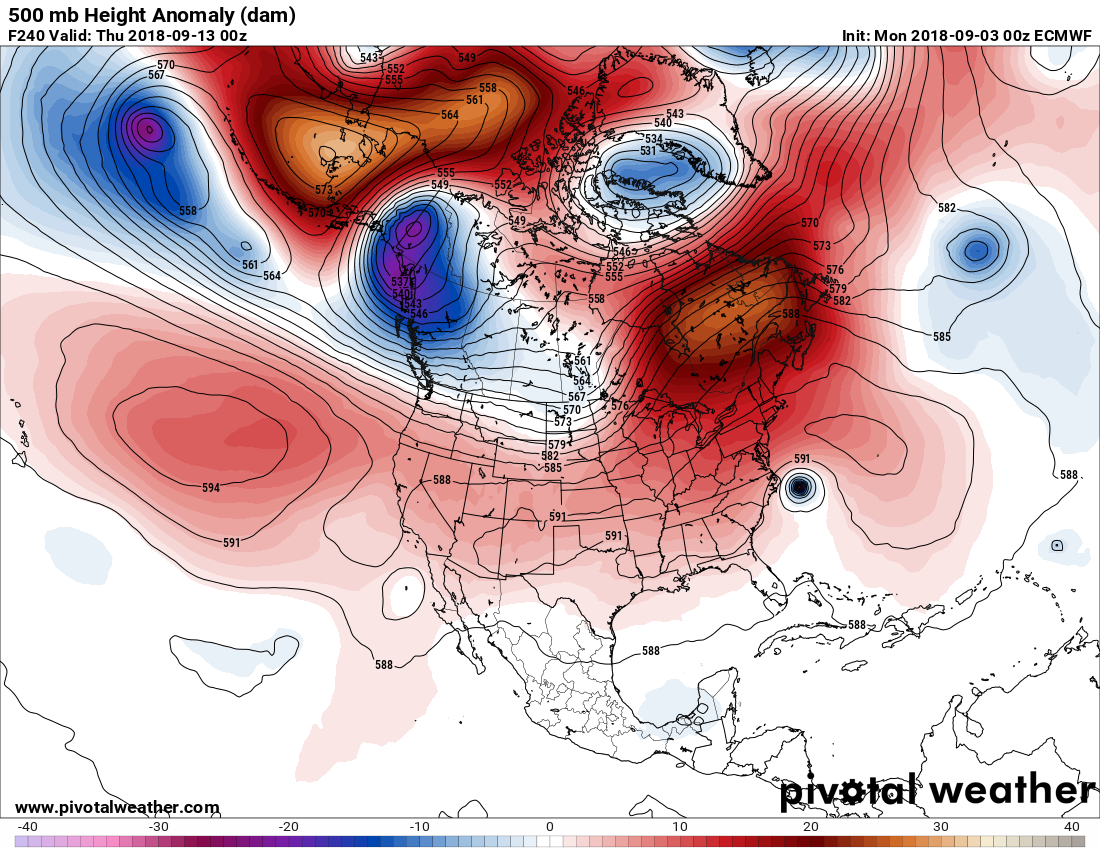 For what it is worth today's 12Z European model looks more threatening: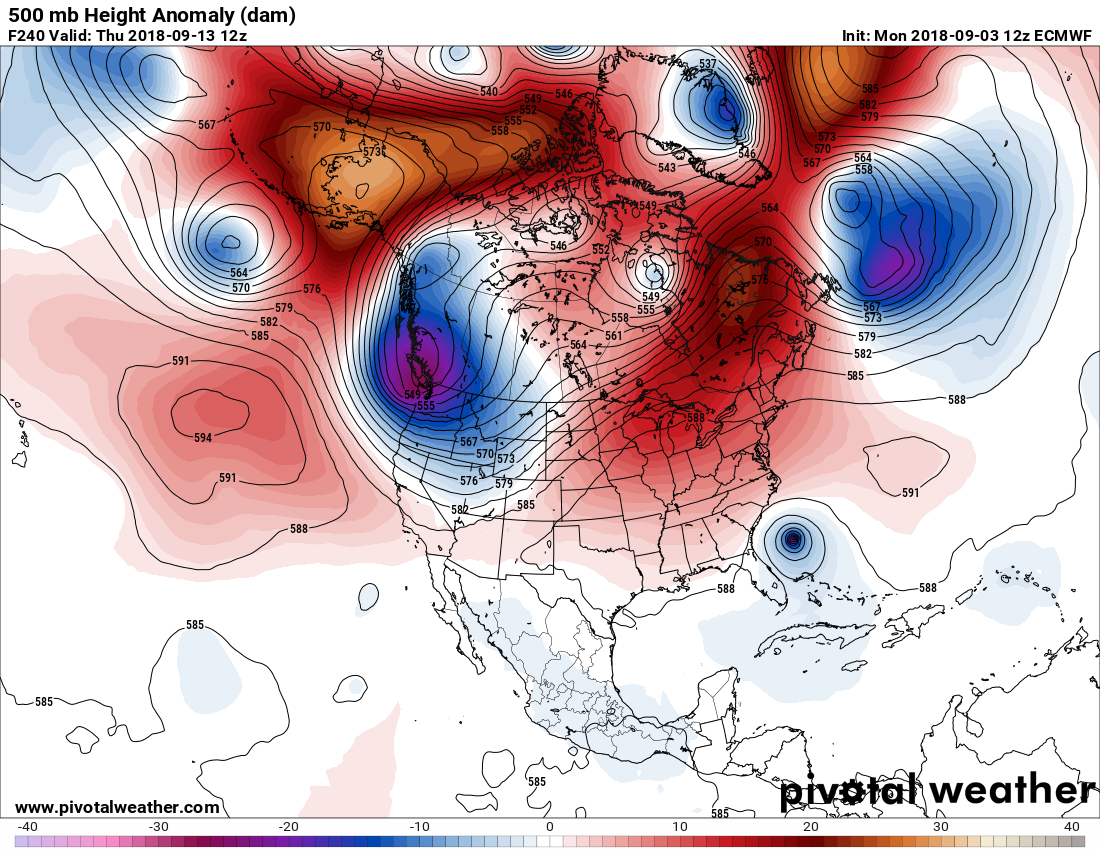 The developing ridge is so strong extending from the eastern U.S. into the Atlantic that the European model's solution is quite plausible. Most Cape Verde systems that steer north of the Leeward Islands recurve out to sea being deflected by early fall troughs moving through the U.S. This may not be the case this season.
Atlantic Hurricane ECMWF model 10 day forecast update .This model is has changed. The ridge of high pressure to the North of the cyclone is steering it, to the U.S. East Coast. Now Showing possible Hurricane landing Georgia, Florida East Coast. I'm rooting for the GFS model. pic.twitter.com/jV6pazo3fL

— Scott Cook (@scook2214) September 3, 2018
Finally, the much anticipated El Nino has not formed yet, so wind shear across most of the Atlantic is lower than it would be had we seen development in August or earlier. We probably won't see El Nino until October at the earliest.
All of these factors lead me to put up some warning flags for this season.
To follow highly specific information in association with each tropical cyclone see the Weather Underground blog linked here: https://www.wunderground.com/cat6/Hurricane-Watches-Central-Gulf-Coast-TS-Gordon-Intensifies
…………………………………………………………………………………………….
Tuesday our East Coast heat wave will be in full swing:
Record heat forecast for tomorrow (Tuesday)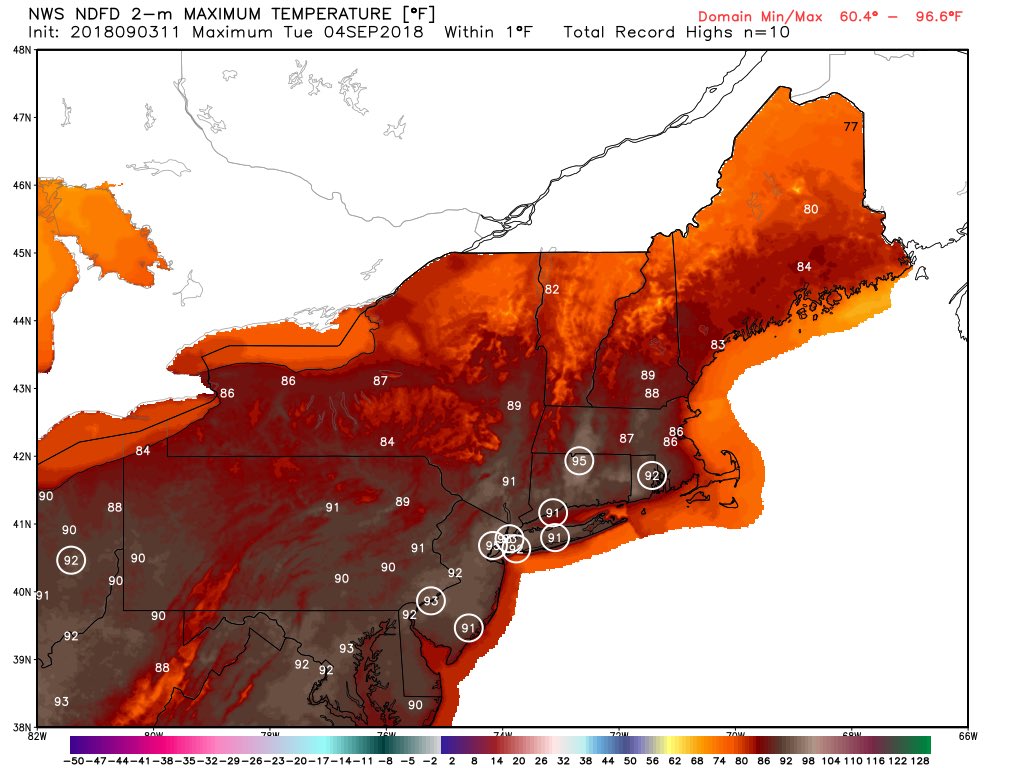 The best chances for below-normal temperatures during September 11th through 17th appear to be across the Pacific Northwest and Northern Rockies, with most other parts of the country seeing increased chances of temperatures being warmer than usual. http://www.cpc.ncep.noaa.gov/products/predictions/814day/ …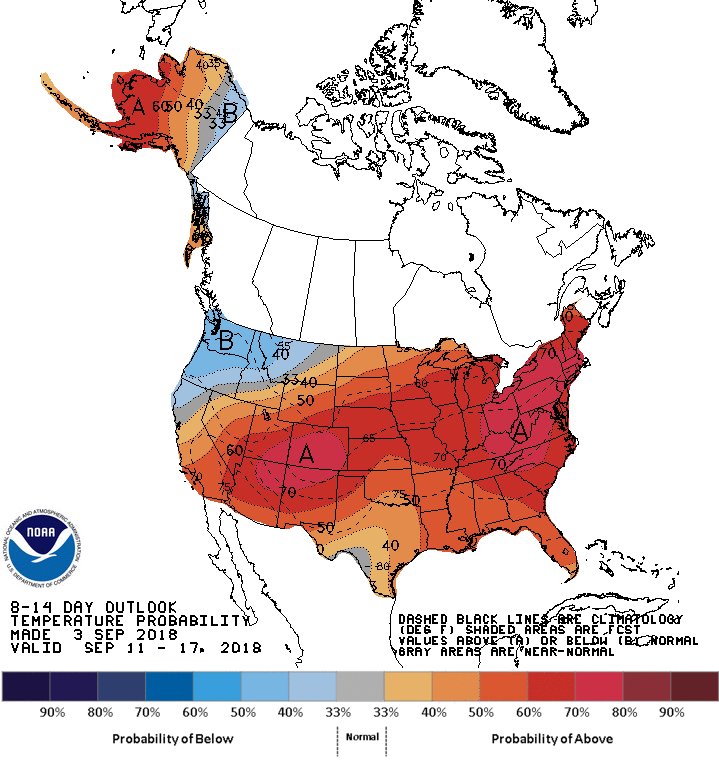 (As usual, this will be a fluid post in which more information gets added during the day as it crosses my radar, crediting all who have put it on-line.)
Here is today's climate related news:
I highly recommend reading this linked article:
And we have a Global Weirding episode about that popular myth!
Here is an ET report of sorts from Labor Day:
New record — 9 hours of 75+ dewpoint today breaks the record of 8 hours total for the entire month of September in Islip. Records back to 1973.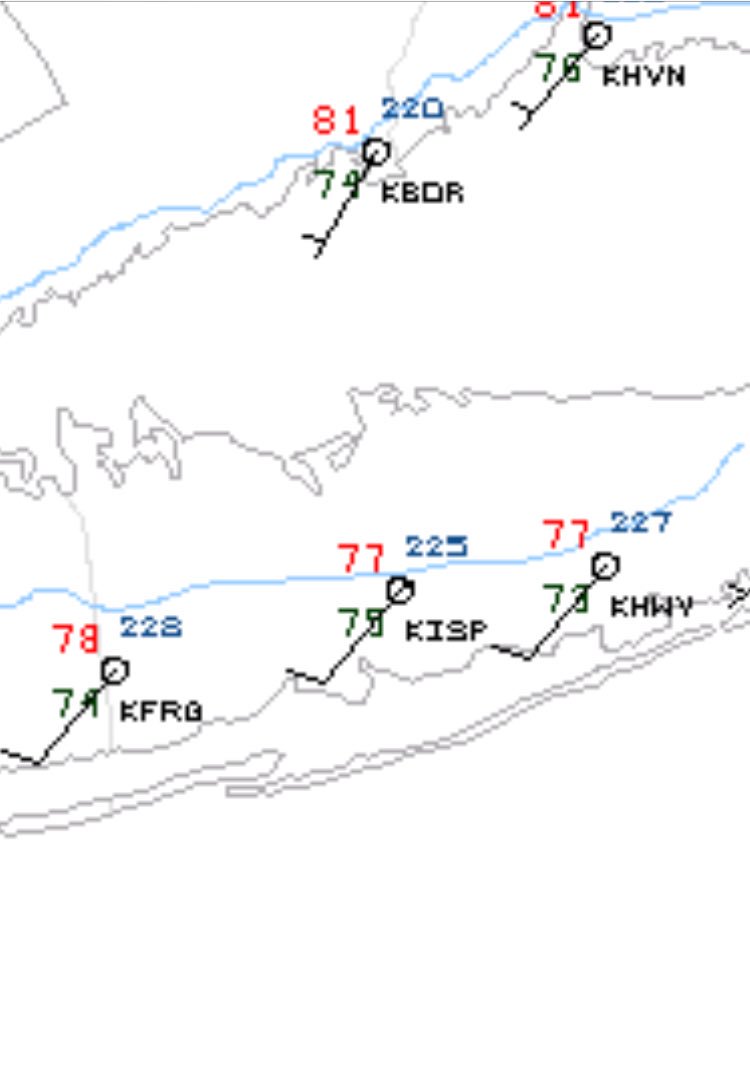 (If you like these posts and my work please contribute via the PayPal widget, which has recently been added to this site. Thanks in advance for any support.)
The Climate Guy