Sunday September 2nd… Dear Diary. The main purpose of this ongoing post will be to track United States extreme or record temperatures related to climate change. Any reports I see of ETs will be listed below the main topic of the day. I'll refer to extreme or record temperatures as ETs (not extraterrestrials)😊. Here is today's main climate change related topic:
Atlantic Tropics Awaken/More Northeast Heat
From a meteorological standpoint the weather in the eastern half of the U.S. will be quite interesting and very active starting on Labor Day and continuing the next week or two. Another strong, hot ridge will develop in the Northeast, which will cause a very late season heatwave for that part of the country to develop yet again, and be the main culprit for steering any organized systems coming close to the Gulf Coast or Atlantic Coast. Yes, after a "long" August slumber the Atlantic is getting active with tropical systems quickly organizing. We will see if this torrid pattern by Labor Day standards for the Northeast has very unwelcome tropical implications down the road.
First, heat advisories have been posted already for New England, Upstate New York, and metropolitan New York City:
Note that flash flood warnings and watches have been issued in a few areas of the Midwest and Gulf Coast. The developing ridge will slow a front causing train echo patterns (in met speak) probably leading to flooding in the Midwest. It almost looks like we have a tropical depression wanting to develop south of the area covered by watches in Louisiana. Since the atmosphere will be at near historic warm levels aloft we may see localized historic flooding in both zones.
Here is that curios system near the Gulf Coast:
Meanwhile 🤔 pic.twitter.com/vFa5qySOvC

— Stu Ostro (@StuOstro) September 2, 2018
 "Stu's system" will probably move inland by Monday with no further development. Another  system dubbed 91L has a good chance of developing in the Gulf from Labor Day into Tuesday: 
#91L is certainly looking a bit more interesting this afternoon. Surface observations indicate some slight pressure falls as convection becomes more organized. Interested to see how this afternoons model runs handle this system once it reaches the Gulf. pic.twitter.com/0hDUJniJHn

— Steve Copertino (@TheSteveCop) September 2, 2018
Our experimental Deep Thunder model (from IBM) is indicating (amongst other models) a weak Tropical Storm to impact the New Orleans + vicinity area later this week. Note this model continues to develop this storm over land, which suggests the "Brown Ocean" phenomena.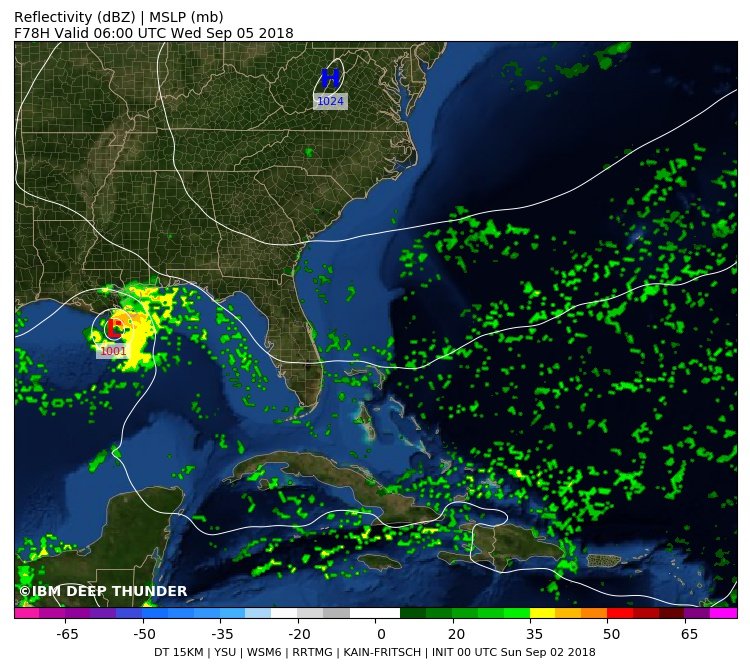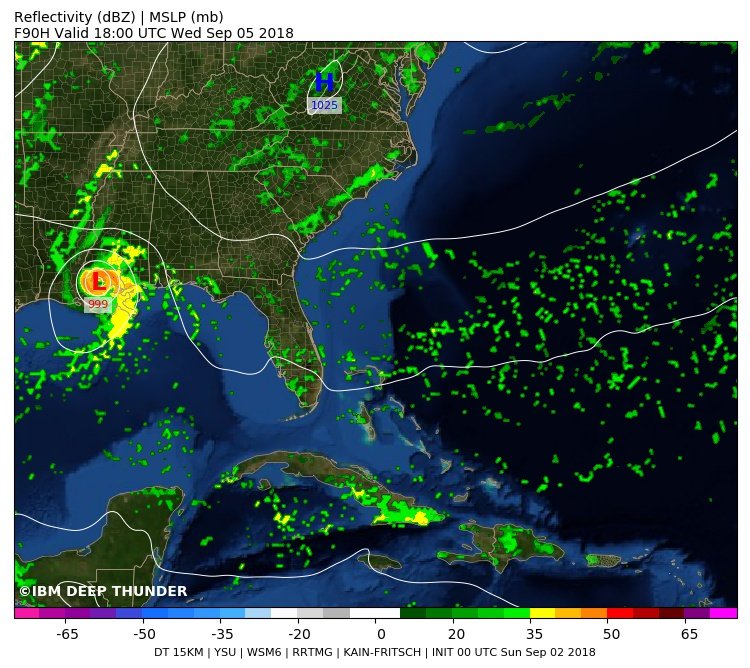 Disturbance north of Cuba is expected to become a tropical storm next week. The forecast track takes the widespread rains north of our part of Texas. Disturbed area of weather near east Texas also heading north. Moist enough here for scattered showers, will watch. #MYKGNSNEWS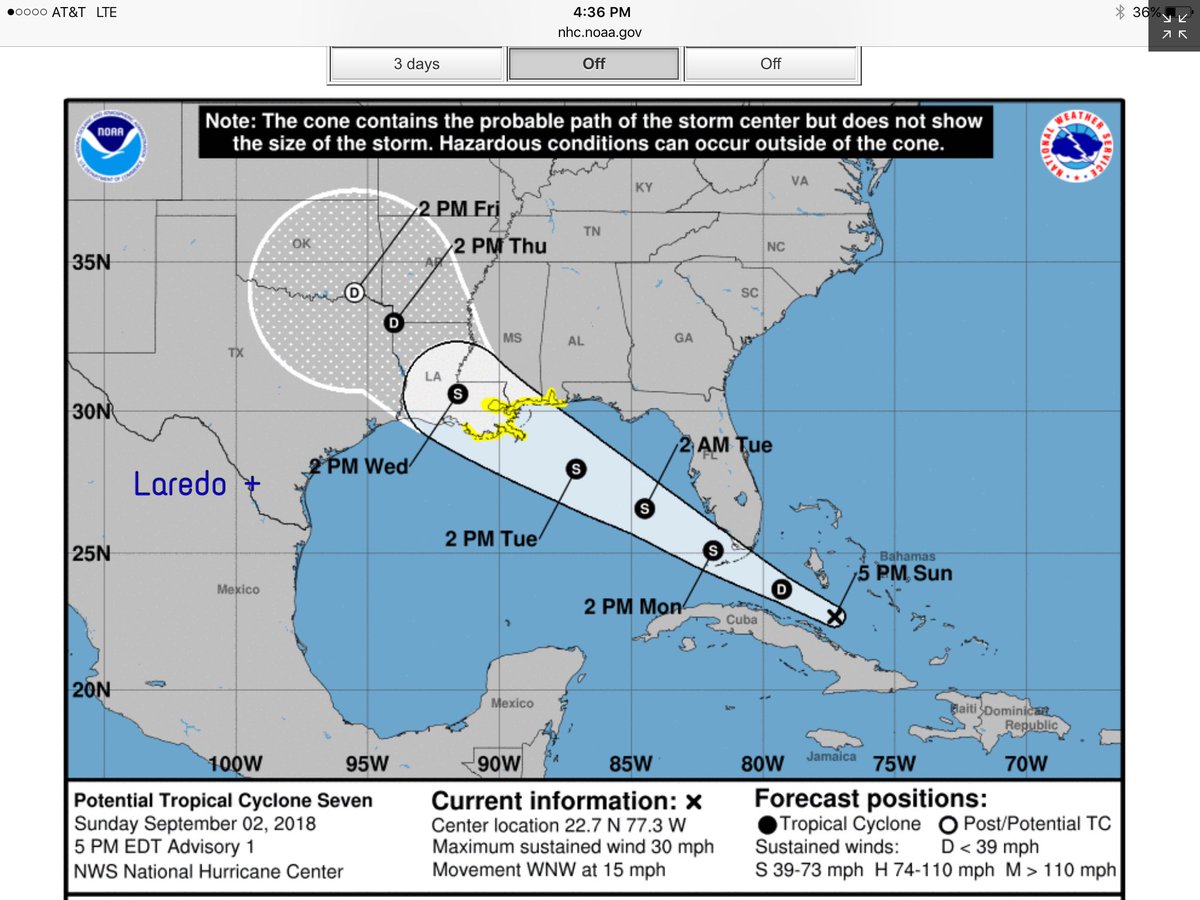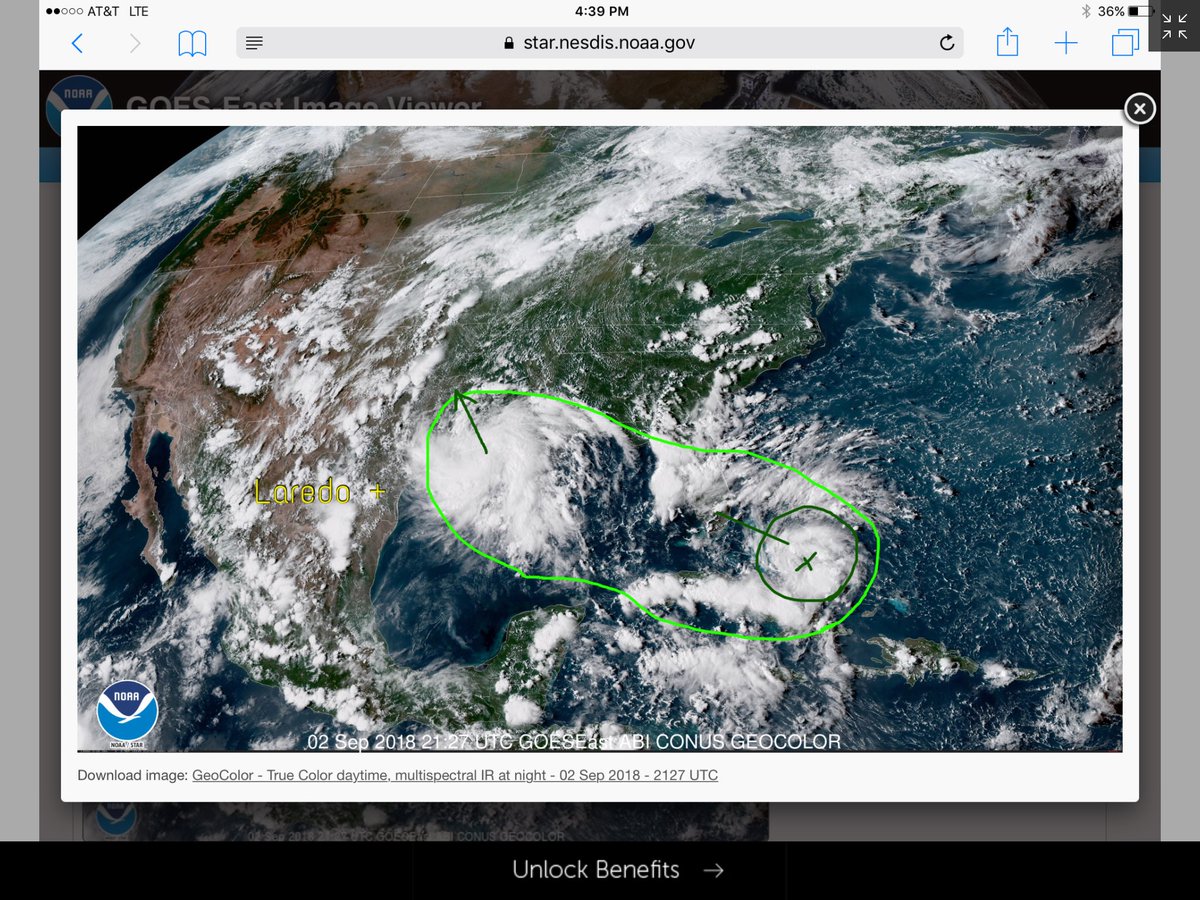 Out in the far Atlantic we already have Tropical Storm Florence, which may eventually interact with strong ridging in the Northern Atlantic and move west, but that scenario is more than a week away. Here is what we see as a forecast from the National Hurricane Center as of this writing: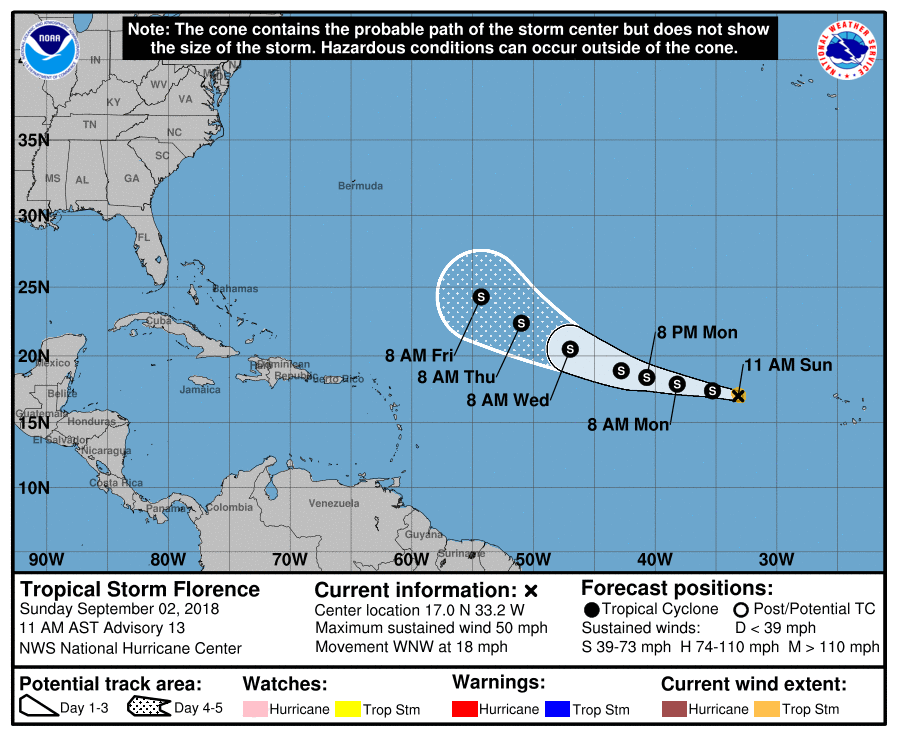 This morning's (12Z SUN) model has the ridge maxing out close to 597 decameters over the Middle Atlantic by Wednesday:
Look closely and you can see a small blue dot in the eastern Gulf. That is the forecast position of either a depression or tropical storm by the European model.
Though pinched from the sides by troughs of colder systems and oscillating some, due to the thing's strength we may see that ridge steer Florence towards the East Coast on a Sandy type trajectory. I'll emphasize here that this is a slight possibility but something to be watched looking at today's European model at the cusp of my arbitrary 240+ hour out "garbage model" demarcation: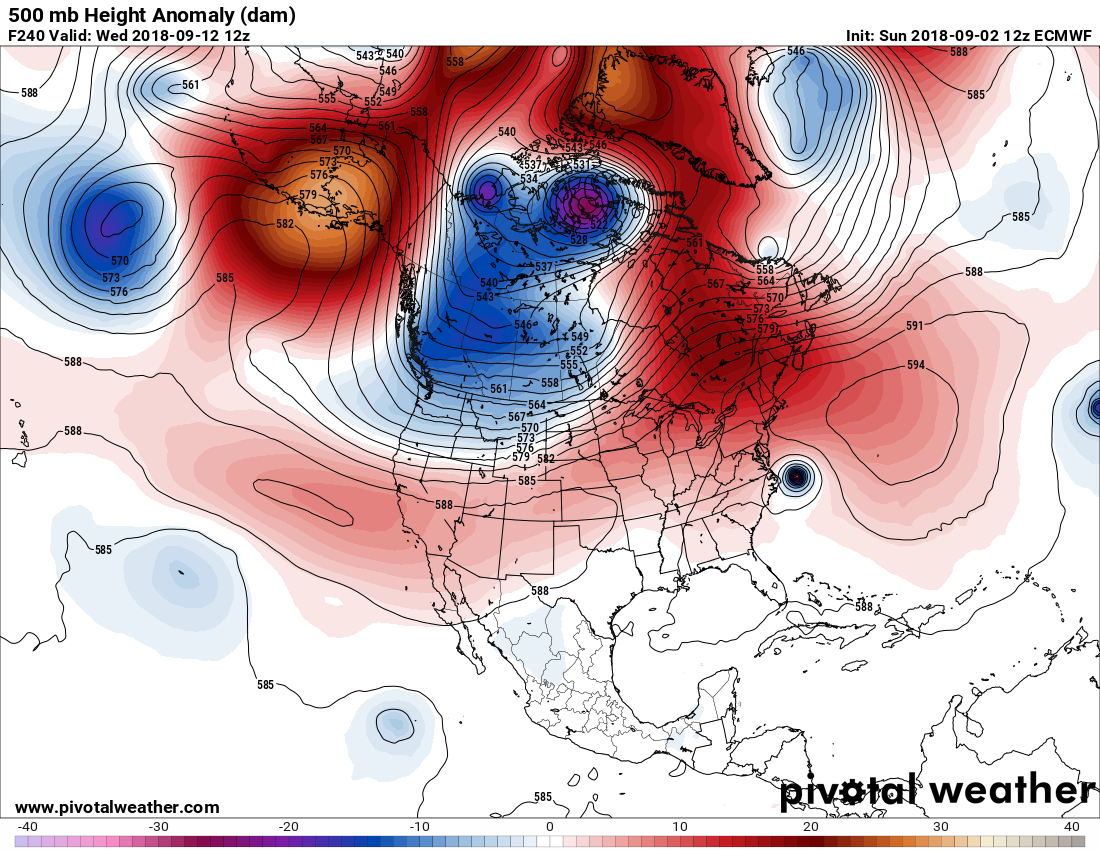 We may not even see Florence make it all the way across the Atlantic due to wind shear. We will see.
For specific details on each tropical system keep following the Weather Underground blog: 
https://www.wunderground.com/cat6/91L-Likely-Become-Gulf-Mexico-Tropical-Cyclone-Tuesday
Labor Day will feel very much like mid summer over most of the country, particularly the Northeast: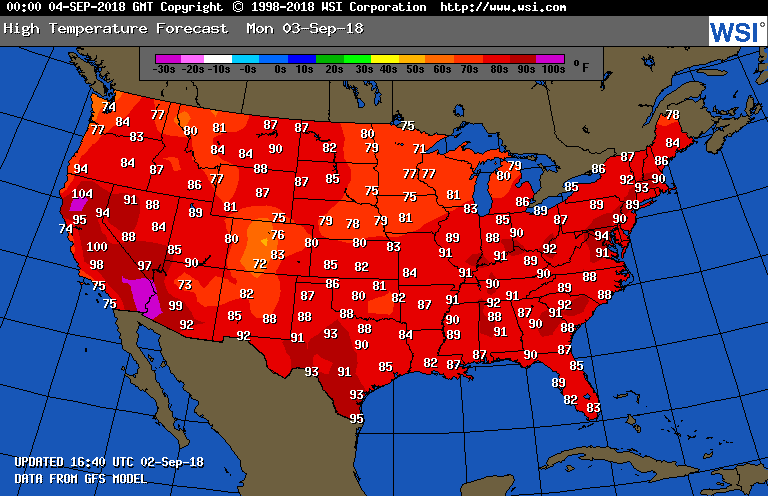 I expect to see a multitude of those "ETs" from the Northeast the next few days.
Here are Sunday's maxes: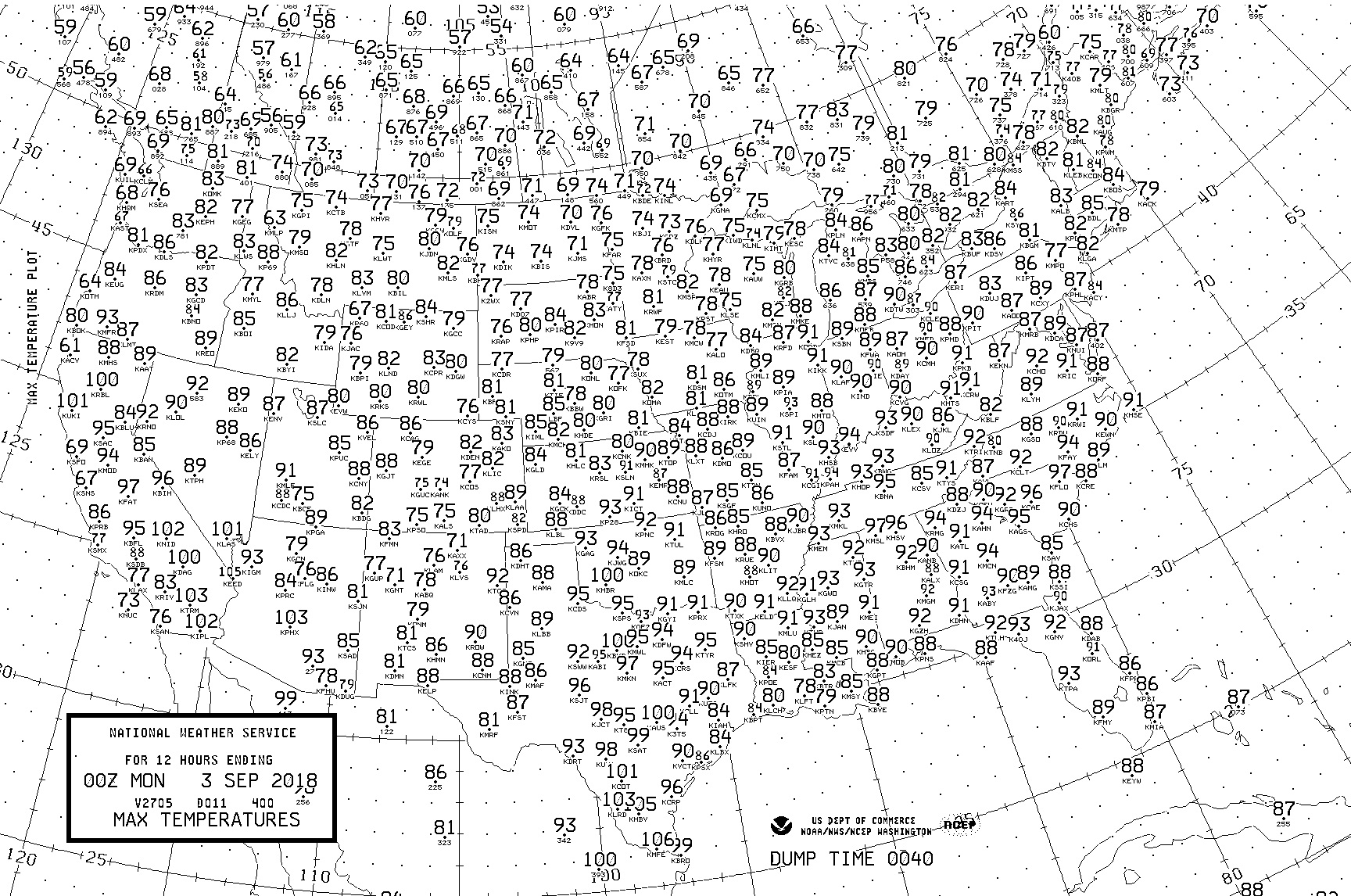 Above average temperatures occurred across most of the CONUS, but readings were only marginally dangerous across the southern tier of states.
(As usual, this will be a fluid post in which more information gets added during the day as it crosses my radar, crediting all who have put it on-line.)
(If you like these posts and my work please contribute via the PayPal widget, which has recently been added to this site. Thanks in advance for any support.)
The Climate Guy