Friday  November 16th… Dear Diary. The main purpose of this ongoing post will be to track United States extreme or record temperatures related to climate change. Any reports I see of ETs will be listed below the main topic of the day. I'll refer to extreme or record temperatures as ETs (not extraterrestrials)😊. 
Consequences Of The November Dipole
A couple of weeks ago I began to notice that the persistent 500 millibar ridge was strengthening over the West with a corresponding deep trough over the East by November standards:
https://guyonclimate.com/2018/11/08/extreme-temperature-diary-november-8-2018-topic-early-november-trends-more-october-2018-climatology/
From that post, which was made the day deadly fires broke out in California:
"Major news broke later today. The dipole ridge/trough configuration over North America the last couple of months has caused tragic and deadly fire weather conditions for California yet again."
Earlier this week we could clearly see the dipole as  noted here: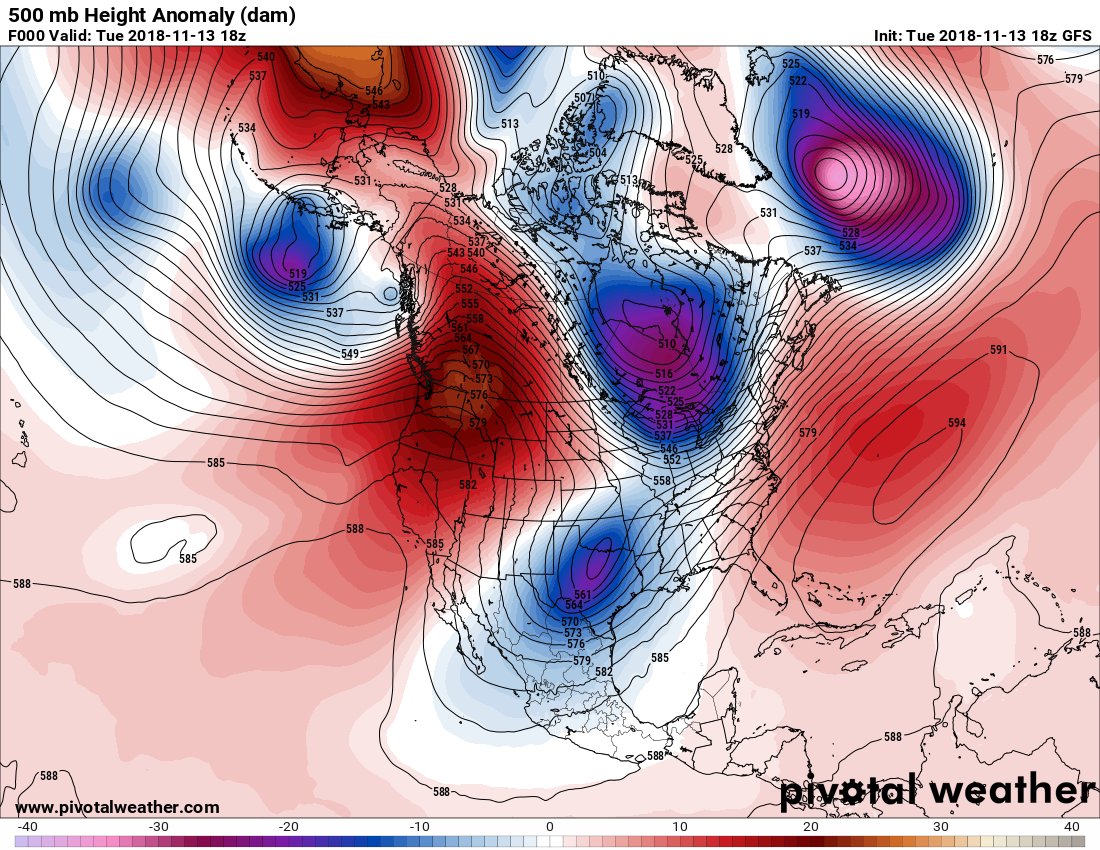 On the above Pivotal Weather chart we see the ridge in the West on Tuesday where dry weather has continued, and what was Winter Storm Avery (as designated by The Weather Channel) forming at upper kevels over Texas. You can view my last few posts to see some of  the consequences of the ridge in the West, which turned out to be the horrific fires in California. Today we see that the death count has risen above 60 from the devastated town of Paradise:
26,000 are homeless in #Paradise, CA. 9,700 homes, 290 buildings destroyed, 15,500 structures still threatened. 63 have died, 631 still missing. The #CampFire is the largest/deadliest wildfire in CA history. The tragedy has no end. @weatherchannel is reporting from Paradise. pic.twitter.com/hlvZUrdk7e

— Justin Michaels (@JMichaelsNews) November 16, 2018
A horrific disaster gets even worse: deaths related to #CampFire smoke could rival or exceed those from the fire itself. https://t.co/dYfZtZqqZT

— Bob Henson (@bhensonweather) November 16, 2018
As Environment Correspondent, you're sowing confusion in citizens' minds.

We're close to *2°C* where things get extremely dangerous (sea level rise, drought, wildfires, other extreme events) & yet you say it's not until 3°C in 2100.https://t.co/iCCSUnqlsF

— Ben See (@ClimateBen) November 15, 2018
Avery really produced a wallop from the Midwest into the Northeast where traffic got snarled. Here we see the system on model surface panels from Thursday evening: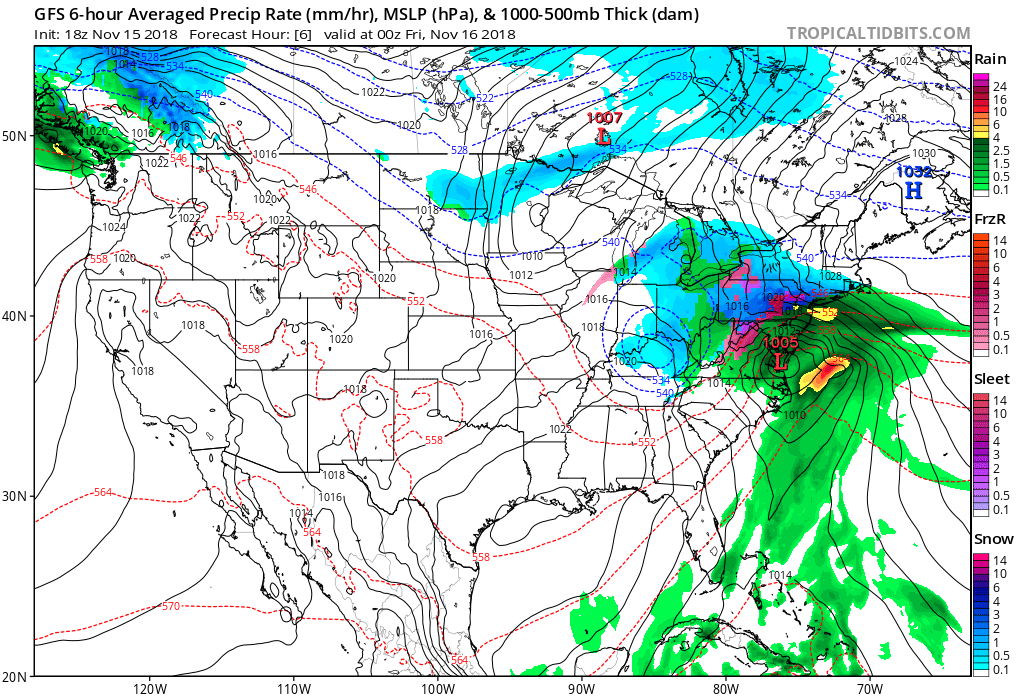 And the consequences:
Here's why your commute was so terrible yesterday, & not much better today with the #wind!
My hometown Poughkeepsie got a FOOT of #snow….and it's not even officially #winter yet!
Stay with @AMHQ @weatherchannel #Avery pic.twitter.com/LH17bUoalD

— Kelly Cass (@kellycass) November 16, 2018
Why did Winter Storm #Avery produce more snow than expected in the New York City area: https://t.co/wA3u9BNbhB pic.twitter.com/D23afXnR4e

— The Weather Channel (@weatherchannel) November 16, 2018
Observed storm total snowfall as of 7 am this morning (Friday Nov 16th). Additional snow has been falling this morning across northern New York and northern and central New England. pic.twitter.com/ShAZtZvwa5

— NWS Eastern Region (@NWSEastern) November 16, 2018
Snow cover as of this morning is rare for so early in the season in the Mid-Mississippi, southern Midwest, and in Kentucky, Tennessee, and the southern Appalachians. There will be Thanksgiving skiing in the Northeast. Conversely under that warm ridge not seeing snow cover in California's Sierra and Oregon's Cascade mountains by mid-November is also quite rare:
It's extremely difficult to convey to the public that global warming is leading to the North American dipole, which in turn is producing cold weather and snow and ice in the East. Indeed, what has happened this month across the CONUS is a classic case, though. The pattern reminds me of what happened with regularity from 2013-2014 before the last strong El Nino. November 2014 was very cold in the U.S., but turned out to be the month before a record 37 month long streak of more record daily high maxes than low mins occurred across the U.S., just before that El Nino's warmth kicked in across the planet: 

Looking at my Record Scoreboard one consequence of the dipole this month has been a plethora of more than 700 record lows as a result of the jet dipping far to the South in the East, ushering cold air masses from Canada over the Plains, Midwest, and Northeast. I doubt that this month will turn out to be as cold as November 2014 since the dipole is finally breaking down (or should at least break down temporarily looking at model guidance), allowing some mild Pacific air to work eastward from the Rockies: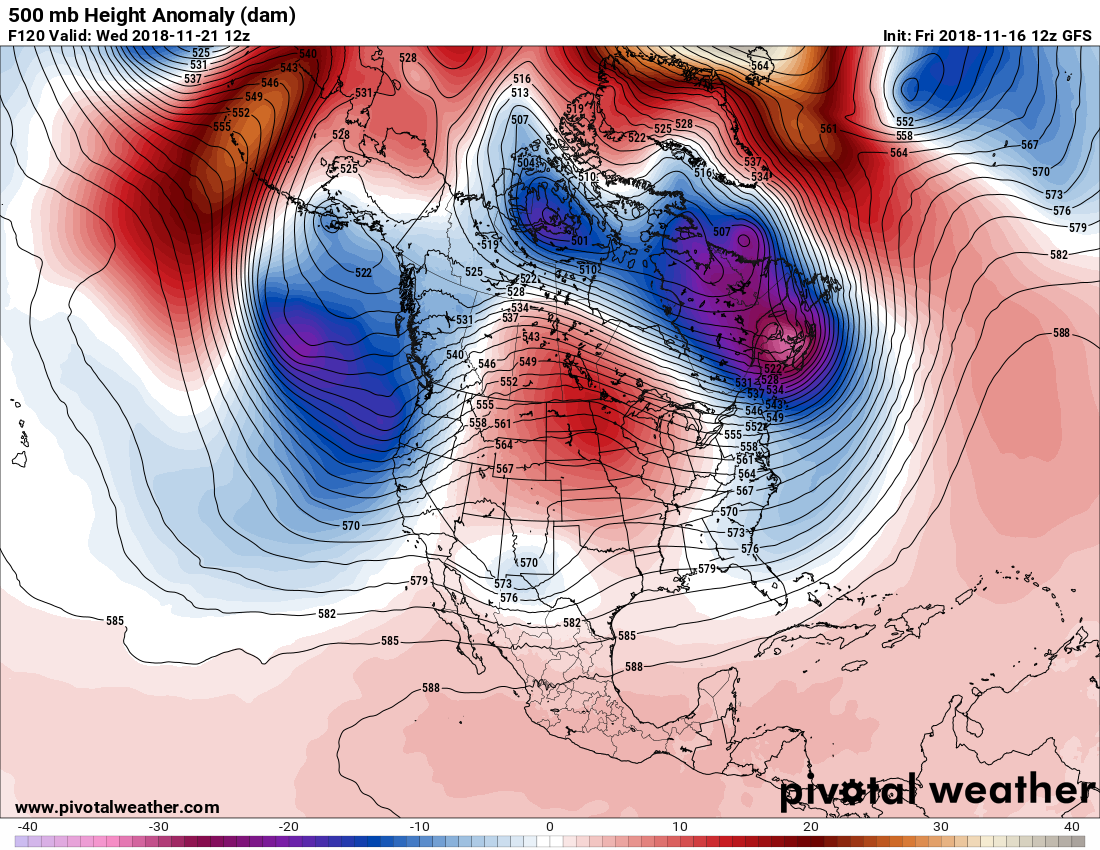 Also, with any luck the jet will dig far enough south to bring rain to patched and fiery California. We'll see how models pan out towards Thanksgiving. Suffice it to write, the consequences of the carbon pollution ramped up dipole have been very dire during November 2018.
I'll be adding some weather and climate news from Friday:
(As usual, this will be a fluid post in which more information gets added during the day as it crosses my radar, crediting all who have put it on-line. Items will be archived on this site for posterity.)
#seaice finally forming the past few days at Utqiaġvik (Barrow). The @SNAPandACCAP Sea Ice Atlas helps us understand just how unusual in the historical context it is to be happening so late in the autumn. h/t @themadstone #akwx #Arctic @Climatologist49 @vennkoenig @ZLabe pic.twitter.com/P79bT73pPq

— Rick Thoman (@AlaskaWx) November 16, 2018
Excellent summary

Special Report: A 30-year alarm on the reality of #ClimateChange

"All we've done is agree there's a problem. We haven't acknowledged what is required to solve it."
https://t.co/q2NtLnERo3#EnergyTransition#SustainableEnergy#Renewables#JustTransition

— Prof Peter Strachan (@ProfStrachan) November 16, 2018
Sandgate Brisbane Australia today we are here again #ClimateStrike #fridaysforfuture #climateemergency #stopadani #inaction #extinctionrebelion pic.twitter.com/ESRKSEMAfi

— Dr Heidi Edmonds (@heidikat) November 16, 2018
As with @ProjectDrawdown, it's remarkable what options can emerge as carbon/climate #silverbuckshot and, as here, potential silver cannon balls. https://t.co/uyHfCAJRI4

— Andrew Revkin (@Revkin) November 15, 2018
(If you like these posts and my work please contribute via the PayPal widget, which has recently been added to this site. Thanks in advance for any support.)
The Climate Guy