Thursday November 22nd… Dear Diary. The main purpose of this ongoing post will be to track United States extreme or record temperatures related to climate change. Any reports I see of ETs will be listed below the main topic of the day. I'll refer to extreme or record temperatures as ETs (not extraterrestrials)😊.
Climate Items To Be Thankful For\Cold Turkeys in the Northeast
Happy Thanksgiving 2018 everyone. For today's topic I'm going to list some climate change related people and occurrences from 2018 that we should be thankful for in keeping with the holiday. So often on this blog I've been presenting a lot of negative material. For this day let me list some positive things that will brighten your day just a bit. The "climate war," or efforts to save our environment and civilization, will be long and hard, but at least there are some people and efforts to give our thanks to:
On a personal note I am thankful for my partner, Nick Walker that is on air at The Weather Channel, who helped me finish writing my children's climate and weather primer, World of Thermo. I'm also thankful for those on social media who have supported my climate work and writing on this site like Fraser MacLeod and Scott Cook. I'm thankful to John Hartwell for his technical support, helping me to build this site.
I'm thankful for first responders who put their lives on the line and sacrifice much for such tragedies such as Hurricane Michael and the Paradise fire in California.
I'm thankful for great scientists such as Dr. Marshall Shepherd, Dr. Katherine Hayhoe and Dr. Michael Mann for being good climate communicators, making findings relatable to the public.
I'm thankful for conscientious people like Bernadette Placky Woods who heads Climate Central, training on camera meteorologists to be global warming communicators.
I'm thankful for new scientists like Daniel Swain who continue to expand our knowledge on a regional level in association with climate change.
I'm thankful for founders and CEOs of companies like Dr. Jeff Masters, who is a staunch supporter of science on Weather Underground.
I'm thankful for great, analytical writing on weather and climate by my friend Bob Henson, who is also part of Weather Underground.
I'm thankful for young protesters like Greta Thunberg in Europe who have started to inspire her generation to fight for necessary change to protect the environment.
I'm thankful for former Vice President Al Gore who through his organization Climate Reality and tireless efforts is training people to give presentations to educate all.
I'm thankful for great writers like Bill McKibben who succinctly make great points about the latest climate science and effects, communicating urgency for change.
I'm thankful that so many main newspapers like the Washington Post and New York Times keep reporting on climate change, keeping the issue at the forefront of national consciousness.
Most of all I am thankful that most of the entire planet's population appear to at least acknowledge the climate problem as of 2018. Acknowledgment is one psychological step necessary to go through before we as humans can solve a problem.
There are so many other personal acquaintances on the climate issue I am thankful for. If you think that I should have mentioned you here and didn't, I apologize. I hope that you will enjoy this holiday with family and friends.
…………………………………………
Brrr! All of the Turkeys are cold in the Northeast today. Does this mean that global warming has ended? Hardly:
Oh lookie here @realDonaldTrump. The Northeastern U.S. will see record cold weather this Turkey Day. The rest of the world? Not so much. @MichaelEMann pic.twitter.com/nqiqAUhVIg

— Guy Walton (@climateguyw) November 22, 2018
Where is global warming? An easy way to check on a daily basis: the temperature anomaly maps at Climate Reanalyzer https://t.co/VPytGM6npC These anomalies are relative to 1979-2000, i.e. ~0.6 °C warmer already than the 1880-1910 average. Hence today's global anomaly of 0.4 °C. pic.twitter.com/3XOjSx0LXx

— Stefan Rahmstorf (@rahmstorf) November 22, 2018
Whatever happened to the leader of the free world using critical thinking based on science? Oh wait, she didn't get elected.😫 @MichaelEMann https://t.co/EsWxjUd8aH

— Guy Walton (@climateguyw) November 22, 2018
Donald Trump's Climate Change Tweet Lambasted by Scientists: 'He's a Dangerous Clown' by @KashmiraGander for @Newsweek: https://t.co/iPaV5tPSUl

— Michael E. Mann (@MichaelEMann) November 22, 2018
"Scientists Slam Trump's Clueless Climate Change Tweet: 'He's A Clown' [yeah–that's a direct quote from me]" via Nick Visser (@NVisser) of @HuffPost: https://t.co/0AhaQix44l

— Michael E. Mann (@MichaelEMann) November 22, 2018
My #MadhouseEffect co-author wins the day with his latest cartoon on Trump and climate change denial: https://t.co/33dUKfo5gW

— Michael E. Mann (@MichaelEMann) November 22, 2018
The say timing is everything and on this record #cold Thanksgiving our paper explaining the mechanism behind extreme cold in eastern North America is published. So while dining on Turkey today you can answer how can we have record cold with global warming? https://t.co/Is7P2RNTfv

— Judah Cohen (@judah47) November 22, 2018
Anyway, here are some of those chilly ET reports that I'm seeing from the Northeast:
A number of low temperature records were broken or tied across the Northeast this morning. Note these are records for the date – November 22nd, and not necessarily records for Thanksgiving Day.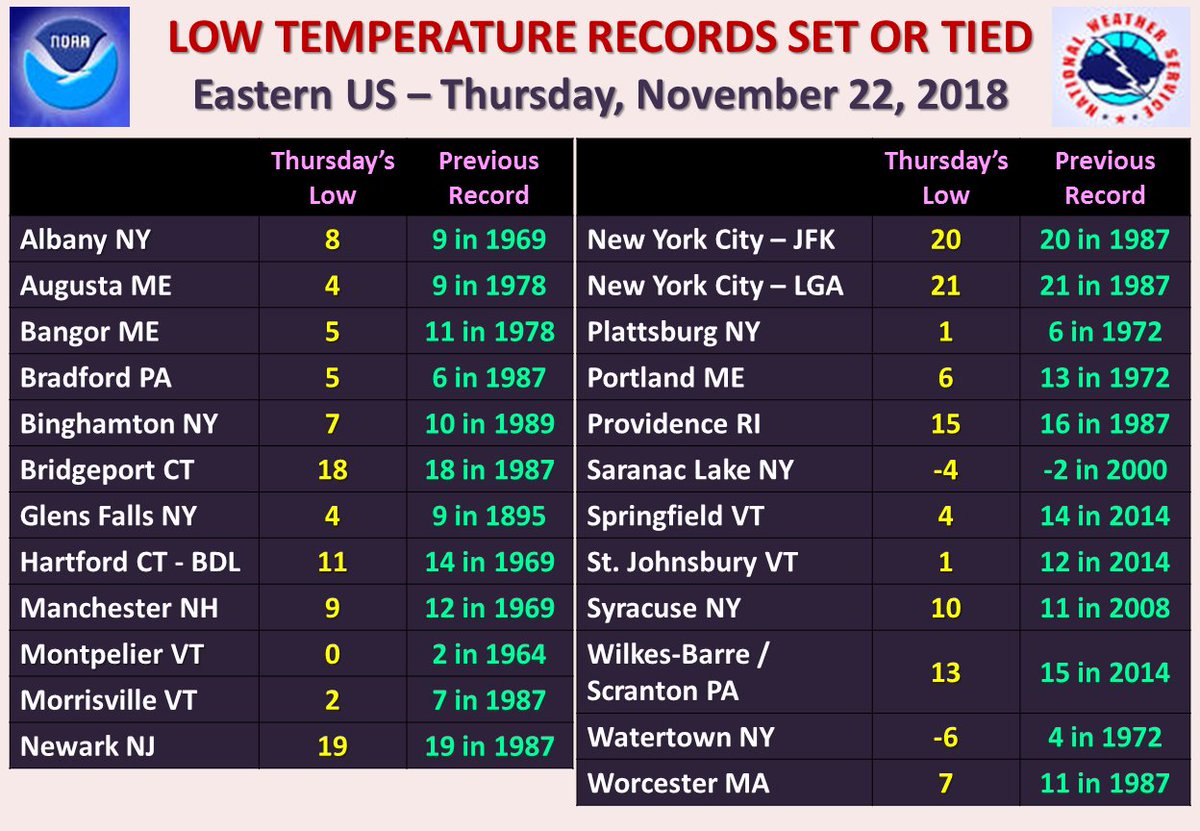 (As usual, this will be a fluid post in which more information gets added during the day as it crosses my radar, crediting all who have put it on-line. Items will be archived on this site for posterity.)
Here are the coldest wind chill values forecast for Wednesday night into Thanksgiving Day. pic.twitter.com/iirSaU31uw

— NWS Eastern Region (@NWSEastern) November 19, 2018
(If you like these posts and my work please contribute via the PayPal widget, which has recently been added to this site. Thanks in advance for any support.)
The Climate Guy