Tuesday December 4th… Dear Diary. The main purpose of this ongoing post will be to track United States extreme or record temperatures related to climate change. Any reports I see of ETs will be listed below the main topic of the day. I'll refer to extreme or record temperatures as ETs (not extraterrestrials)😊. 
Old Fashioned Winter Storms…How Long Will They Last?
Meteorological models have been consistently forecasting a significant ice and snow storm for interior portions of the U.S. South for the better part of a week valid for this coming weekend. I don't have much doubt after perusing charts this morning that the Carolinas will see a whopper of a winter event by Sunday. The climate across the south-central and southeast U.S., while warming, has not changed enough to prevent "rare" winter events. I'd often and mistakenly say at The Weather Channel during the warm decade of the 2000s that it was now nearly impossible for snow to fall in my home town of Atlanta due to global warming. Due to jet stream amplification from time to time, though, I've been proven wrong, at least through 2018. Last December north and west Atlanta had a tremendous snowstorm with up to a foot falling early in the month across Cobb and Paulding counties. My question for this post is when will the atmosphere due to carbon pollution get so warm that rare winter events for southern climes worldwide end?
First, let's briefly take a look at the coming storm from this morning's GFS model: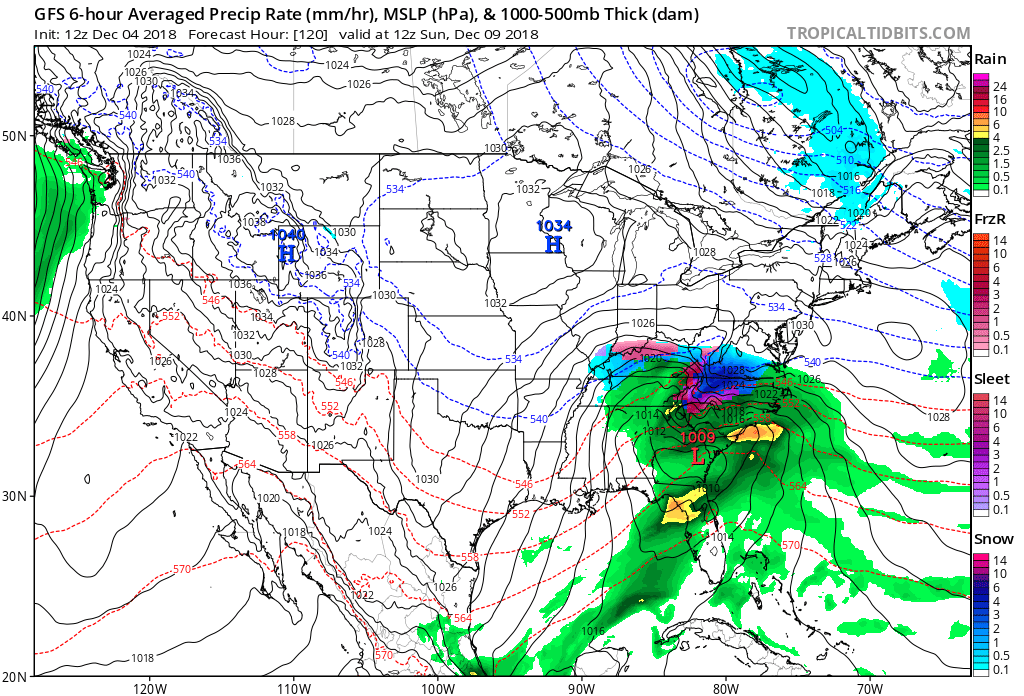 GFS 10 day forecast Continental U.S..12/04 6 am 6-hour Averaged precipitation Rate (mm/hr), MSLP (hPa) & 100-500mb Thick (dam) A strong low pressure system moves across the gulf, and southeast Atlantic coast states creating extremely hazardous weather conditions. pic.twitter.com/Z7qQ7xK2lg

— Scott Cook (@scook2214) December 4, 2018
Potential for widespread/intense flooding will be on the low side, because this system is moving at a good clip. However, it will be drawing on lots of moisture, esp. for this time of year, so there could be some bursts of very heavy rain/snow.

— Bob Henson (@bhensonweather) December 4, 2018
Good discussion of the setup for forecast agony in the DMV next few days as weekend storm takes shape in SE US. https://t.co/ByC1XHuDYi

— Andrew Freedman (@afreedma) December 4, 2018
Here we see a storm system with a surface low moving just north of the Gulf Coast and a strong "wedge" of below freezing polar air filtering from the Northeast into the Piedmont area of the Carolinas. I've seen this weather setup countless times over my lifetime since I was a boy during the 1960s. Since the superstorm or "Storm of the Century" in March 1993, though, at least in Atlanta we've seen fewer winter events, such as severe ice storms, and snows have become "wetter" events, or marginal rain/snows near 32F.
At 500 millibars here is the forecast setup for this coming storm: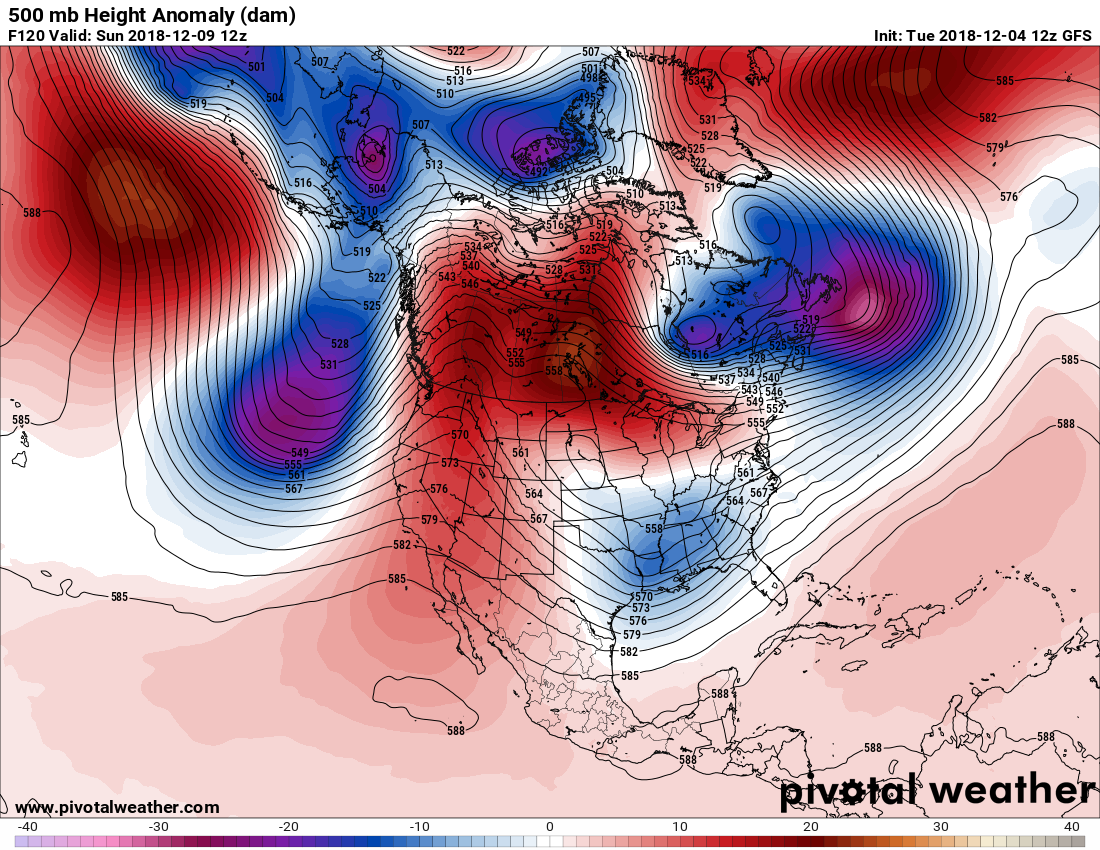 There is nothing extraordinary here except for a suspect warm anomaly in Canada forcing cold heights that probably will become a closed, cold low over the Southeast by Monday. My question, which cannot be answered as of this time, is when systems won't be split off from the main polar vortex, creating rare southern storms? Will global averages need to achieve +1.5C, +2.0C,  +390C above  preindustrial conditions or higher? Certainly we are still not seeing the end of southern snow and ice at +1.0C, and certainly not in more northern traditional ski resorts, although the trend for snow across the northern hemisphere is down.
During the 1970s and 80s I remember that Alabama had a ski resort called Cloudmont, which thrived during those colder decades, but sporadically is open during the winter these days due to a lack of enough cold weather to generate snow, which is one small sign of climate change. I suspect that other ski resorts, which depend on natural snow, are suffering also, but their is not that much talk of permanent closure. Sorry Allan, but it may be a couple of more decades at least before this rather alarmist tweet comes to fruition:
So Long Skiing?

Shorter snow season increases the amount of sunlight absorbed by Earth's surface & can further warm the planet https://t.co/uvAaK1Si6P via @wxshift @rjakes65 @Shambles151 @climateguyw @DidiFrench @Dodo_Tribe @RichardTuffin @collectables66 @ShiCooks @_Carja pic.twitter.com/jWz8nQl1Yi

— Allan Margolin (@AllanMargolin) December 4, 2018
Nevertheless, looking at our best science trends are clear, and Allan's wording in his tweet is correct: http://wxshift.com/climate-change/climate-indicators/snow-cover
Quoting Wxshift:
Since satellites started collecting data in the early 1970s, there has been a trend toward less summer snow cover in the Northern Hemisphere. While most people might think of the summer as beach time, snow still covers a wide swath of land in the northern stretches of the globe. But over the past 50 years, that snow cover has been receding from a peak of 10.28 million square miles set in 1979 to a record low 3.69 million square miles set in 2013. Spring snow cover is also on the decline and this reduced snow cover is consistent with rising temperatures driving increased snowmelt.
Like ice, snow has a high reflectivity, so a shorter snow season increases the amount of sunlight absorbed by the Earth's surface. The earlier spring snowmelt thus exhibits a feedback relationship with rising temperatures, driving further temperature increases. Snowmelt also affects water supplies, and decreasing snowpack may decrease water supplies in areas around the world that rely on spring runoff. Although fall and winter snow cover has remained fairly consistent over the past 40 years, spring and summer snow cover is typically more important in influencing water supplies.
Check out the graphics on the Wxshift article and explainer video by Burnadette Woods Placky, as well, for a better visualization. When I see three or four consecutive winters of no flakes in Atlanta we will know that true winter climate change has happened. Until then, just expect most Southern on camera meteorologists to wince at reporting science since the thought of including climate segments, especially during a week like this when flakes are forecast to fly with a chance for ice to produce havoc. To end this post let me state that I can't wait to see an OCM in the Atlanta area be brave enough to present counterintuitive material…come on people, just one.
…………………………………………………………………………………….
Here is some more weather and climate news from Tuesday:
"So we have not come here to beg the world leaders to care for our future. They have ignored us in the past and they will ignore us again.
We have come here to let them know that change is coming whether they like it or not."

From my speech yesterday at #COP24 pic.twitter.com/WIwv4vbT6G

— Greta Thunberg (@GretaThunberg) December 4, 2018
A reminder that the Republican Party was not always the anti-science, anti-environmental party. The deep partisan divide emerged mid-way through George W Bush's 1st term when Cheney & Enron took over energy & environmental policy. The party hasn't looked back since…#HSCW https://t.co/TNmvkcqRZq

— Michael E. Mann (@MichaelEMann) December 4, 2018
Want a simple way to show why nearly 100% of global warming is human caused? This video by @hausfath and his team at @CarbonBrief is superb. Spread it far and wide… and repost often! https://t.co/hBwvQFHkl7

— Jeff Berardelli (@WeatherProf) December 4, 2018
On National Geographic, the documentary "Paris to Pittsburgh" premiering on Wednesday, December 12 at 9pm ET/PT in the U.S. and will air globally in 172 countries and 43 languages https://t.co/xcYEL8Ydko

Everyday Americans who are helping tackle climate change #1o5C Climate

— #ClimateJustice (@1o5CleanEnergy) December 4, 2018
"Will see (Shell) set carbon-output targets annually for the following three or five years as it works to halve its 'net carbon footprint' by 2050. The goals will be tied to executive pay."https://t.co/6Qh1uMc1Wa

— Bernadette Woods P. (@BernadetteWoods) December 4, 2018
My deep dive in @ForbesScience on how U.S. Power Plants are causing snow. This is science I have been interested in for a while. Mentions @RogerAPielkeSr, @CIMSS_Satellite, @UWCIMSS, @SkyPixWeather and @NWSOmaha https://t.co/rTJC5r6jpd

— Marshall Shepherd (@DrShepherd2013) December 4, 2018
Arnold Schwarzenegger @Schwarzenegger at #COP24

"I wish that I could be the #Terminator in real life."

"To be able to travel back in time and to stop all #FossilFuels when they were discovered."
https://t.co/4U8G1DxpYl#ClimateChangeIsReal #EnergyTransition

— Prof Peter Strachan (@ProfStrachan) December 4, 2018
As COP24 kicks off, it's worth examining what's meant by scientific consensus, and how frequently it gets misunderstood (along with other scientific terms, like "uncertainty"). @csmonitor @KHayhoe @Wuebbles https://t.co/jNo9tMiqBb

— Amanda Paulson (@AmandaPaulson) December 4, 2018
President Trump is trying to discredit the National Climate Assessment. Meanwhile, some of the more than 300 experts who had a hand in creating it are staunchly defending their work.https://t.co/bLfA5cBi7v

— InsideClimate News (@insideclimate) December 4, 2018
(As usual, this will be a fluid post in which more information gets added during the day as it crosses my radar, crediting all who have put it on-line. Items will be archived on this site for posterity.)
(If you like these posts and my work please contribute via the PayPal widget, which has recently been added to this site. Thanks in advance for any support.) 
The  Climate Guy