Wednesday December 12th… Dear Diary. The main purpose of this ongoing post will be to track United States extreme or record temperatures related to climate change. Any reports I see of ETs will be listed below the main topic of the day. I'll refer to extreme or record temperatures as ETs (not extraterrestrials)😊. 
A December Thaw…More Mild Weather Related To Climate Change?
Yesterday I presented a cute little cartoon involving the Grinch and carbon taxes. Today we will see if the Grinch of climate change will be stealing away our widespread snow cover over the United States, possibly leaving many with a brown Christmas rather than the traditional white.  After what The Weather Channel called Winter Storm Diego, and due to a cold November and first half of December, snow cover across the lower 48 states is quite decent: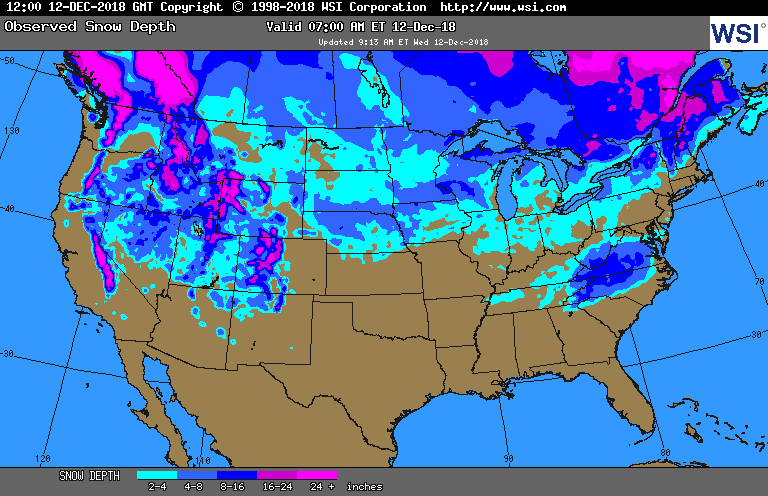 Climate change or no, certainly the snow across the Southeast will melt before Christmas unless another storm like Diego were to come along putting down more white stuff, but there is none to be had. Yours truly did get fooled thinking that a rather strong looking vortex forecast to move through the South would generate a lot of wet snow: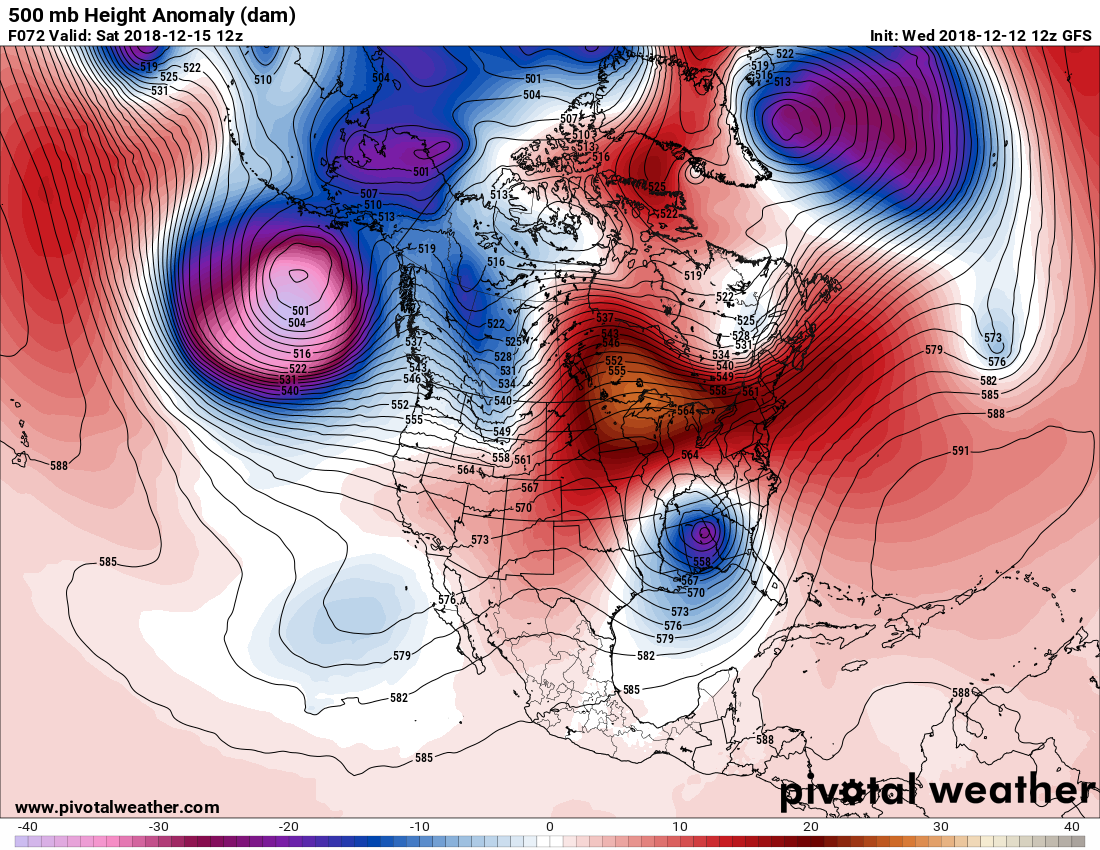 There simply won't be enough cold air to be drawn into the vortex as it moves east of Texas to produce much if any snow. After the Vortex exits stage right from the CONUS we will see additional warming across the northern tier of states, depleting snow cover in the Midwest and Northeast:
By next Wednesday there will be a huge warm anomaly over most of the United States. A trough will dig into the Northeast cooling that area thereafter, but it's uncertain how cold at this point. Temperatures are forecast by models to be impressively warm in the Northern Plains by next week:
I'm noting the widescale lack of arctic air closer to 0F across the United States, which one would expect to see in mid-December. We might even see some mild "ETs" well above 40F in some locations.
It's no wonder that extended outlooks appear currently as such: http://www.cpc.ncep.noaa.gov/
We'll keep tabs on the old climate change snow Grinch and Scrooge as we approach Christmas. Certainly the dice are being stacked towards warmth during the winter anywhere on the planet due to carbon pollution. Outside of the Rockies will white Christmases soon become a thing of the past? Bah Humbug. 
…………………………………………………………………………….
Here is some more weather and climate news from Wednesday:
ICYMI: Great aggregation of @nytimes coverage of the climate crisis in 2018. Important comprehensive overview of some of this year's best coverage on the most important challenge of our time. https://t.co/p6EOh8I9rf

— Al Gore (@algore) December 12, 2018
This model assumes we take minimal actions towards reducing our emissions. In this model, CO2 would rise to 670PPM by 2100.

We are on this path right now with 2018 accelerating our current emissions.

Why are we okay with this? Are we really going to do this to ourselves? https://t.co/aItpPwkbcP

— Edgar McGregor 🌴 (@edgarrmcgregor) December 12, 2018
Here's the frightening part. Owen reaches 100 mph by 48 hours, and prior to landfall additional intensification is possible between 48 hours & landfall. After landfall Owen will accelerate SE skirting the East coastline, & weaken but will maintain T.S. strength thru the forecast https://t.co/zNwAcI8iAu

— Scott Cook (@scook2214) December 12, 2018
The nifty @GretaThunberg asked me to make a video supporting her call for a #climatestrike from school on Friday so politicians know kids are paying attention. So I did! Visit https://t.co/8zXHbpBTLI for detailshttps://t.co/SY9xjrtg0Z

— Bill McKibben (@billmckibben) December 12, 2018
BREAKING: London mayor has declared a climate emergency, pledging a carbon-free city by 2030 and urging the U.K. government to institute radical changes to avert catastrophic climate change.https://t.co/8I7a5NpIk5

— Eric Holthaus (@EricHolthaus) December 12, 2018
"Carbon budget" is a way to measure where we are, where we are headed, and how we can measure our progress through potential policy responses. Google 'carbon budget', but for a start, here's an explainer: https://t.co/mKXsYVWX7P.

— Green News Report (@GreenNewsReport) December 12, 2018
This is funny! Good-hearted Amy Goodman from @democracynow jogs besides some U.S. govt hack for about a half mile as he refuses to answer any questions about the pro-coal talk he's just given at climate summit. Starts at about 41 minuteshttps://t.co/znDVpmhFs2

— Bill McKibben (@billmckibben) December 12, 2018
The Arctic is in even worse shape than you realize https://t.co/BzMXSM5Ir3
The Arctic Ocean has lost 95 percent of its oldest, thickest ice. If this thinning trend continues, scientists fear an added boost to global warming. pic.twitter.com/dQn26h7a9I

— Svein T veitdal (@tveitdal) December 12, 2018
2°C of warming is worse than 1.5°C, and 1.5°C is much worse than the 1°C we're at now.

At 1°C we're seeing:

Fastest decline in Arctic sea ice in 1,500 years

Over 8 inches of sea level rise since 1880

More damaging extreme weather #climatechange https://t.co/5q7zO43m9Q

— Paul Dawson on Climate Change (@PaulEDawson) December 12, 2018
Arctic warming is like leaving the freezer door open, says National Snow and Ice Data Center Director Mark Serezze. Here's how it's changing the region:https://t.co/H5Lbz9jz7x

— InsideClimate News (@insideclimate) December 12, 2018
The entire N. Pacific ocean surface is showing large heat anomalies right now. pic.twitter.com/2I1qVr0e77

— Randall Gates (@rgatess) December 13, 2018
(As usual, this will be a fluid post in which more information gets added during the day as it crosses my radar, crediting all who have put it on-line. Items will be archived on this site for posterity.)
(If you like these posts and my work please contribute via the PayPal widget, which has recently been added to this site. Thanks in advance for any support.) 
The Climate Guy