Thursday January 3rd… Dear Diary. The main purpose of this ongoing post will be to track United States extreme or record temperatures related to climate change. Any reports I see of ETs will be listed below the main topic of the day. I'll refer to extreme or record temperatures as ETs (not extraterrestrials)😊. 
Australia In The Crosshairs Of Global Warming
Even before the dawn of carbon pollution affecting worldwide climate during the late 19th into the 20th century Australia was quite a warm, arid continent.  Basically the heart of this relatively small continent, which could also be described geographically as an extremely large island, is desert with the edges seeing enough moisture and precipitation for forest and grassland growth. European settlers found a Mediterranean like climate in the southern coast and a semi-tropical climate on the northern coast with the desert Outback in between. Now due to global warming that Outback appears to be expanding. As we know now global climate change works such that arid regions become drier, and prior moist areas on the planet receive more precipitation. All areas grow hotter with those in desert or arid locations outside of polar regions seeing the highest warming trends. This puts Australia in the crosshairs for more rapid climate change than larger continents, so this country can be viewed as a proverbial canary in a coal mine for climate change effects.
Granted, my first paragraph of this post could be backed up with many a chart and graph, but for brevities' sake let's just present as evidence this week's weather. It's only been a few days since I did a post on Australia due to their early summer anomalous heat: https://guyonclimate.com/2018/12/29/extreme-temperature-diary-december-29th-2018-topic-more-australian-heat/ What I am seeing from Etienne Kapikian of France today, as far as heat goes, is breathtaking:
#canicule #Australie #Australia #heatwave
Records absolus sur la partie centrale ce 3 janvier
45,6°C Alice Springs (=29-12-2018, > 45,2 03-01-1960)
46,8°C Uluru (Ayers Rock) > 46,4 11-01-2013
47,4°C Walungurru > 46,7 09-01-2013 (le + chaud depuis 1960 dans le Territoire du Nord) pic.twitter.com/KDqJaGmoGC

— Etienne Kapikian (@EKMeteo) January 3, 2019
Australia's Bureau of Meteorology has been putting out some great videos on the current heat wave and any cyclones affecting northern and southern coastal areas of the continent:
Some all-time record summer January heat is forecast the next couple of days in Australia by @BOM_au Details at: https://t.co/sMUo8Do7Nh pic.twitter.com/JreEL9TCU6

— Guy Walton (@climateguyw) January 3, 2019
Today a whopper of an upper ridge is affecting all but northeast Australia, which is responsible for excess heat: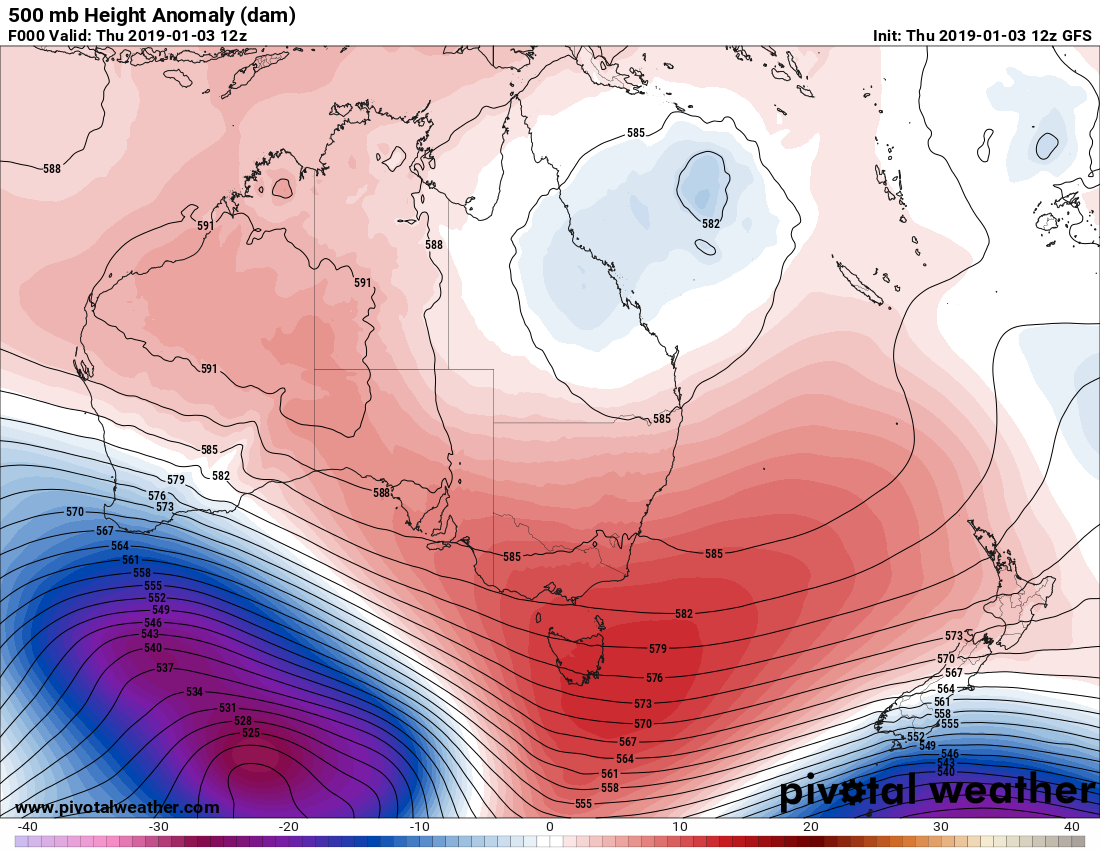 Obviously where there is more record heat there is more fire. It's no surprise that since the turn of this century incidents of wildfire have been growing as the Outback tries to eat into coastal areas. This time around one territory has been forced to issue this:
Friday 4 January 2019 has been declared a day of TOTAL FIRE BAN for the whole State of Victoria. Plan ahead and understand what this means for you. Know what you can and can't do on a day of Total Fire Ban: https://t.co/Io6AlZ7Evh #vicfires pic.twitter.com/utTkH0rfwT

— VicEmergency (@vicemergency) January 2, 2019
Also, with higher temperatures comes higher evaporation rates putting Australia in the crosshairs for strains in drinking water supplies:
As towns across NSW come perilously close to running out of water, a reminder of the climate trends occurring: https://t.co/UyHfLHh7ud

— FarmersClimateAction (@farmingforever) January 4, 2019
This blog since 2017 mainly concentrates on "Extreme Temperatures" from the United States. Starting this year I'll endeavor to post more worldwide ETs when I see them. I'll be adding to this post later today as more information comes out of Australia.
Here is a big ET from earlier today:
Today is the hottest day ever recorded at Alice Springs, Australia: 114°F https://t.co/IVi4r5bejs

— Bob Henson (@bhensonweather) January 3, 2019
………………………………………………………….
Here is more climate and weather news from Thursday:
(As usual, this will be a fluid post in which more information gets added during the day as it crosses my radar, crediting all who have  put it on-line. Items will be archived on this site for posterity.)
[THREAD] A sudden stratospheric warming event is causing a fascinating split in the stratospheric polar vortex, which could bring cold/snow to Europe and East Coast of U.S. starting in the next few weeks. Details: https://t.co/5deqT6YNQW

— Andrew Freedman (@afreedma) January 3, 2019
"There's an opportunity with coal coming offline to have wind and solar step up. It's the cheapest way to do things, whether or not you care about the environment."https://t.co/7aoIrUgjco

— Bernadette Woods P. (@BernadetteWoods) January 3, 2019
EVERYONE SHOULD: New Congress Members See #Climate Solutions & Jobs in a Green New Deal https://t.co/SBrggJlz2G via @insideclimate @universe2519 @everyhumanknows @paulbledsoe @PaulEDawson @Hannah3219 @KHayhoe @climateguyw @PeterGleick @SheripetersonS @JerryAtricks1 @darthpooka pic.twitter.com/gc5enw4hFK

— Allan Margolin (@AllanMargolin) January 3, 2019
(If you like these posts and my work please contribute via the PayPal widget, which has recently been added to this site. Thanks in advance for any support.) 
The Climate Guy
Watch our latest Weather Update on YouTube at https://t.co/PAW0JtZww5 re the burst of extreme #heat for southern and eastern Australia. Video current at 2pm AEDT Thursday 3 January 2019. Check warnings on our website; follow advice from emergency services. @ABCemergency pic.twitter.com/kWYvErR23l

— Bureau of Meteorology, Australia (@BOM_au) January 3, 2019