How Much Was Recent U.S. Bombogenesis Related To Global Warming?
Before this huge weather event get's too far in our rear view mirror I'd like to ask the open ended question of the title to today's post, treading into the sticky realm of tying in remaining strong winter storms to climate change. Before we do that here is a linked excellent article describing the mayhem caused by the recent bombogenesis blizzard:
And here is some of today's catalogued flooding aftermath:
First, the aftermath: A quick warmup did lead to record flooding after record snowpack from prior February and early March storms melted. Both heavy precipitation and a fast warmup are climate change related. Quoting Weather Underground:
"The record flooding was due to an unusual set of meteorological conditions, as explained in detail at weather.com. The heavy rains from the bomb cyclone were accompanied by very warm temperatures which melted a snowpack of 5 – 13" of snow. The snowpack had a high liquid water content–equivalent to an extra 1 – 3" of rain falling–since the snow had been accumulating and compacting since early February. When Wednesday's warm temperatures in the 50s and 60s and heavy rain melted the snow, the runoff flowed very quickly into the rivers, because the frozen ground was unable to absorb much water to slow things down. Many of the flooding rivers had thick ice covering them, due to the long stretch of cold weather the Midwest endured this winter. When the huge pulse of floodwaters entered the rivers, this caused the ice to break up and create ice jams, which blocked the flow of the rivers, causing additional flooding."
What about the bomb cyclone itself on Wednesday? Record low pressures were recorded in Colorado and Kansas. Again quoting Weather Underground:
"The storm rapidly deepened by over 24 mb in a 24-hour period on Wednesday, qualifying it as a "bomb" cyclone. The low bottomed out at 969 mb over western Kansas on Wednesday afternoon–one of the lowest pressures ever recorded in that portion of the country. Pueblo, Colorado, set its preliminary, unofficial all-time record-low pressure early Wednesday morning (975.1 mb), according to the National Weather Service (NWS). Colorado state climatologist Russ Schumacher tweeted it was the lowest pressure on record there since at least 1950. Six stations on the Oklahoma Mesonet set all-time low-pressure records on Wednesday. Dodge City, KS, had pressure of 974.7 mb, its lowest since 971.6 mb was measured way back on April 8, 1878."
An area of rapidly deepening low pressure or how deep the center of low pressure gets are not by themselves signs of climate change. Taking a few pages from last year's coastal bomb cyclones, though, there are hints that surrounding continental atmospheric warmth was indeed a player.
Here is Dr. Michael Mann's article describing signs that last year's cyclone bombs had some climate change signatures:
https://www.climaterealityproject.org/blog/perfect-storm-extreme-winter-weather-bitter-cold-and-climate-change
Quoting this article:
Finally, the news is abuzz today with an impending "massive Nor'easter," a "bomb cyclone" that is "set to explode" in the days ahead (see plot below). This isn't just hype. The National Weather Service has warned that "this rapidly intensifying East Coast storm will produce strong, damaging winds — possibly resulting in downed trees, power outages, and coastal flooding."
With a central pressure forecast to drop very low (see plot below), the storm will threaten the record set by unprecedented 2012 Superstorm Sandy as the lowest surface pressure ever measured in the North Atlantic north of Cape Hatteras (the central surface pressure of a storm is one measure of its strength).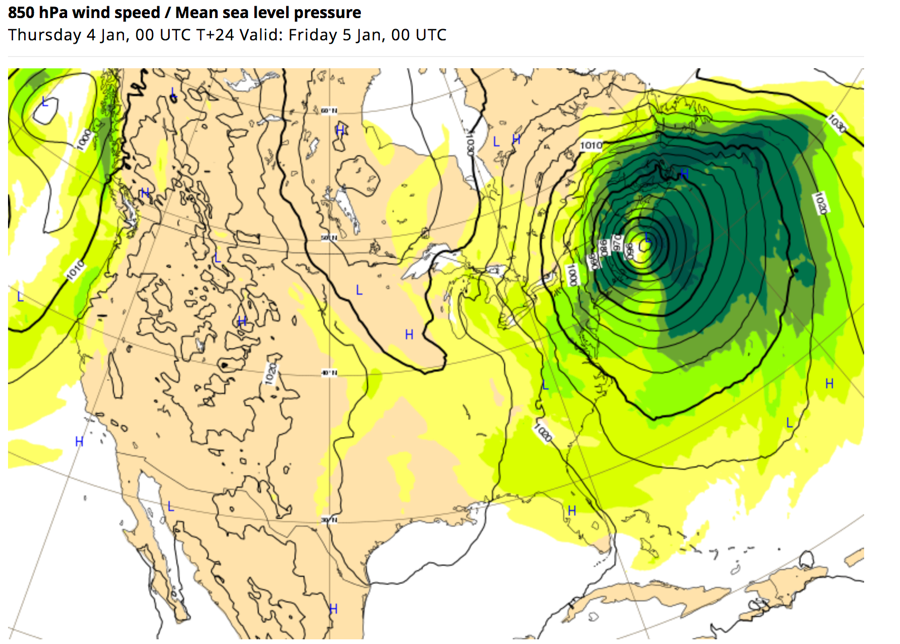 (© 2018 ECMWF cc by nc nd 4.0)
Surely such a massive winter storm, with its promise of bitter cold winds and potentially heavy coastal snowfalls, must be evidence against the climate crisis?
Once again, rather the opposite is true. East Coast winter storms, known as "nor'easters" because of the unusual northeasterly direction of the winds as the storm spirals in from the south, are unusual in that they derive their energy not just from large contrasts in temperature that drive most extratropical storm systems, but also from the energy released when water evaporates from the (relatively warm) ocean surface into the atmosphere.
This is a characteristic that these storms share with tropical storms and hurricanes. The warmer the ocean surface, the more energy that is available to intensify these storms. And the warmer the ocean surface, the more moisture there is in the atmosphere – moisture that is available to form precipitation. As the winds wrap around in a counter-clockwise manner, they bring all of that moisture northwest, where it is chilled and ultimately falls not as rain but snow. Lots of snow. D
As the oceans continue to warm, cold Arctic air masses collide with increasingly warm Atlantic Ocean waters. That means larger temperature contrasts and potentially stronger storms. But those warmer oceans also mean more moisture in the atmosphere, even more energy to strengthen the storm, and the potential for larger snowfalls. We might, if you'll forgive the pun, call this a "perfect storm" of factors for intensification.
Indeed, climate model simulations indicate that we can expect more intense nor'easters as human-caused climate change continues to warm the oceans.
I'm going to argue that this week's bomb cyclone, which was overland and not near a water source had plenty of ammunition (warm air aloft) to become one of the strongest storms in Midwest history. Here are the warm 500 millibar anomalies surrounding the storm system Wednesday morning:
The strong, negatively tilt system was located over northeast New Mexico, as indicated by the blue colors, and interacting with quite a bit of warm air aloft as indicated by those in red over the Midwest and East. Did the difference in temperature between the southwestern system and Midwestern dirty ridge spin up the record setting bomb? Answer: Yes. Had the Midwest ridge have been cooler would the bomb have been weaker? Answer: Probably. Would the bomb have been nearly as strong in the absence of global warming? It's possible, but not as likely.
Oh, and by the way, the pattern across the Northern Hemisphere was quite wavy and amplified Wednesday…another sign.
It will be interesting to read future studies on this Midwestern bomb cyclone to see how much attribution can be applied here. In the meantime all comments and questions are welcome on today's subject.
……………………………………………………………………………………………..
Here is more of Friday's climate and weather news:
(As usual, this will be a fluid post in which more information gets added during the day as it crosses my radar, crediting all who have put it on-line. Items will be archived on this site for posterity. In most instances click on the pictures of each tweet to see each article.)
Here are a lot of Friday's youth strike for climate images:
And some from Climate Reality…Two huge events happening on the same day!
(If you like these posts and my work please contribute via the PayPal widget, which has recently been added to this site. Thanks in advance for any support.)
The Climate Guy