Monday March 15th… Dear Diary. The main purpose of this ongoing post will be to track United States extreme or record temperatures related to climate change. Any reports I see of ETs will be listed below the main topic of the day. I'll refer to extreme or record temperatures as ETs (not extraterrestrials).😉
Severe Thunderstorms Affecting The South…Any Climate Change Connections?
Yesterday we hinted that recent Iranian flooding could at least partially be blamed on climate change. Severe weather this time of the year across the southern U.S. is a climatological norm, but could recent tornadic activity be blamed on global warming. What about the next strong system to affect the South?
While devastating, I just don't see much out of the norm in association with this last weekend's severe outbreak where it occurred geographically, stretching from Texas into Mississippi. Sometimes a system, despite climate change, will mirror normality, moving over an area where severe storms are expected given the time of the year, in this case April. We should not blame all severe events on climate change since these have been with us since we became human eons ago, but are there trends of these getting more destructive?
Here is a great summsry of last weekend's destruction:
Can we state that tornadoes were made stronger over the last few days via changes in the jet and/or changes in lower level directional shear? Again, in this case probably no, but the system was oriented via some rather strange, convoluted formations further north into Canada: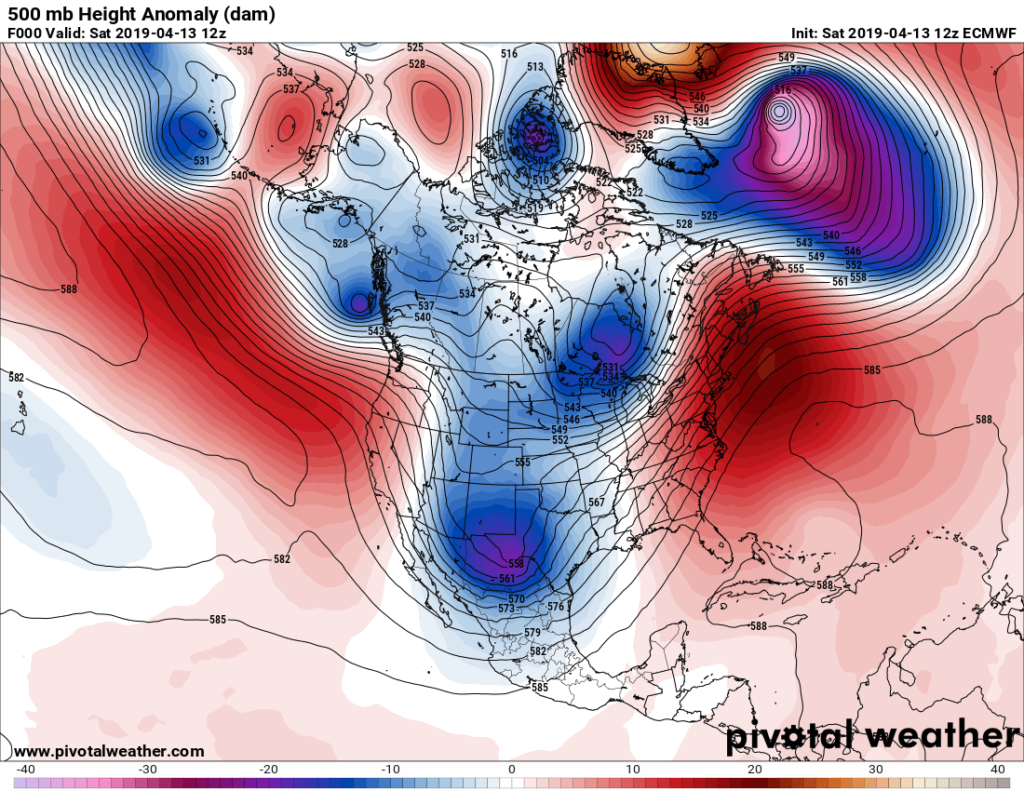 As depicted by the above Pivotal chart bubbles of warm, red anomalous heights stretching from Alaska to Greenland were interacting with numerous cold, blue lobes, aiding to form these and forcing them south. The most southern was the lobe shown on the chart over New Mexico, which was responsible for the outbreak. I seriously don't think that anyone will take the time to assess attribution for this system, though, since there are much bigger fish to fry. 
We do have some indications, though, that trends are not good:
Speaking of bigger fish, this coming week's system looks truly monstrous. Models were forecasting this thing to affect the Midwest a week ago as I wrote here:
https://guyonclimate.com/2019/04/12/extreme-temperature-diary-april-11th-2019-second-bomb-cyclone-hits-midwestday-two/
At least we won't see another "bomb cyclone," but we should see severe storms along a powerful front:
This next time around instead of weakening as it moves eastward the front may pick up strength as, in met speak, phasing occurs between northern and southern jet short waves. Eventually we should get a strong closed low as depicted and forecast here:
By Saturday severe weather will be over for most of the South, but if the system remains as strong as forecast there will be widespread reports of damage, and a lot from tornadoes occurring along and near its associated front in its wake from Wednesday through Friday. Notice how pinched off the storm system is, being a strong closed low over the Kentucky, West Virginia, Virginia border on the above Pivotal chart. Could we argue that global warming was responsible for the pinching and formation of the closed low by Saturday morning? Perhaps. Given a colder climate this system might be a full latitude trough (in met speak) that would have had less instability (or warm, moist air to work with), perhaps not producing severe storms quite as far north as say the Middle Atlantic states. Notice that I used the words might and perhaps here. Since we don't have a colder twin of Earth to compare we just can't definitively state that recent global warming is producing worse storms, but we do have a few clues to point to.
First, temperatures have been above average during April across much of the South. Second as mentioned here and on yesterday's Iranian piece the overall jet looks weaker with more perturbations than is average for mid April. We would expect a weaker but more disturbed polar vortex in a warming world.
Well folks, batten down the hatches again by Wednesday if you live in the South and Midwest. As my favorite old actress would say, It's going to be a bumpy ride.
………………………………………………………………………………………………………….
Here is some more weather and climate news from Monday:
(As usual, this will be a fluid post in which more information gets added during the day as it crosses my radar, crediting all who have put it on-line. Items will be archived on this site for posterity. In most instances click on the pictures of each tweet to see each article.)
(If you like these posts and my work please contribute via the PayPal widget, which has recently been added to this site. Thanks in advance for any support.)
Guy Walton- "The Climate Guy"