Tuesday April 30th… Dear Diary. The main purpose of this ongoing post will be to track United States extreme or record temperatures related to climate change. Any reports I see of ETs will be listed below the main topic of the day. I'll refer to extreme or record temperatures as ETs (not extraterrestrials).😉
Aftermath Of Kenneth… Worse Than Expected By Most
It has only been five days since Cyclone Kenneth first appeared on my radar, and now it appears that this system has become one of the worst natural disasters in the history of the southern African area:
https://guyonclimate.com/2019/04/25/extreme-temperature-diary-april-25-2019-topic-kenneth-to-strike-african-areas-already-affected-by-idai/
Kenneth struck Mozambique on Thursday of last week. Now we are getting indications that due to the system's slowing forward speed after landfall flooding and associated destruction was much worse than most expected. As I wrote on the 25th, though, I feared that Kenneth would slow much like Harvey in the U.S. back in 2017. The climate change trend for tropical cyclones, as we know now, are for slower and stronger systems as upper level ridges north of most systems get stronger and consequently get more stubborn to dislodge, and surrounding overall warmth both in the sea and air increases.
Today I will show the most recent reports on Kenneth. First, here is what we have from BBC News:
https://www.bbc.com/news/world-africa-48087906
Mozambique flooding 'worse than thought': UN agency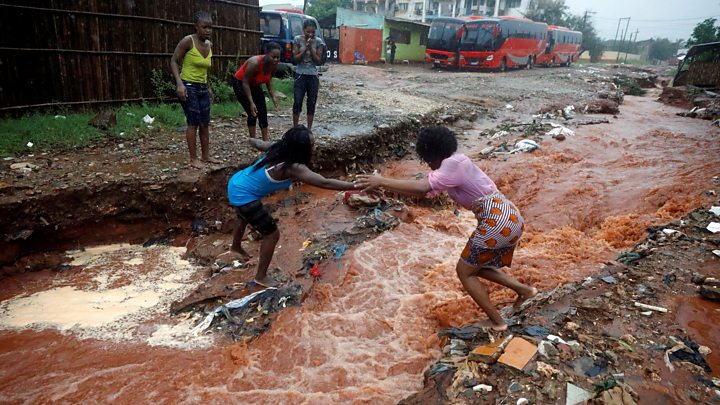 The situation in northern Mozambique is worse than thought, a UN spokesman says, days after Cyclone Kenneth ravaged the country.
The system struck the Africa nation on Thursday with winds of 220km/h (140mph) which flattened whole villages.
Around 700,000 people are now thought to be at risk in the area as torrential rains continue.
Pemba, regional capital of Cabo Delgado state, has experienced more than 2m (6.5ft) of rain and flooding.
Office for the Co-ordination of Humanitarian Affairs (Ocha) spokesman Saviano Abreu said the situation in the towns of Macomia and Quissanga was critical, adding that there were also worries for the cut-off island of Ibo.
Waves up to 4m high are expected, and aid agencies fear rains will worsen.
"We are very worried because, according to the forecasts, heavy rain is expected for the next four days," Deborah Nguyen, UN World Food Programme spokeswoman, told AFP news agency.
"We expect the rainfall to be twice as much as that which accompanied Cyclone Idai," she added.
Cyclone Idai killed more than 900 people across three countries in March this year.
What's the latest?
Pemba is thought to be home to about 400,000 people, and the heavy rains have placed many in danger.
Landslides are a growing worry in the city's Mahate neighbourhood, regional Ocha authorities said, while in the Natite neighbourhood houses have started to collapse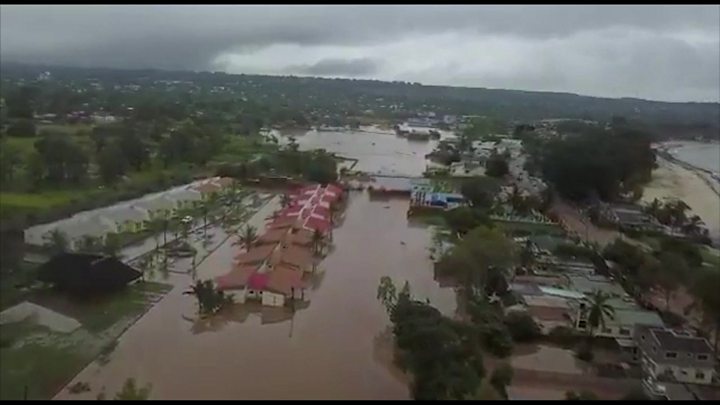 The World Food Programme has reportedly begun giving out rations to stranded people, but destroyed roads have forced operations to end in the most isolated areas.
At least five people have died as a result of the cyclone, and nearly 35,000 homes have been badly damaged or destroyed, national authorities say.
Brazilian rescue teams rescued about 350 people from flooded parts of the city on Sunday.
This satellite image shows the cyclone over northern Mozambique and Tanzania on Friday night.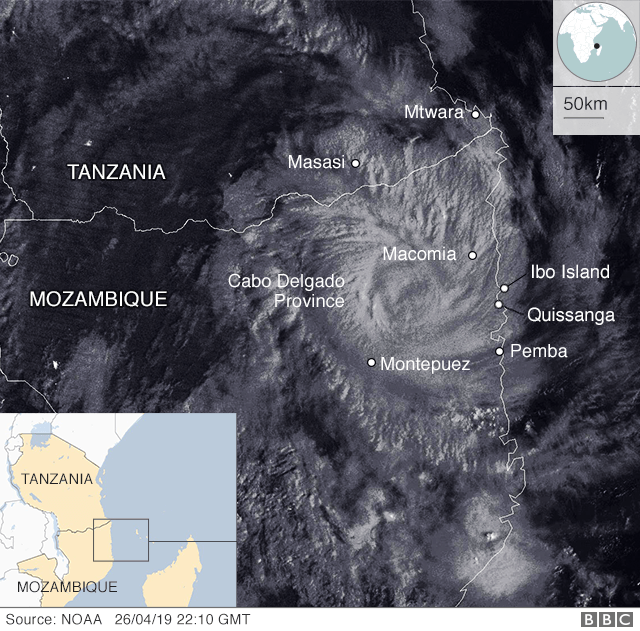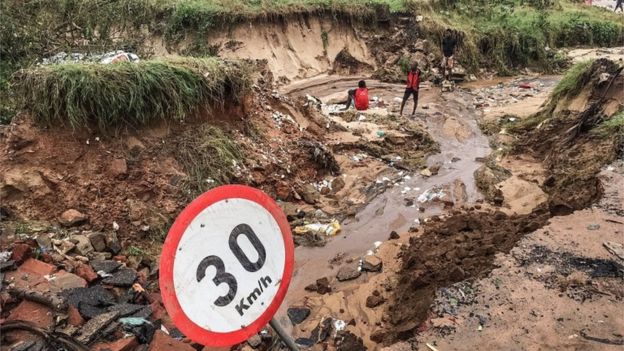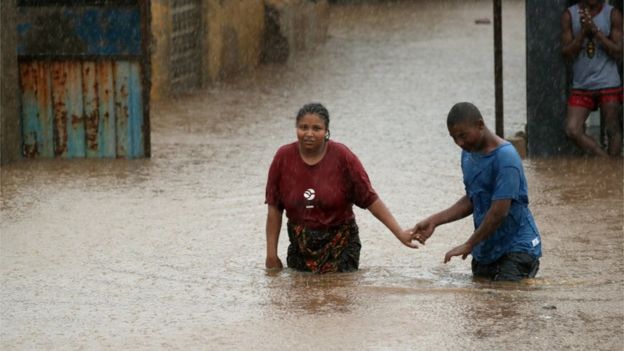 On Sunday a spokesman for UN Secretary-General Antonio Guterres said he was "deeply saddened" by the impact of Cyclone Kenneth.
UN agencies are aiding local authorities, and Mr Guterres appealed for "additional resources" from the international community "to fund the response in the immediate, medium and longer term".
What is the affected area like?
Cabo Delgado province is not as densely populated as the area hit by Cyclone Idai, and there is apparently more high ground there.
That, in addition to warnings by authorities ahead of the storm, could significantly stem losses compared with Cyclone Idai.
But reports said many thousands of homes had been flattened by the winds, and the area has been hit by militant Islamist violence in recent months, which could complicate humanitarian operations.
Thousands of people had already fled their homes to seek shelter from violence in camps for displaced people.
Next I will quote and repost news and specifics from Weather Underground:
Death Toll Rising in Kenneth's Wake; Cyclone Fani Threatens India
Bob Henson · April 29, 2019, 12:40 PM EDT
Above: Assan Madal stands next to his destroyed house in the village of Nacate, south Macomia, Cabo Delgado province, Mozambique, on April 27, 2019, after Tropical Cyclone Kenneth hit the area. Image credit: Emidio Josine/AFP/Getty Images.
At least 42 people have died in far north Mozambique and the Comoro Islands as a result of Tropical Cyclone Kenneth, the strongest storm on record to make landfall in both areas. Kenneth clipped the northern end of Grande Comore island before storming to Category 4 strength and making landfall on Thursday in northern Mozambique's Cabo Delgado province. Kenneth's powerful southern eyewall struck the small villages and resorts of Quirimbas National Park and its Quisinga Islands.
Officials said on Monday that the death toll in Mozambique had jumped to 38, as reported by weather.com. Although Kenneth weakened quickly as it moved inland, its remnants have continued to produce torrential rain across Cabo Delgado. Runoff and local rains have led to widespread flooding in Pemba, a city of 200,000 well south of where Kenneth made landfall.
More than 31,000 houses in Mozambique were totally destroyed and another 3800 partially destroyed, according to the National Institute for Disaster Management (INGC), ReliefWeb reported.
In the Comoros, at least 4 deaths and 182 injuries have been reported, according to government figures cited by ReliefWeb. Some 3800 homes in the Comoros were completely destroyed and about 7000 partially destroyed. The island nation has about 1 million residents. Almost two-thirds of the nation's food crops have been wiped out, and most residents are without power, reported the Internal Displacement Monitoring Center.
NOAA's historical database shows that Kenneth is the first hurricane-strength cyclone on record to strike either Cabo Delgado or the Comoros. Routine satellite monitoring of the region extends back to the late 1990s, though some cyclone records go back 50 years. According to EM-DAT, the deadliest and most destructive tropical cyclone to affect the Comoros was Elinah, which passed through the islands as a tropical storm with 45 – 50 mph winds on January 11, 1983, killing 33 people and doing $23 million in damage. All 33 deaths occurred when a huge wave swept 40 people on the island of Anjouan into the water.
Kenneth struck just less than two months after catastrophic Cyclone Idai ripped through central Mozambique, bringing devastating floods to the city of Beira and taking at least 1000 lives. The damage estimate of $1 billion to Mozambique's infrastructure from Kenneth alone is around 5% of that nation's gross domestic product. A comparable hit to the United States would be a storm causing more than $1 trillion in infrastructure damage.
The only other time on record Mozambique has experienced two cyclones in the same year was in 2000, when Cyclone Eline (Leon-Eline) struck south of Beira as a Category 4 on February 22, followed by Cyclone Hudah, which struck further north, near Pebane, as a Category 1 storm on April 8.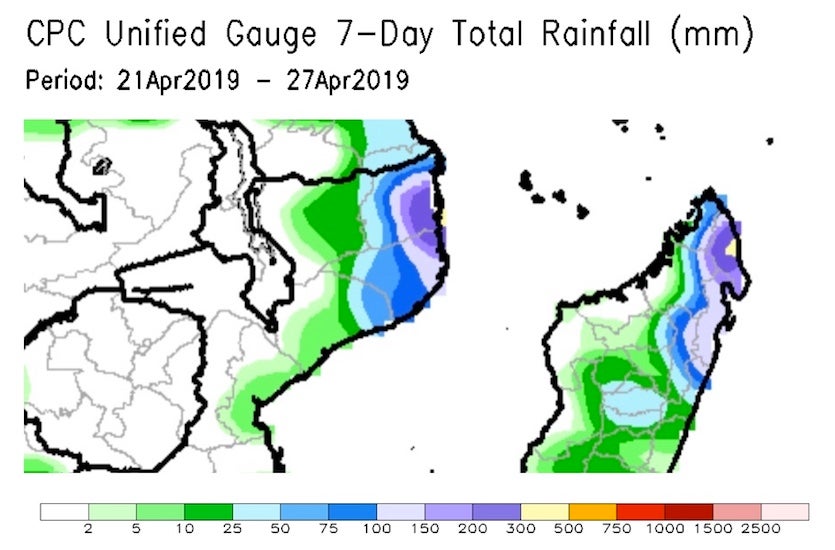 Figure 1. Satellite-based estimates of rainfall for the week ending Saturday, April 27, 2019, show a large area of more than 200 mm (7.87") of rainfall over eastern Cabo Delgado province of Mozambique (dark purple area at top). Estimates approached 500 mm (19.69") along the coastline where Kenneth made landfall. Additional rains have fallen over eastern Cabo Delgado since Saturday. Very heavy rains also fell in parts of northeast Madagascar that are more accustomed to large rainfall totals. Image credit:
NOAA/NWS Climate Prediction Center
.
Fani a substantial threat for eastern India late this week
A slow developer over the weekend, Tropical Cyclone Fani has the potential to cause big trouble in eastern India and perhaps Bangladesh toward the end of this week. As of 12Z Monday, Fani was a tropical storm with 1-minute sustained winds of 65 mph, according to the Joint Typhoon Warning Center (JTWC). Fani was located about 480 miles southeast of Chennai, India, moving northwest at about 9 mph. An eye was already becoming evident in microwave imagery on Monday morning.
Conditions will be nearly ideal for Fani to strengthen over the next couple of days, and a period of rapid intensification is very possible. Fani will be moving over very warm sea surface temperatures of around 30-31°C (86-88°F), about 1°C above average for of year. Oceanic heat content will be quite high along Fani's path, enhancing its odds of rapid strengthening (see Figure 2). Outflow jets to the north and south of Fani will further support the storm, and moderate wind shear of 10 – 15 knots is unlikely to impede Fani's growth. The HWRF model, one of our top performers on cyclone intensity, has been predicting Fani will reach at least Category 3 strength prior to landfall, and we cannot rule out even greater intensification.
Figure 2. Oceanic heat content (OHC) along the path of Tropical Cyclone Fani projected by the Joint Typhoon Warning Center as of 6Z Monday, April 29, 2019. OHC values in excess of 100 kilojoules per square centimeter (darker orange colors) are commonly associated with rapid intensification of tropical cyclones. Image credit: NOAA/RAMMB.
Fani appears destined to angle toward the north and northeast later this week, as a weak upper-level trough approaches from the northwest. In their 0Z and 6Z Monday runs, our top long-range track models—GFS and European models—came into closer agreement on a track that would bring Fani very near the the coast of Odisha state on India's east coast around Friday night, then hug the coast toward the upper end of the Bay of Bengal. In its 12Z Monday advisory, the JTWC adheres closely to this model consensus, calling for a Category 3 strength at landfall.
The forecast trajectory for Fani could push a significant storm surge well northeast of the cyclone's landfall location, toward the Kolkata area at the head of the Bay of Bengal. Only a slight eastward jog would bring Fani into the Kolkata area and/or western Bangladesh at full force. Some of the most catastrophic cyclones in world history have struck this region, where a northward-moving storm surge can be concentrated by the bay into a compact delta where tens of millions of people live. Kolkata alone has a metropolitan population of around 14 million. A cyclone on October 5, 1864, took some 60,000 lives in Kolkata (then Calcutta).
Tropical cyclones are most common in eastern India during October and November, but there is a secondary peak in April and May.
Figure 3. Enhanced infrared satellite image of Tropical Cyclone Fani at 1545Z (11:45 am EDT) Monday, April 29, 2019. Sri Lanka and southeast India are outlined at left. Image credit:
RAMMB/CIRA/Colorado State University
.
India's tropical cyclone history
A total of six Bay of Bengal tropical cyclones have hit India at hurricane strength since 2000. Two of the most intense in recent years, Cyclone Phailin (October 2013) and Cyclone Hudhud (October 2014), both approached the east coast of India from the southeast, much like Fani. Phailin was a Category 5 cyclone, weakening to Category 4 strength before making landfall in Golpapur in Odisha state; it caused 45 deaths and inflicted $655 million in damage (2013 dollars). Hudhud struck a bit further southwest, near Visakhapatnam in Andhra Pradesh state, at its maximum Category 4 intensity, leading to 124 deaths and $3.4 billion in damage (2014 dollars).
The deadliest tropical cyclone to hit India in the last couple of decades was the 1999 Odisha Cyclone, which hit Northeast India in the Indian state of Odisha (which was called Orissa until 2011) near the city of Bhubaneswar as a Category 4 storm with 155 mph winds on October 29, 1999. The mighty storm, which had been at Category 5 strength with 160 mph winds and a 912 mb central pressure shortly before landfall, drove a storm surge of 26 feet (8 meters) onto the coast. The storm stalled just inland, dumping torrential rains on portions of India already saturated from the landfall of Category 4 Tropical Cyclone 04B just twelve days before. The catastrophe killed 9,658 people and left $2.5 billion in damage (1999 dollars), India's most expensive and fourth deadliest tropical cyclone in the past 100 years.
Six other Indian tropical cyclones occurring before 1900 were even deadlier; see wunderground's list of the 35 Deadliest Tropical Cyclones in World History. During the past two centuries, 42 percent of Earth's tropical cyclone-associated deaths have occurred in Bangladesh, and 27 percent have occurred in India. (Note that Bangladesh was governed by Britain as part of India from 1858 until 1947, when it became East Pakistan; it gained independence in 1971 as Bangladesh.)
As Christopher Burt observed in a 2013 post, "Most of the deadliest tropical storms on earth have occurred in the Bay of Bengal when tremendous storm surges have swamped the low-lying coastal regions of Bangladesh, India, and Burma [now Myanmar]. The worst of all was the Great Boha Cyclone of November 12-13, 1970, when a 40-foot storm surge overwhelmed the delta islands of the Brahmaputra and Ganges Rivers in Bangladesh. An estimated 300,000-500,000 perished. This storm is also considered to have produced the greatest storm surge of any Indian Ocean cyclone, although similar surges may have occurred during the 1733 and 1876 cyclones."
Dr. Jeff Masters contributed to this post.
The Weather Company's primary journalistic mission is to report on breaking weather news, the environment and the importance of science to our lives. This story does not necessarily represent the position of our parent company, IBM.
Bob Henson
WU meteorologist Bob Henson, co-editor of Category 6, is the author of "Meteorology Today" and "The Thinking Person's Guide to Climate Change." Before joining WU, he was a longtime writer and editor at the University Corporation for Atmospheric Research in Boulder, CO.
Well, this is a lot of sad news to report, and yes now there is a threat to India from Cyclone Fani. I'll probably do another daily post on both the remnants and aftermath on Kenneth, and what happens in association with Fani in a few days. Please give to the International Red Cross to help people facing the horrid aftermaths of all the cyclones coming northward from the Indian Ocean this year.
…………………………………………………………………………………………………………
Here is some more climate and weather news from Tuesday:
(As usual, this will be a fluid post in which more information gets added during the day as it crosses my radar, crediting all who have put it on-line. Items will be archived on this site for posterity. In most instances click on the pictures of each tweet to see each article.)
(If you like these posts and my work please contribute via the PayPal widget, which has recently been added to this site. Thanks in advance for any support.)
Guy Walton- "The Climate Guy"