Wednesday May 22nd … Dear Diary. The main purpose of this ongoing blog will be to track United States extreme or record temperatures related to climate change. Any reports I see of ETs will be listed below the main topic of the day. I'll refer to extreme or record temperatures as ETs (not extraterrestrials).😉
Heatwave To Strengthen Across Southeastern U.S.
It's time for a checkup on our first heatwave of the season for the United States. There aren't too many differences from what I presented on Saturday, but there are some subtle changes and a light at the end of this hot, dry proverbial tunnel:
https://guyonclimate.com/2019/05/18/extreme-temperature-diary-may-18-2019-first-heat-wave-for-united-states-of-2019/
For one, the heat dome that will be responsible for this prolonged heat wave will probably too out around 594 decameters and no higher. Saturday models had the thing build to nearly 597 decameters. Here is the latest GFS (bottom chart) compared with Saturday's chart (top chart):
I'm expecting the ridge to max out around 594 decameters on Thursday or Friday. A 597 decameter ridge would produce surface temperatures near 100 in Atlanta where the thing is forecast to set up camp over Georgia. Thankfully, it should not get that hot. Nevertheless, the heat dome will be very slow to break down, so at the surface where it counts, this heat wave will probably get hotter in most locations through the upcoming weekend until at least Monday or Tuesday. Even a near 594 decameter ridge over the South would be very toasty by late May standards, and is a sign of the climate crisis.
One important note. The ridge will block systems from moving southeast across the Midwest leading to more flooding as stated here a week ago:
There are clear signs, though, that a cold trough and associated surface front will end this heat wave, thankfully, by the middle of next week. This means, however, that we will see a whole week of scalding weather between today and next Wednesday. Here is what the GFS forecasts today: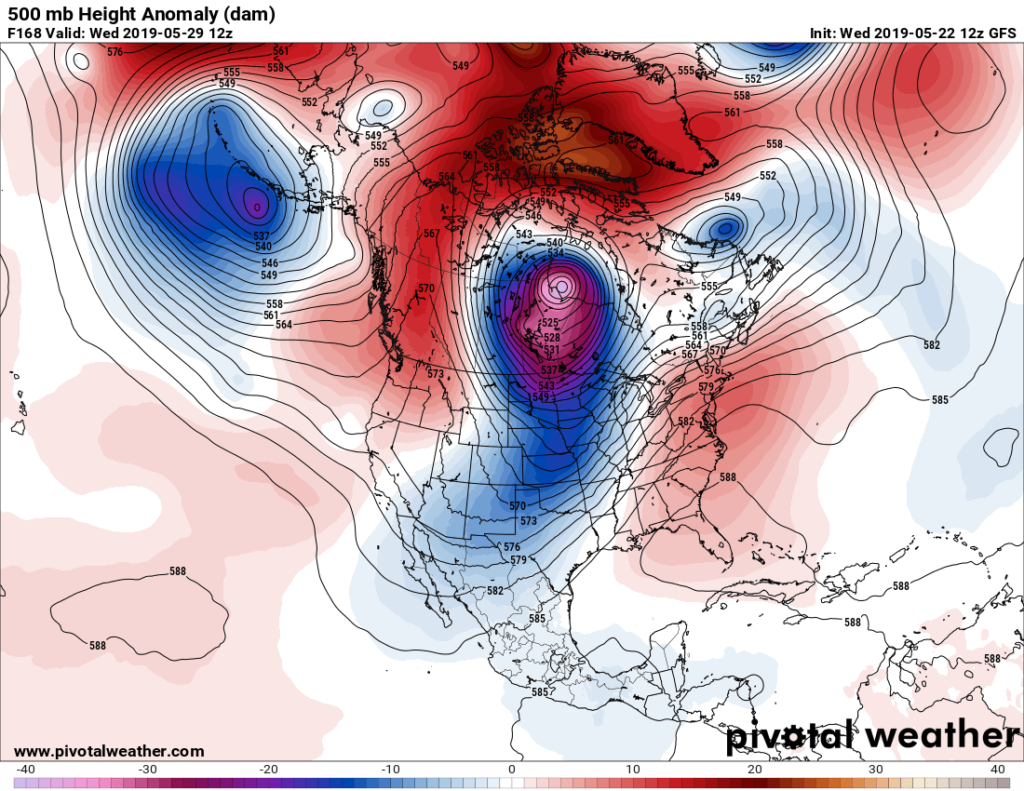 This weekend promises to be the hottest Memorial Day weekend in recorded history for many across the Southeast. Some residents will wish that summer will end just as the unofficial celebration of summer's beginning commences.
Here are news and notes from social media on this heat:
Here are Thursday's forecast maxes. Note the building heat across the South:
There has been a real dearth of record high maximum reports from the U.S. this year, so far, compared with most other years this decade. Keep in mind, also, that we will probably get some record low reports out of the snowy Intermountain West area due to cold systems setting up there over the last week. We will see how the ratio of daily record highs to lows stacks up by the end of this month.
……………………………………………………………………………………………..
Here is more climate and weather news from Wednesday:
(As usual, this will be a fluid post in which more information gets added during the day as it crosses my radar, crediting all who have put it on-line. Items will be archived on this site for posterity. In most instances click on the pictures of each tweet to see each article.)
Brrr. It's still cold across portions of North America:
(If you like these posts and my work please contribute via the PayPal widget, which has recently been added to this site. Thanks in advance for any support.)
Guy Walton- "The Climate Guy"