Thursday May 23rd … Dear Diary. The main purpose of this ongoing blog will be to track United States extreme or record temperatures related to climate change. Any reports I see of ETs will be listed below the main topic of the day. I'll refer to extreme or record temperatures as ETs (not extraterrestrials).😉
The Dreaded Ring Of Fire
Throughout my meteorological career at The Weather Channel I would often hear of the reference to storms and tropical systems rotating around a big heat dome, or ridge of high pressure as the "ring of fire." Prior to this century usually this ring of fire, in which the atmosphere was unstable enough for convection or thunderstorms, lasted for only a few days, breaking down such that storm systems would start to march eastward across the nation, as is typical in association with the jet stream. Now ridges are getting stronger and tending to get stuck over one place for longer periods of time, which are global warming markers according to renowned climate scientist Dr. Michael Mann.
Granted, at times there have been much stronger, more resilient ridges sprawling across most of the contiguous 48 states prior to 2000 such as the ones from the torrid summers of 1980 and 1988, but I can't recall one that will be this strong over the Southeast in May,
For today's main subject we will see why the current ring of fire was and continues to be bad news for residents across the Midwest. Also, for the next few days I will post reports on both Midwestern storms and flooding and Southern heat, so this will be part one of a series until the ridge breaks down by the middle of next week.
First, here is the basic pattern aloft from this morning: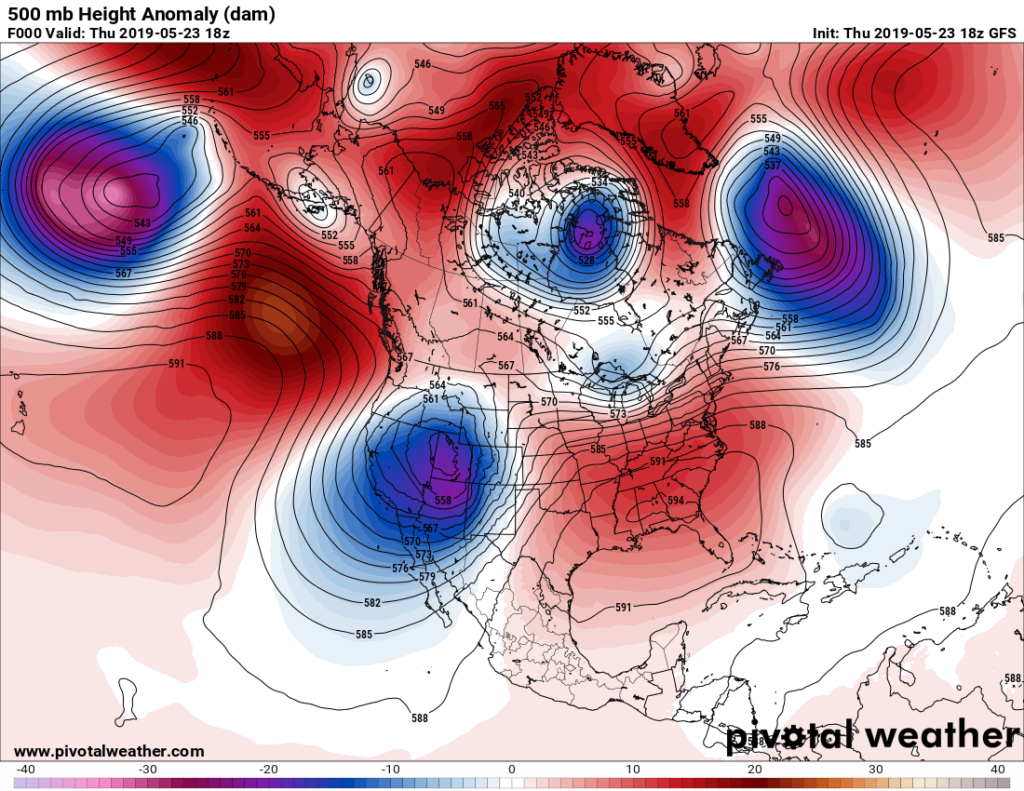 Indeed, the ridge has gotten up to 594 decameters being centered over the southern Georgia/Alabama border. Where will the thing be by Memorial Day? In about the same place and only slightly weaker at 591 decameters with the center slipping southward to near Apalachicola, Florida:
So, we see by Monday the same old pattern from the late winter into most of the spring, with a ridge over the Southeast and strong systems moving through the West, ejecting into the Plains. A big one is forecast to be over Nevada and moving east by Monday, which will lead to yet more severe weather in the Plains later next week. In the meantime more storms will form in a partial "ring of fire" on the periphery of the ridge through the holiday weekend stretching from western Texas northward through the Plains then eastward through the Ohio Valley into portions of the Middle Atlantic and Northeast.
So what does this weather pattern have to do with climate change? I've noted that a ridge getting near 594 decameters is quite rare for May. Also, this heat dome has been very slow to budge the last few months even though it is waxing and waning. This has led to the jet influencing storm systems such that most of their punch moves though the central and southern Plains then eastward north of Tennessee. The stagnation of this particular pattern is a clear signal of climate change.
It may take a very strong northern branch of the jet system to at least temporarily break this pattern, and that is what the latest European model is forecasting. A strong, cold vortex may move into the Great Lakes by next Thursday suppressing the ridge and breaking the southern heat wave: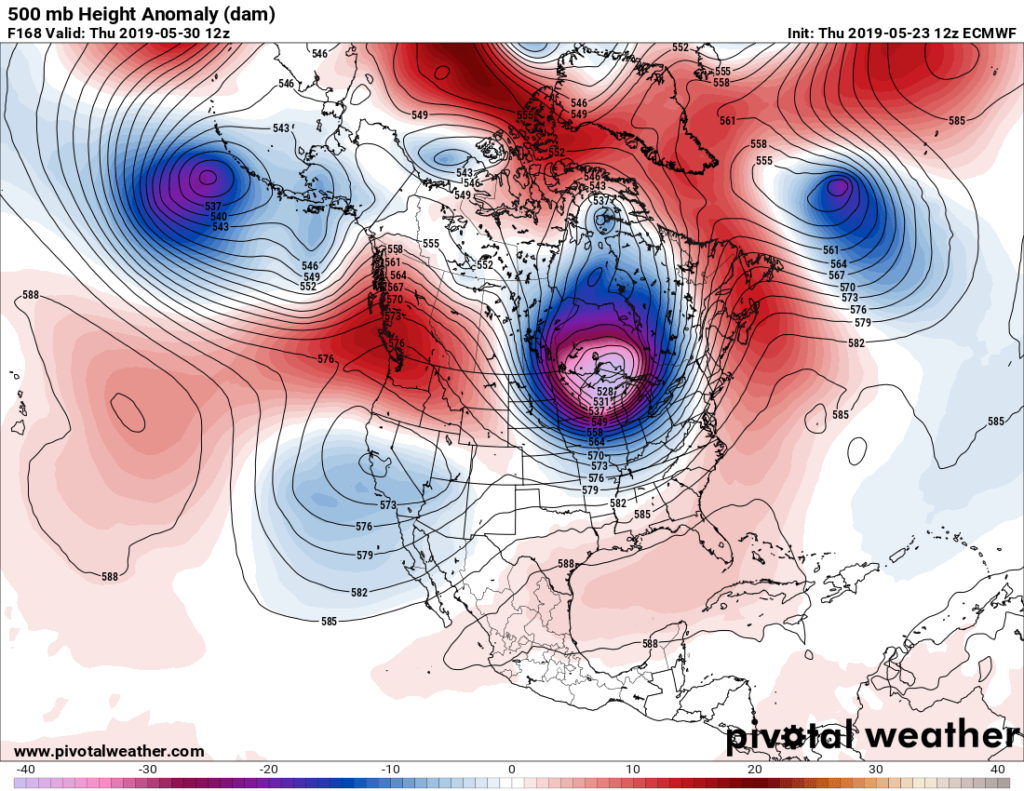 In the meantime high temperatures on Friday will remain toasty, but lower than forecast values that will be near record highs over the weekend across the Southeast: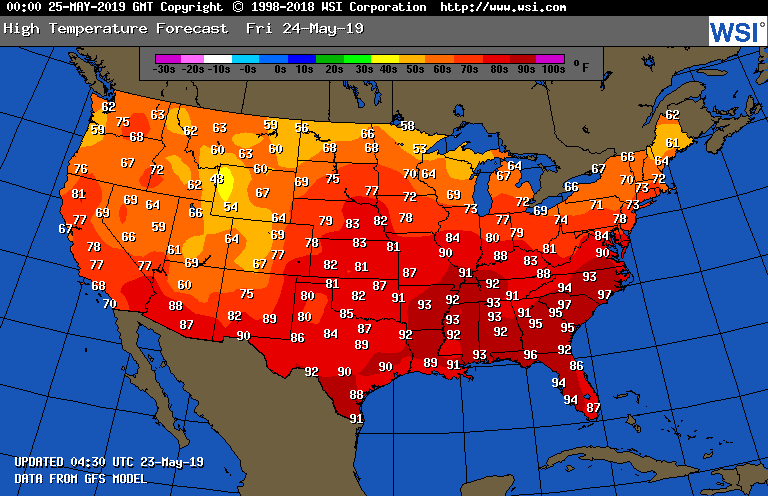 Here is more information on the heat and recent Midwestern storms:
Here is some more climate and weather news from Thursday:
(As usual, this will be a fluid post in which more information gets added during the day as it crosses my radar, crediting all who have put it on-line. Items will be archived on this site for posterity. In most instances click on the pictures of each tweet to see each article.)
(If you like these posts and my work please contribute via the PayPal widget, which has recently been added to this site. Thanks in advance for any support.)
Guy Walton- "The Climate Guy"