Sunday July 7th… Dear Diary. The main purpose of this ongoing blog will be to track United States extreme or record temperatures related to climate change. Any reports I see of ETs will be listed below the main topic of the day. I'll refer to extreme or record temperatures as ETs (not extraterrestrials).😉
New Climate Central Local Renewable Tracker
I received another email from Climate Central before the holiday weekend indicating that they have completed some research and forecasts on the percentage of total green energy for individual U.S. markets, and CO2 tracking charts. Climate Central completed this energy research just in time for the 4th:
On this festive week, we're celebrating new and updated tools to help tell your climate story—from rising CO₂ to renewable energy generation that limits CO₂. Graphics for July 4th extremes are also available.

Check the WeatherPower tool: see how much electricity is being generated in your city by our weather—the sun and wind: https://buff.ly/2KLGZ4m
#climatematters via @climatecentral
WeatherPower
We're especially excited about our newly updated WeatherPower tool, unveiled at the recent AMS broadcast conference in San Diego. Here's a rundown of what the tool offers:
NEW: A graphics generator that uses your preferred data and background image to produce a customized graphic ready for TV and social media! 
Estimates of local wind and solar electricity generation, based on already installed wind and solar capacity specific to your market.
Calculations for yesterday's generation based on hourly observed data.
Forecasts for today and tomorrow based on real-time weather forecasts.
Metrics for the percent of local homes powered by renewables, and the percent of daily electricity costs saved by those with solar on their roofs.
Power Indices that rank each day's solar or wind potential on a 0-10 scale.
See past releases on the rapid growth of renewables, the jobs and communities served, and maps of potential capacity for wind and solar power.
Let's see what this Weather Power tool shows for my home city of Atlanta: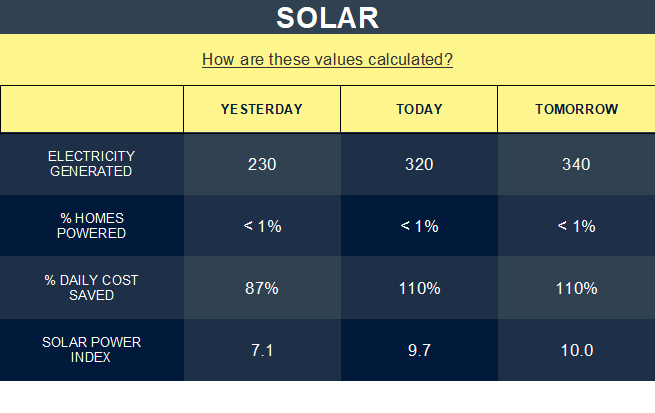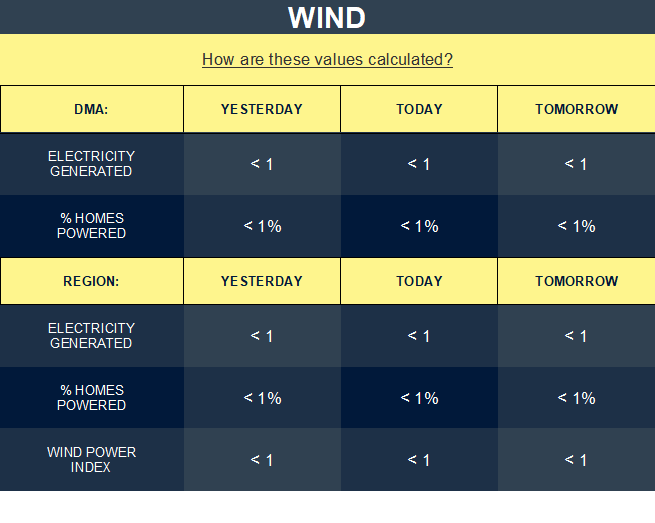 In Georgia there is not much wind power, so those stats for Atlanta are no surprise. Georgia gets a lot of sun, so it's disappointing to see that<1% of homes are powered by solar.
Here is Climate Central's calculation method, which also can be viewed by clinking on the link below each of the above charts headers:
Calculation Methodology
Electricity Generated (Megawatt-hours) – Estimated total amount of electricity generated. One megawatt-hour is the electricity used to light 10,000 100-watt light bulbs for 1 hour.
Percent of Homes Powered – Number of homes powered divided by the total number of homes in the geographic area. Values over 100% indicate that electricity generation exceeds the sum of electricity used in all homes.
Percent of Daily Cost Saved – Percentage of daily electricity cost saved by a household with an average-sized solar array on its roof versus using power only from the grid.
Solar Power Index (0 to 10) – Daily solar power potential scaled to a maximum of 10. Maximum value corresponds to clear sky with average atmospheric conditions (aerosols and water vapor content) on the date.
Wind Power Index (0 to 10) – Daily wind power potential scaled to a maximum of 10. Maximum value occurs when all turbines in the geographic area during the entire forecast period operate at rated capacity. A typical wind turbine operates at rated capacity at wind speeds above about 14 m/s and shuts down at wind speeds of about 25 m/s.
DMA – Television Designated Market Area, as defined by Nielsen.
Region – The specific eGRID (Emissions & Generation Resource Integrated Database) region as defined by the EPA. See methodology for discussion of eGRID regions.
Time Periods
– Yesterday: Most recent 24 hours of observed (HRRR) data available to this wind/solar tool, 04:00 – 04:00 GMT
– Today and Tomorrow: 24-hour periods starting from 12:00 GMT
Here are the two carbon tracker graphics I saw in the email:
The week of July 4th is a time for celebration—so what better way to celebrate than with a set of tools to make climate coverage easier? From the global problem of rising CO2 to the local promise of renewable energy generation, these template graphics will remain useful long after the fireworks.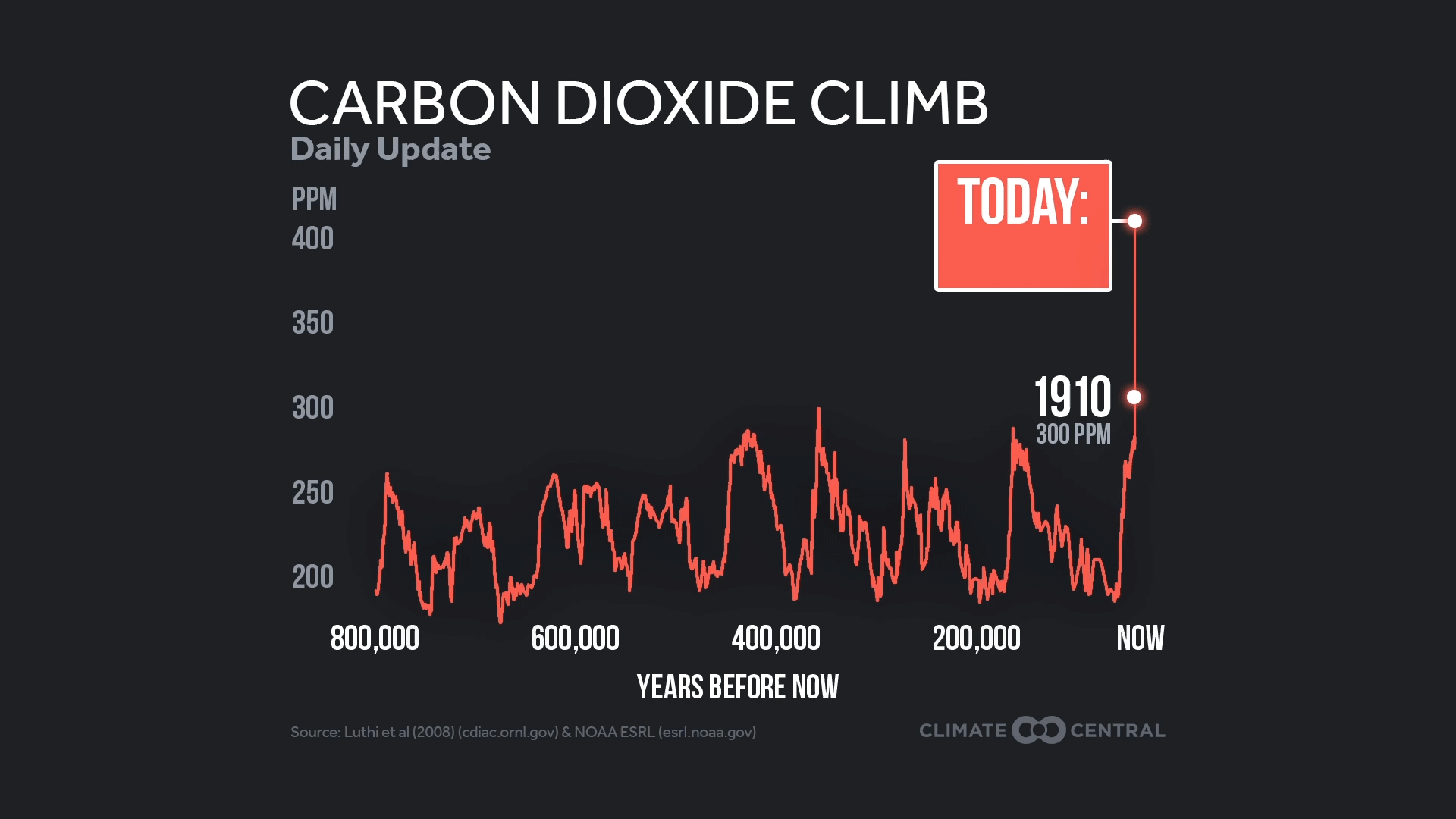 Happy Birthday USA!
July 4th is often a time for extreme heat, which is getting more intense as humans add greenhouse gases to the atmosphere. Click here to find the hottest, coolest, and wettest Independence Days on record in your city.
METHODOLOGY:
CO2 data from Mauna Loa, Hawaii is reported by NOAA's Earth System Research Laboratory Global Monitoring Division.
Local Independence Day climate extremes were retrieved from the Applied Climate Information System.
Posted in Causes, Greenhouse Gases, Business, Society, Energy, Renewable Energy, Weather, Extreme Weather, Basics, Responses, Solutions, Climate Statistics, United States, Global
I hope everyone in this country had a festive happy Fourth of July holiday weekend. Click on Climate Central's widget for your city.
………………………………………………………………………………………
Here is more climate and weather news from Sunday:
(As usual, this will be a fluid post in which more information gets added during the day as it crosses my radar, crediting all who have put it on-line. Items will be archived on this site for posterity. In most instances click on the pictures of each tweet to see each article.)
Here are some "ET" reports from Alaska from Sunday:
(If you like these posts and my work please contribute via the PayPal widget, which has recently been added to this site. Thanks in advance for any support.)
Guy Walton- "The Climate Guy"