Monday July 8th… Dear Diary. The main purpose of this ongoing blog will be to track United States extreme or record temperatures related to climate change. Any reports I see of ETs will be listed below the main topic of the day. I'll refer to extreme or record temperatures as ETs (not extraterrestrials).😉
Flooding And More Flooding… The Big Climate Crisis Event For The U.S. In 2019
For the Lower 48 States, so far in 2019, the biggest climate crisis phenomena has been episodes of extreme flooding. So far this summer, thankfully, the excessive heat minster hasn't reared its ugly head. We saw thousands upon thousands of Plains farmland go underwater during the late winter and spring with unprecedented flooding in spots in the Mississippi Valley. Today the Nation's Capitol got inundated from just a cluster of storms that developed along a front:
Man, our capital has had a rough morning.
So is this D.C. flash flood climate change related? Why, to a good measure if you look at available precipitable water. Check this stat out:
Later this week the old flooding monster will have another opportunity to strike, this time from the tropics. A nice writeup from Weather Underground is available on this next system already dubbed 92L:
Another flood along the Gulf Coastal area is not certain, which would depend upon development and location of landfall, perhaps being a forecasting proverbial "counting the chickens before they roost" problem. Yet, just about every meteorological sign points to development:
We also have to take into account above average heat, and thus energy in the Gulf for a potential storm and subsequent flood:
Departure of SST from average for July 7, 2019. The northeastern Gulf of Mexico was up to 2°C (3.6°F) above average, thanks to one of the warmest Junes on record over Florida. Image credit: tropicaltidbits.com. and Weather Underground
The European Model has consistently been the strongest for development of a storm, and taking the system furthest towards the west. Here is the latest 12Z Monday forecast position at landfall:
If we took the latest model verbatim, then anywhere from the Houston/Galveston metropolitan area to most of Louisiana would have another great flood. I would not rule out the system becoming a CAT 1 hurricane, but that would depend upon enough time for intensification.
Here is some history of July storms:
The system should be a slow mover looking at high 500 millibar heights north of the forecast center, which would greatly increase the chance for heavy rain well into the Nation's heartland: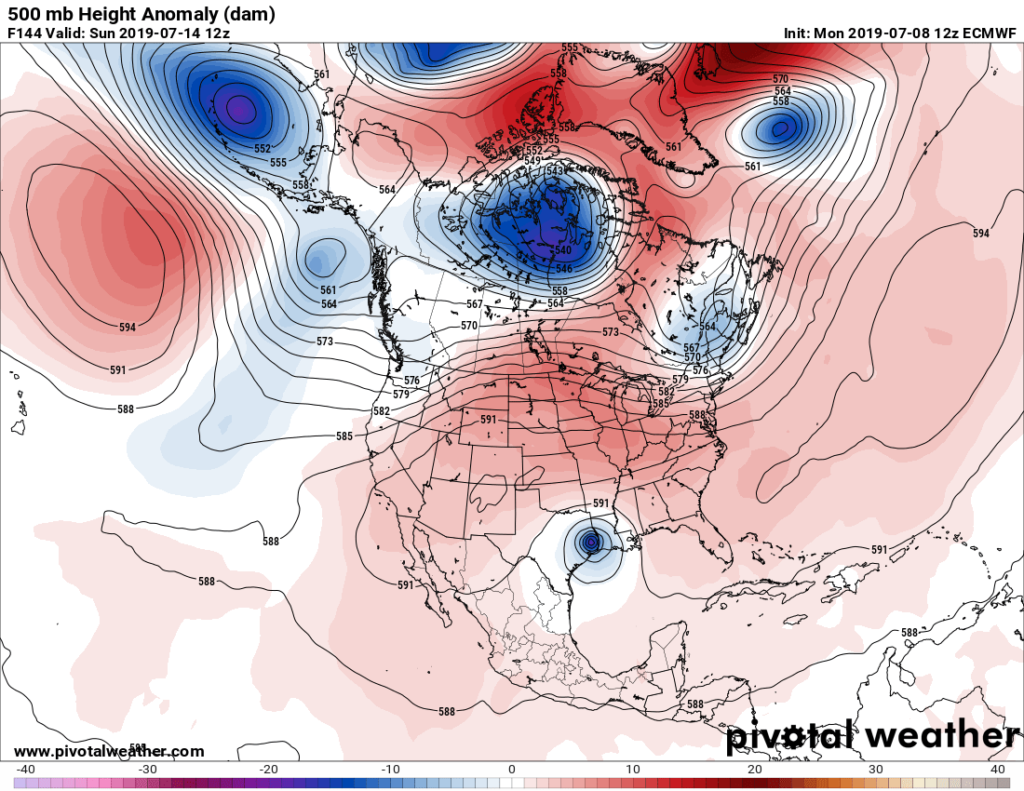 I'll keep all of my readers informed, of course, as events unfold.
……………………………………………………………………………………
Here is more climate and weather news from Monday:
(As usual, this will be a fluid post in which more information gets added during the day as it crosses my radar, crediting all who have put it on-line. Items will be archived on this site for posterity. In most instances click on the pictures of each tweet to see each article.)
Here is a hot "ET" from Alaska from Monday:
(If you like these posts and my work please contribute via the PayPal widget, which has recently been added to this site. Thanks in advance for any support.)
Guy Walton- "The Climate Guy"