Tuesday July 9th… Dear Diary. The main purpose of this ongoing blog will be to track United States extreme or record temperatures related to climate change. Any reports I see of ETs will be listed below the main topic of the day. I'll refer to extreme or record temperatures as ETs (not extraterrestrials).😉
U.S. To Undergo Third Heat Episode While Active Tropics Bring More Inundation To Central States
Today the old proverbial writing is on the wall in association with 92L and a new heat wave that will envelope most of the contiguous United States, with only a few details to be ironed out. Both weather "systems" will have climate change aspects. First, 92L almost certainly will become a tropical storm by Thursday, which should produce copious rainfall along a very slow path into the south-central states:
Rain will be most unwelcome in the central states, some which had a wettest 12 month period along with most of the East:
The European model for the last 48 hours has consistently taken a tropical storm into Louisiana. Here is the latest 120 hour North American plot:
A large ridge at 500 millibars will surround the tropical system after landfall by Sunday, so remnants of the storm will probably ever so slowly ooze north, northwest or northeast. 
Again as with Harvey in 2017 steering currents will be very weak, so rainfall may be horrifically heavy along this system's path. Those high Gulf temperatures will just feed into this precipitation producer.
Another aspect of this synoptic pattern will be the heat. Already a low grade heat wave is underway in the path of 92L looking at NWS advisories: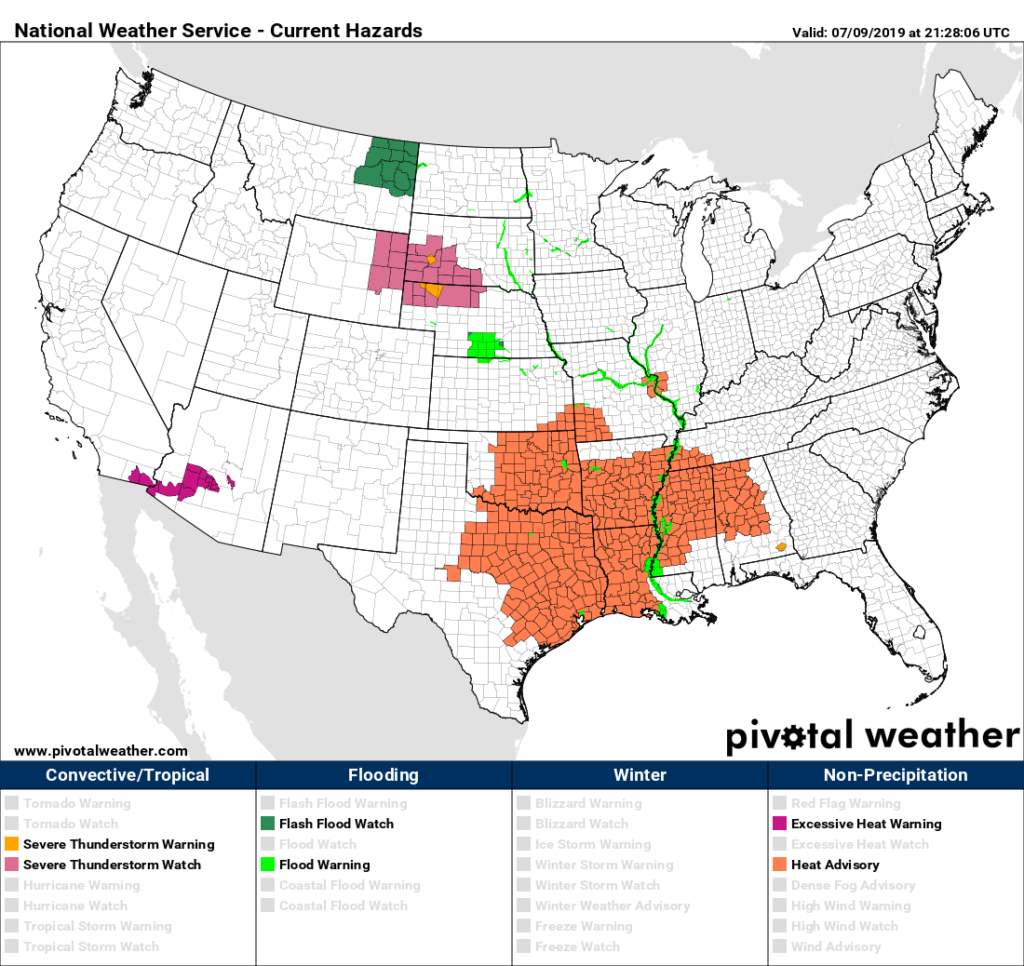 Hmm, Dear Diary. It looks like the tropical storm will be headed towards the area with the highest anomalous heat. The same thing happened a year ago when Michael gobbled up high heat in its path across the Southeast. Could this be a trend?
I suspect that the remnants of this tropical system will temporarily cool a few states along its path, but heat will be building around the system and perhaps big time:
Beyond 240 hours out I see the potential for the strongest heat ridge of the summer, but details, of course, are sketchy this far out.
I'll be posting notes on 92L and U.S. heat here this evening:
Here are Tuesday's maxes. No wonder heat advisories were posted for the south-central states:
Here is more climate and weather news from Tuesday:
(As usual, this will be a fluid post in which more information gets added during the day as it crosses my radar, crediting all who have put it on-line. Items will be archived on this site for posterity. In most instances click on the pictures of each tweet to see each article.)
(If you like these posts and my work please contribute via the PayPal widget, which has recently been added to this site. Thanks in advance for any support.)
Guy Walton- "The Climate Guy"