Tuesday July 16th … Dear Diary. The main purpose of this ongoing blog will be to track United States extreme or record temperatures related to climate change. Any reports I see of ETs will be listed below the main topic of the day. I'll refer to extreme or record temperatures as ETs (not extraterrestrials).😉
Major U.S. Heat Wave Day One
The proverbial writing is on the wall now. Starting today the CONUS east of the Rockies will have a significant, albeit short lived heat wave starting Wednesday and lasting at least through Sunday. The only historical significance of this episode will be numerous daily record high maxes and minimums that should be established from the Midwest into the Northeast. I rather doubt that there will be many all-time or monthly high maxes or mins coming from this heat wave looking at the forecast strength of the associated heat dome, but we will see.
One reason why the heat wave will probably not last too long will be what in meteorologist's jargon is called "retrogression." The heat dome will set up over the East but quickly retrograde westward towards the Rockies allowing a Canadian cold front to put the kibosh on the heat wave early next week. The heat dome may strengthen well beyond 594 decameters at 500 millibars as it moves westward, though, so perhaps the heat wave may not end so quickly in the central and southern Plains and might intensify in portions of the West.
Here is where that "merciful" front will be located by Monday morning from the GFS model as denoted by the stripe of precipitation stretching southwest from the Northeast states to Arizona: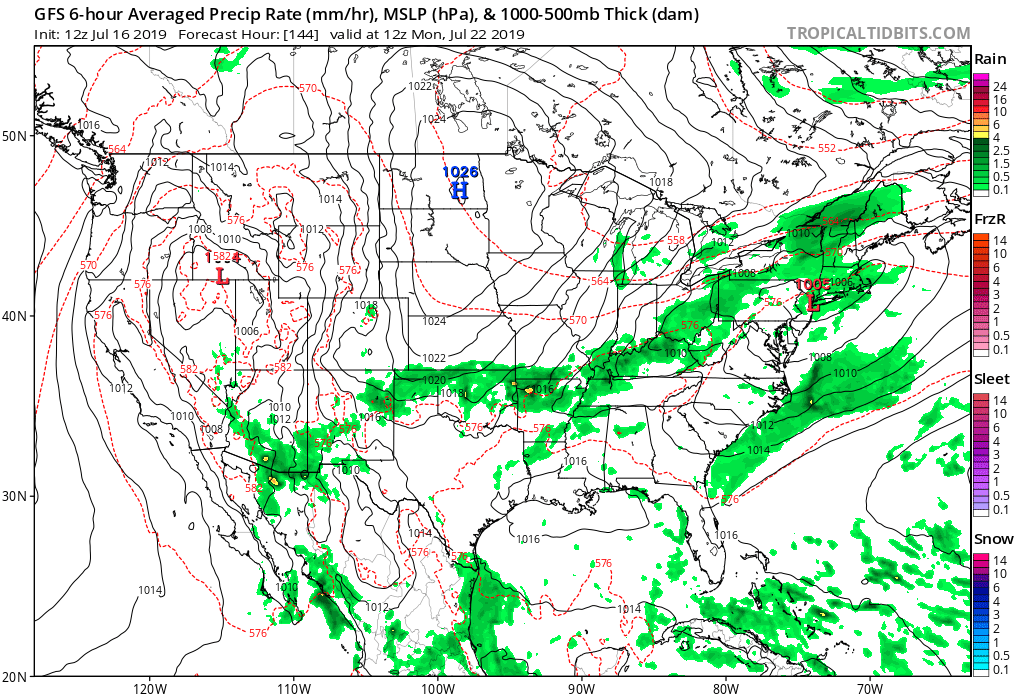 A refreshingly milder air mass should have already made its way into the Midwest by Monday.
Tomorrow heat will be building across the Plains. The remnants of Barry may temper readings some, but will be increasing heat indexes in the Northeast: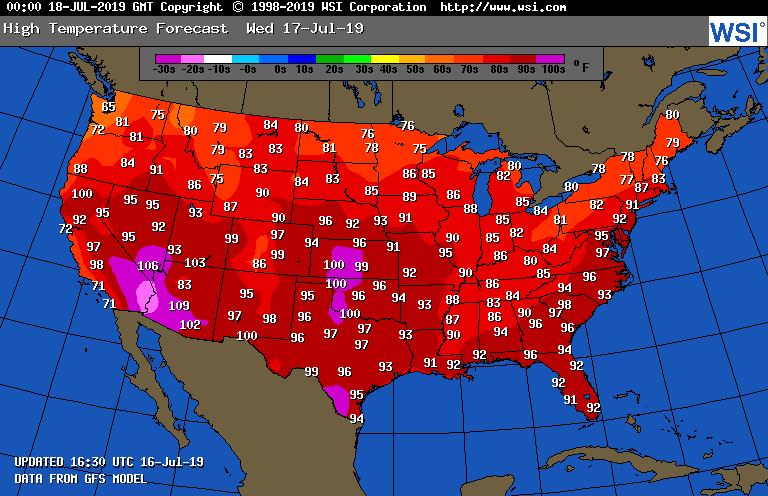 I started posting many informative social messages on this event yesterday. Here are many more from today with just a dash of humor. As usual, any newer messages that cross my radar during Tuesday will be listed at the top of this article. Check back from time to time to see if I have listed more:
Here is more climate and weather news from Tuesday:
(As usual, this will be a fluid post in which more information gets added during the day as it crosses my radar, crediting all who have put it on-line. Items will be archived on this site for posterity. In most instances click on the pictures of each tweet to see each article.)
(If you like these posts and my work please contribute via the PayPal widget, which has recently been added to this site. Thanks in advance for any support.)
Guy Walton- "The Climate Guy"