Friday August 2nd… Dear Diary. The main purpose of this ongoing blog will be to track United States extreme or record temperatures related to climate change. Any reports I see of ETs will be listed below the main topic of the day. I'll refer to extreme or record temperatures as ETs (not extraterrestrials).😉
A Better Answer For Climate Meetings…The Video Conference
Here are some question that all climatologist, people working on the climate issue, and meteorologists should be asking themselves. Is that conference I would like to attend, be it to the American Meteorological Society or American Geophysical Union using two examples, worth my extra carbon footprint? Would a social and professional "meet and greet" be worth a jet trip, which is far more carbon intensive than just about any other method of travel? Really, can I present something on line via a video, which would be much more constructive, than doing the same in person at some far flung city? This last question is key as we move into the 2020s.
Before I became a paraplegic I did attend a few conferences while being an employee at The Weather Channel. Traditionally like so many of my colleagues starting around the year 2000 I would prepare a power point, hop on a plane, go to a conference for a few days, give a scheduled presentation, then socialize. Looking back now I realize that I became part of the carbon problem, presenting relatively small scientific findings and getting only small snippets of education watching presentations (or bang for the carbon buck) while attending conferences. I did, though, get to network with and meet some very interesting people that I would have not been possible just staying in Atlanta, my home town.
In this day and age of Skype and Twitter it is now easier than ever to network and socialize with people without even getting out of your comfy bed or couch. We might loose some of the "human touch" by not meeting over drinks after giving long talks at conferences, but some things need to be sacrificed to make a climate statement…We will not put any more carbon in the atmosphere than is necessary to aid in the reduction of greenhouse gases in the long run.
In the near future I would suggest that most scientific presentations given at AMS or AGU be videotaped from home using now fairly cheap tech. I'm currently working on that skill hoping to present some of my work through YouTube. These video presentations could have a specific format agreed upon by each organization and be well advertised. One of my first presentations had only about twenty five people in attendance, and I stuttered over a few lines. As a better alternative, imagine giving a refined, rehearsed presentation that can be edited and updated as more data gets processed, with eventually thousands of people viewing your work.
Companies already are saving money by not having to shell out so much for travel to conferences using Skype and other new ways for communication. Nevertheless, I'm hoping that by the year 2030 airlines will be using electric planes fueled by wind and solar energy so that travel won't be so carbon intensive. It's always nice (and so human) to shake hands to develop social skills. Hopefully sacrifices for the sake of the climate will eventually see fruit this coming decade.
Here are some recent notes I have seen on this issue:
https://desdemonadespair.net/2019/08/a-listers-flock-to-google-summit-in-private-jets-mega-yachts-to-talk-climate-change-greta-thunberg-will-travel-to-un-summit-by-sail.html
August 1, 2019
A-listers flock to Google summit in private jets, mega yachts to talk climate change – Greta Thunberg will travel to UN summit by sail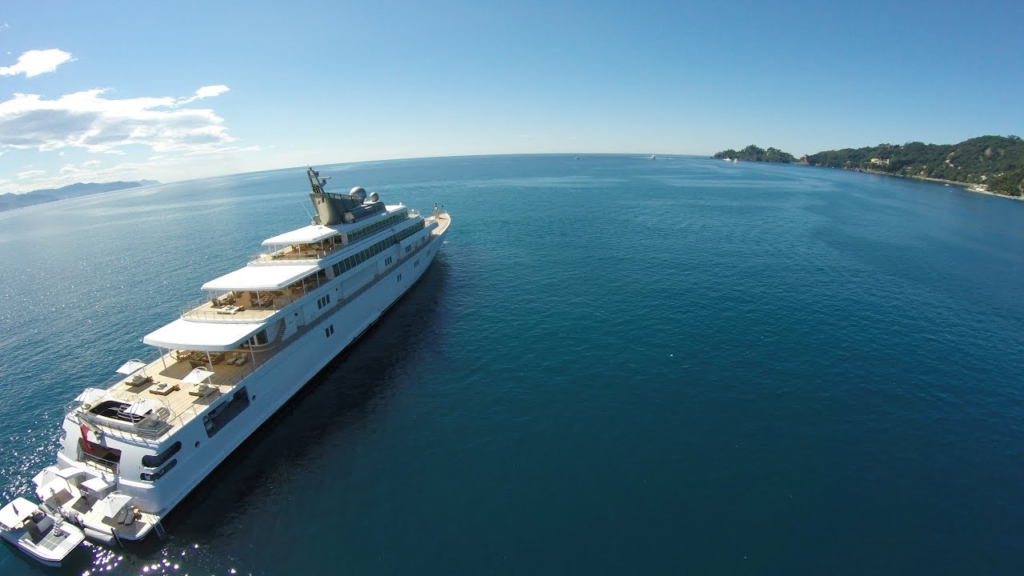 Super yacht the Rising Sun at the harbor of Santa Margherita Ligure, 24 June 2016. The Rising Sun is owned by billionaire and film producer David Geffen, filmed by a drone. The yacht is the 10th largest in the world. Photo: Fly View
By Emily Smith and Ebony Bowden
30 July 2019
(NY Post) – The world's rich and famous have flocked to a posh Italian resort to talk about saving Mother Earth — but they sure are punishing her in the process.
The billionaire creators of Google have invited a who's who of A-list names— including former President Barack Obama, Prince Harry, Leonardo DiCaprio and Katy Perry — to the Sicilian seaside for a mega-party they've dubbed Google Camp.
The three-day event will focus on fighting climate change — though it's unknown how much time the attendees will spend discussing their own effect on the environment, such as the scores of private jets they arrived in and the mega yachts many have been staying on.
"Everything is about global warming, that is the major topic this year," a source told The Post.
Their three-day summer camp will cost the tech giant some $20 million, sources said.
But according to Italian press reports, the attendees were expected to show up in 114 private jets, and 40 had arrived by Sunday.
The Post crunched the numbers and found that 114 first class seats from Los Angeles to Palermo, Italy, where Camp guests landed, would spew an estimated 784,000 kilograms of CO2 into the air. [more]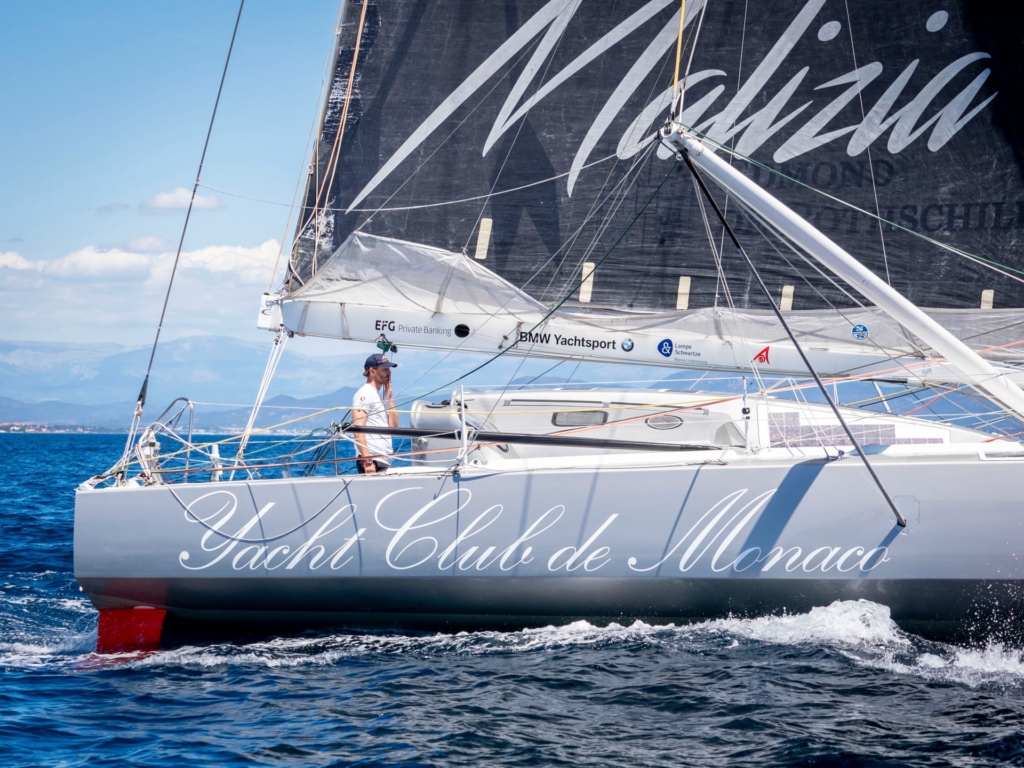 Racing yacht the Malizia in Saint-Tropez. Climate activist Greta Thunberg is to sail across the Atlantic in the Malizia II in August 2019 to attend UN climate summits in the U.S. and Chile. Photo: Arnold Jerocki / Getty Images
Greta Thunberg to sail across Atlantic for UN climate summits
By Jon Henley
29 July 2019
(The Guardian) – Greta Thunberg is to sail across the Atlantic in a high-speed racing yacht next month to attend UN climate summits in the US and Chile as part of a sabbatical year the 16-year-old Swedish climate activist will spend in the US.
"Good news! I'll be joining the UN Climate Action Summit in New York, COP25 in Santiago … I've been offered a ride on the 60ft racing boat Malizia II. We'll be sailing across the Atlantic Ocean from the UK to NYC in mid August," Greta tweeted. The journey will take two weeks.
The campaigner, whose solo protest last year sparked the Fridays for Future global school climate strike movement, said in June 2019 she would be taking a year off school to attend the summits, on 23 September in New York and 2-13 December in Santiago, which she described as "pretty much where our future will be decided".
But she said she did not yet know how she was going to get there. "It's on the other side of the Atlantic Ocean," she said. "And there are no trains going there. And since I don't fly, because of the enormous climate impact of aviation, it's going to be a challenge." [more]
Here is more climate and weather news from Friday:
(As usual, this will be a fluid post in which more information gets added during the day as it crosses my radar, crediting all who have put it on-line. Items will be archived on this site for posterity. In most instances click on the pictures of each tweet to see each article.)
(If you like these posts and my work please contribute via the PayPal widget, which has recently been added to this site. Thanks in advance for any support.)
Guy Walton- "The Climate Guy"