Sunday August 11th… Dear Diary. The main purpose of this ongoing blog will be to track United States extreme or record temperatures related to climate change. Any reports I see of ETs will be listed below the main topic of the day. I'll refer to extreme or record temperatures as ETs (not extraterrestrials).😉
A New Scientific Beef With Accuweather
I've never in my career met Joel Myers, who in a slightly different world I could have worked for at his meteorological company AccuWeather in Pennsylvania. As I recall, back in 1983 AccuWeather was one of the companies I applied to fresh out of Florida State besides The Weather Channel. I think I had a better career at TWC than I could have had at AccuWeather given the "unscientific" overall atmosphere, pardon the pun, surrounding that company coming from the top right through 2019. AccuWeather has been part and parcel to such characters as Joe Bastardi, who have been adamant climate crisis deniers. AccuWeather is one reason why meteorologists have gotten a bad reputation on climate science since that organization has retained many denying that the Earth is warming due to carbon pollution. The Weather Channel, on the other hand, has embraced the science moving forward through the 2010s.
Two climate science writers that I have met and have exchanged many notes over the years are Jason Samenow and Andrew Freedman. Both are fine writers and experts in the field of climate science. Andrew Freedman has now recently teamed up with Jason Samenow at the Washington Post. Here is a reprint of their response to what Joel Myers wrote Wednesday via Desdemona Despair concerning heat waves, which are now my life's work, research wise, and the primary reason for starting guyonclimate.com. I'm more than a little miffed, by the way, that people who declare themselves as scientists still deny so much peer reviewed science:
https://desdemonadespair.net/2019/08/accuweather-misleads-on-global-warming-and-heat-waves-a-throwback-to-its-past-climate-denial.html
AccuWeather misleads on global warming and heat waves, a throwback to its past climate denial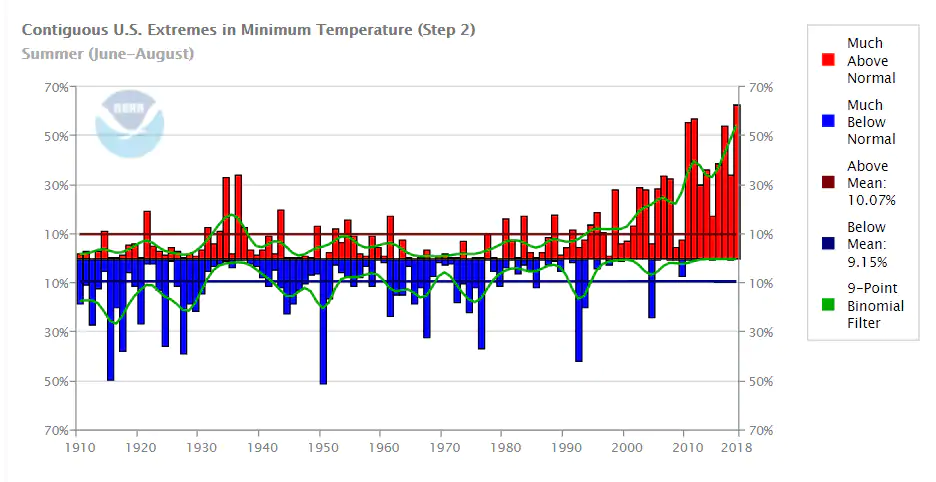 Percent of U.S. experiencing extremely high and low nighttime (or minimum) summer temperatures, 1910-2018. Graphic: NOAA
By Jason Samenow and Andrew Freedman
9 August 2019
(The Washington Post) – A week after a punishing heat wave torched the eastern two-thirds of the country, setting numerous records, AccuWeather chief executive Joel Myers cast doubt on the scientific finding that heat waves in the United States and elsewhere are worsening because of climate change. This point of view, at odds with peer-reviewed research, is reminiscent of the contrarian position AccuWeather took on the climate change issue in the 1990s, which historical documents recently obtained by The Washington Post shine light on. [h/t Bill]
Both then and now, AccuWeather has landed on the wrong side of the science.
Myers's essay "Throwing cold water on extreme heat hype," published online Wednesday, attempts to debunk the scientific finding that heat waves in the United States are becoming more severe, but he cherry-picks data and shows an incomplete understanding of the drivers of temperature change.
"[A]lthough average temperatures have been higher in recent years, there is no evidence so far that extreme heat waves are becoming more common because of climate change, especially when you consider how many heat waves occurred historically compared to recent history," Myers writes.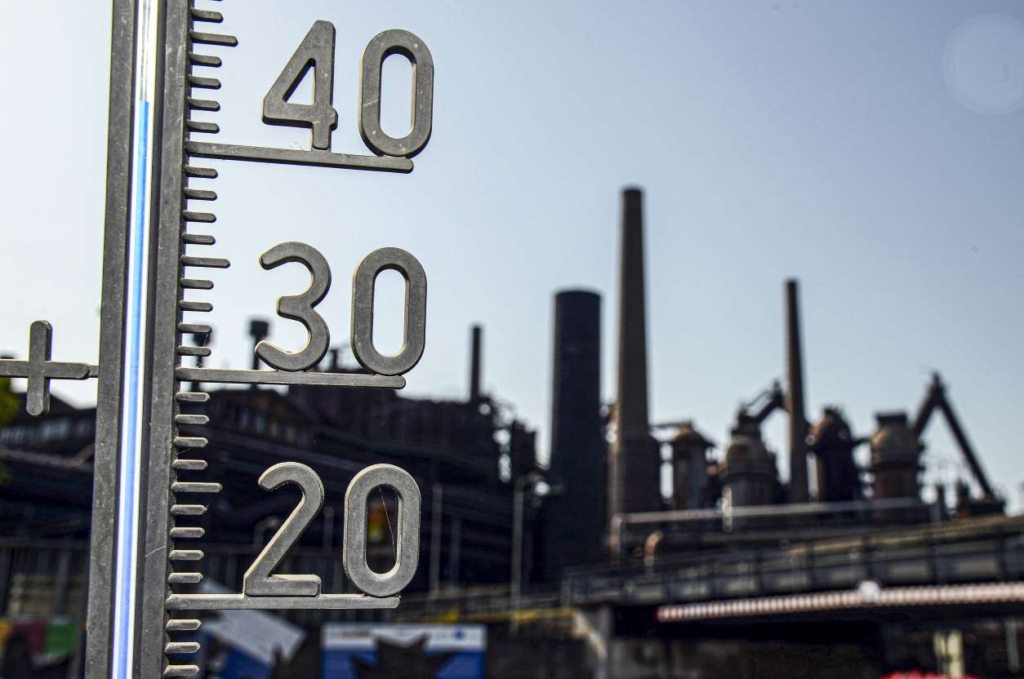 A thermometer show the temperature of over 40 degrees at the Volklingen Ironworks in Volklingen, Germany on 24 July 2019. Photo: Harald Tittel / AFP / Getty Images
In saying this, he ignores the U.S. government's National Climate Assessment, published in 2018 and signed off on by 13 federal agencies, which flat out states — with very high confidence — that the frequency of heat waves has increased since the mid-1960s.
Myers relies mostly on historical data from the 1930s to make his case that heat waves haven't gotten worse. "Here is a fact rarely, if ever, mentioned," he writes, "26 of the 50 states set their all-time high temperature records during the 1930s that still stand (some have since been tied)."
He concludes: "Given these numbers … it cannot be said that either the frequency or magnitude of heat waves is more common today."
But there are problems with this argument that have been addressed in the scientific literature and independent analyses.
The heat waves of the 1930s were exacerbated by land mismanagement tied to the Dust Bowl. [more]
Yes there was a "bump" in warmth in statistics coming from the 1930s due to the Dust Bowl, but every time I see this point I try to whack people over the heads with my own data:
Here are record numbers going into the above chart:
Here is the peer reviewed paper I was part of:
https://agupubs.onlinelibrary.wiley.com/doi/full/10.1029/2009GL040736
Sorry Joel Myers. True statistics that are part of peer reviewed science can't be denied.
Here is more climate and weather news from Sunday:
(As usual, this will be a fluid post in which more information gets added during the day as it crosses my radar, crediting all who have put it on-line. Items will be archived on this site for posterity. In most instances click on the pictures of each tweet to see each article.)
(If you like these posts and my work please contribute via the PayPal widget, which has recently been added to this site. Thanks in advance for any support.)
Guy Walton- "The Climate Guy"