Monday August 12th… Dear Diary. The main purpose of this ongoing blog will be to track United States extreme or record temperatures related to climate change. Any reports I see of ETs will be listed below the main topic of the day. I'll refer to extreme or record temperatures as ETs (not extraterrestrials).😉
Santa's Lightning + An Update On A Southern Scorcher
I was very impressed over the last twenty-four hours with reports about lightning happening near the North Pole, presumably due to this summer's ongoing Arctic heatwave. How rare is this phenomenon? Is this a good sign of global warming? Can we expect more thunderstorms across the Arctic region as the planet warms? To try to answer these questions I will turn to two climate scientists, Daniel Swain.
Here are notes from Dr. Daniel Swain:
Obviously since with time heat will only increase across the Arctic region folks, one of my questions is really rhetorical. My answer is yes we should see an increase of thunderstorms across the Arctic. Remember, as I keep writing and saying, the more energy put or stored into a system the more that system has to release energy, and this can take the form of lightning in storms.
Now let's take our attention away from the Arctic and head to the U.S. South where I live.
The last few days have been extra hot with Atlanta hitting 96F for a max on both Sunday and Monday. I'm expecting a high of 97F on Tuesday, which may very well be the hottest day of the year. Atlanta has been and will be mild compared with what is happening westward into the hot state of Texas:
Heat advisories are widespread for the first time this season across a very large area of the South and Plains:
The combination of heat and high dewpoints above 70F will continue to send apparent temperature measurements to as high as 115F along the Gulf Coast and Mississippi Valley region.
Here is more as quoted by the Washington Post concerning a glaring "Extreme Temperature" event from this heat wave:
https://www.washingtonpost.com/weather/2019/08/09/heat-index-galveston-has-remained-above-over-hours-its-part-another-major-heat-wave/
The heat index in Galveston remained above 100 for 40 straight hours. It's part of another major heat wave.
Even in the dead of night, there's no respite. The Texas Gulf Coast city registered its warmest low temperature on record Thursday.
Heat continues to build across the Deep South and Texas Gulf Coast, where the hot temperatures have combined with high humidity. (SSEC/RealEarth/University of Wisconsin at Madison)
By Matthew Cappucci August 10
This story has been updated.
The heat index hit 100 degrees at 6 a.m. Thursday in Galveston, Tex. And, it didn't drop below that until 10 p.m. Friday night. It's part of a larger heat wave across the Deep South and Southern Plains that shows no signs of letting up through at least next week.
Heat advisories stretched over 1,000 miles from the U.S.-Mexico border to Georgia, encompassing more than 30 million in the forecast for "dangerous heat."
Galveston failed to drop below 86 degrees Thursday, marking its warmest all-time low temperature on record. Records there date back to 1874. Galveston also set a daily record high Thursday, hitting 96 degrees. The heat index rose as high as 117 and hasn't fallen below the upper 90s in days.
…………………………….
Still, looking at trends I don't expect that this round of heat will be hot enough to produce an exceptional number of daily record high maximums. However, just like with what happened during the July East Coast and Midwest heatwave, we may see hundreds of record high minimums. Needless to write A.C. systems will be humming until a late week cold front puts at least a temporary kibosh on some of the heat and humidity.
Dear Diary. Here are Monday's hot maxes: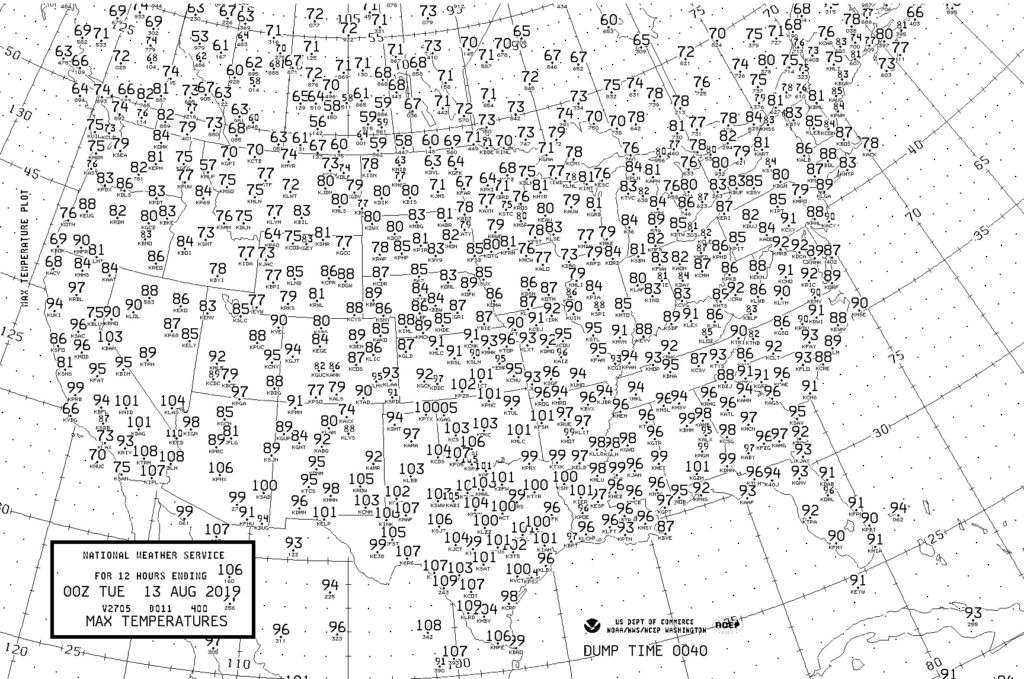 Here is more climate and weather news from Monday:
(As usual, this will be a fluid post in which more information gets added during the day as it crosses my radar, crediting all who have put it on-line. Items will be archived on this site for posterity. In most instances click on the pictures of each tweet to see each article.)
(If you like these posts and my work please contribute via the PayPal widget, which has recently been added to this site. Thanks in advance for any support.)
Guy Walton- "The Climate Guy"