Tuesday August 13th… Dear Diary. The main purpose of this ongoing blog will be to track United States extreme or record temperatures related to climate change. Any reports I see of ETs will be listed below the main topic of the day. I'll refer to extreme or record temperatures as ETs (not extraterrestrials).😉
Siberian Heat And Fire
We've delved into a tremendous couple of European heat waves and some to lesser degree across the United States during this North American summer, but there is one more that has been smoldering that I haven't mentioned much that could literally wreck the climate much more than any I have covered so far in 2019. The sparsely populated Siberian region is literally on fire this year. Here is a note that was passed to me earlier today:
The forests encompassing Siberia are a big part of the planet's lungs, much like those of the Amazon and western portions of North America. If these die the climate of the planet dies, getting much hotter in a hurry, well above +2.0C above preindustrial conditions. They also help to protect permafrost from thawing farther north near the Arctic sea.
For more on this year's unfortunate Siberian story here is a piece from Desdemona Despair:
https://desdemonadespair.net/2019/08/massive-wildlife-tragedy-in-siberia-as-bears-and-foxes-flee-taiga-while-smaller-animals-suffocate-in-smoke-the-climatic-situation-will-deteriorate-in-siberia.html
Massive wildlife tragedy in Siberia as bears and foxes flee taiga, while smaller animals suffocate in smoke – "The climatic situation will deteriorate in Siberia"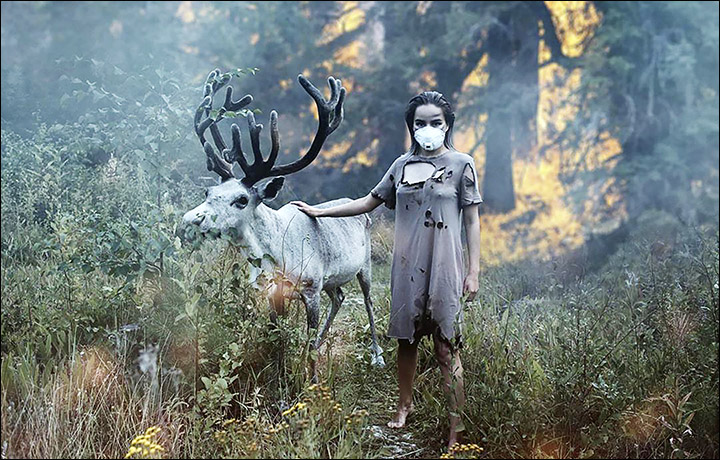 Yakutsk photographer Natalia Negnyurova created this composite image with a reindeer to attract attention to the threat that Siberian wildfires pose to wildlife. She said, "After we posted the pictures, many messaged us worrying that 'model' animals were distressed from being so close to fire. We took both pictures in the woods on Yakutia, with a rabbit and a reindeer. The smoke was a bit enhanced while the fire was added later via photo editor". Photo: Natalia Negnyurova
By Svetlana Skarbo
1 August 2019
(The Siberian Times) – Predators seek food in villages all around Siberia as climate expert warns of worse fires each year due to soaring rise in temperatures, 10°C above average.
Wild animals are turning to humans as they escape gas-chamber-like woods, with wildfires continuing to rage across almost 3 million hectares.
Even the Arctic is on fire, with smoke blanketing an area larger than the European Union, and a state of emergency declared in several large areas of Siberia.
And a dire warning has been sounded about a major change in climate in Siberia.
Maksim Yakovenko, head of the Russian Federal Service on Hydrometeorology and Environmental Monitoring said: 'The key issue was forest firefighting, so I would like to say that the situation will be worsening each year because (of) climate change.
Temperatures in some Siberian regions had already exceeded average levels by 8 to 10 degrees Centigrade, he said.
'It means that in the future we will be facing lasting heatwaves, drying soils, and so the temperatures will be rising, not exponentially, but at a significant pace, higher than on average across the world.
'That is why, the climatic situation will deteriorate (in Siberia).' […]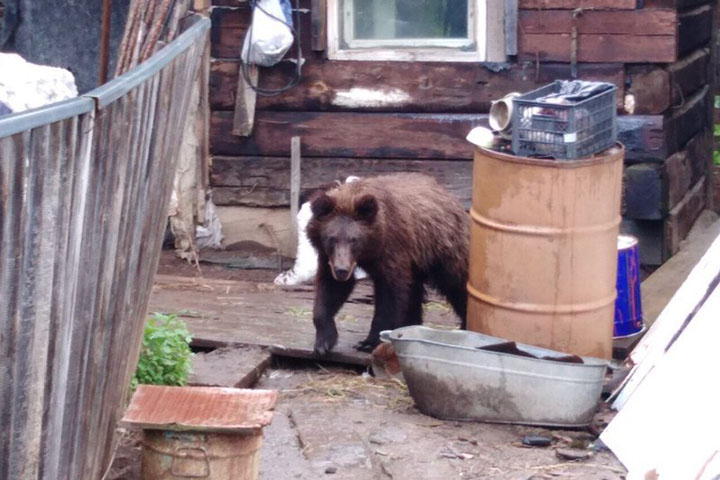 A bear that fled wildfires in Siberia came to people to seek help in the village of Zamzor, Irkutsk region, 1 August 2019. The bear turned out to be aggressive and was shot. Photo: The Siberian Times
'A small brown bear walked out of woods last night.
'It was all skin and bones, with visible traces of burns and so exhausted that it wasn't scared of people', said resident of Angarsk Maya Fleishter.
'My husband who is now in the Ust-Kut taiga gave the bear cookies and water.'
'The bear growled at first, but then gulped water and took cookies, making all the watching – and who themselves spent last week suffocating from fumes – cry.'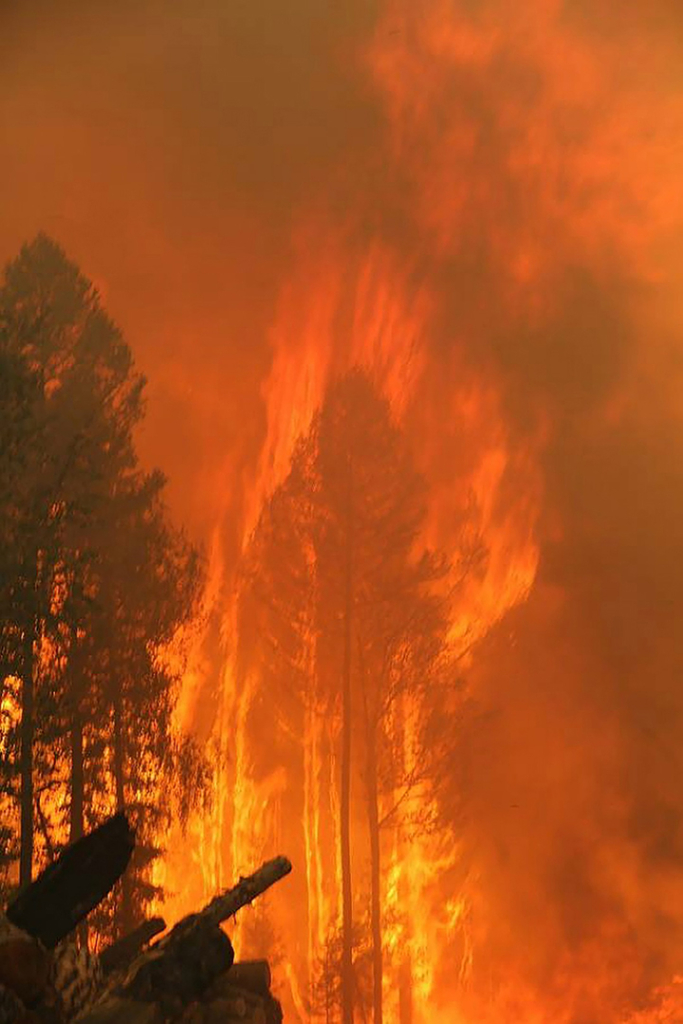 Flames consume a tree as wildfires rage in the Krasnoyarsk region of Siberia, 1 August 2019 Photo: The Siberian Times
Panicking animals are reported to be seen east and west of Lake Baikal, including on the territory of vast Krasnoyarsk region and in Russia's coldest region Yakutia which is also on fire.
A family of foxes, with the mother managing to take her young cubs out of the woods and moving them to live right next to a road, in full view of shift workers at Ichedinsky oil mine, said one report. [more]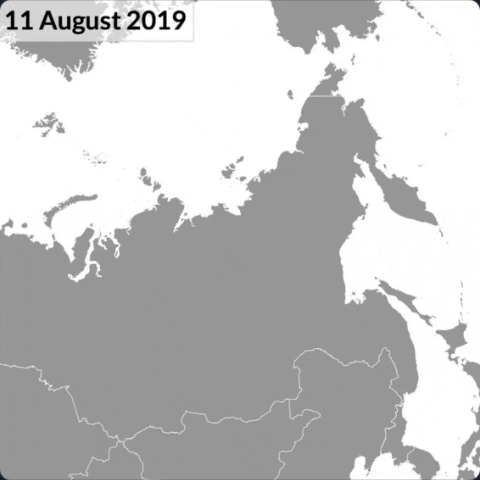 11 August 2019 (Twitter) – This satellite view shows more than 5 million km² of Siberia covered by smoke from wildfires on 11 August 2019. For comparison, the area of the EU is about 4.5 million km², and the area of contiguous U.S. about 8.1 million km². Satellite image: MODIS / Terra. Graphic: Antti Lipponen
………………………………………………….
A strong ridge aloft has been evident over north-central Asia for most of the summer leading to the heat and fire. If I see more specifics on the Siberian situation I'll add them to this post.
Also:
…………………………………………………
As far as a "minor" U.S. heat wave goes, the thing peaked ahead of a cold front that will give many a temporary respite starting on Wednesday. My home town of Atlanta saw a record tying 100F. Dangerous heat stretched from Georgia all the way west to El Paso this afternoon:
500 millibar heights will stay high or above average through at least Labor Day, so I do expect more dangerous August heat to pop up in the August days to come.
Dear Diary. Here were Tuesday's maxes. Note the wide swath of 100s stretching from Atlanta westward:
Here is more climate and weather news from Tuesday:
(As usual, this will be a fluid post in which more information gets added during the day as it crosses my radar, crediting all who have put it on-line. Items will be archived on this site for posterity. In most instances click on the pictures of each tweet to see each article.)
Here is one fairly significant "ET" from Tuesday:
(If you like these posts and my work please contribute via the PayPal widget, which has recently been added to this site. Thanks in advance for any support.)
Guy Walton- "The Climate Guy"