Sunday August 25th… Dear Diary. The main purpose of this ongoing blog will be to track United States extreme or record temperatures related to climate change. Any reports I see of ETs will be listed below the main topic of the day. I'll refer to extreme or record temperatures as ETs (not extraterrestrials).😉
Third 2019 European Heat Wave
As the proverbial weather fates would have it, a third historic heat wave is in the process of ramping up in Europe. Once again meteorologists are noticing that the associated heat dome at 500 millibars is originating over northern Africa, building over western Europe, then bulging north through Scandinavia. By Tuesday the 12Z Sunday European model has this hot configuration: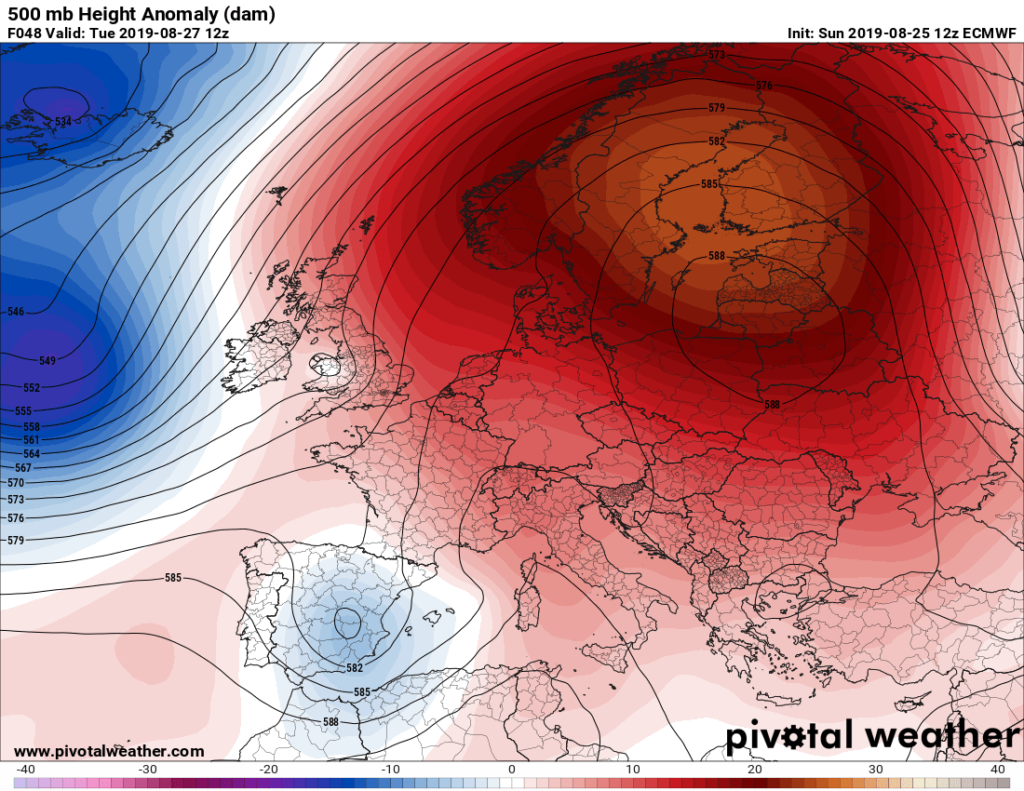 Here is what is quoted by the Washington Post on this latest round of life threatening heat:
(Europe to see third major heat wave this summer, as temperatures soar from France to Scandinavia)
"It's the latest in a series of extreme heat events demonstrating the influence of a warming world."
https://www.washingtonpost.com/weather/2019/08/22/europe-see-third-major-heat-wave-this-year-temperatures-soar-france-Scandinavia/
By Matthew Cappucci and Andrew Freedman August 22
"For the third time this summer, parts of Europe will soon be dealing with another heat wave. Temperatures will climb some 20 degrees above average in spots beginning this weekend, baking much of Eastern Europe and Scandinavia in unseasonable warmth."
"On Saturday, the heat will begin to crank up across most of Europe before consolidating over central Europe on Sunday. By Tuesday, a bubble of significant heat will pinch off and settle over Scandinavia, while the rest of the dome will settle south and reorganize over the Balkans."
"The sweltering conditions are set to arrive in Germany on Sunday, when Frankfurt could hit the upper 80s. Then they will be within a degree or two of 90 on Monday, Tuesday and Wednesday — pretty impressive considering the average high there this time of year is just 71 degrees."
"Most late-August nights in Frankfurt drop into the middle 50s. July tends to be the hottest month there, and indeed it was — during last month's heat wave, Germany recorded an all-time record high of 108.7 degrees."
"It's a similar story in neighboring Poland, which will be ground zero for the heat midweek. Warsaw will also flirt with 90 degrees Wednesday, up 20 degrees above its average high of 69 degrees. Warsaw hasn't hit 90 or higher since June 30."
"Lodz, a city of 700,000 in central Poland, could see overnight lows Monday and Tuesday that come close to eclipsing their average daytime high temperature. In Paris, highs will be in the upper 80s to near 90 from Saturday through Tuesday."
"The French capital already saw two intense heat waves this season, making this one particularly unwelcome. Paris typically spends most of August in the mid-70s. Even London will be 15 degrees above normal to start the workweek."
I'll be adding reports of extreme temperatures with time on this blog, of course.
Here is more climate and weather news from Sunday:
(As usual, this will be a fluid post in which more information gets added during the day as it crosses my radar, crediting all who have put it on-line. Items will be archived on this site for posterity. In most instances click on the pictures of each tweet to see each article.)
(If you like these posts and my work please contribute via the PayPal widget, which has recently been added to this site. Thanks in advance for any support.)
Guy Walton- "The Climate Guy"