Monday August 26th… Dear Diary. The main purpose of this ongoing blog will be to track United States extreme or record temperatures related to climate change. Any reports I see of ETs will be listed below the main topic of the day. I'll refer to extreme or record temperatures as ETs (not extraterrestrials).😉
The Amazon…"All We Are Seeing Is Death."
Obviously, beyond any heatwaves this year, the biggest environmental story of our time is the burning of the Amazon tropical forests. Desdemona Despair is also keeping an eye on this horrendous situation, and most news as of Monday is not good. Since this story is so big I'll be updating my readership from time to time through most of the rest of 2019 on any changing Brazilian conditions, whether they be environmental or political. Here is information from my first article:
https://guyonclimate.com/2019/08/22/extreme-temperature-diary-august-22nd-2019-the-amazon-is-burning/
The following are four reports from Desdemona Despair:
https://desdemonadespair.net/2019/08/flying-above-the-amazon-fires-all-you-can-see-is-death.html
Flying above the Amazon fires, "all you can see is death"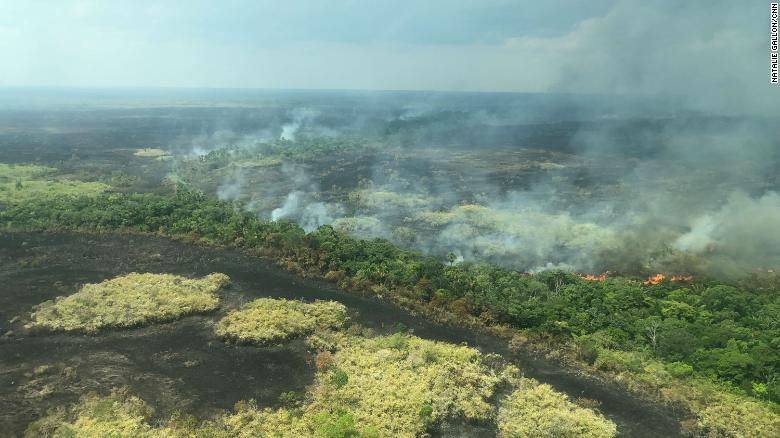 Aerial view of a wildfire burning in the Amazon rainforest near Porto Velho, Brazil, 26 August 2019. The Brazilian state of Rondonia has 6,436 fires burning so far this year in it, according to Brazil's National Institute for Space Research (INPE). Photo: Natalie Gallón / CNN
By Nick Paton Walsh and Natalie Gallón
26 August 2019
Porto Velho, Brazil (CNN) – The smoke is so thick, at times the Cessna airplane had to climb to stay out of it. At times your eyes burn and you close the air vents to keep the cabin habitable. Sometimes it is so bad, it is hard to see how bad it actually is on the ground below.
Flying above the Amazon's worst afflicted state (during last week), Rondonia, is exhausting mostly because of the endless scale of the devastation. At first, smoke disguised the constant stream of torched fields, and copses; of winding roads that weaved into nothing but ash. Below, the orange specks of a tiny fire might still rage, but much of the land appeared a mausoleum of the forest that once graced it.
"This is not just a forest that is burning," said Rosana Villar of Greenpeace, who helped CNN arrange its flight over the damaged and burning areas. "This is almost a cemetery. Because all you can see is death."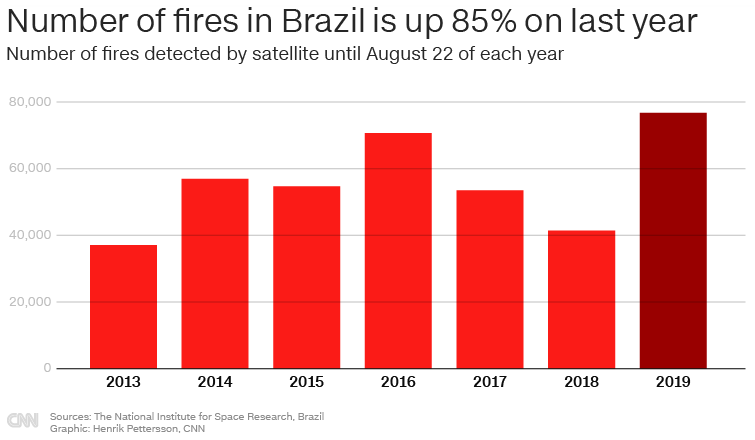 The stark reality of the destruction is otherworldly: like a vision conjured by an alarmist to warn of what may come if the world doesn't address its climate crisis now. Yet it is real, and here, and now, and below us as we are scorched by the sun above and smoldering land below.
Rondonia has 6,436 fires burning so far this year in it, according to Brazil's National Institute for Space Research (INPE). NASA says the state has become one of the most deforested states in the Amazon. Brazil has 85% more fires burning than this time last year — up to 80,626 nationwide as of Sunday night.
President Jair Bolsonaro, after being scolded, called a liar, and threatened with trade sanctions by some leaders of the G7, declared on Friday he would send 43,000 troops to combat the Amazon's inferno. (He had previously fired the director of INPE for releasing figures he didn't agree with, and in his Friday speech still said the Amazon should be used to enrich Brazil's people).
Yet while the Amazonian city of Porto Velho reels from a cloud of smoke that blights its mornings, and from the occasional C130 cargo plane buzzing overhead, the forest around it that we flew over showed no sign of an increased military presence Sunday.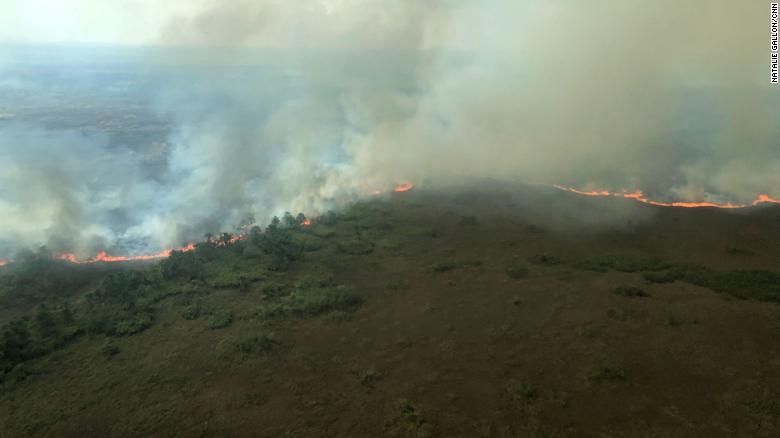 Aerial view of a wildfire burning in the Amazon rainforest near Porto Velho, Brazil, 26 August 2019. The Brazilian state of Rondonia has 6,436 fires burning so far this year in it, according to Brazil's National Institute for Space Research (INPE). Photo: Natalie Gallón / CNN
The task is enormous, almost insurmountable. In the areas where the smoke is most intense, the sun barely creeps through to shine off the river. I saw one bird in this natural sanctuary in three hours. Flames seem to move in a steadfast line across the savannah, swallowing whole what forest remains in their path.
There are the occasional buildings, isolated in the newly created farmland around them. But no signs of human life, just cattle, caught in the swirling clouds and flame. They are often the reason for the fires: the rush to deforest sparked by a growing global market for beef. Cattle need soy grown on the fields, or to graze on the grass, and then become the beef Brazil sells to China, now a trade war with the United States has changed the market.
The reason for the fires is disputed, but not that convincingly from this height. Bolsonaro has said that they are part of the usual annual burn, in this, the dry season. But his critics, many of them scientists, have noted the government's policy of encouraging deforestation has boosted both the land clearance that helps fires rage, and given the less scrupulous farmer license to burn. [more]
Flying above the Amazon fires, 'all you can see is death'
Next via the Washington Post:
https://desdemonadespair.net/2019/08/heres-how-the-amazon-wildfires-and-deforestation-look-from-space.html
Here's how the Amazon wildfires and deforestation look from space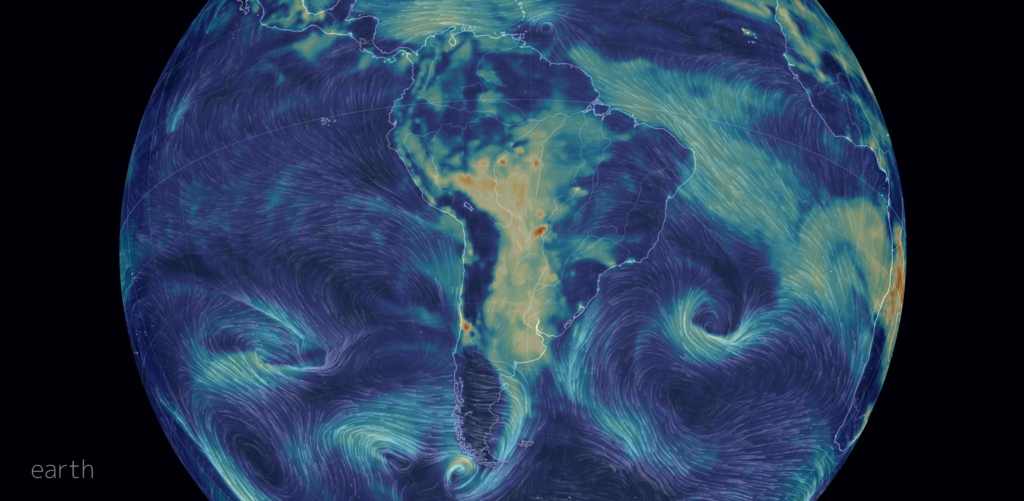 Satellite view of particulate matter (PM2.5) from wildfires in the Amazon rainforest, 26 August 2019. Graphic: Earth Wind Map / earth.nullschool.net
By Andrew Freedman
22 August 2019
(The Washington Post) – The wildfires burning in the Amazon have the potential to release vast quantities of long-stored carbon — thereby accelerating climate change and cause permanent harm to the planet's most biodiverse ecosystems.
A fleet of public and private-sector satellites are keeping tabs on deforestation rates in the Amazon, of particular interest now that the Brazilian government of President Jair Bolsonaro pursues a pro-development policy agenda. Bolsonaro has encouraged the expansion of agriculture into indigenous forested lands.
Here are some of the satellite views to help drive home the scope and severity of the fires. Since 1 January 2019, a total of 75,336 wildfires have been detected in Brazil, an 85 percent jump compared to 2018, and an increase of 6,852 fires detected compared to the drought-driven wildfire season in 2016. Right now, there is no significant drought to be blamed for the fires. Instead, humans are the most likely culprit, both accidentally and intentionally. […]
Paulo Moutinho, a senior researcher at the Woods Hole Research Center, says the Amazon stores a cumulative total of about a decade's worth of carbon when using current global annual emissions rates. This amounts to about 90 billion metric tons of carbon.
"If you continue to deforest … you are releasing this huge amount of carbon to the atmosphere," he said. According to Moutinho, the spike in deforestation via wildfires this year follows years of progress on protecting the Amazon. He noted that deforestation was reduced by 80 percent between 2004 and 2012, for example.
Here is a time-lapse showing deforestation over the span of a few years, through August 2019, northeast of Jip-Paraná, in the state of Rondonia, Brazil. […]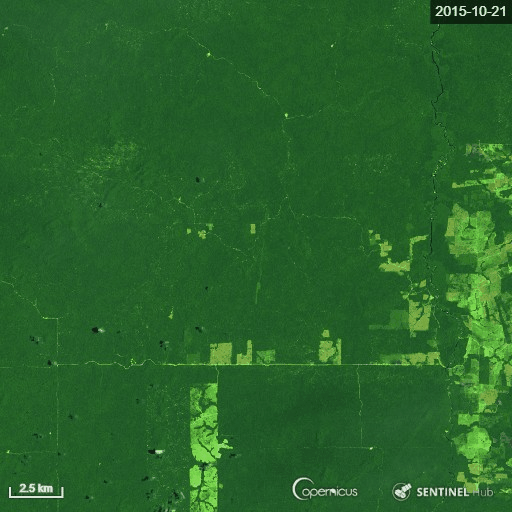 Ironically, Moutinho points out that increased deforestation plus climate trends may lead to so much drying in the Amazon that the lands that were cleared for agriculture can no longer support such activities, due to a lack of irrigation. [more]
Photos: Here's how the Amazon wildfires and deforestation look from space
Here are Brazilian stories posted from August 23rd and 24th:
https://desdemonadespair.net/2019/08/hundreds-of-new-fires-in-brazil-as-world-outrage-grows-over-amazon-destruction-bolsonaro-reverses-course-and-mobilizes-armed-forces-brazil-agricultural-industry-fears-global-boycot.html
Hundreds of new fires in Brazil as world outrage grows over Amazon destruction – Bolsonaro reverses course and mobilizes armed forces – Brazil agricultural industry fears global boycott – "Today, because of Bolsonaro, all our work is turning into ashes"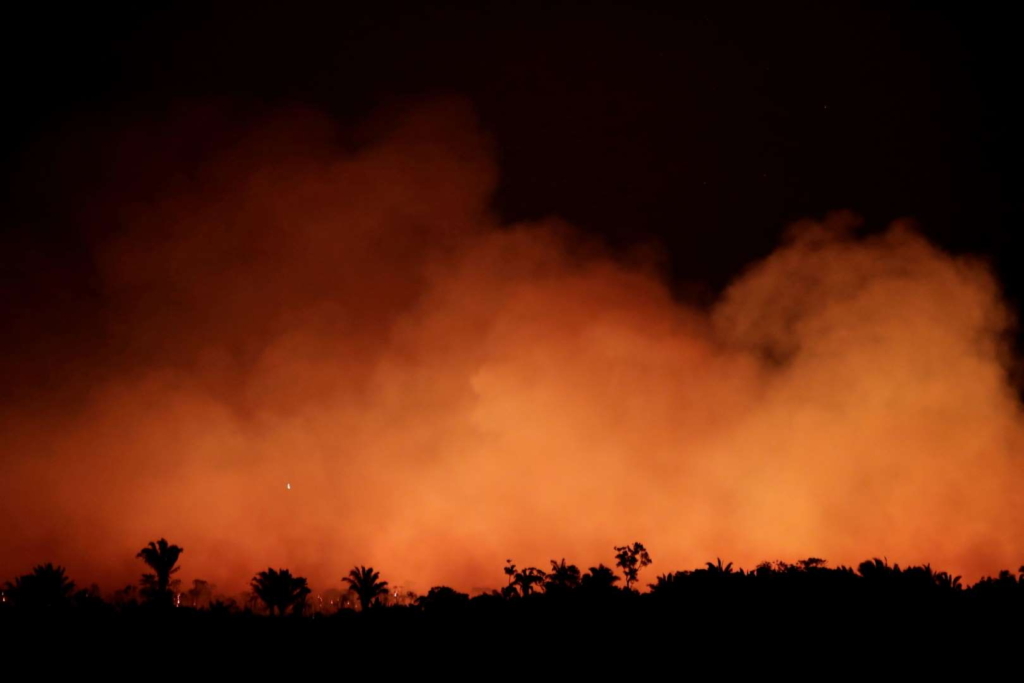 Smoke billows at night during a fire in an area of the Amazon rain forest near Humaita, Amazonas State, Brazil, on 17 August 2019. Photo: Ueslei Marcelino / Reuters
24 August 2019 (AFP) – Hundreds of new fires are raging in the Amazon rainforest in northern Brazil, official data showed Saturday, amid growing international pressure on President Jair Bolsonaro to control the worst blazes in years.
Multiple fires were seen across a vast area of the northwestern state of Rondonia on Friday when AFP journalists flew over the area.
Several people in the capital Porto Velho told AFP Saturday that what appeared to be light clouds hanging over the city was actually smoke from the blazes.
"I'm very worried because of the environment and health," Delmara Conceicao Silva told AFP.
"I have a daughter with respiratory problems and she suffers more because of the fires."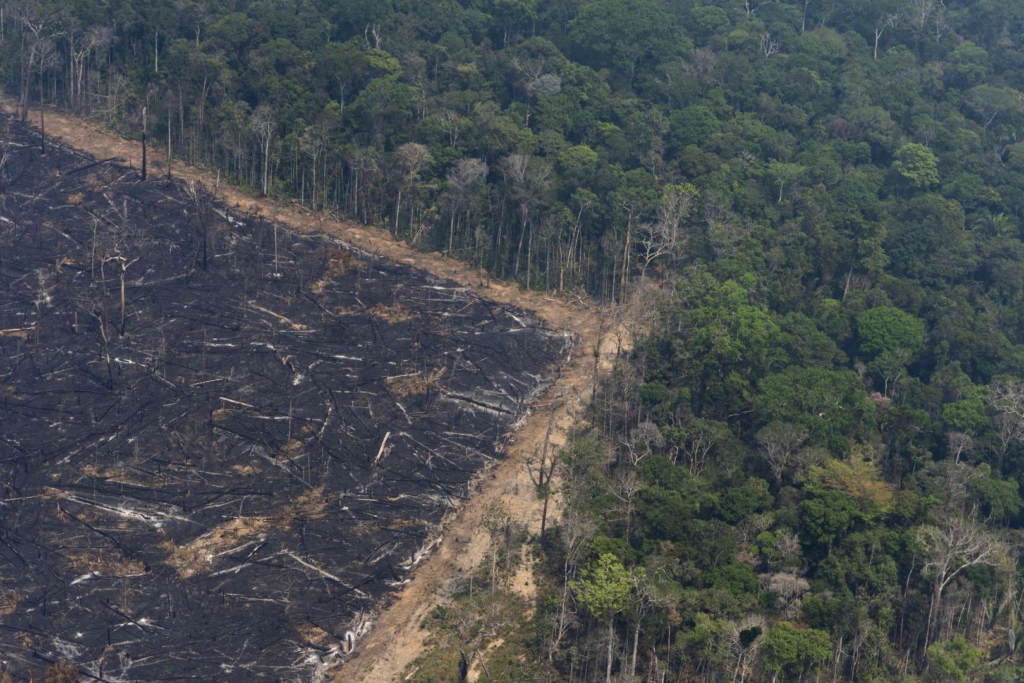 Aerial view of intact rainforest standing next to an area that was burned intentionally near Porto Velho, in the state of Rondonia, on 23 August 2019. Photo: Victor R. Caivano / AP Photo
The fires in the world's largest rainforest have triggered a global outcry and are a major topic of concern at the G7 meeting in Biarritz in southern France.
Official figures show 78,383 forest fires have been recorded in Brazil this year, the highest number of any year since 2013. Experts say the clearing of land during the months-long dry season to make way for crops or grazing has aggravated the problem.
More than half of the fires are in the Amazon, where more than 20 million people live. Some 1,663 new fires were ignited between Thursday and Friday, according to Brazil's National Institute for Space Research (INPE).
The new data came a day after Bolsonaro authorized the deployment of the military to fight the fires and crack down on criminal activity in the region.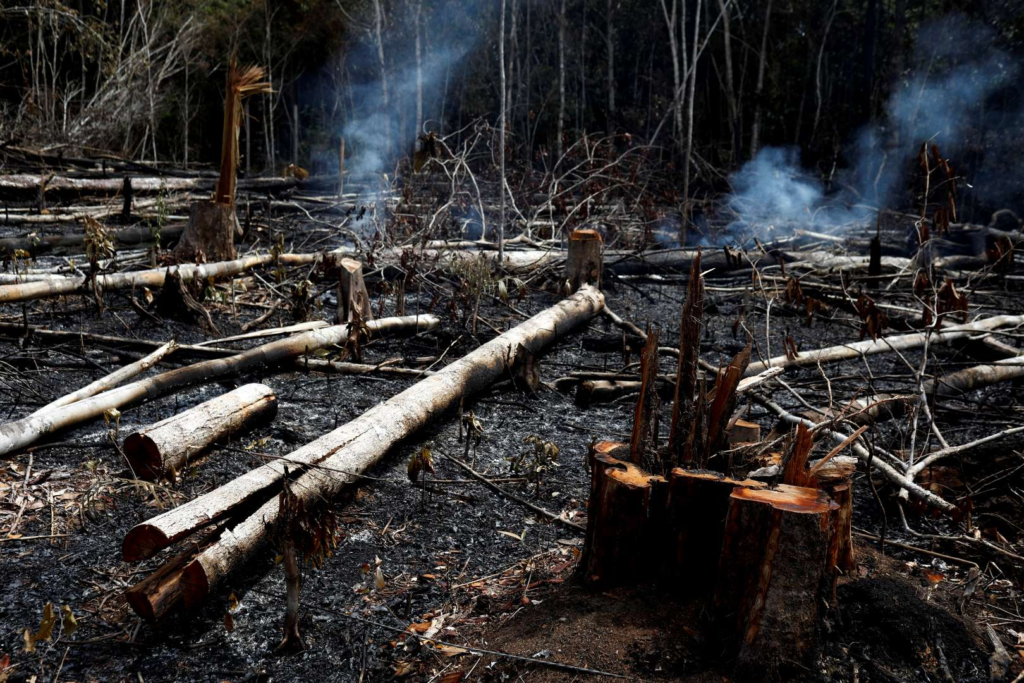 A tract of Amazon jungle burns after being cleared by loggers and farmers on 21 August 2019 in Novo Airao, Amazonas state, Brazil. Photo: Bruno Kelly / Reuters
US President Donald Trump and UK Prime Minister Boris Johnson, both attending the G7 summit, have offered their countries' assistance in fighting the fires.
"Any help is welcome in respect to the fires," Brazil's Defense Minister Fernando Azevedo e Silva told reporters on Saturday.
The blazes have stirred outrage globally, with thousands of people protesting in Brazil and Europe on Friday. More demonstrations are planned in Brazil on Sunday.
Earlier this week, Bolsonaro blamed the fires on non-governmental organizations, suggesting they deliberately started them after their funding was cut.
Environmental specialists say the fires are coming amid increasing deforestation in the Amazon region, which in July took place at a rate four times that of the same month in 2018, according to data from INPE.
Bolsonaro has previously attacked the institute, describing its data as lies and engineering the sacking of its head.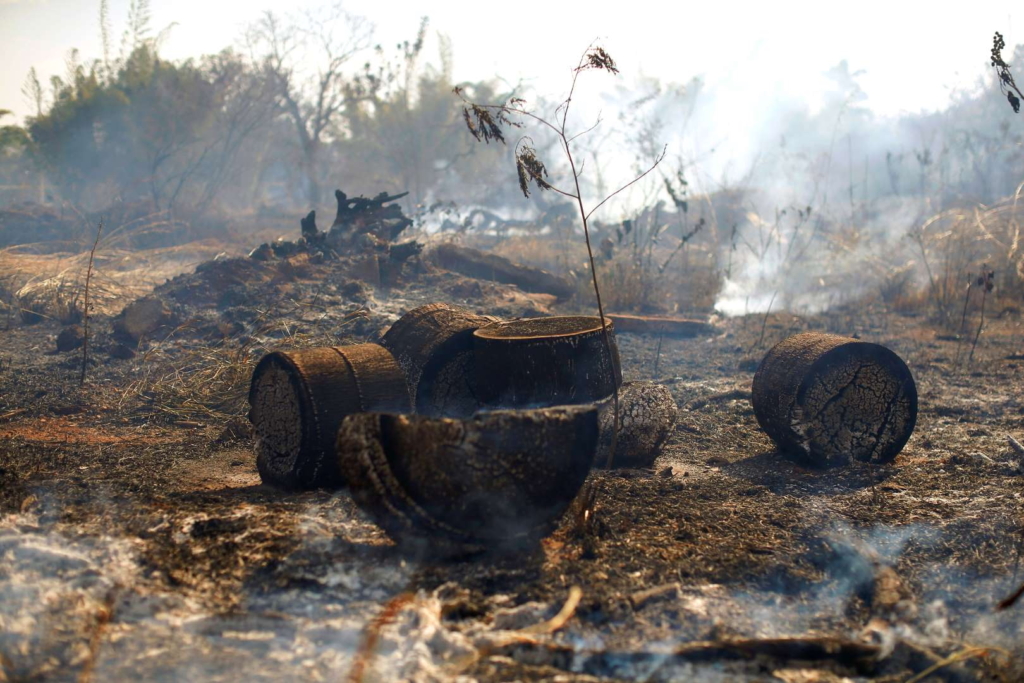 A tract of Amazon jungle burns after being cleared by loggers and farmers on 21 August 2019 in Brasilia, Brazil. Photo: Adriano Machado / Reuters
On Friday, he insisted that the fires should not be used as an excuse to punish Brazil.
"There are forest fires all over the world, and this cannot be used as a pretext for possible international sanctions," Bolsonaro said.
Brazil's powerful agriculture sector — which strongly supports Bolsonaro — has expressed concerns over the president's rhetoric, fearing boycotts of their products in key markets.
In an editorial Saturday, the respected Folha de S.Paulo newspaper warned that Bolsonaro's "bravado" had worsened the crisis caused by accelerating deforestation.
"The damage to (Brazil's) image is done and it could have important trade repercussions," it said.
"Nationalistic bravado will not win the game this time."
Hundreds of new fires in Brazil as outrage over Amazon grows
---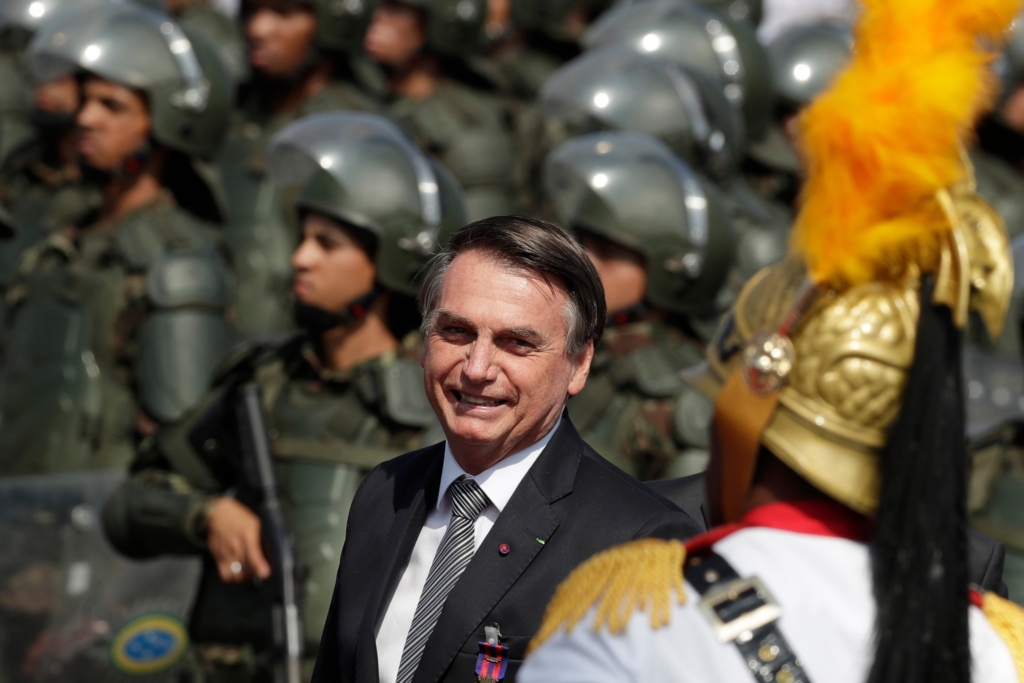 President Jair Bolsonaro of Brazil during a ceremony at Army headquarters on 23 August 2019 in Brasilia. Photo: Eraldo Peres / Associated Press
As Amazon fires become global crisis, Brazil's president reverses course
By Ernesto Londoño, Manuela Andreoni, and Letícia Casado
23 August 2019
RIO DE JANEIRO (The New York Times) – As an ecological disaster in the Amazon escalated into a global political crisis, Brazil's president, Jair Bolsonaro, took the rare step on Friday of mobilizing the armed forces to help contain blazes of a scale not seen in nearly a decade.
The sudden reversal, after days of dismissing growing concern over hundreds of fires raging across the Amazon, came as international outrage grew over the rising deforestation in the world's largest tropical rain forest. European leaders threatened to cancel a major trade deal, protesters staged demonstrations outside Brazilian embassies and calls for a boycott of Brazilian products snowballed on social media.
As a chorus of condemnation intensified, Brazil braced for the prospect of punitive measures that could severely damage an economy that is already sputtering after a brutal recession and the country's far-right populist president faced a withering reckoning.
On Friday, he said that he was planning to send the military to enforce environmental laws and to help contain the fires starting Saturday.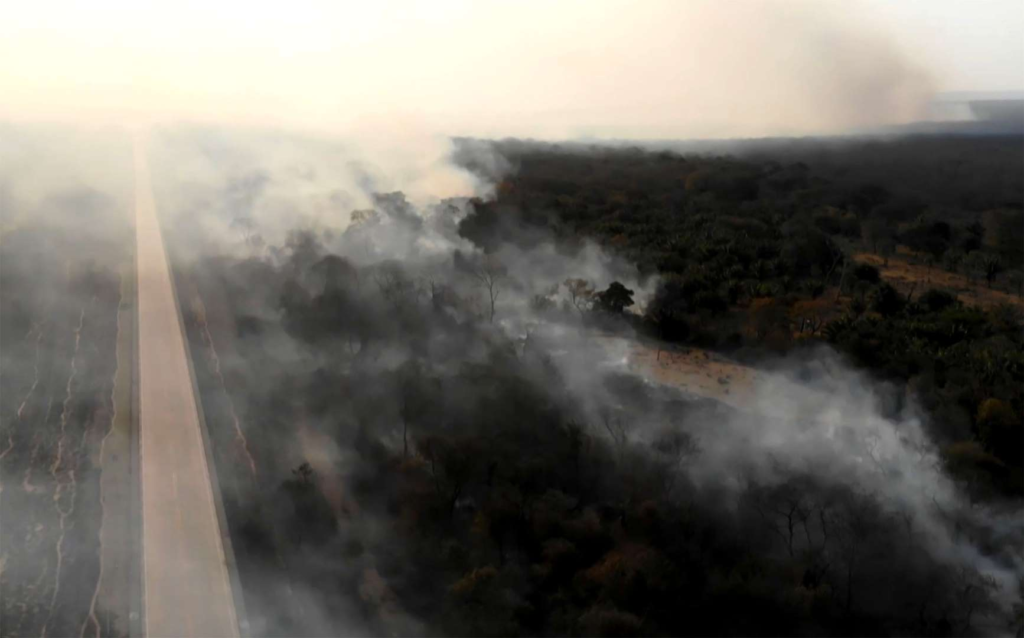 Screenshot showing wildfire near Robore, Santa Cruz region, eastern Bolivia on 21 August 2019. Up to now, wildfires in Bolivia have devastated about 745,000 hectares of forests and pasturelands. Neighboring Peru, which contains much of the Amazon basin, announced it was "on alert" for wildfires spreading from the rainforest in Brazil and Bolivia. Photo: AFP / Getty Images
In a televised address Friday night, he said the government would take a "zero tolerance" approach to environmental crimes, and that Brazilians in the Amazon region must be provided with broader opportunities to make a decent living.
"I have a profound love and respect for the Amazon," he said in a rare scripted message. "Protecting the rain forest is our duty."
He provided no details about what assets the military would bring to bear in areas where fires are spreading.
But it was unlikely that his plan could address the underlying crisis without a fundamental shift in his environmental policies, which have emboldened miners, loggers and farmers to strip and burn protected areas with a sense of impunity.
Since the nationalist former army captain took office in January, deforestation has increased sharply across Brazil, including in indigenous territories. Mr. Bolsonaro has pledged to make it easier for industries to gain access to protected areas, arguing that native communities are in control of unreasonably vast areas that contain enormous wealth.
Brazil's stretch of the Amazon lost more than 1,330 square miles of forest cover during the first seven months of the year, a 39 percent increase over the same period last year.
Experts say that spike appears to be the main driver of the fires in the Amazon this year. […]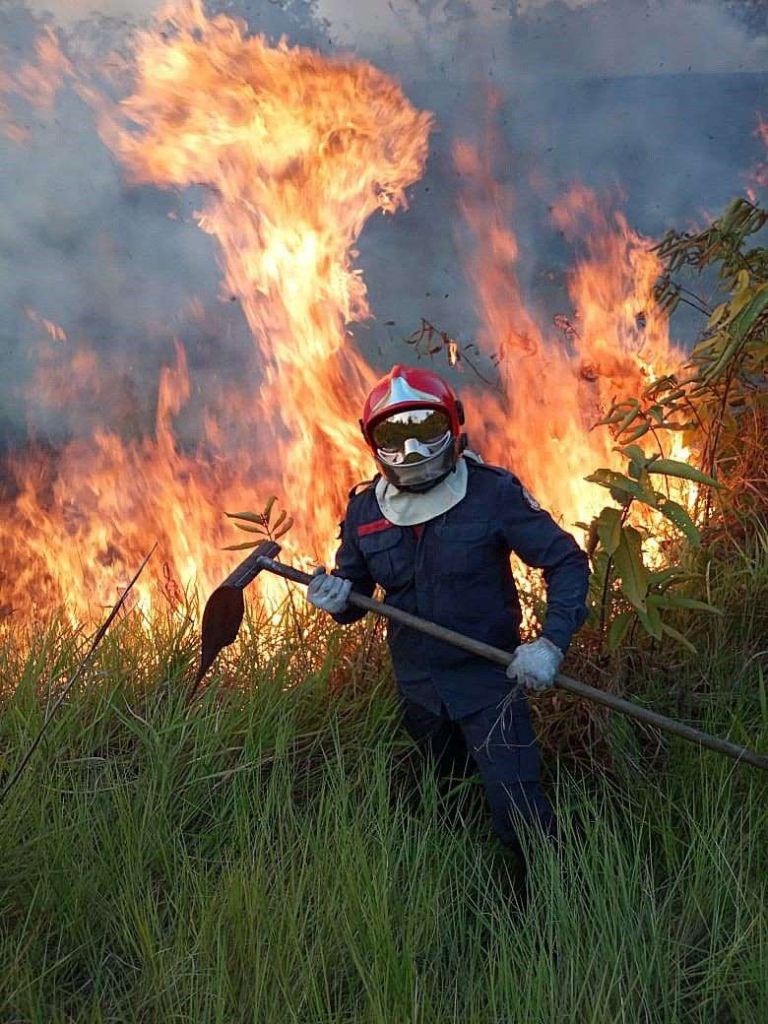 A Rio Branco fireman fights a wildfire in Rio Branco, Amazonian State of Acre, Brazil, on 17 August 2019. Photo: Rio Branco Firemen handout / EPA-EFE / Shutterstock
Global outrage over the fires has spurred calls to boycott Brazilian products and led European leaders to threaten to walk away from a trade agreement that the European Union struck with Brazil and a handful of neighboring countries in June. […]
Marina Silva, who served as minister of the environment between 2003 and 2008 and was lauded for curbing deforestation, faulted the Bolsonaro government for encouraging people to violate environmental laws by setting up shop in protected areas.
"Today, because of Bolsonaro, all our work is turning into ashes," she said in a phone interview Friday evening, lamenting that the president's approach on the environment has turned Brazilians into "pariahs." […]
Like many of the protesters, Magalí Moglia, a 22-year-old college student, had a sense of existential urgency.
"I feel a lot of pain and anguish with everything that is going on," she said, "realizing that I am part of the species that is killing the other species." [more]
As Amazon Fires Become Global Crisis, Brazil's President Reverses Course
It's very rare that I will post more than one article a day on https://guyonclimate.com let alone four. The Brazilian environmental crisis warrants this, though. I hope that you will find some of this information insightful as we all try one last pitch over the next couple of years to come together to win the Climate War.
Here is more climate and weather news from Monday:
(As usual, this will be a fluid post in which more information gets added during the day as it crosses my radar, crediting all who have put it on-line. Items will be archived on this site for posterity. In most instances click on the pictures of each tweet to see each article.)
Obviously we will be seeing some "ETs" from West and South Texas today. Here are some:
Dear Diary, Here were Monday's maxes:
(If you like these posts and my work please contribute via the PayPal widget, which has recently been added to this site. Thanks in advance for any support.)
Guy Walton- "The Climate Guy"