Monday November 4th… Dear Diary. The main purpose of this ongoing blog will be to track United States extreme or record temperatures related to climate change. Any reports I see of ETs will be listed below at the very end of this daily blog. I'll refer to extreme or record temperatures as ETs (not extraterrestrials).😉
Main Topic: Brrr! Stark Dipole Pattern Will Make the East Frigid and West Warm and Dry Through November
Those of you who are all enough might remember the frigid winters east of the Rockies during the late 1970s. It was cold enough for some climate scientists to do a double take, thinking that perhaps instead of a global warming trend Earth would fall back into a new ice age. Time put this frigid question on the cover of their magazine, which global warming denialists have referred to again and again since the seventies. When I began to study meteorological weather patterns in the early 1980s I saw what was an unmistakable dipole pattern at 500 millibars in the late 1970s, that of a nearly stable long wave ridge in the West with a deep trough in the East. Well, it appears that we are headed towards at least a temporary such dipole pattern this November.
During October, after the weather pattern producing record heat in the East and South broke down, we saw a strong ridges, or heat domes, develop along the immediate West Coast and over Alaska. In turn, very strong, cold systems dug into the Intermountain West, one at the beginning of the month and the latter at the end. The latter was cold enough to set and put up 61 all-time record low temperature reports on my record scoreboard. It's very unusual for all-time record cold temperatures to be set as early as October. Also, of course, this weather pattern led to some devastating fires across California during October.
Now in early November the long wave ridge is getting more entrenched across the western United States, so the door is open for early arctic plunges in the East similar to what I saw appearing in during Novembers from 1976-1978. And yes, until the northern polar ice cap totally disappears we should see arctic chill from time to time across the U.S. for hopefully the foreseeable future, unless our current climate gets irreparably disrupted. So what do we see forecast at 500 millibars by met models through this week?
Here is the American GFS model valid for this Friday:
That ridge that I alluded to is quite apparent in the West all the way north into Alaska. One cold shot, that I'm sure will produce a few "ETs," will be moving through the Northeast. The shot of frigid air looks like this on met surface charts, also valid for Friday morning:
What raises my eyebrows is the forecast next week. Take a look: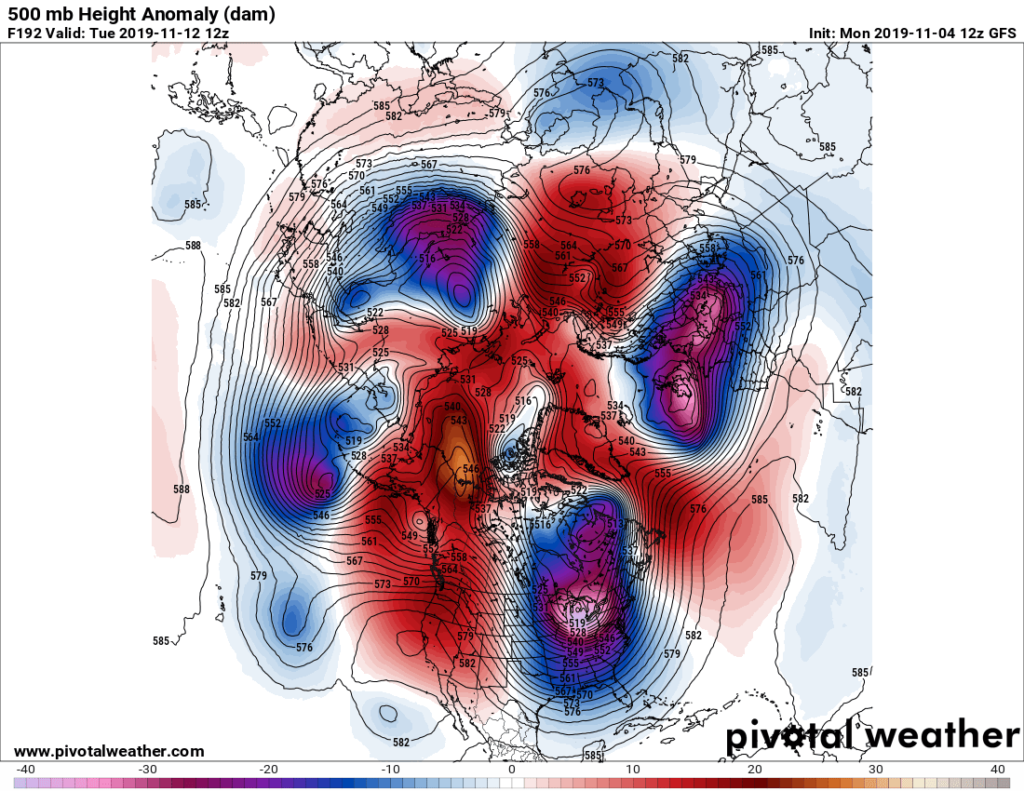 On the above Pivotal Weather chart we see an extension of the polar vortex dislodged very far to the south over the eastern United States, one that is about as cold as you can get from traditional midwinters over the last couple of centuries. What's different is all of the surrounding western U.S. and Arctic warmth. If this pattern verifies there will be a strong, frigid Arctic outbreak that I'm sure will produce numerous if not hundreds of cold records mainly east of the Rockies. Counterintuitively, yes as we have seen during 2019 global warming can lead to temporary regional cooling depending upon the long wave synoptic pattern in the atmosphere.
Here is the accompanying operational surface chart from next Tuesday:
We probsbly will some snow in portions of Nee England. Certainly strong lake effect bands will set up in the Midwest where thundersnow is not out of the question due to Great Lake warmth this time of the year. Thickness values below 498 decameters moving into U.S. as noted by the hashed blue lines are extremely cold and rare for November. A near 1040 millibar Arctic high will be setting many cold records from the Midwest through much of the East if the above Tropical Tidbits panel verifies. Record warmth with associated fire danger will occur in California as dry weather continues.
So will this be the end of global warming such that we can all relax and not change our carbon burning ways? Hardly. In fact for the next couple of decades I'm thinking that we will see more extreme temperature swings, and I'll try to keep up with them on this, the Extreme Temperature Diary blog.
The overall question for this coming winter is will this frigid pattern continue? That no one expert can answer, but I'll also relay messages with educated guesses on this blog.
Here is more on today's chilly subject:
Here is more climate and weather news from Monday:
(As usual, this will be a fluid post in which more information gets added during the day as it crosses my radar, crediting all who have put it on-line. Items will be archived on this site for posterity. In most instances click on the pictures of each tweet to see each article.)
Here is one important "ET" from Alaska set Monday:
(If you like these posts and my work please contribute via the PayPal widget, which has recently been added to this site. Thanks in advance for any support.)
Guy Walton- "The Climate Guy"