Tuesday November 5th… Dear Diary. The main purpose of this ongoing blog will be to track United States extreme or record temperatures related to climate change. Any reports I see of ETs will be listed below at the very end of this daily blog. I'll refer to extreme or record temperatures as ETs (not extraterrestrials).😉
Review of a Wild October From Weather Historian Christopher Burt
Before getting too far into November I'd like to remind my readers just how anomalous extreme temperatures were across the United States in October. In just a couple of days NCEI will release their assessment on October 2019, which will show bizarre maps of a summer like hot Southeast and a very cold mid-winter like Northwest as far as temperature averages go. At that time I'll present an updated record scoreboard with an overall temperature ranking for October 2019. Before that happens for today's main topic I will present weather historian Christopher Burt's thorough summary on October, which has some eye popping statistics. I contend that climate change due to carbon pollution has made temperatures much more extreme during this past month than what they would be otherwise. This is a great read:
https://www.wunderground.com/cat6/October-2019-Month-Extreme-Weather-US
October 2019: A Month of Extreme Weather for the U.S.
Christopher C. Burt · November 1, 2019, 6:33 PM EDT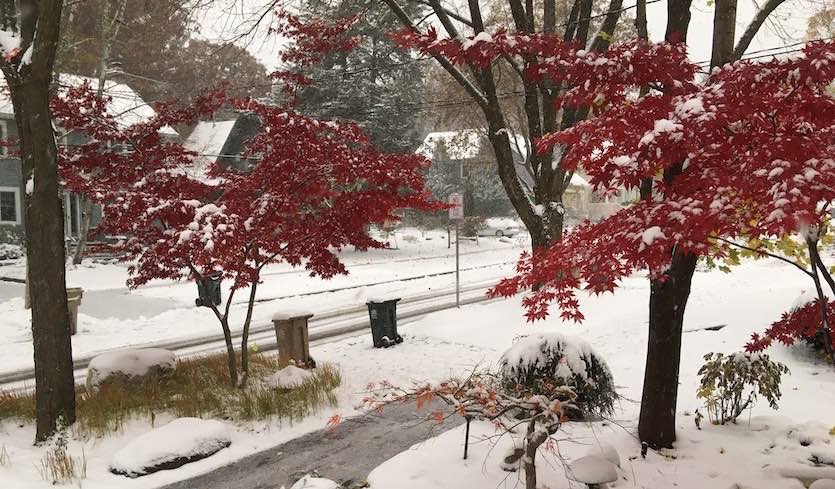 Above:
Madison, Wisconsin, lies buried under 5" of snow on Friday, November 1, following a 5.1" accumulation on October 31. Just two days earlier, another 3.0" of snow had fallen. The multiple events made this the snowiest October since snowfall records began in the city in 1884. Image credit: Courtesy Madison resident and close friend Danny Kahrs.
October is a month of transition weatherwise for the contiguous U.S. Some years it is a gentle transition from early fall to late fall, and some years an extreme transition from late summer to early winter—as has been the case this year. In fact, it is likely that this October was the most extreme such on record, at least so far as temperatures are concerned. We saw unprecedented heat in portions of the eastern U.S. during the first week of the month, transitioning to unprecedented cold in portions of the west during the final week of the month.
In line with this high-contrast pattern, several cities in the Southeast had their hottest October on record, while several northwest locations had their coldest October on record. See the weather.com wrapup by Jon Erdman for more details.
Here are some of the many individual local and state records set for October during this month of extremes.
All-time record state highs for October
A total of 10 states plus the District of Columbia saw their all-time October monthly high temperature records broken or tied during the first four days of October.
NEW OCTOBER STATE MONTHLY HEAT RECORDS BROKEN OR TIED
Alabama: 105° at Marion on Oct. 2 and Oct. 3 (old record 103° at Troy on Oct. 5, 1954)
Georgia: 103° at Macon on Oct. 4 (ties old record last set at Louisville on Oct. 5, 1954)
Florida: 101° Crestview on Oct. 1 and Oct. 3 (old record 100° at Molino on Oct. 1, 1904 and also Orange City on Oct. 1 and 2, 1904
Mississippi: 102° Meridian on Oct. 2 and Oct. 3 (beats 101° set at same site on Oct. 1, 2019)
Maryland: 101° at Webster Naval Air Field on Oct. 2 (old record 99° at three sites on different dates)
Tennessee: 100° at Chattanooga on Oct. 2 and Oct. 3 (old record 99° at three sites on different dates)
Delaware: 98° at Wilmington on Oct. 2 (old record 97° at Bridgeville on Oct. 5 and 6, 1941)
Kentucky: 98° at Bowling Green and Kenlake Resort on Oct. 2 (ties 98° set at three sites on different dates)
District of Columbia: 98° on Oct. 2 (old record 96° on Oct. 5, 1941)
New Jersey: 97° at Millville on Oct. 2 (ties same at Flemington and Tuckertown on Oct. 5, 1941)
New York: 95° at JKF and La Guardia Airports on Oct. 2 (ties same at Danville on Oct. 2, 1927)
Evansville, Indiana briefly touched 97° in its METAR reports on October 1, but the official high was set as 96° (apparently the 97° did not hold for the minimum five-minute period to be considered official). The October state record for Indiana thus remains as a 97° reading measured at Thurman on Oct. 1, 1897.
In addition to the new state records, at least 75 towns and cities from New York to Indiana and south to Arkansas and Florida broke their all-time October heat records. In some cases (Nashville, Knoxville, Chattanooga, and Tallahassee) there were four consecutive days (October 1-4) that broke the previous October monthly heat record each and every day.
In summary, this early-October heat wave appears to the most intense and anomalous on record for such a large region of the U.S. during the month of October. The closest rival would have been the heat wave of October 1954, when record temperatures (unmatched even in this October were attained in much of the same area, including the October state heat records for North and South Carolina (102° and 103° respectively).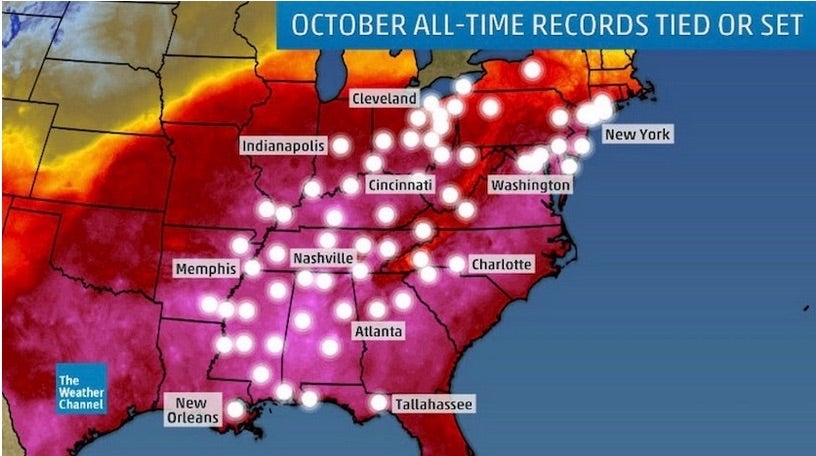 Figure 1. Map of sites in the eastern U.S. that set their all-time October monthly heat records during the period of October 1-4, 2019. This was likely the most intense and expansive heat wave for the month of October on record for the contiguous U.S. Never before have so many Americans experienced heat of this magnitude during the month of October, including multiple days above 100°F at many locations. Image credit: weather.com.
For those interested, the hottest October temperature ever measured anywhere in the U.S. was 117°F (47.2°C) at Mecca, California, on Oct. 2, 1980. This is not far from the world October record of 48.6°C set at Vredendal, South Africa, in 2015, according to weather records researcher Maximiliano Herrera. Large portions of the world saw all-time record October heat this past month. Details about this will be forthcoming from Bob Henson later in November when NOAA's global climate analysis is released.
All-time record monthly cold
Like a thermal and geographic bookend to the eastern heat in early October, an exceptionally cold air mass invaded the western and midwestern portions of the country on the last five days of the month. Although not an official NWS site, the experimental weather station at Peter Sinks, Utah measured a low of -46.1° on the morning of Oct. 30 (the previous coldest October temperature at this site was -35° in October of 2002). This was less than 2° shy of the Alaskan (and U.S.) October record of -48° set at Clearwater on October 31, 1975.
The coldest official October record for the contiguous U.S. was -33° at Soda Butte (in Yellowstone National Park), Wyoming, on Oct. 29, 1917, but a new 48-state record has been established (see below).
Many other all-time monthly cold records were set in Arizona, Utah, Colorado, South Dakota, Kansas, Montana, Nebraska, California, and Texas—in some cases by 10° or more—including in these cities:
Salt Lake City, Utah: 14° (old monthly record 16° on Oct. 30, 1971)
Pocatello, Idaho: -6° (old monthly record 7° on Oct. 31, 2003)
Casper, Wyoming: -9° (old monthly record -3° on Oct. 30, 1971)
Pueblo, Colorado: -6° (old monthly record 4° on Oct. 26, 1997)
Jackson, Wyoming: -6° (-9° at the airport) (old monthly record -5° on Oct. 29, 1917)
Rapid City, South Dakota: -2° (old monthly record -2° on Oct. 31, 1991)
Grand Junction, Colorado: 7° (old monthly record 16° on Oct. 29, 1917)
Dodge City, Kansas: 10° (old monthly record 10° on Oct. 27, 1878)
Lubbock, Texas: 17° (old monthly record 24° on Oct. 30, 1993)
Midland, Texas: 19° (old monthly record 24° on Oct. 30, 1993)
Winslow, Arizona: 12° (old monthly record 13° on Oct. 29, 1970)
NEW OCTOBER STATE MONTHLY COLD RECORDS BROKENTexas: 6° four miles west-northwest of Stratford on 31 October (old record 8° at Stratford on Oct. 30, 1993) Oklahoma: 0° at Kenton on 31 October (old record 6° at Kenton on Oct. 30, 1993)
California: -15° at Bridgeport on 29 October (old record -10° at Bodie on Oct. 27, 1970). Note that a reading of -20° was collected at a research station (elevation 12,470′) near the summit of White Mountain Peak on Oct. 29, 1961.Nebraska: -16° at a COOP station nine miles northeast of Harrison on 30 October (old record -15° at Hays Spring on Oct. 28, 1925) Nevada: -16° at Austin on 30 October (old record -10° at Mountain City Ranger Station on Oct. 27, 1970) Idaho: -17° at Island Park on 30 October (old record -16° at Big Springs on Oct. 29, 1917) Utah: -21° at Randolph on 30 October (old record -16° at Woodruff on Oct. 31, 1972)
Wyoming: -34° at Daniel Fish Hatchery on 30 October (old record -33° at Soda Butte on October 29, 1917). This is a new all-time October cold record for contiguous U.S. , the -33° at Soda Butte mentioned above being the former U.S. record.
All in all, it is likely (but difficult to verify) that no other past October has seen such extreme temperatures variations from coast to coast in the contiguous U.S.
Figure 2. A motorist struggles to free his sedan after sliding off Interstate 70 in Aurora, Colorado, just east of Denver, on Tuesday, October 29, 2019. Snow is not unusual in the Denver area for late October, but the snow (10.4" officially) was accompanied by extreme cold for mid-autumn. The city stayed below freezing for more than 100 hours, from Saturday evening, October 26, to Thursday morning, October 31. Denver's high of 18°F on October 29 tied for the lowest daily maximum for any October (last set on October 30, 2002) in records dating back to 1872. Image credit: AP Photo/David Zalubowski.
Incredible temperature gyrations
As one might expect, when such temperature extremes affect the nation, there were some remarkable short-term temperature swings. Denver, Colorado was a good example: the temperature fell from a high of 83° at 4 pm October 9 to a low of 13° by midnight October 10 and then on down to 9° by the morning of the 11th (both daily record lows, and with an inch of snow thrown in for good measure). The 74° drop of temperature over a 36-hour period was one of the greatest temperature drops the city has ever experienced in such a short time span. Not to be outdone by its big-city neighbor 80 miles to the west, Limon dropped from 80° to 1° during the same time period. The temperature in Denver then rebounded from the 9° on October 11 to the mid-70°s by October 13 and 14.
At the end of the month, Denver had another precipitous drop of temperature, dipping from 76° on October 26 to 2° by October 30, this time accompanied by 10.4" of snow. The city's all-time low for October remains -2°.
Figures 3 and 4.
Temperature countour map of the U.S. at 1900Z (1 p.m. MDT) on October 9 (top) and actual surface observations about 90 minutes later, at 2033Z (bottom). Note the 73° temperature at Vernal, Utah, while just 90 miles away, it was 30° and snowing in Evanston, Wyoming. Denver peaked at 83° that afternoon prior to the cold front passage, after which the temperature fell to a record 13° the following day. Image credits:
NCAR/RAL Real-Time Weather Data
.
Early-season snowstorms
Speaking of October snowfall, a true blizzard walloped North Dakota on October 10-13, dumping as much as 36" of snow in the north-central portion of the state. Bismarck picked up a total of 17.1" of snow over the 4-day period, besting its record for greatest October snowstorm (previous being 16.0" on October 28-30, 1991) and marking one of the city's greatest snowstorms on record for any month. Winds gusting to 55 mph blew the snow into massive drifts some 5'-10' deep, closing all highways in much of the eastern half of the state.
Figure 5. Snowfall map for North Dakota following the state's greatest October blizzard on record. Actual measured amounts were difficult to come by due to the high winds that accompanied the storm, but Bismarck picked up 17.1" officially at its NWS office, and 29.0" was measured at Vanga and 27.0" in Langdon. Image credit:
NWS/Grand Forks, ND
.
Widespread record early-season snowfall also occurred in the lower Great Lakes region on October 30-31 with Madison, Wisconsin, picking up 5.1" and Chicago 4.6" (its greatest October snowstorm on record, besting the 4.5" measured during a storm on October 18-19, 1989). For Madison, this was on top of another 3.0" that had fallen on October 28-29, bringing the monthly total to an October record of 8.1" (previous snowiest October was that of 1917, when 5.2" was recorded).
Wildfires in California
A seemingly never-ending series of wildfire events plagued California during the month. These were the result of some of the strongest Santa Ana (in southern California) and Diablo (in northern California) winds on record. In fact, the wind event of October 28-29 in central California resulted in the strongest winds observed for a Diablo event in at least several decades. Wind gusts peaked at 102 mph (with 78 mph sustained) at a PG&E (Pacific Gas and Electric) RAWS site called Pine Flat Road in Sonoma County on the morning of October 28. Near the same time, the Healdsburg Hills North station reported a gust to 93 mph (sustained 68 mph) and the summit station on Mt. St. Helena registered an 87 mph gust with sustained winds of 72 mph.
Figure 6.
Along with the central part of the state, Southern California was simultaneously blasted by high winds and explosive wildfires the end of October, as this image illustrates during the Hillside Fire near San Bernardino on October 31. Winds were not quite as strong as those that swept over the mountains in Sonoma County on October 28 but did gust as high as 75 mph in some areas. Image credit: AP Photo/Noah Berger.
In a move that triggered statewide controversy and national attention, PG&E proactively shut off power to almost one million customers (meaning almost 3 million residents) in the greater San Francisco Bay Area for as long as five days for some. Your author lost power for 48 hours and internet, TV, and landline phone service for a four-day period October 27-30—the longest outage I've ever experienced. The power outage ranks in the top 20 most widespread of such (so far as population affected) in U.S. history, and certainly the largest such of intentional origin.
Although it was a disruptive experience, it would seem the move by PG&E may have been effective. A dozen fires were still ignited, the largest being the Kincade fire in Sonoma County, which burned 79,000 acres, but there were no fatalities and only two injuries (both to firefighters. "Only" about 400 structures have been lost statewide as of November 1. Compare this to last November's devastating Camp Fire in Butte County (caused by a PG&E transmission line damaged in high winds) when 86 people lost their lives and more than 15,000 homes were destroyed. The acreage burned in California thus far in 2019 is also several times less than during the previous couple of years. The problem is that the late-October blackout was the fourth initiated by PG&E in as many weeks. Ultimately a better solution must be found.
The only events missing from this past October's pantheon of extreme weather events were landfalling hurricanes, EF5 tornadoes, or massive flash floods, although there were plenty of these events to a lesser degree. See the Dallas EF3 tornado on October 20, Tropical Storm Olga with her flooding rains on October 24-28, Tropical Storm Nestor striking Florida on October 19, and the destructive severe thunderstorms and flash floods that hit parts of New York and Pennsylvania late on October 31, ushering out this month of eye-popping extremes.
Christopher C. Burt
Weather Historian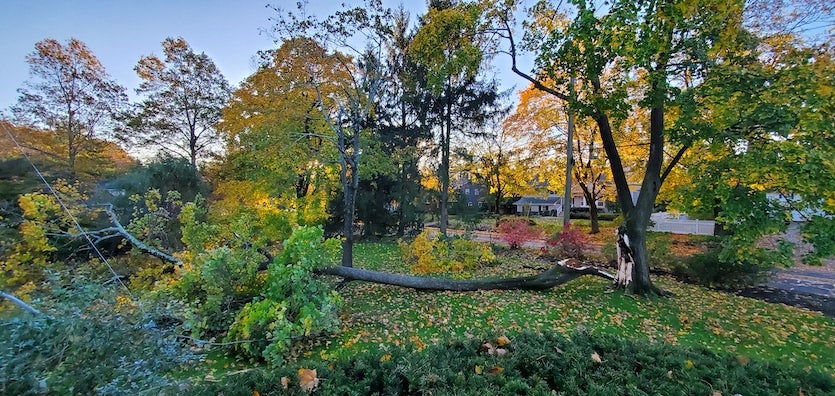 Figure 7. Just hours after Madison, Wisconsin, experienced its greatest October snowstorm on record (see image at top), Madison, New Jersey was slammed by a severe late-season thunderstorm on Halloween night, October 31, that produced widespread wind damage. The storm was part of a frontal system and squall line that caused havoc from Georgia to Quebec, knocking out power to more than 1.6 million North American utility customers. Image credit: Elijah Smith, resident of Madison, New Jersey, and my nephew.
The Weather Company's primary journalistic mission is to report on breaking weather news, the environment and the importance of science to our lives. This story does not necessarily represent the position of our parent company, IBM.
My thanks go to all of the Weather Underground and Weather Channel teams for putting out these very informative reports.
Here is more climate and weather news from Tuesday:
(As usual, this will be a fluid post in which more information gets added during the day as it crosses my radar, crediting all who have put it on-line. Items will be archived on this site for posterity. In most instances click on the pictures of each tweet to see each article.)
It actually got chilly out west on the 4th. Here are some "ET's:"
(If you like these posts and my work please contribute via the PayPal widget, which has recently been added to this site. Thanks in advance for any support.) 
Guy Walton- "The Climate Guy"