Friday November 8th… Dear Diary. The main purpose of this ongoing blog will be to track United States extreme or record temperatures related to climate change. Any reports I see of ETs will be listed below the main topic of the day. I'll refer to extreme or record temperatures as ETs (not extraterrestrials).😉
Link Between Fracking and Plastics…A New Plant Will Solidify the Fossil Fuel Industry In Appalachia
It's been a while since plastics got mixed in our discussions about the climate crisis and its solutions. The bottom line here is if you can avoid using them don't. Production of plastics only promotes drilling of oil, so it makes it that much harder to wean the energy industry away from old practices, moving corporations towards renewables. Have I mentioned vast new swirling pools of plastic pollution forming in the Earth's oceans? You bet. Swirling pools of garbage that harm marine life are yet more reasons to not manufacture plastics.
I learned this week that a brand new plastics plant is being built in Appalachia, the heart of fossil fuel loving coal country, which probably will help to cement old practices and could be carcinogenic to surrounding communities. Aye ya ya, Appalachia should see wind and solar plants being built, not more fossil fuel infrastructure. Here is more from Desdemona Despair:
https://desdemonadespair.net/2019/11/will-a-push-for-plastics-turn-appalachia-into-next-cancer-alley-its-so-obvious-that-they-are-trying-to-lock-us-into-fossil-fuels.html
Will a push for plastics turn Appalachia into next "Cancer Alley"? – "It's so obvious that they are trying to lock us into fossil fuels"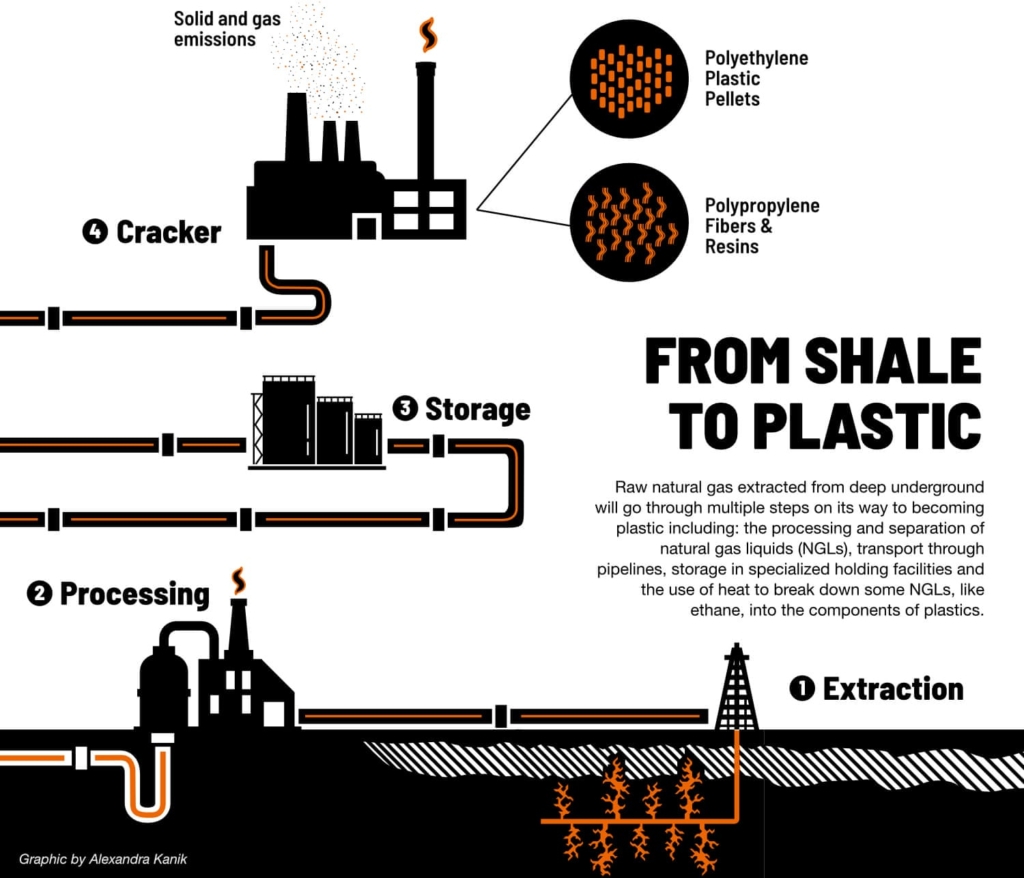 Diagram showing the shale-to-plastic process. Graphic: Alexandra Kanik / Ohio Valley Resource
By Emily Holden
11 October 2019
MONACA, Pennsylvania (The Guardian) – Construction cranes climb into the sky and sprawl across the massive petrochemical facility that will turn a byproduct of fracked gas into plastic on the banks of the Ohio River, just outside Pittsburgh.
Even at a distance, from the car park of a cancer treatment centre on a nearby hilltop, Royal Dutch Shell's 386-acre site is a behemoth. It will anchor yet more gas, plastics and chemicals infrastructure in the tristate region of Pennsylvania, Ohio and West Virginia.
The plant would solidify demand for fracked natural gas and the ethane that comes with it out of the ground. It would make 1.6m tons of plastic and 2.2m tons of globe-heating carbon dioxide annually – roughly the same amount the city of Pittsburgh is trying to eliminate. The facility would also release hundreds of tons of toxic compounds into the air.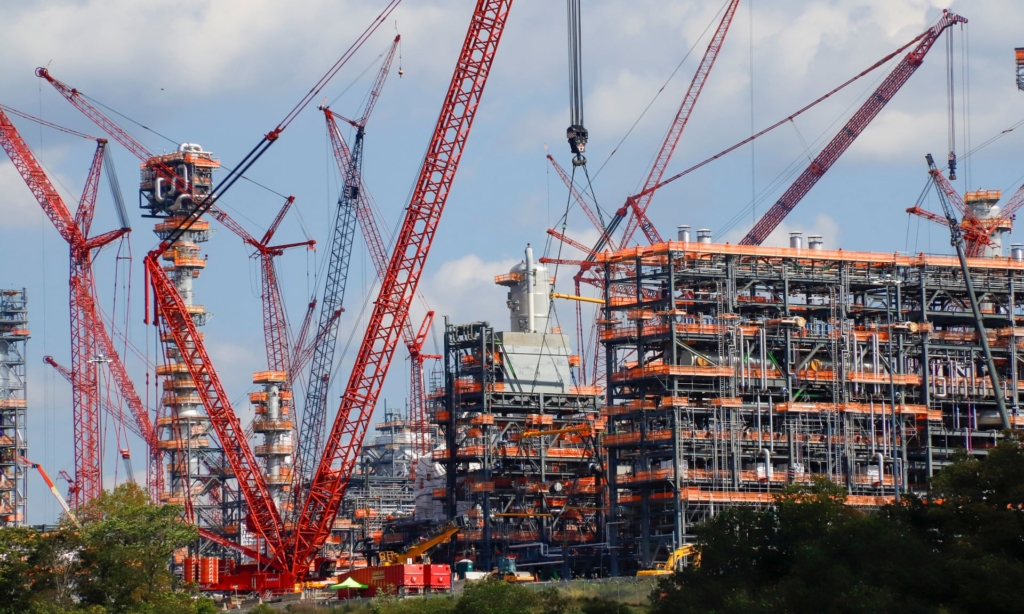 Shell's "cracker" plant under construction in Pennsylvania. Photo: Keith Srakocic / AP
As global demand for plastics grows, the buildout of this industry threatens US progress on the climate crisis and clean air.
Opponents say the vast plastics industry will prolong fracking, even after power companies shift further towards renewable power, such as solar and wind. "To me, it's so obvious that they are trying to lock us into fossil fuels," said Terrie Baumgardner, a member of the Beaver County Marcellus Awareness Community.
At a time when scientists warn humans must stop pulling fossil fuels out of the ground and spewing plastics into the environment, natural gas drilling is booming in Appalachia and the ethane-to-plastics industry there is just getting started. [more]
Will a push for plastics turn Appalachia into next 'Cancer Alley'?
Unfortunately it seems like plastics are essential for our civilization to function, but researchers are making strides to replace them with articles that can be made out of other biodegradable substances besides refined oil. The price of crude oil, obviously and partially, gets supported by the demand for plastics. This new plant in Pennsylvania would not be going up if it were not for that demand. Please do some demanding of your own. Demand change.
Here is more climate and weather news from Friday:
(As usual, this will be a fluid post in which more information gets added during the day as it crosses my radar, crediting all who have put it on-line. Items will be archived on this site for posterity. In most instances click on the pictures of each tweet to see each article.)
(If you like these posts and my work please contribute via the PayPal widget, which has recently been added to this site. Thanks in advance for any support.)
Guy Walton- "The Climate Guy"