Thursday November 7th… Dear Diary. The main purpose of this ongoing blog will be to track United States extreme or record temperatures related to climate change. Any reports I see of ETs will be listed below the main topic of the day. I'll refer to extreme or record temperatures as ETs (not extraterrestrials).😉
Politically For the U.S. the Clock is Ticking For the Paris Accords
I'm going to state that civilization's last hail Mary pass to mitigate and reign in carbon pollution through worldwide cooperation is the Paris Accords ratified in 2015 by nearly every nation on this planet, including the United States under the Obama Administration. Once Trump was elected in 2016 he fulfilled a campaign promise to begin pulling out of the accords as stated in the treaty. I'd like to inform my readers that starting on 11/4/2019 the U.S. has begun a formal one year waiting period to totally pull out of the accords. Should a Democrat win the White House the U.S. will remain in the Paris Accords. It's that simple.
I truly have my doubts that the world can come together enough before 2030, when many experts have said that atmospheric carbon levels need to have flattened, such that civilization can be saved from devastating sea level rise, heat and storms, but the Paris Accords is at least a weak foundation to build on with some great target goals. If the U.S. does pull out I'm afraid all is lost, and it's every nation for itself to adapt to whatever comes next from ever rising levels of CO2.
Nevertheless, we all must try to keep some sort of coalition of working partners together to stop climate change.
Last November I stated that it was imperative for the 2018 election go the way of the Democrats to put a check on the Trump Administration, getting control of the House of Representatives away from the Republicans. Well, check that is done, thankfully. The next huge hurtle, obviously, will be the November 2020 elections. Last and only if Democrats control all three branches of government after 2020 what has been described as a "Green New Deal" will need to be enacted, not only in this country but worldwide to keep civilization as we know it sustainable. A Green New Deal will be the tallest of orders, far eclipsing anything like the Marshall Plan from World War II days when portions of the Earth needed to be rebuilt from rubble…only this time we will need to save our entire world by saving and protecting our ecosystem.
Since Trump and the Paris Accords is today's main topic here is more from National Public Radio and Desdemona Despair on what I would call the "one year for the U.S. to live very dangerously:"
https://desdemonadespair.net/2019/11/u-s-formally-begins-to-leave-the-paris-climate-agreement.html
U.S. formally begins to leave the Paris climate agreement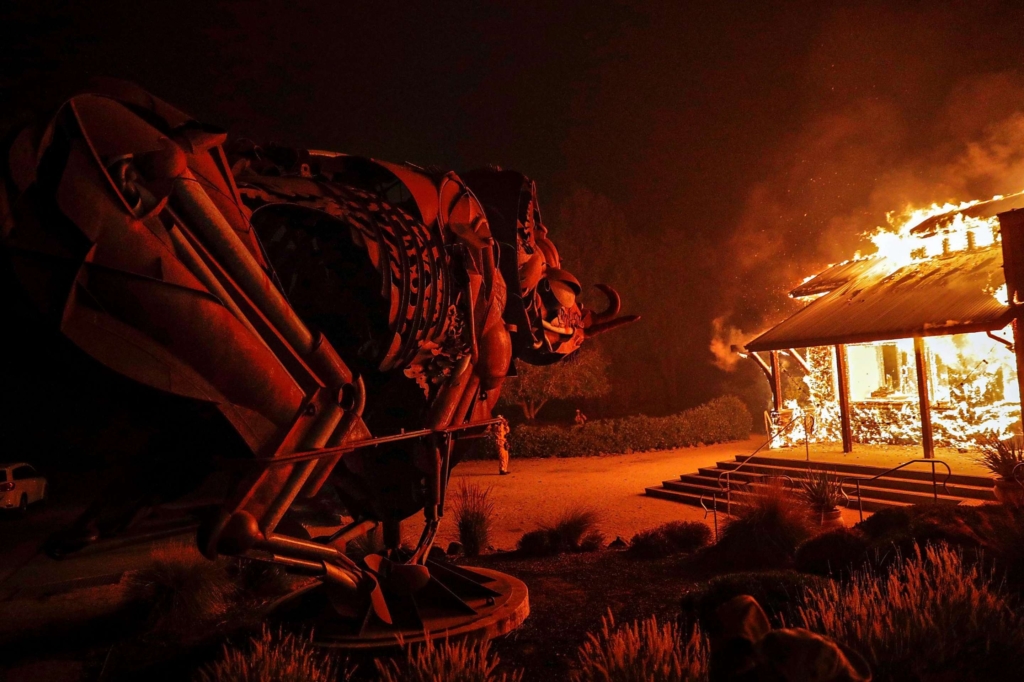 A house burns in the Kincade Fire on 23 October 2019 as a metal sculpture of an animal looks on. Photo: Carlos Avila Gonzalez / SF Chronicle
By Rebecca Hersher
4 November 2019
(NPR) – The Trump administration has formally notified the United Nations that the U.S. is withdrawing from the Paris climate agreement. The withdrawal will be complete this time next year, after a one-year waiting period has elapsed.
"We will continue to work with our global partners to enhance resilience to the impacts of climate change and prepare for and respond to natural disasters," Secretary of State Mike Pompeo said in a statement Monday.
Nearly 200 countries signed on to the agreement in 2015 and made national pledges to reduce greenhouse gas emissions. Each country set its own goals, and many wealthy countries, including the U.S., also agreed to help poorer countries pay for the costs associated with climate change.
The U.S. is now the only country to pull out of the pact.
"The United States is not cooperating with the rest of the world on dealing with climate change," says Andrew Light, a former climate official in the State Department who helped develop the Paris Agreement. […]
"These agreements are just only as good as the commitments from each country," Light says. […]
"The reality is, to really deliver on our climate goals, we do need strong federal action," says Rachel Cleetus of the Union of Concerned Scientists. "The unfortunate reality is U.S. carbon emissions actually rose last year." [more]
U.S. Formally Begins To Leave The Paris Climate Agreement
Tonight my old place of business, the Weather Channel, will be doing something that it should have been doing as early as about 1990, airing a political debate between major candidates on climate policy since the science on this matter was settled long ago:
I'm hoping that the Weather Channel's new efforts and those of many other organizations help insure that the U.S. progresses towards a bright, green future, or at least one we can all live with moving through the 21st century and beyond. Hopefully Trump and those like him that are big roadblocks towards a clear future free of carbon pollution will be cleared after 2020. Again, politically, that's imperative.
More on this subject from Inside Climate News:
Here is more climate and weather news from Thursday:
(As usual, this will be a fluid post in which more information gets added during the day as it crosses my radar, crediting all who have put it on-line. Items will be archived on this site for posterity. In most instances click on the pictures of each tweet to see each article.)
And there are some chilly "ETs" in our near future:
(If you like these posts and my work please contribute via the PayPal widget, which has recently been added to this site. Thanks in advance for any support.)
Guy Walton- "The Climate Guy"