Saturday November 9th… Dear Diary. The main purpose of this ongoing blog will be to track United States extreme or record temperatures related to climate change. Any reports I see of ETs will be listed below the main topic of the day. I'll refer to extreme or record temperatures as ETs (not extraterrestrials).😉
Main topic: Brrr! Update On Cold Shot Set to Establish Many New Records Across the Midwest and East
An arctic air mass is poised across western Canada this Saturday to produce biting mid-winter type chill across a large section of the eastern 2/3rds of the U.S. early next week. We first brought this weather phenomenon to our reader's attention earlier this week here:
https://guyonclimate.com/2019/11/04/extreme-temperature-diary-sunday-november-4th-2019-main-topic-brrr-stark-dipole-pattern-will-make-the-east-frigid-and-the-west-warm-and-dry-through-november/
As stated in the prior linked post intense cold producing numerous "ET's," or extreme record cold temperatures, are becoming more rare due to carbon pollution, but as long as the Earth maintains a northern polar ice cap we will see these outbreaks through the 21st century and hopefully beyond. I also state knowing that if as a species we allow the climate to get way out of balance cold outbreaks such as the one of the next few days will become history. People who don't like any cold weather at all might be happy with this prospect, but those same folks may not like as a consequence deadly heat waves, floods, and disease carrying insects not killed by seasonal chill brought about by irreversible climate change.
Here is more from the Washington Post on the coming bitterly cold weather:
Quoting and reprinting most of this Washington Post article:
Hundreds of records could fall in next week's 'impressively cold' snap
Record cold is possible from the Great Lakes to the Gulf Coast.
Temperature difference from normal forecast for Tuesday afternoon from American GFS model. By Jason Samenow November 8
The Arctic blast set to engulf the eastern half of the Lower 48 next week will make mid-November feel like mid-January. Between Sunday and Wednesday, temperatures will sink to levels 15 to 30 degrees colder than normal from the Plains to the East Coast.
The National Weather Service is predicting that about 250 new cold records will be established as a result of this polar plunge, from the Gulf Coast to the Great Lakes.
Next week's cold is the second and stronger of back-to-back Arctic fronts sweeping across the nation.
On Monday morning, the front will have rapidly progressed eastward, stretching from interior New England southwest to Texas, having sliced through Buffalo, Detroit, Cleveland, Kansas City, St. Louis and Oklahoma City.
By Tuesday morning, it will have reached the East Coast, having passed through all but southeast South Carolina and Florida, which it will cross by Wednesday morning.
How cold are we talking?
On Monday, when the core of the cold grips the Upper Midwest and Great Lakes, Minneapolis will not escape the high teens while Chicago hovers in the 20s. Both cities are likely to see their coldest Veterans Day on record.
"Record low-max and record low mins could be in jeopardy of being tied/broken for both Monday and Tuesday," wrote the National Weather Service office serving Chicago. "[T]his is impressively cold air for early-mid November."
By Tuesday morning, low temperatures will drop into the single digits across the Dakotas, Nebraska, Iowa, Minnesota and most of Wisconsin. Temperatures in the teens will penetrate as far south as Oklahoma and the Texas Panhandle.
On Tuesday afternoon, subfreezing highs will cover a wide swath of western New York and Pennsylvania into the Southern Plains. Numerous locations in the Ohio and Tennessee valleys, where highs are forecast to only reach the 20s to 30s, are predicted to post daily records for cold high temperatures. The cold will reach the Gulf Coast, where even Houston and New Orleans will struggle to hit 50.
By Wednesday morning, freezing temperatures are forecast to reach the Gulf Coast, near-record lows for the date in a number of areas. Almost the entirety of the eastern half of the United States will be below freezing with teens and 20s most common.
On Wednesday afternoon, high temperatures in much of New England will remain below freezing with 30s to near 40 in the Mid-Atlantic. Even South Florida will see a bit of a cool-down with highs in the 70s to near 80, compared to recent temperatures near 90.
Temperatures will moderate some Thursday into the weekend, but will generally remain near to below normal over the eastern half of the nation.
…………………………………………………………………………………………………..
Let's once more look at the forecast 500 millibar pattern for Tuesday from a Northern Hemisphere vantage point: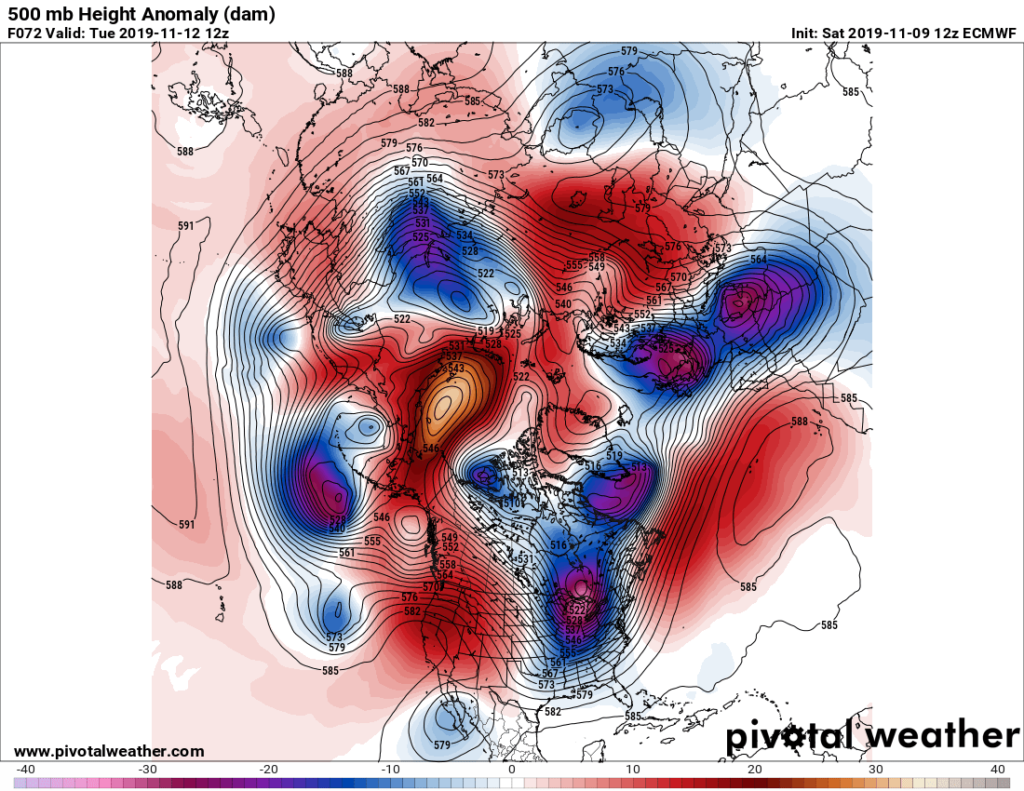 Here we see a deep cold trough that should be over the eastern U.S. by Tuesday morning, ushering in a record setting arctic air mass at the surface. As a meteorologist I note that this pattern across the Northern Hemisphere is quite amplified and convoluted with many warm pockets pushing north towards the Arctic Circle and many cold pockets extending far to the south. The overall pattern looks "weird" just eyeballing this chart with many more red ridges interspersed with some blue cold pockets that I was used to seeing during the early part of my meteorological career from the 1980s into the 1990s. I'll add some notes from other experts linking this "weirdness" with climate change, so yes counterintuitively, this cold outbreak can be linked with overall Arctic warming.
Also, now it would appear that this big cold shot won't be followed by even harsher mid-winter type cold outbreaks as the weather pattern becomes zonal across the United States by the latter half of the month: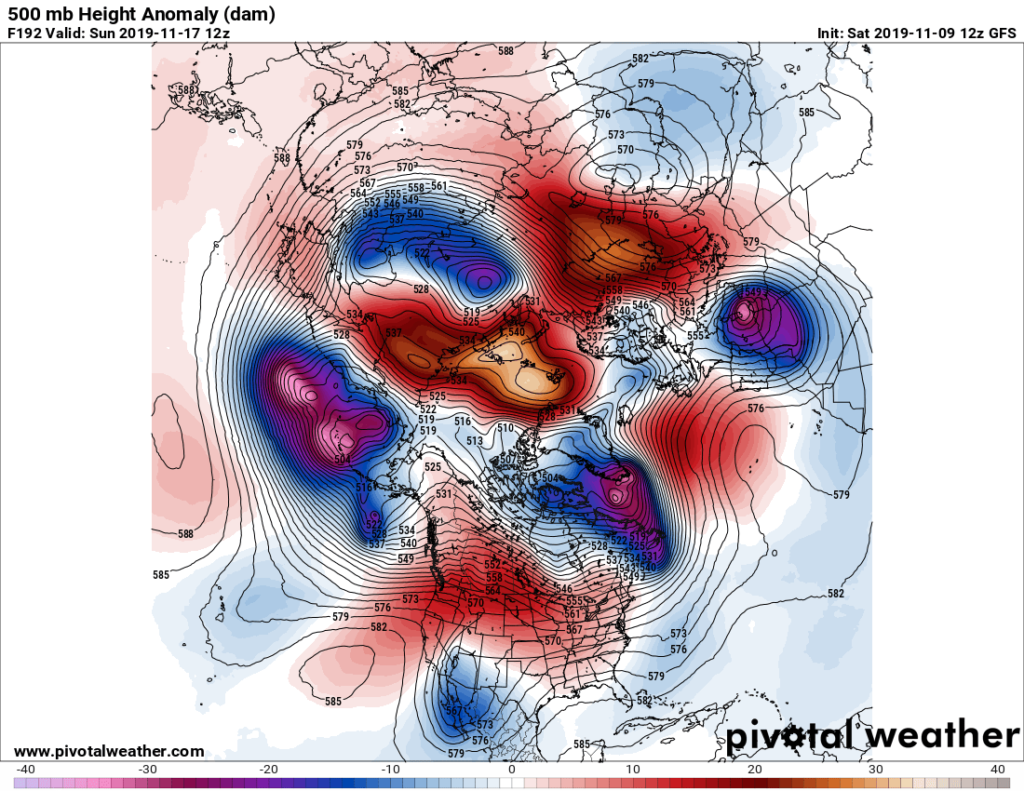 So, bundle up next week taking care to drive safely where snow will fall, and just be glad that the atmosphere can still deliver some chilly weather. Let's all work hard to insure that these cold outbreaks, though inconvenient at times, can still occur to give us normal seasons and an overall healthy world.
Here is more on this topic:
Here is more climate and weather news from Saturday:
(As usual, this will be a fluid post in which more information gets added during the day as it crosses my radar, crediting all who have put it on-line. Items will be archived on this site for posterity. In most instances click on the pictures of each tweet to see each article.)
Here is yet another warm "ET" from Alaska:
And it got toasty ahead of our Arctic front today in the Rockies and central Plains:
(If you like these posts and my work please contribute via the PayPal widget, which has recently been added to this site. Thanks in advance for any support.)
Guy Walton- "The Climate Guy"