Sunday December 22nd… Dear Diary. The main purpose of this ongoing blog will be to track United States extreme or record temperatures related to climate change. Any reports I see of ETs will be listed below the main topic of the day. I'll refer to extreme or record temperatures as ETs (not extraterrestrials).😉
More Proof of Global Warming…This Time From Hawaii
Dear Diary. I was a little surprised by not shocked to see the following tweet this morning:
Kauhalui is one of the main reporting stations from Hawaii, but I had to wonder if its sensor was on the blink. Then I saw this:
And this:
Looking at record counts is in the wheelhouse of what this site is all about, so I decided to look at data from my favorite National Center for Environmental Information site shown here:
https://www.ncdc.noaa.gov/cdo-web/datatools/records
The following chart for 2019 lists counts just for Hawaii of daily record high maxes and low mins (including ties), in which there has been a ratio of about 9 to 1 with just a few days to go to wrap up the year: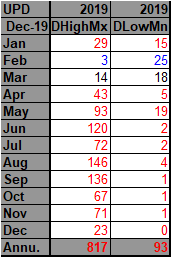 And here is the same chart for daily high minimums and low maxes indicating that the ratio for these data sets is a appropriately 9.4 to 1: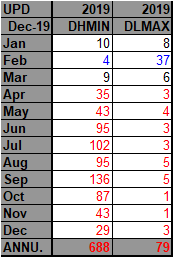 Let's blow up one of Alex Lamer's charts, the one for the biggest airport and metropolitan area in Hawaii, Honolulu: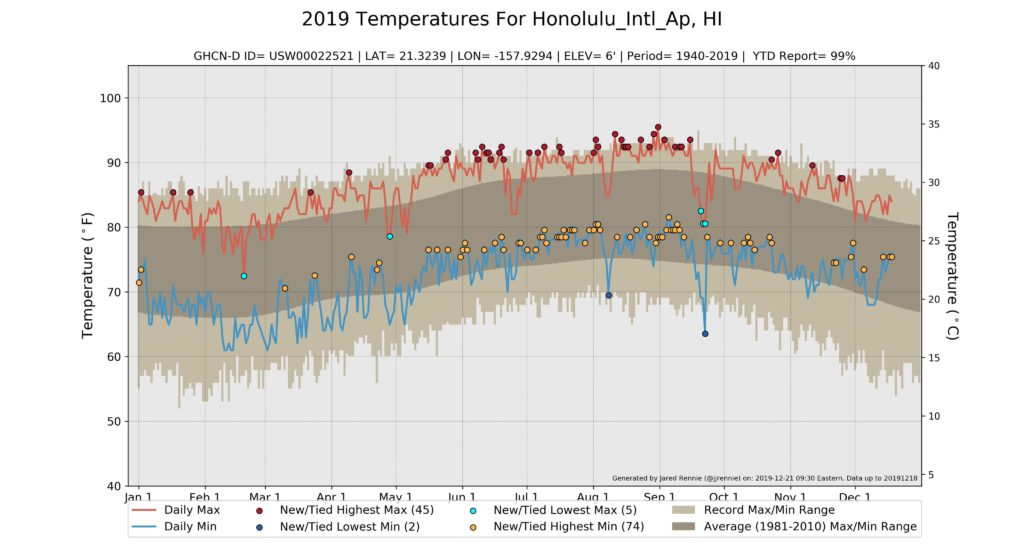 Here we can definitively see the shift at Honolulu towards warmth.
One would think that Hawaii, which is relatively small and has a maritime tropical climate, siting in the central Pacific, would not see such extreme warmth over the span of one year, but such has been the case during 2019. One big clue as to what happened this year comes from sea surface temperatures:
These results are very interesting given that most of the lower 48 states have seen below average temperatures. Why is this important? Beyond temperatures getting more uncomfortable in an already warm environment, our 50th state will get more susceptible to organized tropical activity moving from the east and south due to an overall hotter surroundings.
To sum up, here we have one more case for a warming world.
Here is more climate and weather news from Sunday:
(As usual, this will be a fluid post in which more information gets added during the day as it crosses my radar, crediting all who have put it on-line. Items will be archived on this site for posterity. In most instances click on the pictures of each tweet to see each article.)
Here is more Australian news:
And other items:
(If you like these posts and my work please contribute via the PayPal widget, which has recently been added to this site. Thanks in advance for any support.)
Guy Walton- "The Climate Guy"