Monday December 23rd… Dear Diary. The main purpose of this ongoing blog will be to track United States extreme or record temperatures related to climate change. Any reports I see of ETs will be listed below the main topic of the day. I'll refer to extreme or record temperatures as ETs (not extraterrestrials).😉
More Anomalous Weather…A Russian False Spring And An Extraordinarily Cold Alaska
Dear Diary. At about +1.0C moving up to +1.1°C above preindustrial conditions the Climate Reanylizer charts that I have been using have been getting redder and redder the last two years, but still we continue to see pockets of colder than average weather for climate change denialists to hang their argumentive hat on. Still, what we have seen so far in December might give them pause. I've already blogged at length about the historic Australian heat wave. Another persistent warm anomaly on the planet is becoming historic as well. This morning I saw that we are having a "false spring" for much of eastern Europe and western Russia:
Here is the Reuters article linked in the last tweet:
Moscow wonders where winter has gone as temperatures hit 133-year high

MOSCOW (Reuters) – Residents of Moscow are wondering where winter has gone as the highest December temperatures for 133 years deprive the Russian capital of its customary covering of snow.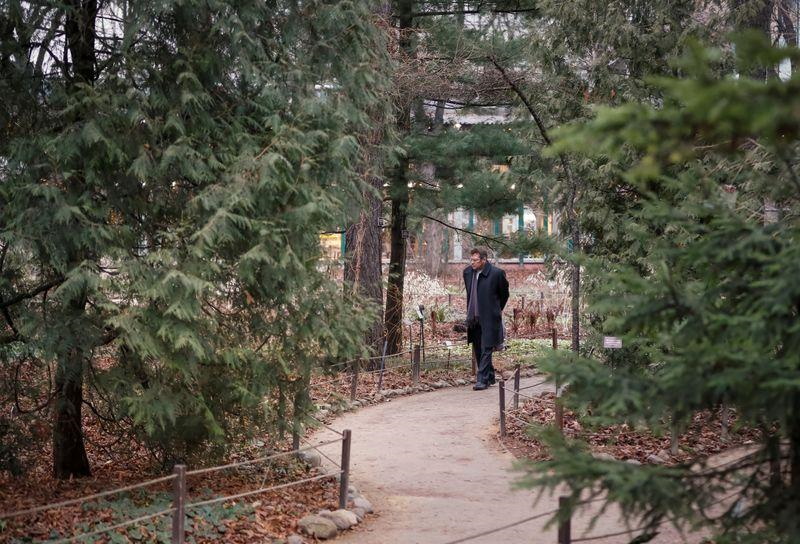 A visitor walks in the Apothecary Garden, also known as the Botanic Garden of Moscow State University, in Moscow, Russia December 18, 2019. REUTERS/Shamil Zhumatov
"This is not our winter," said pensioner Ludmila Biryukova. "It came from somewhere else."
At a time when snow often blankets the streets and icicles hang from buildings, the temperature in Moscow is expected to reach 6 Celsius (42.8 Fahrenheit) overnight on Wednesday, according to Elena Vosolyuk of the FOBOS weather center.
The last time Moscow was warmer than 5.3C on Dec. 18 was in 1886, she said. The usual air temperature for Dec. 18 is minus 6.2C, according to Russia's Hydrometeorological Research Centre.
And it's not just people who have been surprised. At Moscow State University's Apothecary Garden, snowdrops and rhododendron are among flowers that have mistaken the soft soil for the early onset of spring.
"The plants were deceived by this (warm weather) and decided it is spring already, so they are in bloom," said head gardener Anton Dubenyuk, warning that could mean less color later.
"These flowers will certainly not survive when the cold comes. So there will be no spring blossom," he said.
Biryukova, who was walking in the Apothecary Garden, said: "I was born here and have lived here my whole life.
"We are used to real winters."
(I will also add that this brief article does not mention climate change.)
It will be interesting to see records coming out of Russia and Europe the next few days.
In contrast to Russia here is Monday morning's analyzed 500 millibar pattern over the Northern Hemisphere showing how anomalously cold Alaska is, corresponding to those two meter temperature anomalies I presented from Climate Reanylizer: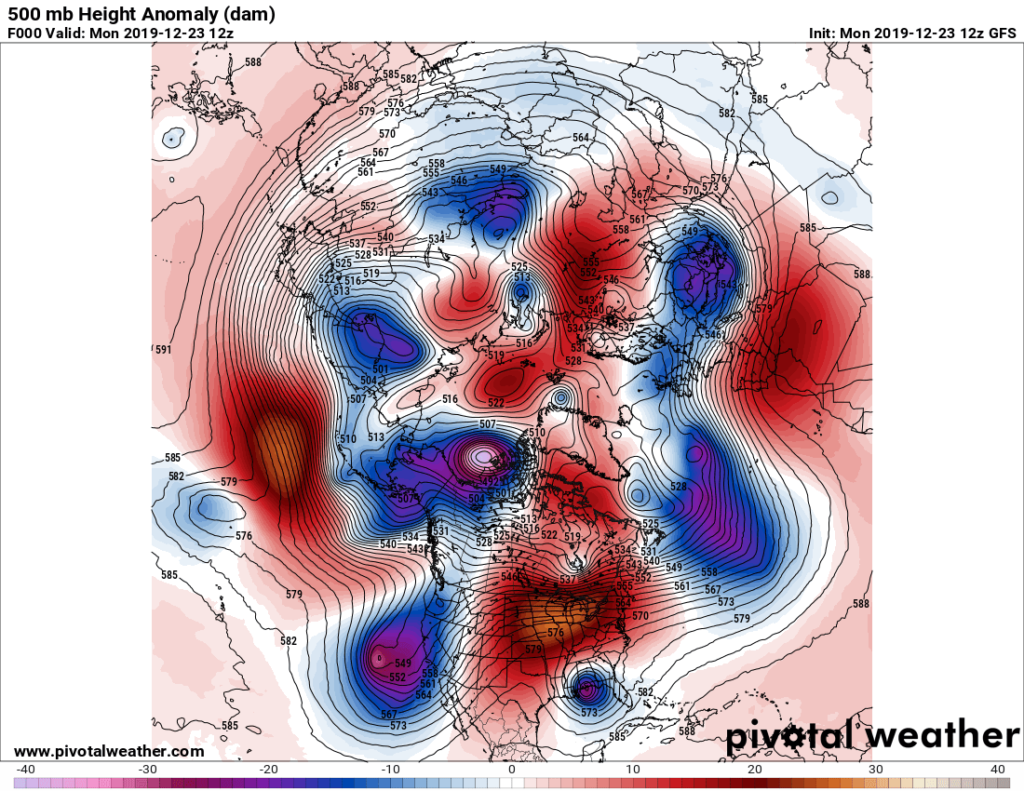 For a change after weeks and months of Alaska having above average temperatures finally our northernmost state is seeing colder than average conditions.
Some other meteorologists are noting that frigid vortex parked northeast of the state as noted by blue colors becoming white:
Here is what Alaskan's will be experiencing later this week:
Will Alaska be as anomalously cold as Russia or Australia are warm or hot, seeing many frigid records? I seriously doubt it, but we will see. Keep in mind that climate change warming probably will tip record count numbers towards warmth.
Usually when Alaska gets cold in winter by contrast the lower 48 states get mild to warm:
We will see how all this plays out as the last batch of record temperatures for the 2010s get recorded. Suffice it to write as the 2010s come to a close climate change will make weather curiouser and curiouser, especially when it comes to temperatures.
Here is more climate and weather news from Monday:
(As usual, this will be a fluid post in which more information gets added during the day as it crosses my radar, crediting all who have put it on-line. Items will be archived on this site for posterity. In most instances click on the pictures of each tweet to see each article.)
(If you like these posts and my work please contribute via the PayPal widget, which has recently been added to this site. Thanks in advance for any support.)
Guy Walton- "The Climate Guy"