Saturday January 4th… Dear Diary. The main purpose of this ongoing blog will be to track United States extreme or record temperatures related to climate change. Any reports I see of ETs will be listed below the main topic of the day. I'll refer to extreme or record temperatures as ETs (not extraterrestrials).😉
Why Scott Morrison's Views on the Climate are so Dangerous and Frankly Stupid
Dear Diary. I've been posting news for years about how bad Trump is for the environment. Last year we began to realized how bad Bolsonara would be for the Amazon. Pardon me, but I'm just getting around to the trifecta. Australia's conservative Prime Minister's views on carbon pollution have really been magnified to the world by record temperatures and fires this summer. What's frightening is that most of the world's biggest nations in early 2020 are led by men who either don't believe in climate science findings or ignore the warnings of climate scientists. A change in leadership is sorely needed. As I've stated, any debate besides the eventual time many decades and perhaps centuries from now when temperatures level off and the magnitude of global departure from average is over. A "debate" about whether or not global warming is occurring due to excess carbon won't be made on my site.
It's hard for me to swallow the fact that Australia, of all places, still has a climate change denying prime minister looking at changes towards hotter weather after about 1960. My own data shows the hotter trend via record temperature ratios. Australia, which is nearly as large as the United States, is warming faster than my country: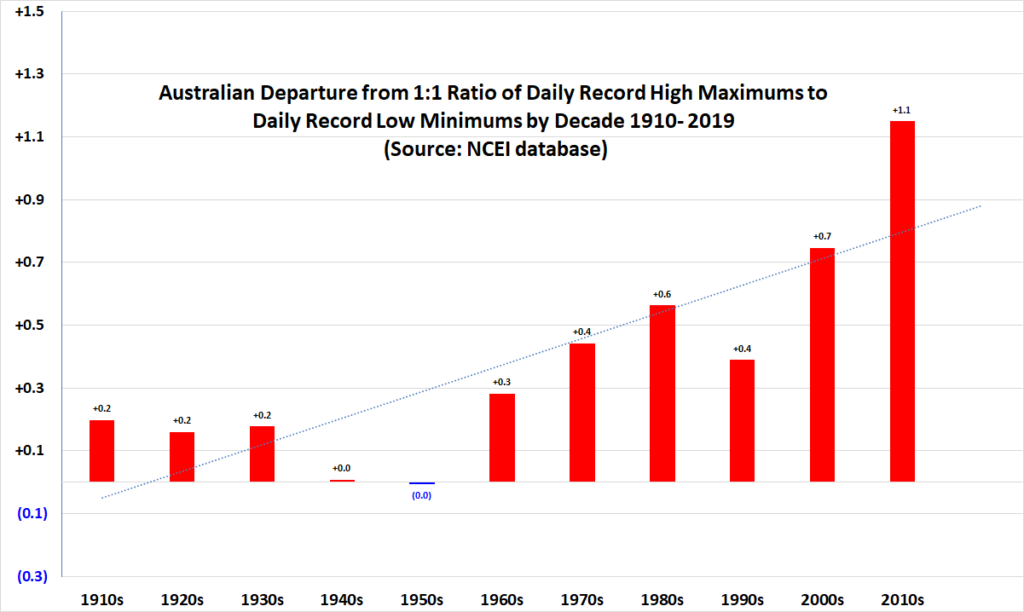 Last year was Australia's hottest and driest on record, leading to record heat and fires during their summer. Morrison's stupidity has been so obvious that I've seen firefighters refuse to shake his hand. Here is more from Reuters:
https://www.reuters.com/article/us-australia-bushfires-politics-idUSKBN1Z4040
Australian Prime Minister Morrison defends bushfire crisis response
MELBOURNE (Reuters) – Australian Prime Minister Scott Morrison found himself on Sunday again defending his actions in response to the country's unprecedented bushfires crisis that has killed 24 people and left thousands more homeless.
Morrison, who has been under sustained attack since he went on vacation to Hawaii as the crisis escalated, blamed a "breakdown in communications" for a state fire chief's complaint he was blindsided by Morrison's plan to set up a national bushfire recovery agency.
New South Wales (NSW) state Rural Fire Services Commissioner Shane Fitzsimmons said he found out about the new agency through media reports on Saturday, creating confusion as he coordinated one of the most high-risk days in the crisis.
"I was disappointed and I was frustrated in the middle of what was one of our worst (fire) days ever on record with massive dislocation and movement of people and a focus on really difficult weather," Fitzsimmons told journalists on Sunday.
Australia has been battling wildfires across large swathes of its east coast for weeks, with the blazes razing more than 5.25 million hectares (13 million acres) of land along with destroying almost 1,500 houses in one state alone.
Under Australia's federation political system, state governments and fire services are responsible for managing bushfire threats, but Morrison said the unprecedented scale of the current crisis demanded a national response.
Morrison said the creation of the national agency, along with the deployment of naval ships and aircraft to help evacuate people who have been stranded by fires for days, was not a reflection on the performance of the state agencies, who had done "extraordinary work."
The announcement of the new agency was accompanied by a video posted on social media by Morrison's office detailing the government's response to the fires, including levels of funding for firefighting equipment.
Parodies of the video were quickly doing the rounds on social media, where many people criticized the release of what they saw as a political advertisement as firefighters were facing one of their most dangerous days on the frontline.
CLIMATE POLITICS
The miscommunication over the federal agency was the latest in a series of perceived gaffes by Morrison in response to the fires crisis. The Australian leader apologized for going on a family holiday to Hawaii last month and cut his trip short.
That, however, was not enough for many people in towns razed by bushfires and some of the firefighters tackling the blazes. Morrison was heckled by enraged locals and firefighters – some of whom refused to shake his hand – when he toured fire-hit towns on Friday.
The exchanges, caught on video, were reported widely both at home and abroad. The hashtag #ScottyFromMarketing was trending on Australian Twitter on Sunday, referring to a nickname given to Morrison, a former marketing executive, for his perceived focus on personal image over policy.
Climate activists, meanwhile, have zeroed in on Morrison's continued support for the coal industry and apparent attempts to play down the role of climate change in the current crisis. Most experts say the fires have been exacerbated by a three-year drought across the country that they have linked to climate change.
Asked if people could have faith in his leadership, Morrison, who has canceled a planned trip to India next week, said on Sunday he was focused on dealing the crisis.
"There has been a lot of commentary, there has been plenty of criticism," he told reporters in Canberra. "I've had the benefit of a lot of analysis on a lot of issues, but I can't be distracted by that."
Reporting by Will Ziebell; editing by Jane Wardell
……………………………………………………………………………………..
So, just like yesterday in association with a potential Iranian war we need to ask the question, who benefits? Well, it won't be the Australian people as a whole or for that matter the world in general in the long run, but one segment of the population will benefit from Morrison's anti climate crisis stance.
Just like Trump with big oil in America Morrison is in the pockets of big coal in Australia. 
As we know coal is a far worse source of carbon than oil…and the production of mined coal in Australia is spiking just looking at Wikipedia:
https://en.wikipedia.org/wiki/Coal_in_Australia
Coal is mined in every state of Australia. Mining occurs mainly in Queensland, New South Wales and Victoria.[citation needed] About 75% of coal mined in Australia is exported, mostly to eastern Asia,[1] and of the balance most is used in electricity generation. Coal production in Australia increased 13.6% between 2005 and 2010 and 5.3% between 2009 and 2010.[2] In 2016, Australia was the biggest net exporter of coal, with 32% of global exports (389 Mt out of 1,213 Mt total), and was the fourth-highest producer with 6.9% of global production (503 Mt out of 7,269 Mt total). 77% of production was exported (389 Mt out of 503 Mt total).[3]
Coal mining in Australia has been criticized by members of the environmental movement,[4][5] due to carbon dioxide emissions during combustion. This criticism is primarily directed at thermal coal, for its connection to coal-fired power stations as a major source of carbon dioxide emissions, and the link to climate change and the effects of global warming on Australia.[6] The burning of coal for electricity produces 29% of Australia's total greenhouse gas emissions, based on 2013-2014 Clean Energy Regulator data.[7]
Australian coal and coke quarterly exports ($Millions) since 1960
It's rather ironic that Australia's dire warming trend also began in the 1960s and 1970s. How connected is Morrison with the coal industry? The short answer: very.
https://www.businessinsider.com.au/scott-morrison-coal-boycott-climate-2019-11
(Photo by James Gourley, Getty Images)A climate protester alluding to Scott Morrison's affection for coal .
The Prime Minister has revealed he and the Attorney-General are looking to outlaw "indulgent and selfish practices" that threaten the mining sector and other environmentally-damaging industries.
In a speech to the Queensland Resources Council, Morrison launched a scathing attack on 'radical activism' heaping pressure on coal miners in particular.
Above all, however, Morrison named businesses moving away from the mining sector as the most worrying development, with Australian exports still dependent on the mining industry.
……………………………………………………………………………….
Much of this exported Australian coal ends up in the furnaces of China and India used to generate electricity and heat. The cheaper this mined coal gets the less impetus for change in India, China and other countries towards renewables. Again, during this critical year of 2020 I have to ask the question whether or not greedier facets of humanity will be willing to leave money in the ground? If led by people like Morrison the answer here will be a dangerous resounding no. Let's all work with protesting young people like Greta Thunburg to make sure that world leadership supports an ever stronger Paris Accords, voting the proponents of big coal and oil out of office.
Here is more news and video from Australia posted Sunday:
Here is more climate and weather news from Sunday:
(As usual, this will be a fluid post in which more information gets added during the day as it crosses my radar, crediting all who have put it on-line. Items will be archived on this site for posterity. In most instances click on the pictures of each tweet to see each article.)
Here is a fridgedly cold "ET" from Alaska for a change:
(If you like these posts and my work please contribute via the PayPal widget, which has recently been added to this site. Thanks in advance for any support.)
Guy Walton- "The Climate Guy"