Monday January 6th… Dear Diary. The main purpose of this ongoing blog will be to track United States extreme or record temperatures related to climate change. Any reports I see of ETs will be listed below the main topic of the day. I'll refer to extreme or record temperatures as ETs (not extraterrestrials).😉
The Russian Bear Sees Record Warmth
Dear Diary. The title of today's post is meant to be a play on words, referring to what traditionally people have called the Russian state and referring to polar bears who are continuing to suffer from Arctic warmth. There might be a hint of good news coming out of today's subject matter. Perhaps Putin, the great Russian bear of this age, is finally waking up from a long climate crisis inaction hibernation…and we really can news some good news today.
As discussed on my last two dairy entries this week we are waiting to see if bombs will eventually drop on Iran, which would be a horror beyond the crisis, and to see if Australia will get a reprieve from the house of horrors of climate crisis bush fires, partially of their own making from carbon pollution. While we are waiting climatology continues to be processed for 2019 and the 2010s. Over the weekend we learned that Russia just had its warmest year on record:
Here are more details about the Russian finding and the Arctic area in general from Desdemona Despair:
https://desdemonadespair.net/2020/01/2019-was-hottest-year-on-record-in-russia-2nd-hottest-in-arctic-circle-warmest-new-years-eve-on-record-in-anchorage.html
2019 was hottest year on record in Russia, 2nd hottest in Arctic Circle – Warmest New Year's Eve on record in Anchorage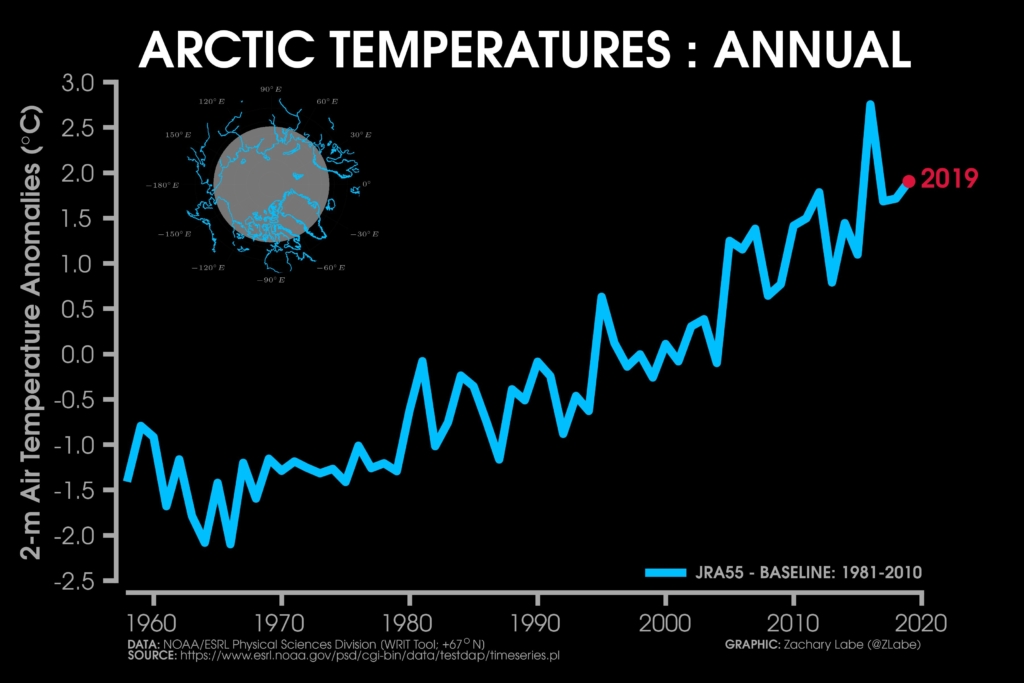 Arctic surface temperature anomaly, 1958-2019, relative to the 1981-2010 baseline. Data: NOAA/ESRL Physical Science Division (WRIT Tool: +67°N). Graphic: Zachary Labe
MOSCOW, 30 December 2019 (AFP) – This year was the hottest ever registered in Russia, the country's weather chief said on Monday, as climate change pushes global temperatures to record highs.
"This year in Russia was the hottest for the entire period of instrumental observations," the head of the Gidromedtsentr weather service, Roman Vilfand, told Russian news agencies.
He said Moscow's average temperature for 2019 had hit 7.6-7.7 degrees Celsius (45.7-45.9 degrees Fahrenheit), beating the previous record by 0.3 degrees.
Vilfand said January will continue to be warmer than usual in almost all regions of Russia.
Weather records have been kept since 1879 in Moscow and since 1891 in Russia as a whole.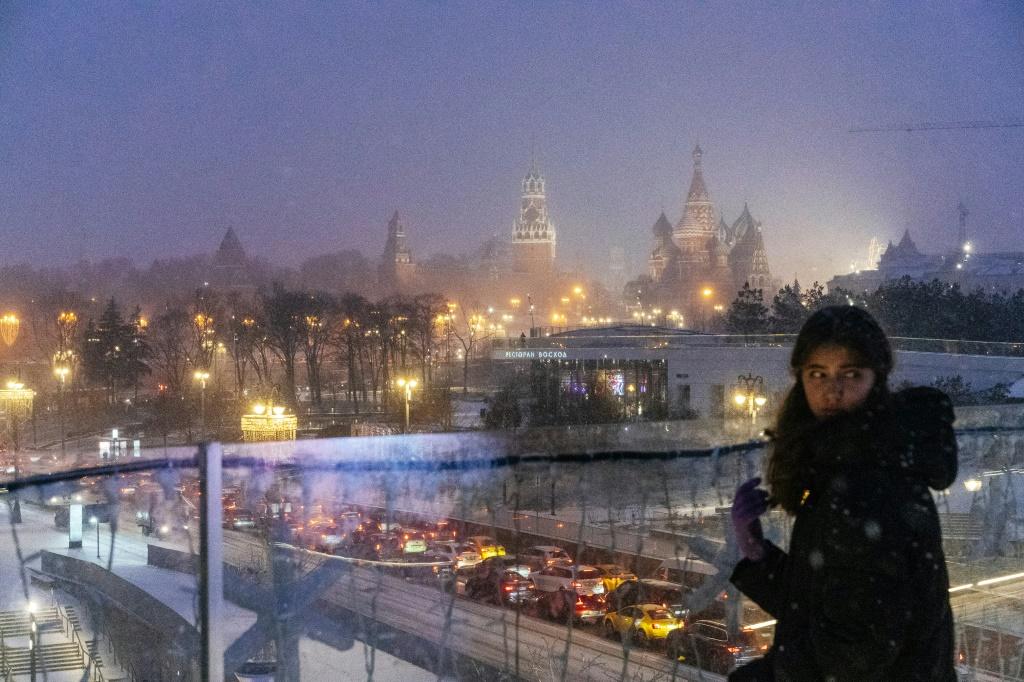 A girl overlooks a light dusting of snow in Moscow, 30 December 2019. Known for its cold winters, Moscow saw its warmest December in a century in 2019. Photo: Dimitar Dilkoff / AFP
Global warming has sent temperatures rising around the world, with the United Nations saying earlier this month that 2019 was on course to be one of the three hottest years on record.
Known for its cold winters, Moscow has seen its warmest December in a century this year.
While some flurries fell on Monday, the Russian capital — normally blanketed with snow by mid-December — has seen a largely snowless and cloudy last month of the year.
The city's ski resorts were closed and spring buds were beginning to show on trees — three or more months too early.
The capital usually puts on huge winter celebrations during the national holidays over the first eight days of January and this year is resorting to unusual measures like dumping artificial snow in central Moscow.
Muscovites ridiculed city hall last week when piles of snow appeared out of nowhere on central Tverskaya avenue, and officials explained they were constructing a snowboarding hill from snow gathered at the capital's ice skating rinks.
The Zaryadye park near the Kremlin boasted a "Snow Garden" with artificial snow and Christmas trees. "Come look at the snow!" it beckoned followers on its Instagram account.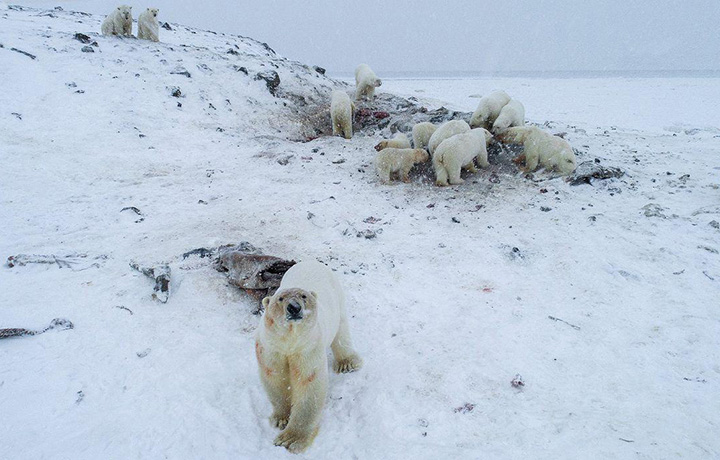 Abnormally warm weather in Russia's easternmost region caused a polar bear "siege" with 56 predators gathered at a site near the village of Ryrkaipiy in Chukotka on 5 December 2019. Photo: WWF Russia / The Siberian Times
Even in Siberia, where winters are notoriously harsh, anomalously warm Decembers have become a recurring phenomenon in the last decade, said Anna Lapchik, who heads the Western Siberian weather service.
"We can say that winters are becoming milder, with more snow," she said in televised remarks.
Russian President Vladimir Putin has always been reluctant to acknowledge the link between human activity and global warming.
At his traditional year-end annual news conference earlier this month, Putin insisted that "nobody knows" the causes of climate change.
But he acknowledged the consequences of global warming could be catastrophic for a country that is one of the world's biggest producers of carbon fuel and with a fifth of its land within the Arctic circle.
Putin said that the rate of warming for Russia was 2.5 percent higher than elsewhere on the planet.
And "for our country, this process is very serious," he said.
2019 was hottest year on record for Russia
---
Anchorage has its warmest New Year's Eve on record
By Tegan Hanlon
31 December 2019
Anchorage (Alaska Public Media) – Anchorage hit a new record Tuesday.
The city had its warmest New Year's Eve with temperatures spiking to 46 degrees at the Ted Stevens Anchorage International Airport. That eclipsed the prior record set last year by 2 degrees.
In other parts of town Tuesday, temperatures soared into the low 50s. Snow melted. Water pooled on roadways. In some areas, it rained. Wind knocked out power. [more]
Anchorage has its warmest New Year's Eve on record, but snow and cold are on the way
I'll be posting more climate findings on today's post involving different regions of the planet for 2019. By January 15th we should see NOAA and NASA findings confirming that 2019 was the second warmest year on record for the globe with top dishonors going to 2016
Here is more climate and weather news from Monday:
(As usual, this will be a fluid post in which more information gets added during the day as it crosses my radar, crediting all who have put it on-line. Items will be archived on this site for posterity. In most instances click on the pictures of each tweet to see each article.)
Here is more information concerning Australia:
……………………………………………………………………………………………..
(If you like these posts and my work please contribute via the PayPal widget, which has recently been added to this site. Thanks in advance for any support.)
Guy Walton- "The Climate Guy"